Een heerlijk, simpel en supersnel wokgerecht met runderreepjes, shiitakes en rijstnoedels.
Het meest tijdrovende deel bij het maken van een wok is de voorbereiding. Best zetten we al onze ingrediënten al klaar voordat we beginnen te wokken. Dit is de sleutel om in een mum van tijd een lekker gerecht op tafel te zetten, en dit allemaal in ongeveer 20 minuten.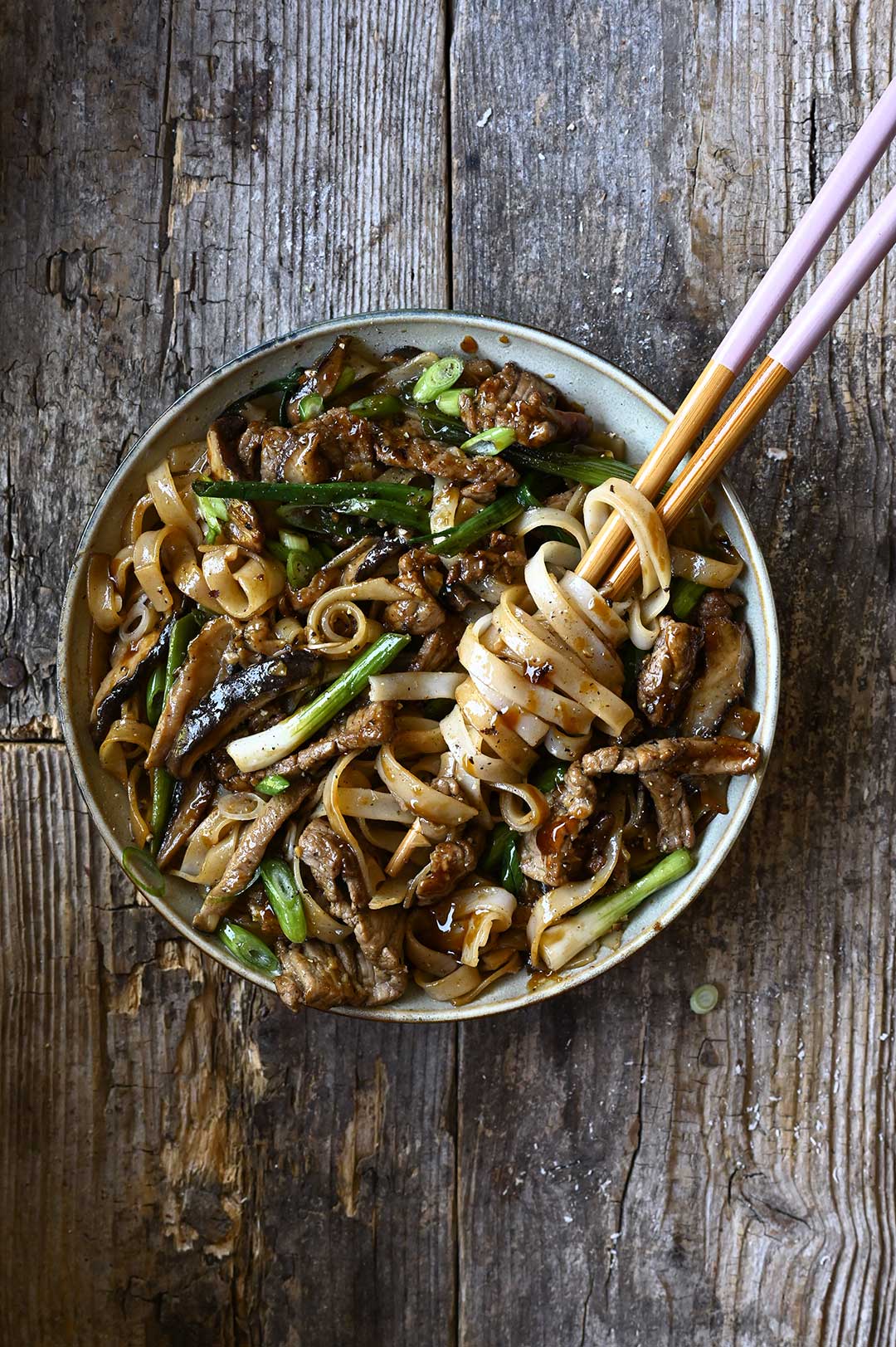 Om mals en lekker gebakken rundvlees te bekomen, snijden we het eerst in dunne reepjes. Dan laten we het gedurende minstens 15 minuten marineren terwijl we de rest voorbereiden en de noedels koken.
Als alles klaar is, verhitten we de wok en schroeien het vlees heel kort, dan bakken we de champignons die maar een paar minuten nodig hebben. We doen het vlees terug in de wok, samen met knoflook, gember en de saus.
Dit gerecht is heel veelzijdig. Je kan in plaats van de shiitakes andere paddenstoelen gebruiken. Of extra groenten gebruiken zoals spinazie, broccoli of wortelen. Dunne plakjes kip of scampi's werken hier ook prima.
Ga naar mijn WEB STORY om te zien hoe makkelijk je dit gerecht kan maken!

Nog meer snelle wokgerechten:
Pikante wok met scampi en szechuanpeper
Wok met aubergine en halloumi
Scampi's met cashews, honing en look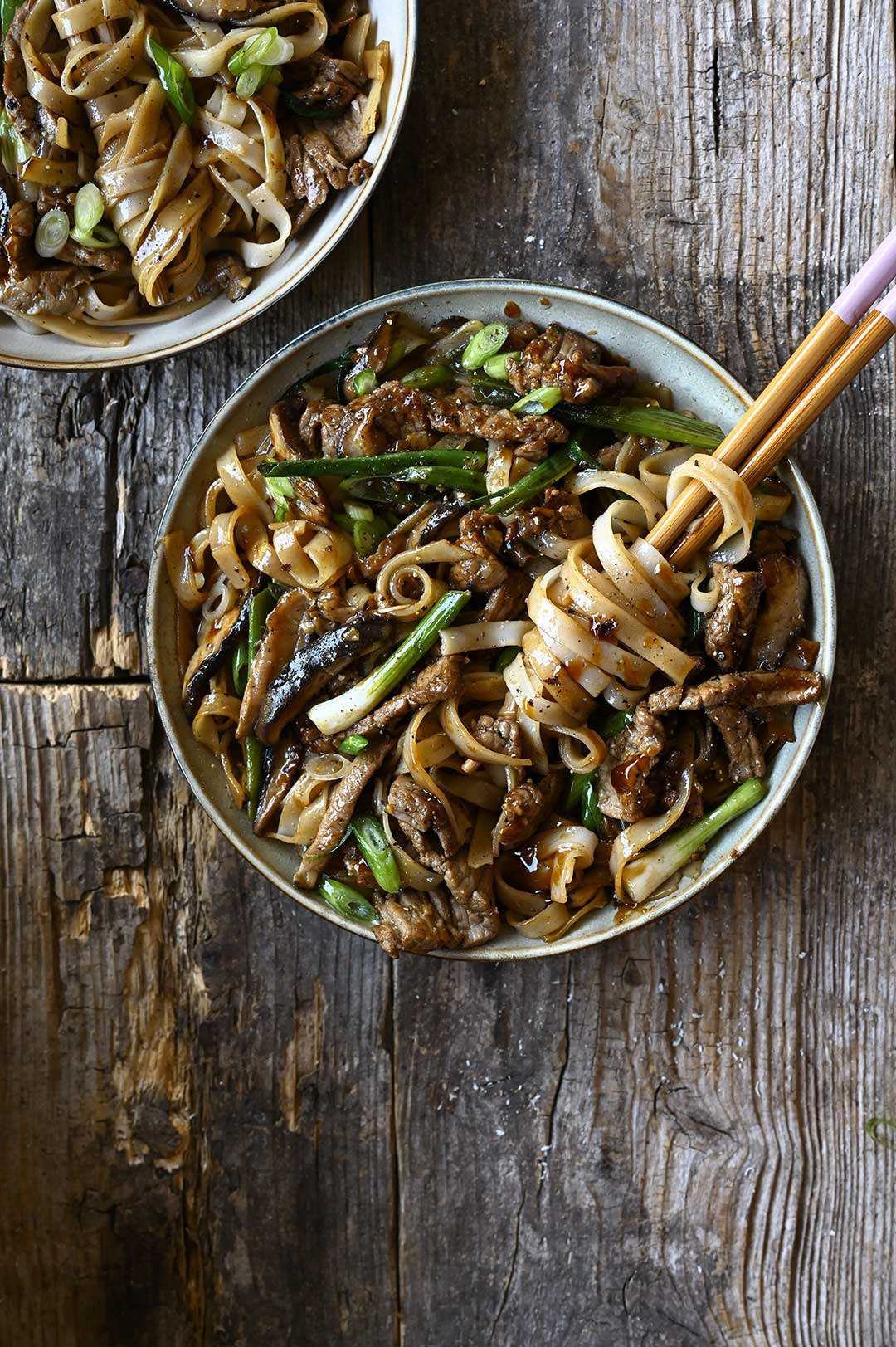 Dit heb je nodig
200 g rijstnoedels
6 lente-uitjes
100 g shiitakes, dun gesneden
2 tl geraspte gember
4 tenen knoflook, fijngehakt
arachideolie
rundvlees + marinade
250 g rundvlees (biefstuk, rumsteak of gepelde steak)
1 el arachideolie
1 tl maïszetmeel
1 el donkere sojasaus
saus
5 el donkere sojasaus
2 el oestersaus
3 el mirin
2 el geroosterde sesamolie
1 tl bruine suiker
1/4 tl zout
1/2 tl witte peper
Zo maak je het
Snijd de biefstuk in hele dunne plakjes. Doe in een kom en meng met arachideolie, maïszetmeel en sojasaus. Laat minstens 15 minuten marineren.
Bereid ondertussen de rijstnoedels volgens de aanwijzing op de verpakking.
Snijd de shiitakes in dunne plakjes, rasp de gember en hak de knoflook fijn. Snijd de lente-uitjes in stukken van 5 cm.
Meng de ingrediënten voor de saus in een kleine kom.
Verhit 3 el arachideolie in een wok op hoog vuur tot deze gloeiend heet is en de olie glinstert. Voeg de runderreepjes toe, laat ongestoord bakken ongeveer 30 seconden. Begin nu te roeren en bak gedurende 1-2 minuten of tot het rundvlees licht gebruind is, maar niet doorbakken. Haal uit de wok en leg op een bord.
Verhit opnieuw 3 el arachideolie op hoog vuur, voeg shiitakes toe, roerbak ze vervolgens ongeveer 1-2 minuten tot goudbruin. Voeg knoflook en gember toe, terwijl je blijft roeren gedurende 1 minuut. Doe het rundvlees terug in de wok, voeg de saus en lente-ui toe, roerbak nog 1 minuut. Doe de rijstnoedels erbij, roer alles een laatste keer om en serveer meteen.
Ga naar mijn WEB STORY om te zien hoe makkelijk je dit gerecht kan maken!