Een heerlijk 'in-20minuten-klaar' wokgerecht met  kip en broccoli. Super eenvoudig te bereiden met slechts een handvol ingrediënten. Dit gerecht heeft werkelijk alles in huis om je maaltijd na een drukke doordeweekse dag net dat tikkeltje extra speciaal te maken.
We snijden de kip en de broccoli in kleine stukjes zodat ze snel kunnen garen, daarna brengen we alles op smaak met een sticky knoflook-soja saus. Voegen wat gestoomde rijst of noedels toe en klaar. Je mag er zeker van zijn, dit recept zal je smaakpapillen ontzettend blij maken.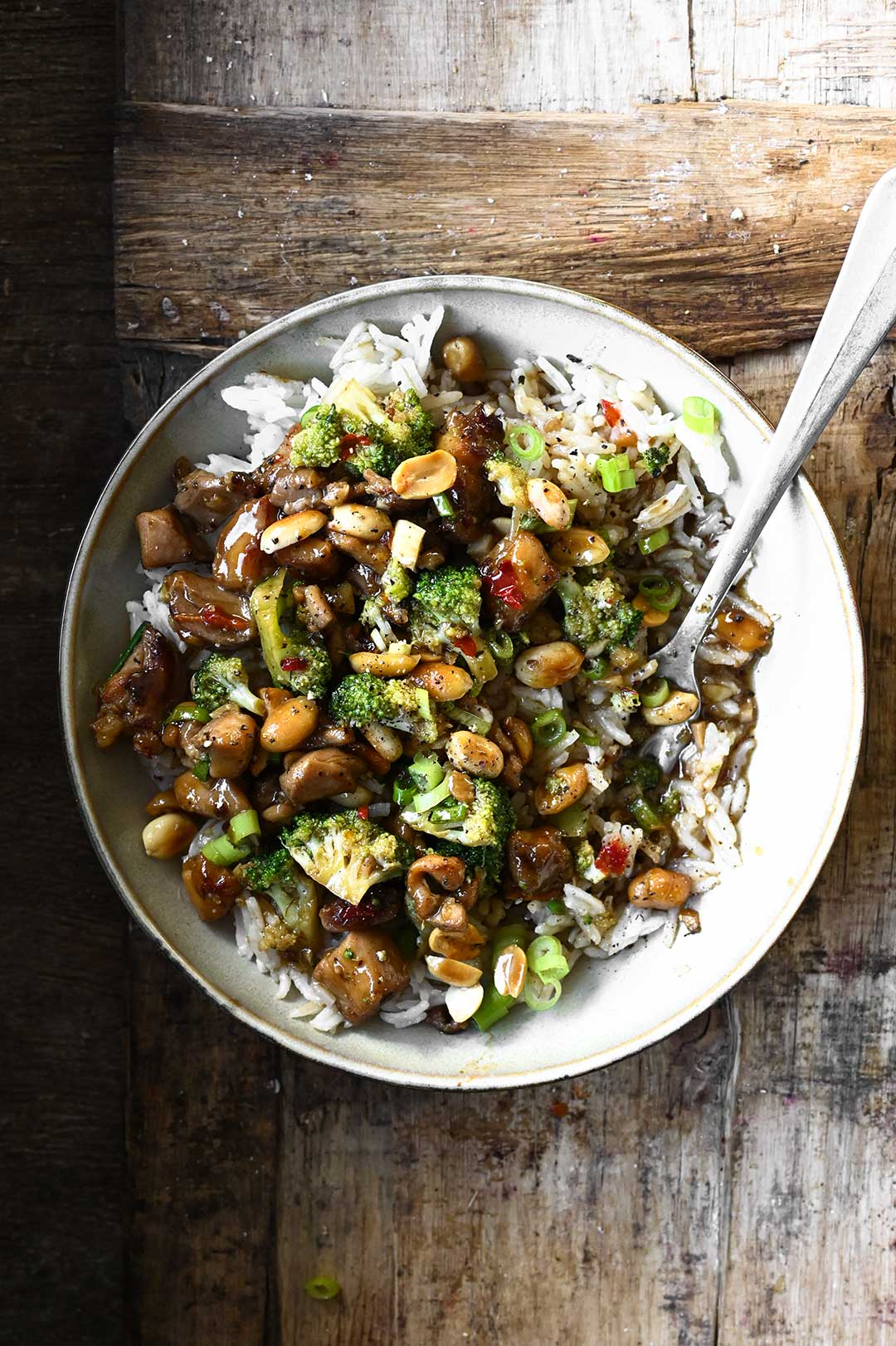 En zo maken we het. Eerst roosteren we de pinda's. Dan roerbakken we de kip samen met wat knoflook en gember. Daarna gaat de broccoli in de wok. In de laatste stap gieten we de saus over de kip en wordt alles samen met heerlijke smaken geïnfuseerd. Bekijk mijn VIDEO om te zien hoe makkelijk je dit gerecht kan maken! 
TIPS
– als je geen wok hebt, kan je hier ook een grote koekenpan gebruiken
– als je geen sriracha hebt, gebruik dan sambal of een andere chilisaus en maak zo pikant als je zelf wil
– je kan de broccoli vervangen door wortels, champignons of sperziebonen
– dit recept is een geweldige meal prep optie
– je kan ook makkelijk de kip vervangen door scampi's of dun gesneden steak
More stir-fries, please! 
Pikante wok met scampi en szechuanpeper
Wok met runderreepjes en shiitakes
Wok met aubergine en halloumi
Wil je op de hoogte blijven van mijn nieuwe recepten? Abonneer je dan op mijn NIEUWSBRIEF.
Dit heb je nodig
80 g pinda's
1 kleine broccoli
6 teentjes knoflook, fijngehakt
1 tl geraspte gember
4 el plantaardige olie, om te bakken
4 gesnipperde lente-uitjes, om te serveren
rijst of noedels, om te serveren
kip
500 g kippendijenfilets
1 el plantaardige olie
2 eel aardappelzetmeel
1 el low sodium sojasaus
saus
6 el low sodium sojasaus
2 el oestersaus
2 el mirin
2 el sesamolie
1 el honing
1 tl sriracha
1/4 tl witte peper
100 ml water
Zo maak je het
Snij de kip in kleine hapklare stukjes. Meng met olie, aardappelzetmeel en sojasaus. Zet apart.
Snij intussen de broccoliroosjes in kleine hapklare stukjes, hak de knoflook fijn en rasp de gember.
Meng de ingrediënten voor de saus in een kleine kom.
Bereid de rijst of noedels volgens de aanwijzingen op de verpakking.
Verhit de olie in een wok op middelhoog vuur. Voeg de pinda's toe en rooster ze goudbruin, roer voortdurend, gedurende 1-2 minuten. Haal ze uit de wok met een schuimspaan, op deze manier laat je de olie achter.
Verhit de wok nu tot deze gloeiend heet is. Voeg de stukjes kip toe en laat onaangeroerd bakken tot ze beginnen dicht te schroeien, ongeveer 30 seconden. Roerbak dan ongeveer 2 minuten tot ze bruin zijn, maar niet doorbakken, ze zullen samen met de broccoli verder garen. Voeg knoflook en gember toe en roerbak nog 30 seconden. Voeg broccoli toe en bak 3 minuten. De broccoli moet zacht maar knapperig zijn. Giet nu de saus erbij en roerbak nog 2 minuten, tot de saus dikker wordt en de kip gelijkmatig bedekt. Roer de pinda's erdoor en serveer met rijst of noedels. Bestrooi met gehakte lente-uitjes en voeg naar eigen smaak wat chilisaus toe. Eet smakelijk!
Bekijk mijn VIDEO om te zien hoe makkelijk je dit gerecht kan maken! 
En … ALS JE DEZE RECEPTEN LEKKER VINDT … overweeg dan om mijn werk te steunen voor de prijs van slechts een kopje koffie.

Als je dit recept uitprobeert, laat dan hieronder een reactie achter of deel je foto's op Instagram en vergeet niet om mij te taggen @anna_s_table. Ik kijk ernaar uit!