Halloumi en zijdezachte aubergine met een pittig gember-sojasausje.
In een mum van tijd tover je de aubergines om in zachte hapklare stukjes. Dit wokgerecht wordt een smaakbom door de gember en de knoflook. Je mengt er wat noedels door en klaar. Maar het zou ook heerlijk kunnen zijn met wat gestoomde rijst.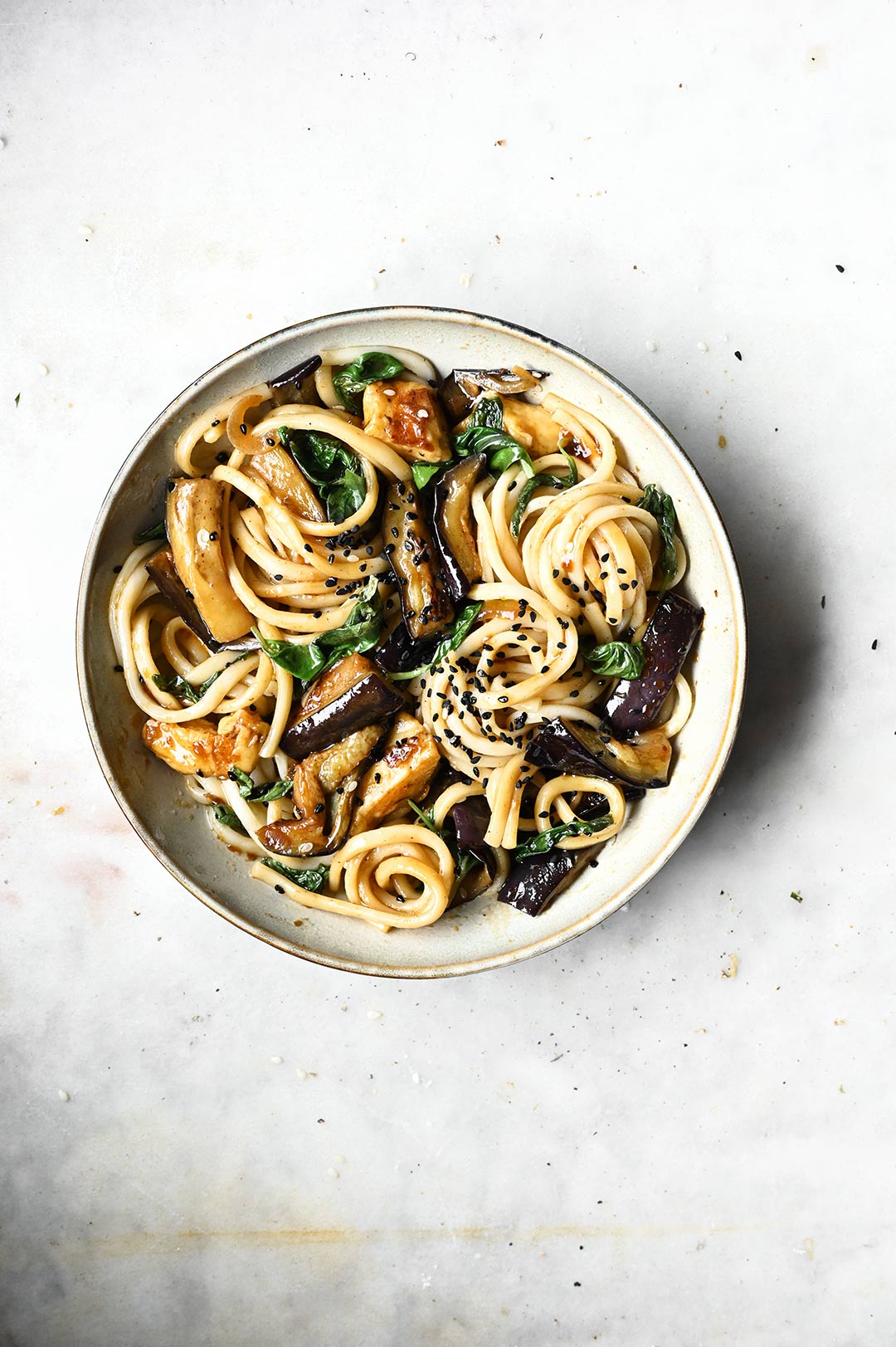 Zoals bij alle wokgerechten kan je best de ingrediënten klaar hebben voordat je daadwerkelijk begint te bakken. Het is zeker de moeite waard, want als je eenmaal begint te wokken is er geen weg meer terug.
Aubergines en halloumi vormen de basis van dit gerecht, maar er zijn nog meer heerlijke smaken. Je krijgt een vleugje citroen, wat cayennepeper en gember, verse basilicum, en een beetje oestersaus dat zorgt voor net genoeg zoetheid om alles in balans te brengen.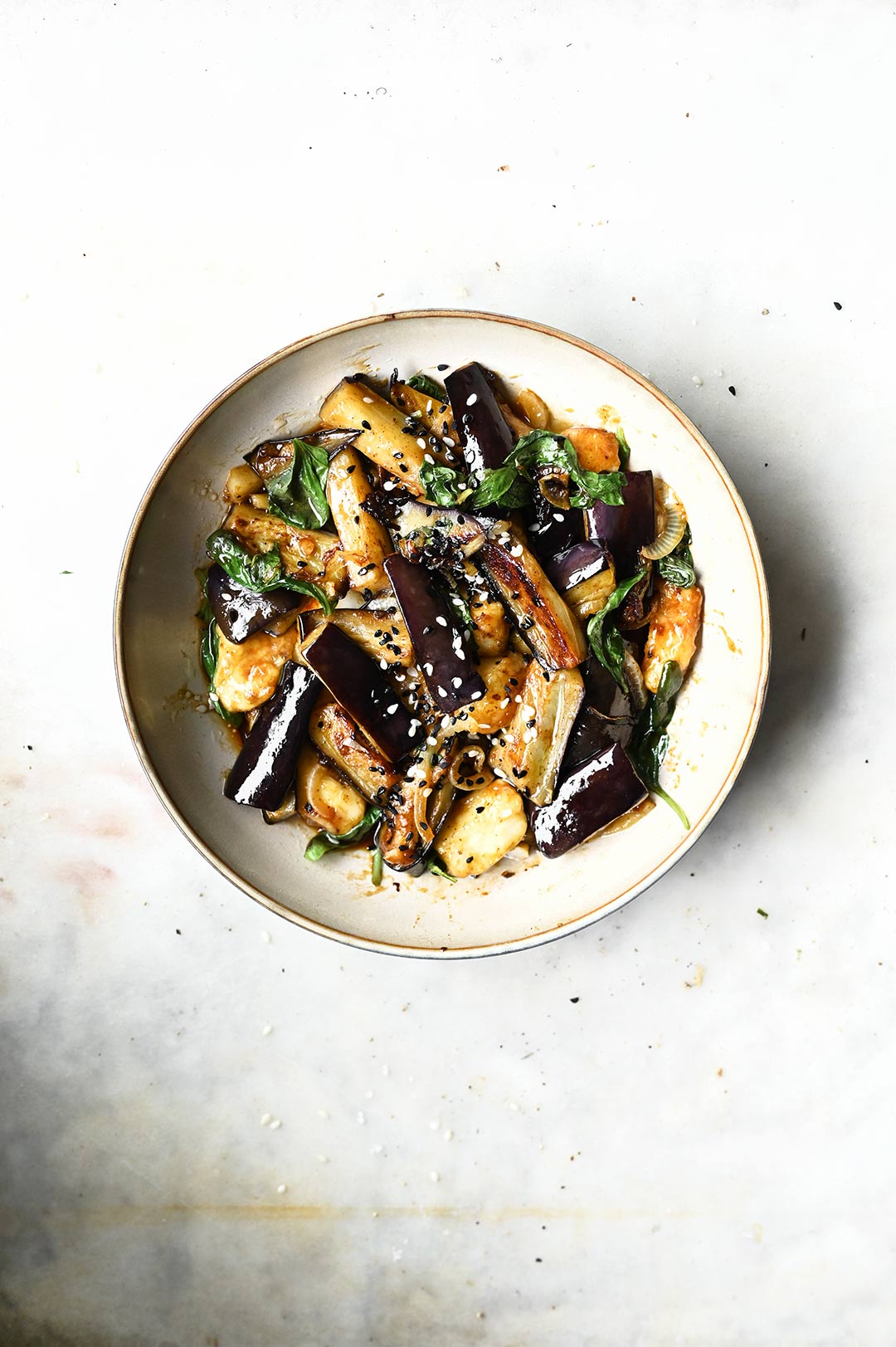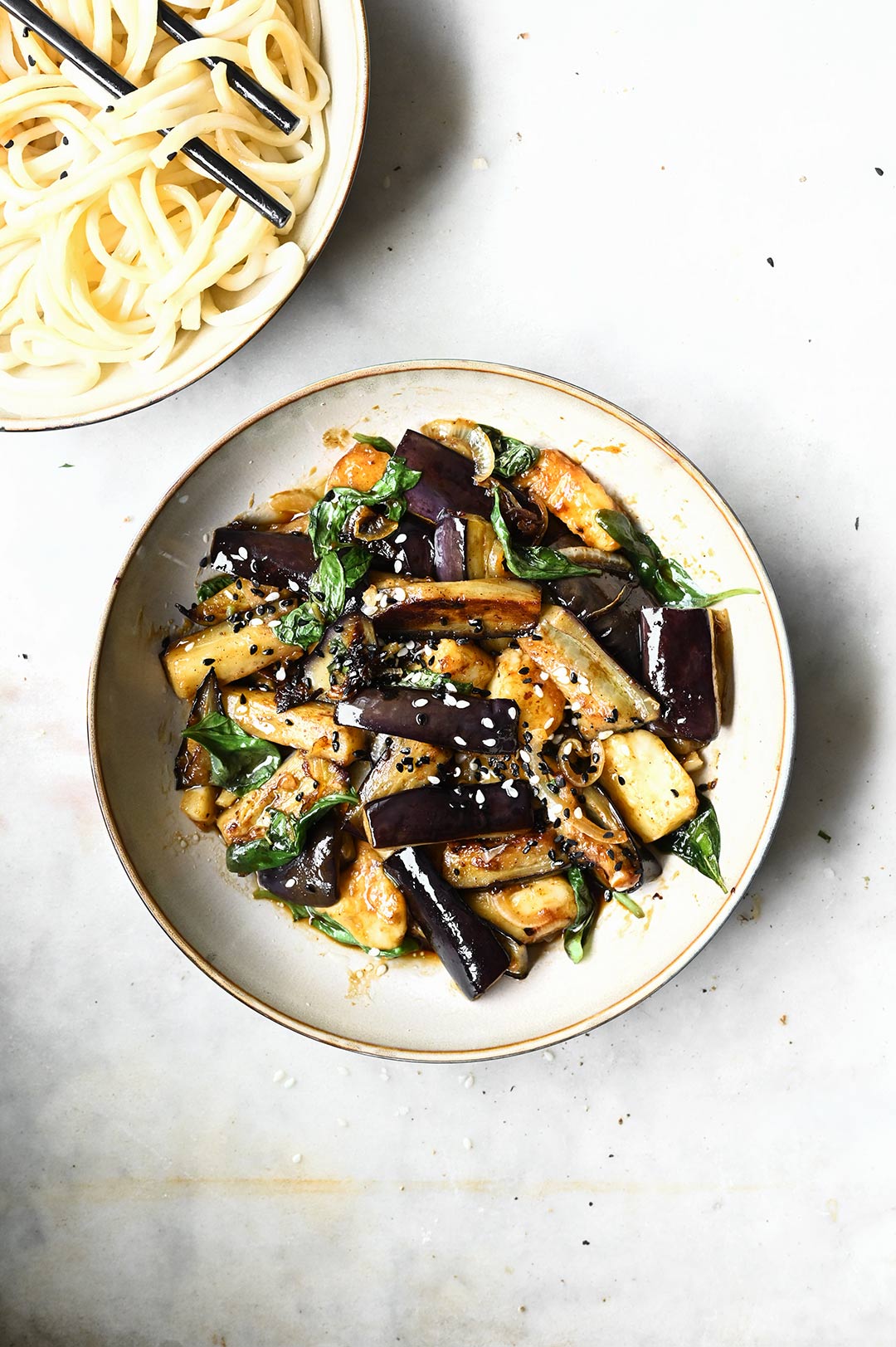 Wil je op de hoogte blijven van mijn nieuwe recepten? Abonneer je dan op mijn NIEUWSBRIEF.
Zin in meer?
Geroosterde aubergine met kikkererwten en parmezaan
15 minuten pasta met broccoli en basilicum
Snelle ramen soep met kaas
Dit heb je nodig
400 g noedels
225 halloumi, in blokjes
2 aubergines, in hapklare stukken
6 el plantaardige olie
1 kleine ui, dun gesneden
4 tenen knoflook, fijngehakt
1 el geraspte gember
1 tl sesamzaad
basilicumblaadjes van 6 takjes
saus
2 el maïszetmeel
6 el sojasaus
2 el oestersaus
1 el rijstazijn
1 el citroensap
3 el water
1 tl bruine suiker
2 el sesamolie
1 tl cayennepeper
1 tl gedroogde rode peper
Zo maak je het
Kook de noedels volgens de aanwijzingen op de verpakking.
Zorg dat alle ingrediënten klaarstaan, gesneden of gehakt zijn.
Meng de ingrediënten voor de saus in een kleine kom.
Verhit 3 el olie in een wok op een hoog vuur tot deze gloeiend heet is en begint te dampen. Roerbak de aubergines goudbruin, ongeveer 6 minuten. Haal uit de wok en leg op een bord.
Verhit de resterende olie in dezelfde wok, nog steeds op hoog vuur. Doe de halloumi erin en bak goudbruin, gedurende 2 minuten. Voeg knoflook, ui, gember en sesamzaad toe en bak, tot er zich een intens aroma ontvouwt, ongeveer 1 minuut. Doe de aubergines terug in de wok en voeg de saus toe. Bak, nog 1-2 minuten verder. Breng indien nodig op smaak met zout. Voeg de basilicumblaadjes toe en bak tot ze lichtjes verwelkt zijn, ongeveer 30 seconden.
Roer de noedels erdoor en serveer onmiddellijk. Smakelijk!
Als je dit recept uitprobeert, laat dan hieronder een reactie achter of deel je foto's op Instagram en vergeet niet om mij te taggen @anna_s_table. Ik kijk ernaar uit!