Bladerdeegtaartjes met vijgen, bosbessen en amandelen. Boordevol verse smaken, snel en makkelijk gemaakt met slechts een paar ingrediënten, maar vooral, serieus lekker!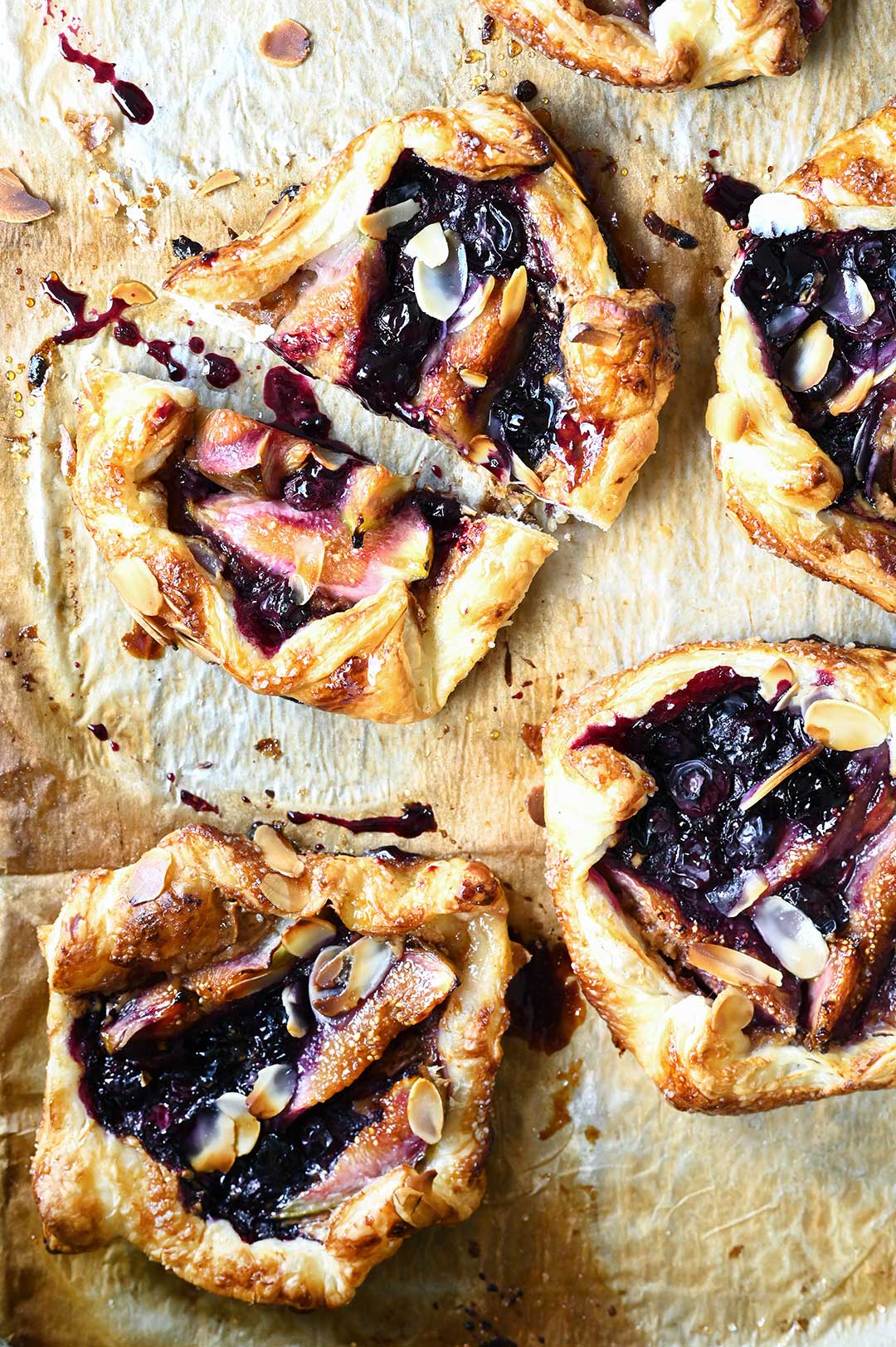 Verse vijgen en bosbessen gedipt in amandelboter en besprenkeld met honing en amandelschilfers, daarna gebakken in bladerdeeg. De bosbessen en vijgen veranderen in een kleverige, dikke jam, waardoor er zoete taartjes ontstaan die gevuld zijn met stukjes fruit en een nootachtige toets van de amandelboter. 
Bonus… je kan de bosbessen makkelijk vervangen door je favoriete bessen, of een combinatie van verschillende bessen gebruiken! Als je geen amandelboter vinden, gebruik dan tahini of een andere notenboter, zolang je maar die nootachtige toets hebt. Hoe dan ook, het kan niet mis gaan met deze taartjes.
Ideaal bij een brunch of lunch, als tussendoortje of om te serveren op je wekelijks breifeestje.;)
Elke hap zit boordevol fruit en knapperige stukjes bladerdeeg, niet te zoet, gewoon af. En vergeet ze niet te serveren met een schepje vanille-ijs.
Ga naar mijn Instagram Highlights om te zien hoe makkelijk je deze kan maken!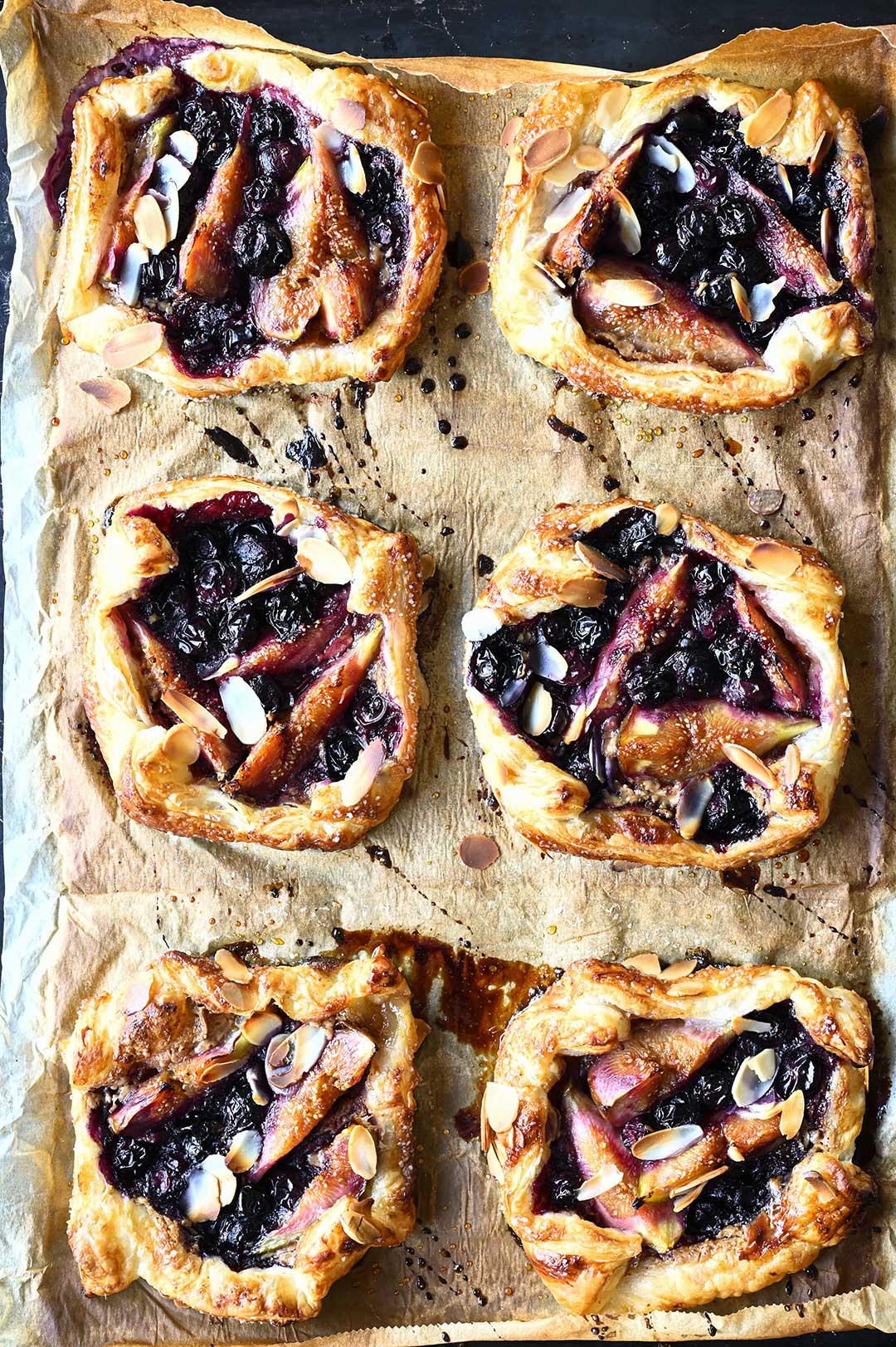 3 andere heerlijke desserts:
Abrikozentaartjes met honing
Rabarber en aardbeien-galette
Cheesecake met blauwe bessen
Wil je op de hoogte blijven van mijn nieuwe recepten? Abonneer je dan op mijn NIEUWSBRIEF.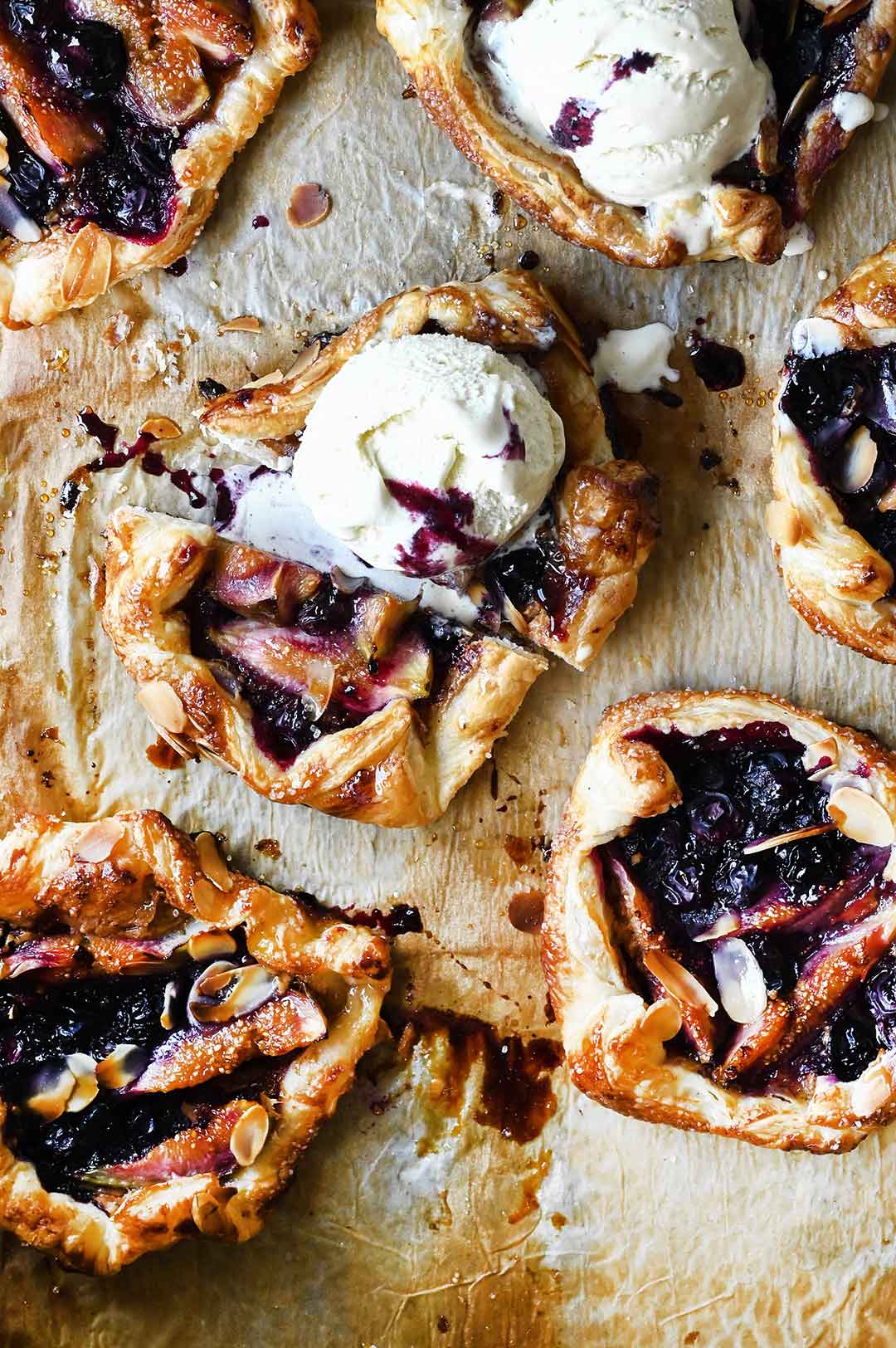 Dit heb je nodig
1 vel bladerdeeg (de mijne was 24 x 40 cm)
4 el amandelboter
3 vijgen, in stukjes gesneden
100 g bosbessen
3 el honing
3 el amandelschilfers
+
1 ei opgeklopt met 1 tl melk
grove suiker voor de afwerking
IF YOU LOVE THESE RECIPES … please consider supporting my work for just the cost of a cup of coffee.

Zo maak je het
Verwarm de oven voor op 220°C.
Bekleed een bakplaat met bakpapier. Leg het bladerdeeg erop en snij in 6 vierkanten. Verdeel de amandelboter gelijkmatig over elk vierkant en laat een rand van 1 cm over. Leg de vijgen en de bosbessen erop. Besprenkel met honing. Vouw de randen over het fruit en bestrooi met amandelschilfers.
Bestrijk de randen van het deeg met het opgeklopte ei en bestrooi met grove suiker. Bak gedurende 10-15 minuten diep goudbruin.
Laat lichtjes afkoelen en serveer met ijs. Smakelijk!
Ga naar mijn Instagram Highlights om te zien hoe makkelijk je deze kan maken!
Als je dit recept uitprobeert, laat dan hieronder een reactie achter of deel je foto's op Instagram en vergeet niet om mij te taggen @anna_s_table. Ik kijk ernaar uit!