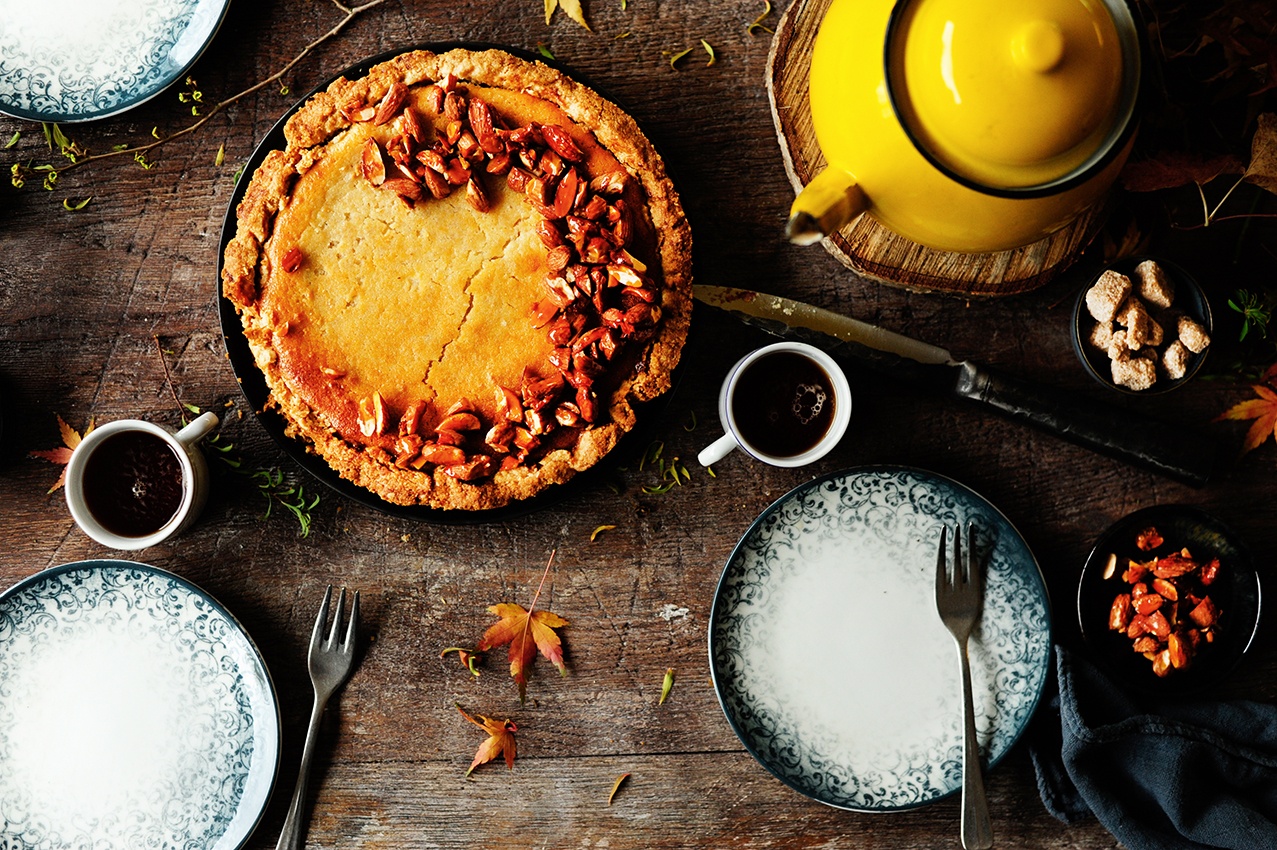 Als je mijn blog al een tijdje volgt, heb je misschien gemerkt dat ik graag kaastaart eet.  Maar deze keer heb ik voor het eerst een vegan cheesecake gebakken!
En waar komt het idee vandaan? Ik was gevraagd om voor een aantal gezellige dames een vegan dessert te maken op een event georganiseerd door NEFF, een fabrikant van keukenapparaten. Afgelopen week heb ik geprobeerd om het receptje te perfectioneren. En…ik ben zo blij met het resultaat dat ik wel kan dansen. De vulling is ongelooflijk luchtig en gebakken op een haver-amandelbodem en bestrooid met gekarameliseerde amandelen. Ik heb het geserveerd met een cranberrysaus, maar het zou ook geweldig zijn met gezouten karamel!
Dit recept is niet alleen lekker, vegan en glutenvrij, maar is ook close to the "real thing" en makkelijk te maken!
P.S. Meer over het event later in een ander blogpost.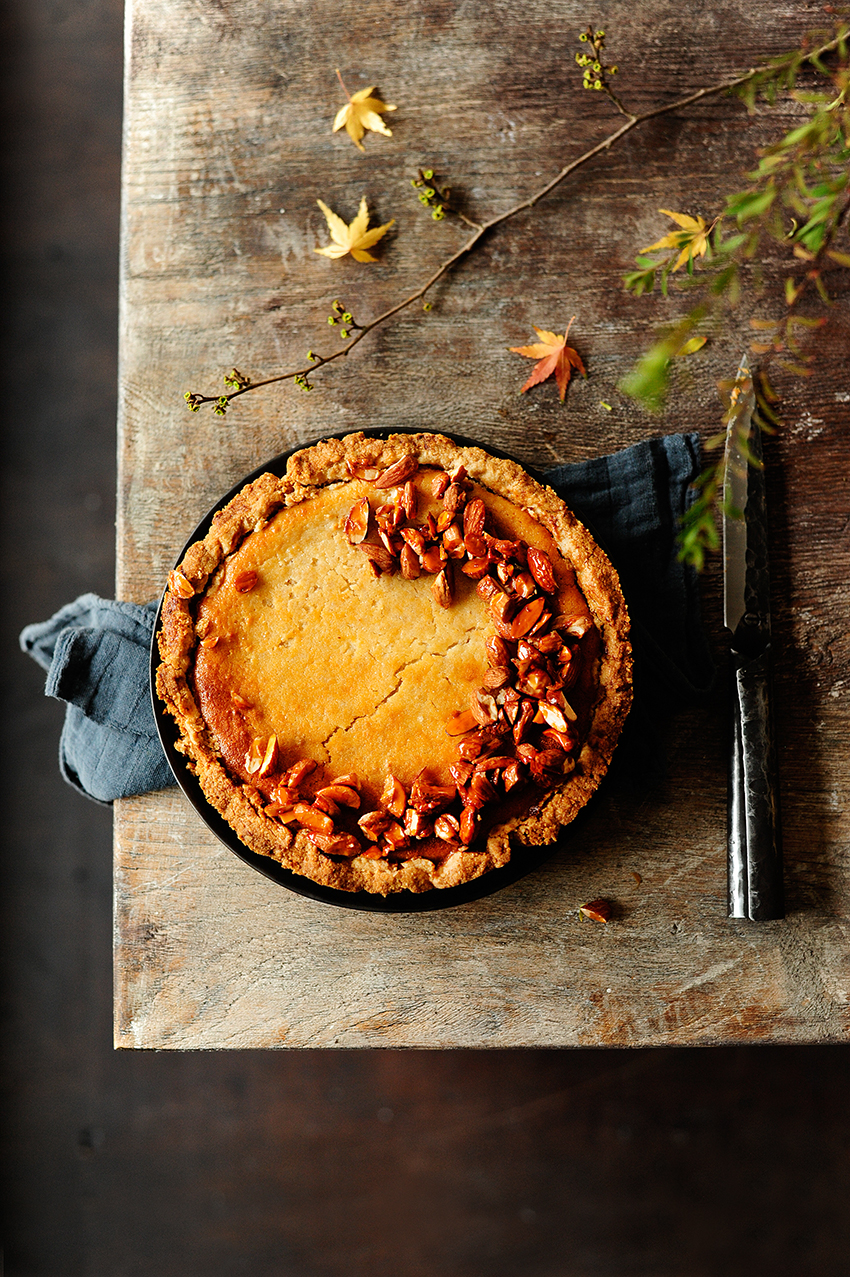 Dit heb je nodig
bodem
70 g haver
90 g gemalen amandelen
snuifje zout
2 el suiker
70 g kokosolie, gesmolten
vulling
220 g sojayoghurt
100 g cashewnoten, minstens 30 minuten geweekt
100 g suiker
sap en zeste van 1/2 citroen
6 g aardappelzetmeel
1 tl vanille-extract
gekarameliseerde amandelen
100 g amandelen, fijngehakt
snuifje zout
2 el agavesiroop
cranberrysaus
250 g veenbessen
80 g suiker
100 ml rode porto
1 tl kaneel
1 el citroensap
zeste van 1/2 citroen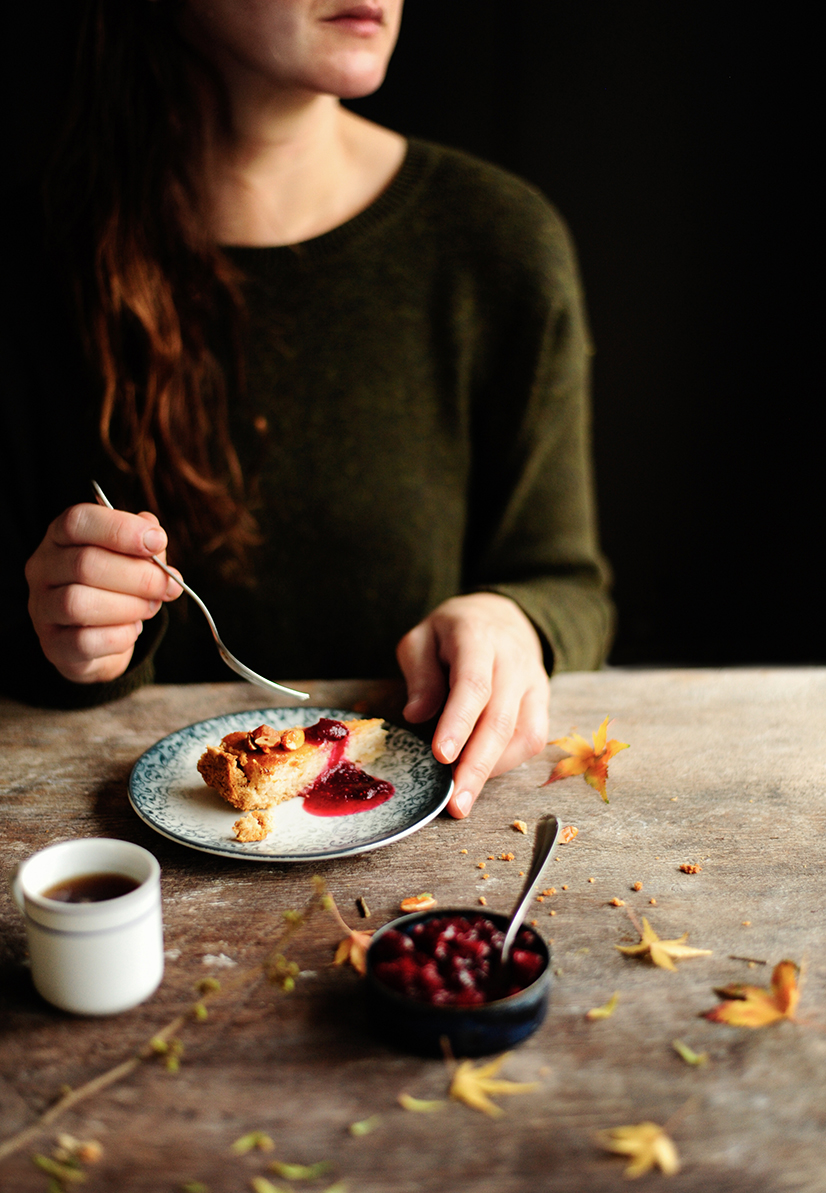 Zo maak je het
Doe de ingrediënten voor de bodem in een foodprocessor en mix. Duw het mengsel aan op de bodem van een springvorm van 18 cm doorsnede en zet in de koelkast.
Doe de geweekte cashewnoten in de foodprocessor en mix, voeg sojayoghurt en suiker toe en mix tot een geheel. Voeg aardappelzetmeel, vanille-extract, sap en citroenzeste toe. Giet het mengsel voor de vegan cheesecake in de springvorm en bak gedurende 45 minuten op 170°C of tot er zich een goudbruin korstje  vormt. Laat afkoelen.
Meng de amandelen met de agavesiroop en zout, verspreid op een bakplaat bedekt met bakpapier en bak gedurende 5-10 minuten op 180°C.
Doe de  veenbessen, suiker, porto, kaneel, sap en citroenzeste in een steelpannetje. Breng aan de kook, zet het vuur lager en laat 15 minuten sudderen. Zet het vuur af en laat volledig afkoelen.
Til de cheesecake voorzichtig uit de vorm en bestrooi met gekarameliseerde amandelen. Serveer met cranberrysaus. Smakelijk!