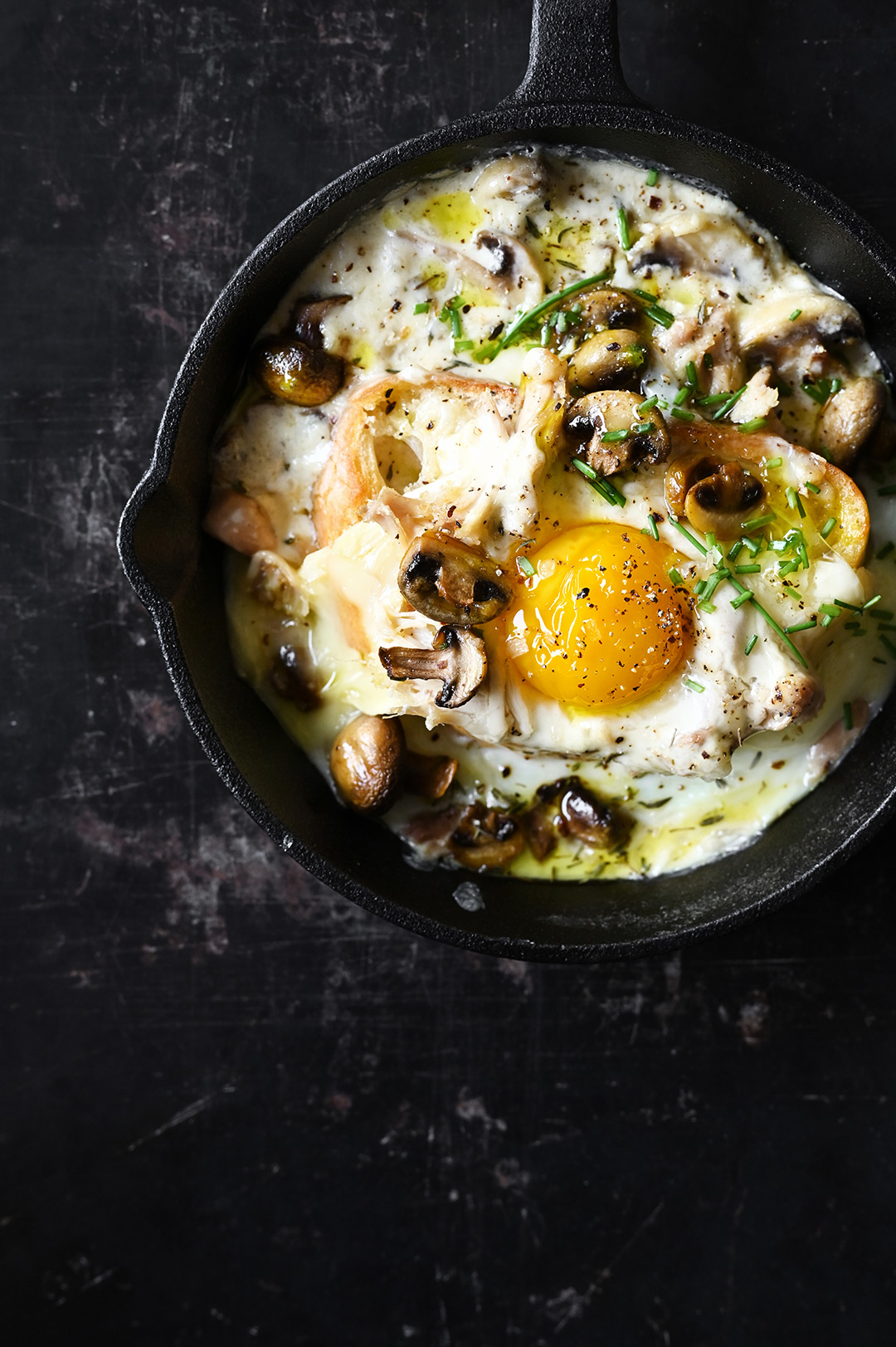 Wie houdt er niet van een heerlijke toast champignon?
Meestal bak ik gewoon wat champignons goudbruin met wat kruiden erbij en goed veel boter. Zalig op een knapperige toast, met soms een eitje erop. Een absolute klassieker.
Maar met dit recept verras je iedereen, het is net iets anders door een champignonroomsaus, gebakken kip, Tartiflette-kaas en een ei op de toast te leggen, en dan alles in de oven te grillen. Wat een upgrade!
En zo'n geweldige manier om restjes kip op te gebruiken. Een echte aanrader als brunch, lunch of een snel gerechtje na het werk.
Dit heb je nodig
champignons met roomsaus
250 g champignons, schoongeveegd en in dunne plakjes gesneden
1 sjalot, fijngehakt
1 knoflookteentje, gehakt
klontje boter
1/2 tl gedroogde tijm
100 ml volle room
100 ml volle melk
1 el aardappelzetmeel
2 el smeerkaas
zeezout + zwarte peper
toast
2 dikke plakken stokbrood of ciabattabrood
klontje roomboter
afmaken
(restjes) gebraden kip, versnipperd
2 plakjes kaas voor tartiflette, zoals Reblochon
2 eieren
gehakte bieslook, om te serveren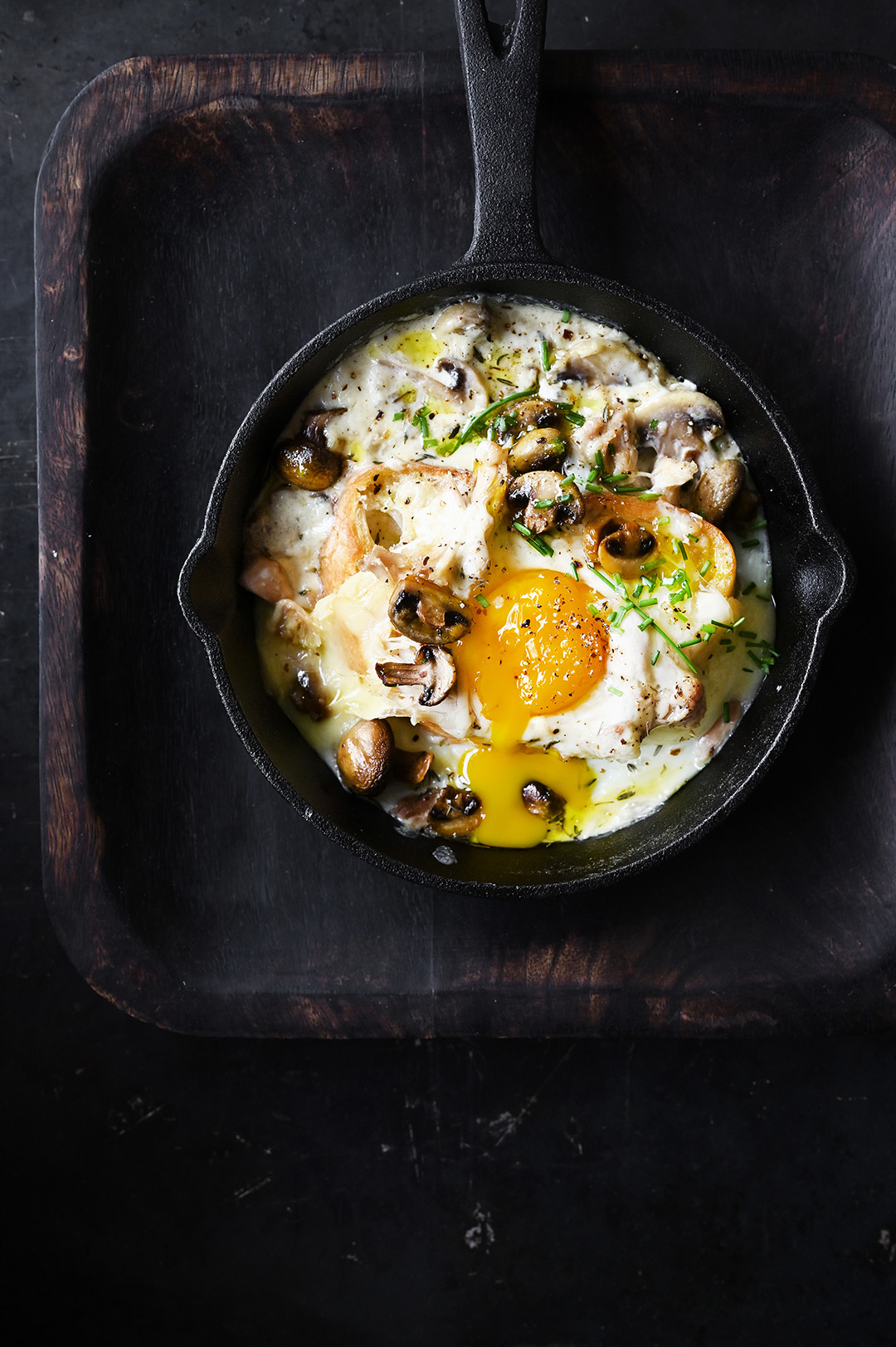 Zo maak je het
Smelt de boter in een grote koekenpan op middelhoog vuur, doe de champignons erin en strooi er een flinke snuif zout op. Bak goudbruin. Roer vervolgens het aardappelzetmeel erdoor. Voeg dan tijm, knoflook en de sjalot toe en fruit tot ze zacht en glazig zijn, dat duurt een minuut of twee. Voeg melk, room en smeerkaas toe. Breng het geheel aan de kook, draai het vuur iets zachter en laat het inkoken, roer voortdurend, tot de saus dikker wordt, 1 à 2 minuten. Haal de saus van het vuur. Breng op smaak met zwarte peper en zout.
Smeer de broodplakken aan beide zijden in met boter. Leg ze vervolgens in een hete koekenpan en bak tot ze knapperig en bruin zijn.
Verdeel de champignonsaus over 2 individuele ovenvaste pannentjes. Leg de toasts erin, dan de kippenstukjes en de tartiflette-kaas. Breek op elke toast een ei en grill 4-5 minuten in de oven tot de eieren net gaar zijn. Breng op smaak met zeezout en zwarte peper.
Werk af met gehakte bieslook en serveer onmiddellijk. Smakelijk.