Voor dit recept heb je slechts enkele ingrediënten en een paar minuten van je tijd nodig. Deze versie wordt geserveerd met pesto en een spiegelei. 
Een toast champignon is een hartelijk gerechtje dat geschikt is voor elk moment van de dag, en zo heerlijk in zijn eenvoud.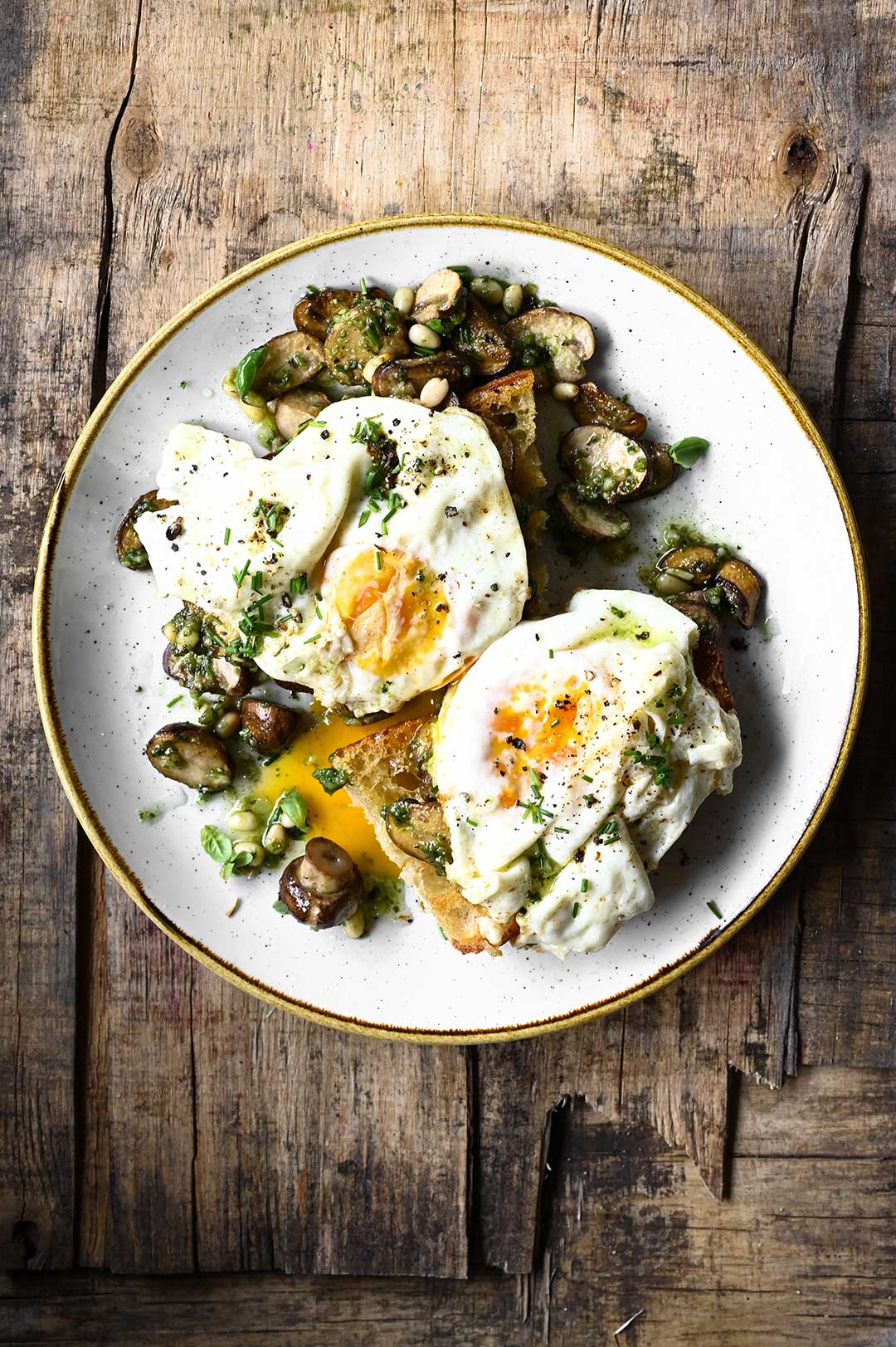 Een toast is super makkelijk te maken, we gebruiken hier zuurdesembrood dat in boter wordt gebakken tot een krokante toast. De champignons worden gemengd met pesto en royaal besprenkeld met pijnboompitten. We werken het geheel af met een spiegelei en plotseling staat er in ongeveer 20 minuten een eenvoudig maar smakelijk gerecht op tafel, waar de hele familie dol op zal zijn. Bekijk mijn VIDEO om te zien hoe makkelijk je dit gerecht kan maken!
Meer 30-minuten gerechten:
Polenta met miso champignons en zongedroogde tomaten
Pasta met aubergine, zongedroogde tomaten en ricotta
Toast champignon met room, kip en een eitje
Wil je op de hoogte blijven van mijn nieuwe recepten? Abonneer je dan op mijn NIEUWSBRIEF.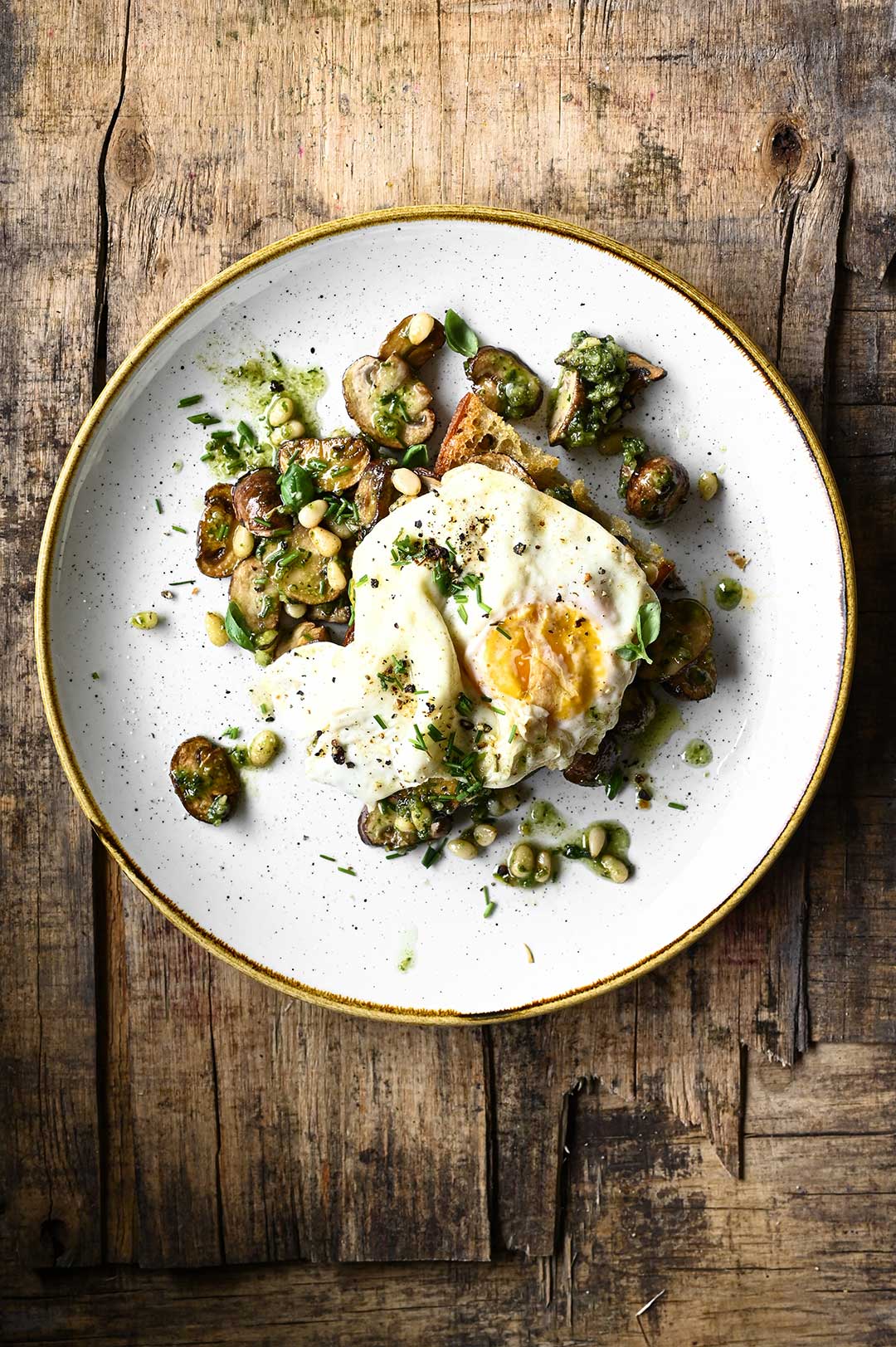 Dit heb je nodig
2 dikke boterhammen (zuurdesem)
250 g bruine champignons, in dikke stukken gesneden
3 el olijfolie
2 tenen knoflook, fijngehakt
1 tl citroensap
1 el pijnboompitten
zwarte peper + zout
2 eieren
2 el boter
fijngehakte bieslook, voor de afwerking
pesto
(ja ken ook kant-en-klare pesto gebuiken)
20 g basilicumblaadjes
1 el geroosterde pijnboompitten
30 g geraspte parmezaan
3 el olijfolie
zeezout + zwarte peper
Zo maak je het
Doe alle ingrediënten voor de pesto in een keukenmachine en mix. Breng op smaak met zout en peper. Zet opzij.
Verwarm een koekenpan op hoog vuur. Voeg de champignons toe en bak gedurende 5 minuten. De champignons gaan hun vocht afgeven, voeg daarna olijfolie, pijnboompitten en knoflook toe. Verlaag het vuur en bak 1-2 minuten verder. Als de champignons beginnen te bruinen, voeg citroensap toe en breng op smaak met zout en peper. Roer de pesto eronder.
Smelt in een koekenpan 1 el boter. Breek de eieren in de koekenpan. Bak op een laag vuurtje, ongeveer 5 minuten. Breng op smaak met zout en peper. Haal ze uit de pan en leg op een bord.
Smelt de resterende boter in dezelfde koekenpan, leg het brood erin en rooster tot goudbruine toasts.
Schep de pesto-champignons op de toasts en bedek met de spiegeleieren. Garneer met gehakt bieslook, wat zout en zwarte peper. Smakelijk.
Bekijk mijn VIDEO om te zien hoe makkelijk je dit gerecht kan maken!
Als je dit recept uitprobeert, laat dan hieronder een reactie achter of deel je foto's op Instagram en vergeet niet om mij te taggen @anna_s_table. Ik kijk ernaar uit!
AND… IF YOU LOVE THESE RECIPES … please consider supporting my work for just the cost of a cup of coffee.