Dit stoofpotje van kikkererwten is super makkelijk te maken maar onwaarschijnlijk lekker. Het is één van die magische recepten met kikkererwten en linzen waarmee je een rijke maaltijdsoep op tafel tovert in een handomdraai. Een kleine hoeveelheid spek erbij doen is zeker een optie, vooral om een wat gerookte, rijkere smaak toe te voegen. Rooster wat open broodjes met kaas en dompel ze in de gevulde kommetjes. En wanneer het brood de heerlijke bouillon opneemt… magic!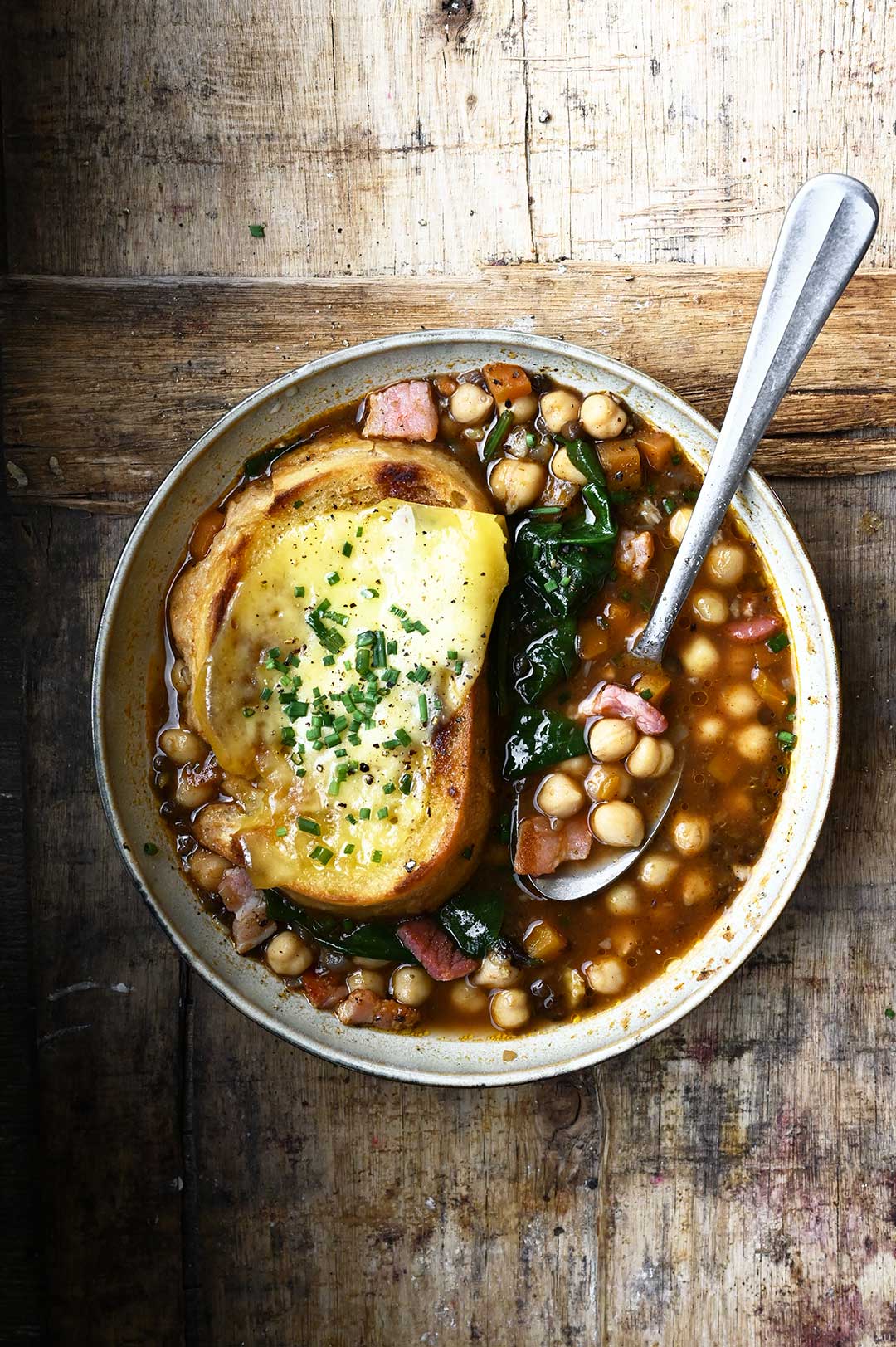 We beginnen met het bakken van het spek om zo meer smaak toe te voegen, daarna laten we de ui, knoflook en wortel fruiten in wat olijfolie. We voegen ook wat kruiden toe voor een extra hartige ondertoon. Dan gieten we groentebouillon erbij, voegen we de linzen toe en laten alles 20 minuten sudderen tot de linzen zacht zijn. Dan voegen we de kikkererwten toe, spinazie, een scheutje citroensap en klaar. Je kan ook een paar blaadjes savooiekool, boerenkool of andere seizoensgroenten ongeveer 5-10 minuten voor het einde van de kooktijd erbij doen, en ik hoef je niet te vertellen dat deze stoofpot de volgende dag nog beter smaakt. We serveren het met geroosterd brood belegd met gesmolten kaas, en een paar  druppels Tabasco. Een echte aanrader. Bekijk mijn VIDEO om te zien hoe makkelijk je dit gerecht kan maken!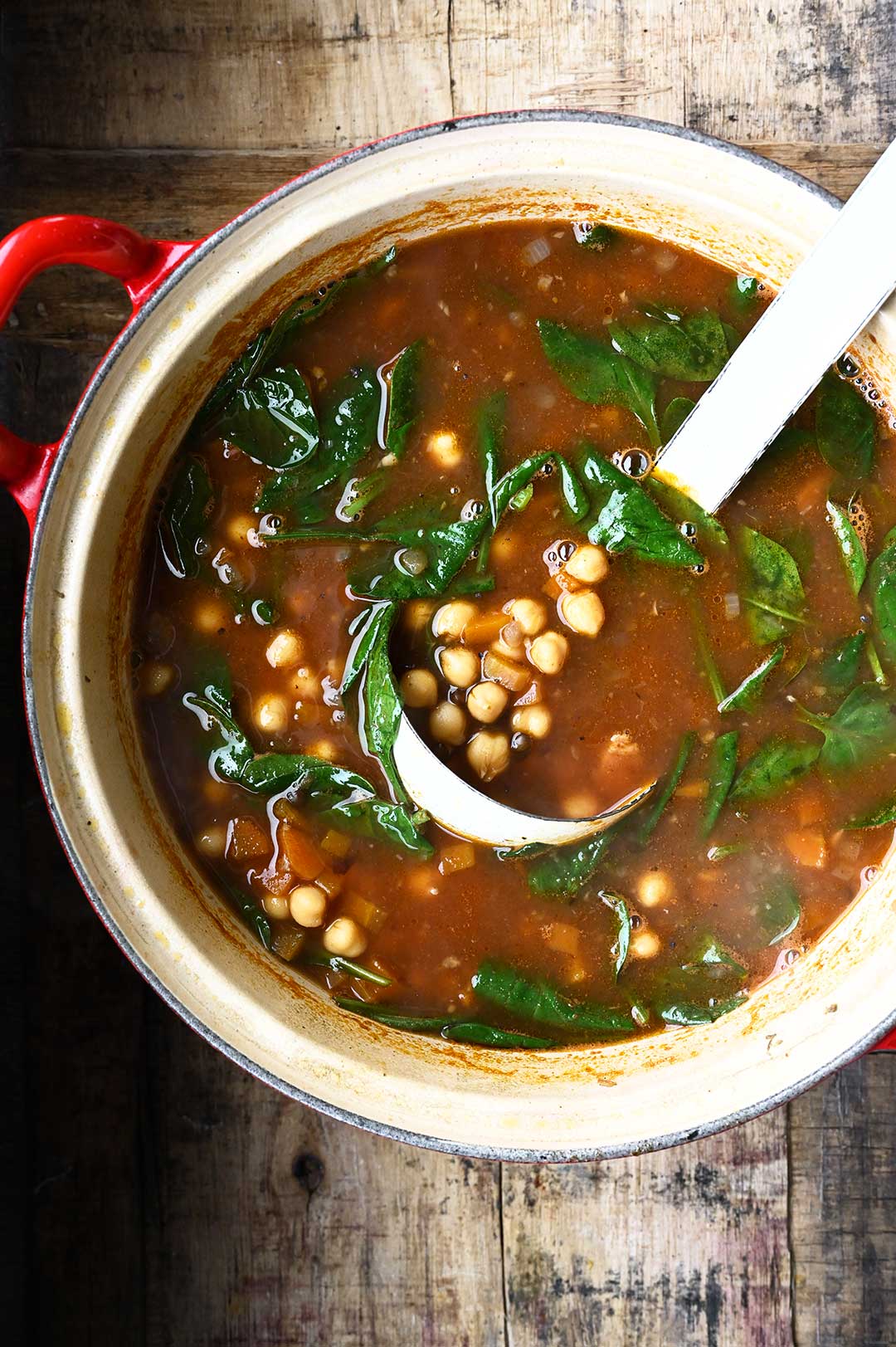 En ook dit: Het is een stevige stoofpot, maar als je hem wil verdunnen en een soep maken, voeg dan nog 1L bouillon toe. Laat het sudderen en de rijke smaak zal zich doorheen de extra bouillon  verspreiden.
Een laatste opmerking: We gebruiken hier kikkererwten uit blik, maar als je wil, kan je geweekte kikkererwten gebruiken en ze 40 minuten laten meekoken in de stoofpot.
Meer makkelijke gerechten:
Stoofpotje van witte bonen met feta en een gepocheerd ei
Winters linzenstoofpotje
Stoofpotje van vlees en scampi's
Wil je op de hoogte blijven van mijn nieuwe recepten? Abonneer je dan op mijn NIEUWSBRIEF.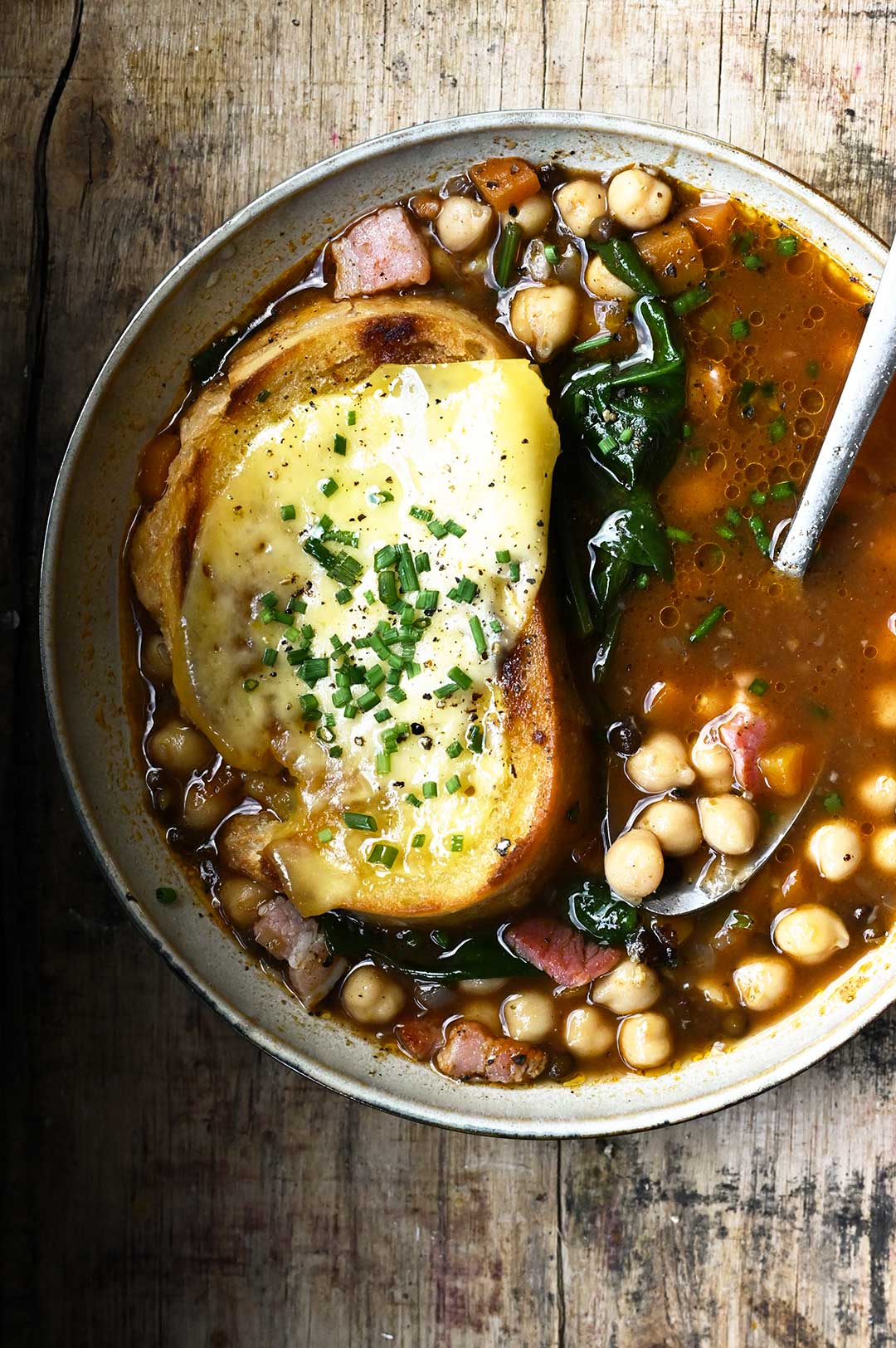 Dit heb je nodig
100 g gerookte spekblokjes
2 blikken (400g) kikkererwten, uitgelekt
50 g linzen, zwart of groen
50 g spinazie
2 wortelen, geschild en in blokjes gesneden
4 tenen knoflook, fijngehakt
1 kleine ui, fijngesneden
3 el olijfolie
2 el tomatenpuree
1 tl elk: gemalen komijn, gerookte paprika, zwarte peper
1 laurierblad
1 el citroensap
1,5 L groente- of kippenbouillon
+
4 dikke sneden brood
4 plakjes kaas, cheddar of gouda
2 el ongezouten boter
2 el olijfolie
gehakte bieslook en zwarte peper, voor de afwerking
Tabasco (optioneel)
Zo maak je het
Verhit de olijfolie in een grote kookpot op middelmatig vuur. Voeg spekblokjes toe, bak tot ze mooi goudbruin worden. Roer af en toe. Haal ze dan uit de pot.
Als er geen restjes vet zijn, voeg dan opnieuw 2 el olie toe. Doe knoflook en ui in de pot, fruit op een zacht vuurtje, ongeveer 2 minuten. Roer komijn, gerookte paprika en zwarte peper erdoor. Voeg wortels toe, laat 2 minuten meebakken. Blus met bouillon en breng het geheel aan de kook. Voeg linzen en laurier toe, dek af en laat het geheel 20 minuten op een zacht vuurtje pruttelen.
Als de linzen zacht zijn, maar al dente, voeg kikkererwten en tomatenpuree toe, laat nog 5 minuten sudderen. Voeg spinazie en citroensap toe, roer en zet het vuur uit. Proef, en voeg zout toe naar eigen smaak.
Verhit een koekenpan op middelmatig vuur, voeg boter en olijfolie toe. Plaats de sneden brood in de pan en rooster tot ze goudbruin en knapperig zijn, ongeveer 5 minuten. Draai om, leg er kaas op en rooster tot de kaas gesmolten is, nog 5 minuten.
Verdeel de soep over de kommen. Leg de toasts erop. Bestrooi met spekjes, bieslook en breng op smaak met zwarte peper en een paar druppels Tabasco. Smakelijk!
Bekijk mijn VIDEO om te zien hoe makkelijk je dit gerecht kan maken!
…IF YOU LOVE THESE RECIPES … please consider supporting my work for just the cost of a cup of coffee.

Als je dit recept probeert, laat dan hieronder een reactie achter of tag mij in je foto's op
Instagram
 met 
@anna_s_table
of met 
#servingdumplings
. Ik kijk ernaar uit!