Wat dacht je van een superlekker wokgerecht met runderreepjes en spinazie. Dankzij wat jalapeños, een beetje honing en een sausje op basis van soja, is dit gerecht hartig, zoet en pittig tegelijk met een vleugje gember en knoflook… overheerlijk! Een echte smaakbom. Serveer met rijst of noedels en een knapperige komkommersalade voor een fantastische homemade afhaalmaaltijd.
Het is een heerlijk gerecht met veel spinazie en precies de juiste hoeveelheid smaakcombinaties. Om de saus te maken gebruiken we sesamolie, het water van gepekelde jalapeños, sojasaus, sriracha en een vleugje honing. 
En zo maken we het gerecht. Allereerst is een goede voorbereiding de sleutel om een fantastisch wokgerecht te maken. De eigenlijke baktijd is vrij kort en duurt slechts 5 minuten. Het vlees wordt gebakken tot de randen bruin zijn maar de binnenkant nog steeds mals en sappig. Dan gaan de knoflook, gember en jalapeños erbij. Op het laatst roeren we de spinazie erdoorheen en gieten de zoet-pikante saus erover. De honing en zoute sojasaus vermengen zich met de sappen van het rundvlees, terwijl de plakjes jalapeño de saus absorberen. Heerlijk!
Bekijk mijn VIDEO om te zien hoe makkelijk je dit gerecht kan maken.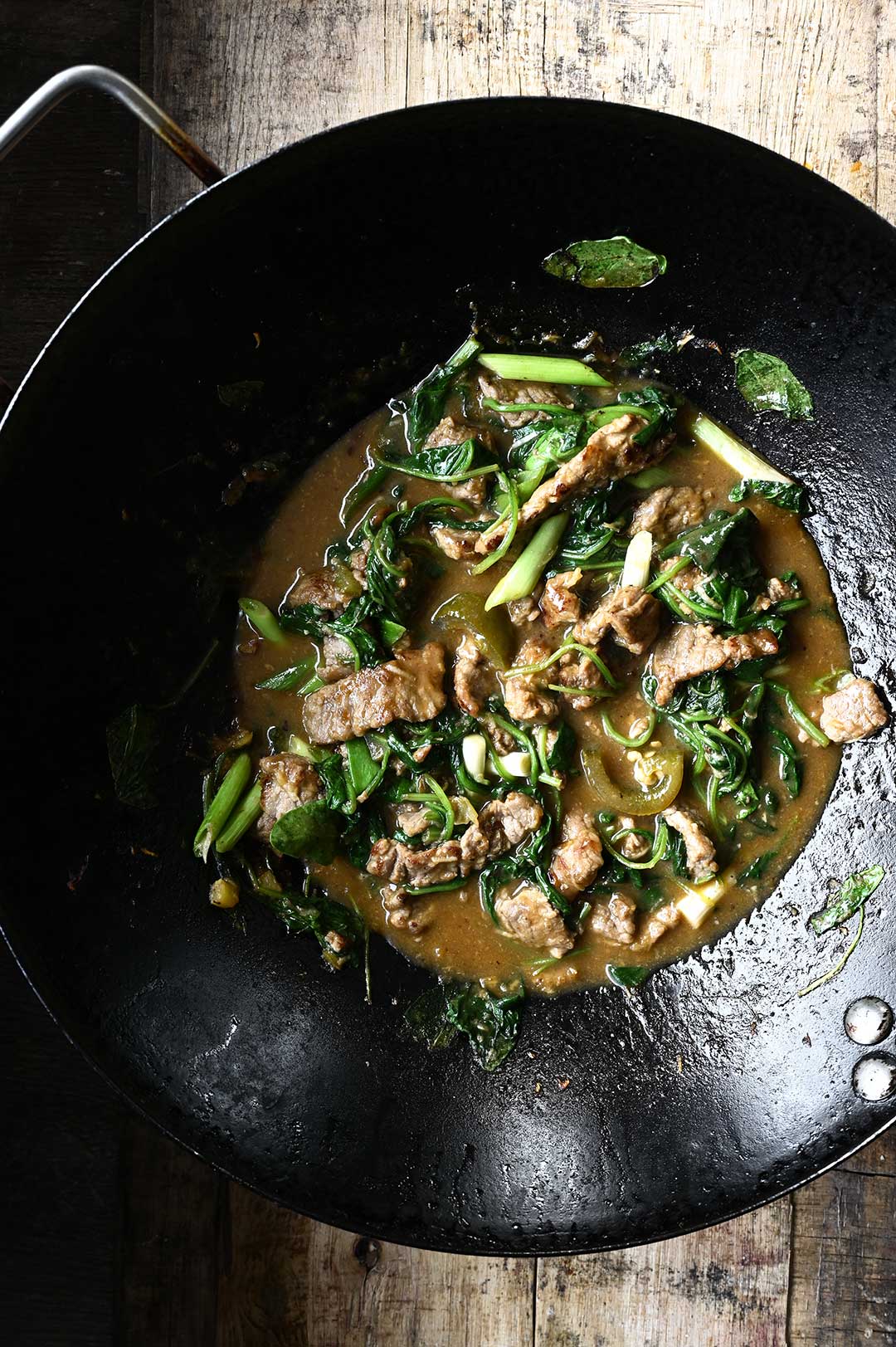 TIPS
– voeg zoveel pikante jalapeños toe als je zelf wil (of zoveel je aankan…)
– gebruik kip in plaats van rundvlees
– in plaats van spinazie kan je ook broccoli, champignons, paprika, courgette, wortelen, bamboescheuten of sugar snaps gebruiken
– serveer met gestoomde sushirijst, jasmijnrijst, rijstnoedels of roerbaknoedels
More stir-fry recipes, please!
Wok met kip, broccoli en pinda's
Wok met aubergine en halloumi
Pikante wok met scampi en szechuanpeper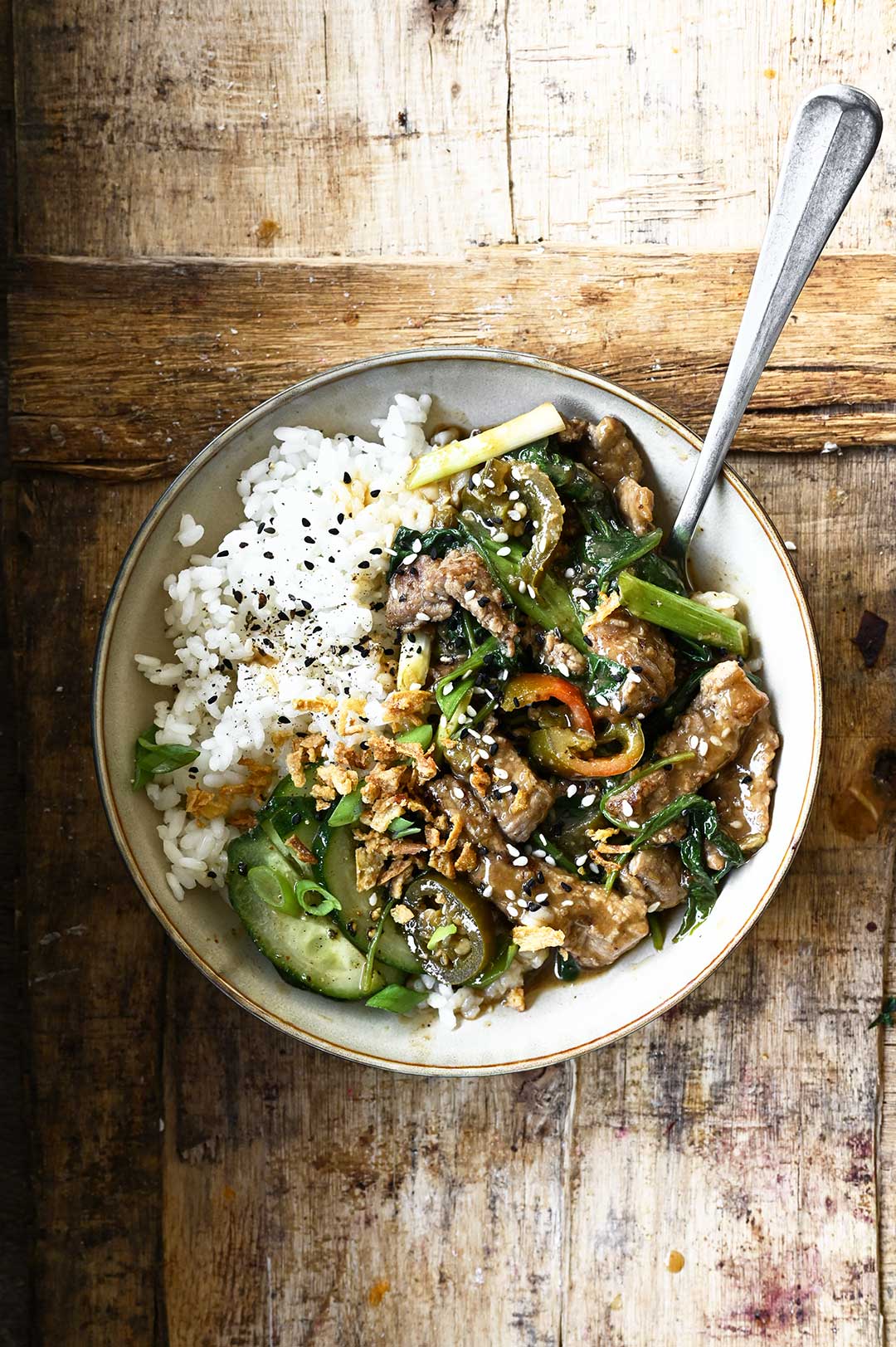 Dit heb je nodig
300 g rundvlees (biefstuk, rumsteak of gepelde steak)
150 g jonge spinazie
4 teentjes knoflook, geplet en fijngehakt
1 el geraspte gember
1 el gehakte gepekelde jalapeños (of 1 theelepel, naar eigen smaak)
6 lente-uitjes, in lange stukken
3 el plantaardige olie
sesamzaadjes, om te serveren
gestoomde sushirijst, om te serveren
knapperig gebakken uitjes, om te serveren
komkommersalade, om op te dienen
rundvlees marinade
2 el maïszetmeel
2 el sojasaus
1 el honing
1 el plantaardige olie
1 el vissaus
wok-saus
125 ml kippenbouillon
1 el honing
3 el sojasaus
1 el geroosterde sesamolie
1 el gehakte gepekelde jalapeños, meer naar eigen smaak
1 tl sriracha (minder of meer, jij bent de chef)
1/4 tl witte peper
1 tl maïszetmeel
Zo maak je het
Bekijk mijn VIDEO om te zien hoe makkelijk je dit gerecht kan maken.
Snijd de biefstuk in hele dunne plakjes. Doe in een kom en meng met de marinade. Laat minstens 15 minuten marineren.
Meng intussen de ingrediënten voor de saus in een kleine kom.
Bereid alle andere ingrediënten en zet klaar, stoom de rijst.
Verhit de olie in een wok op hoog vuur tot deze gloeiend heet is en de olie glinstert. Voeg de runderreepjes toe, laat ongestoord bakken ongeveer 30 seconden. Begin nu te roeren en bak gedurende 1 minuut of tot het rundvlees licht gebruind is, maar niet doorbakken. Voeg knoflook, gember en jalapeños toe. Roerbak gedurende 30 seconden.
Voeg spinazie toe, roer tot deze begint te verwelken, 30 seconden. Giet de saus erbij, roerbak nog 30 seconden tot 1 minuut tot de saus dikker begint te worden. Roer de lente-uitjes erdoor. Klaar.
Serveer direct met rijst en een frisse komkommersalade. Bestrooi met sesamzaadjes en gebakken uitjes. Smakelijk!