Scampi met beurre noisette, look en pasta. Superlekker, makkelijk en klaar in 20 minuten. Een subliem gerechtje dat bij iedereen in de smaak zal vallen. De botersaus is pittig met wat rode chilipeper, veel look en niet te vergeten een vleugje honing en citroen. De verse peterselie op zijn beurt zorgt voor een frisse finishing touch.
Ik ben een grote liefhebber van scampi's zoals deze, gebakken met knoflook en beurre noisette, zalig! Ik eet het met pasta, rijst, geroosterd brood of (en dit is mijn favoriet) met zelfgemaakte frietjes. Het beste wat er is.
Dit recept is te makkelijk en te lekker om niet uit te proberen. Je moet de beurre noisette slechts enkele minuten extra verhitten om de rijke en nootachtige smaak naar boven te halen. Honing, citroen en knoflook zijn zulke eenvoudige ingrediënten, maar voegen ongelooflijk veel smaak toe.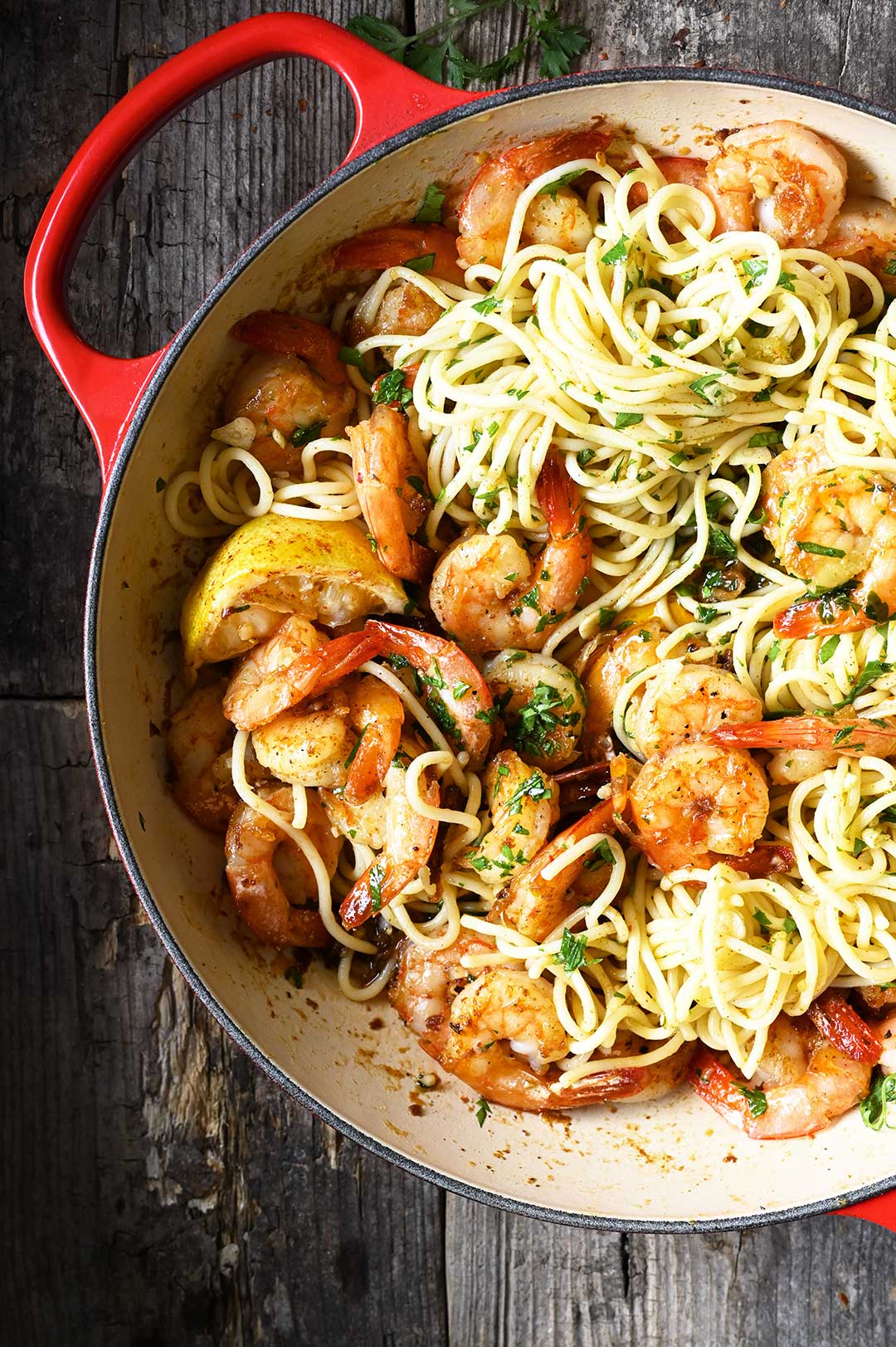 Meer scampi recepten? Hier een paar favorieten!
Scampi's met cashews, honing en look
Parelcouscous met scampi en verse erwtjes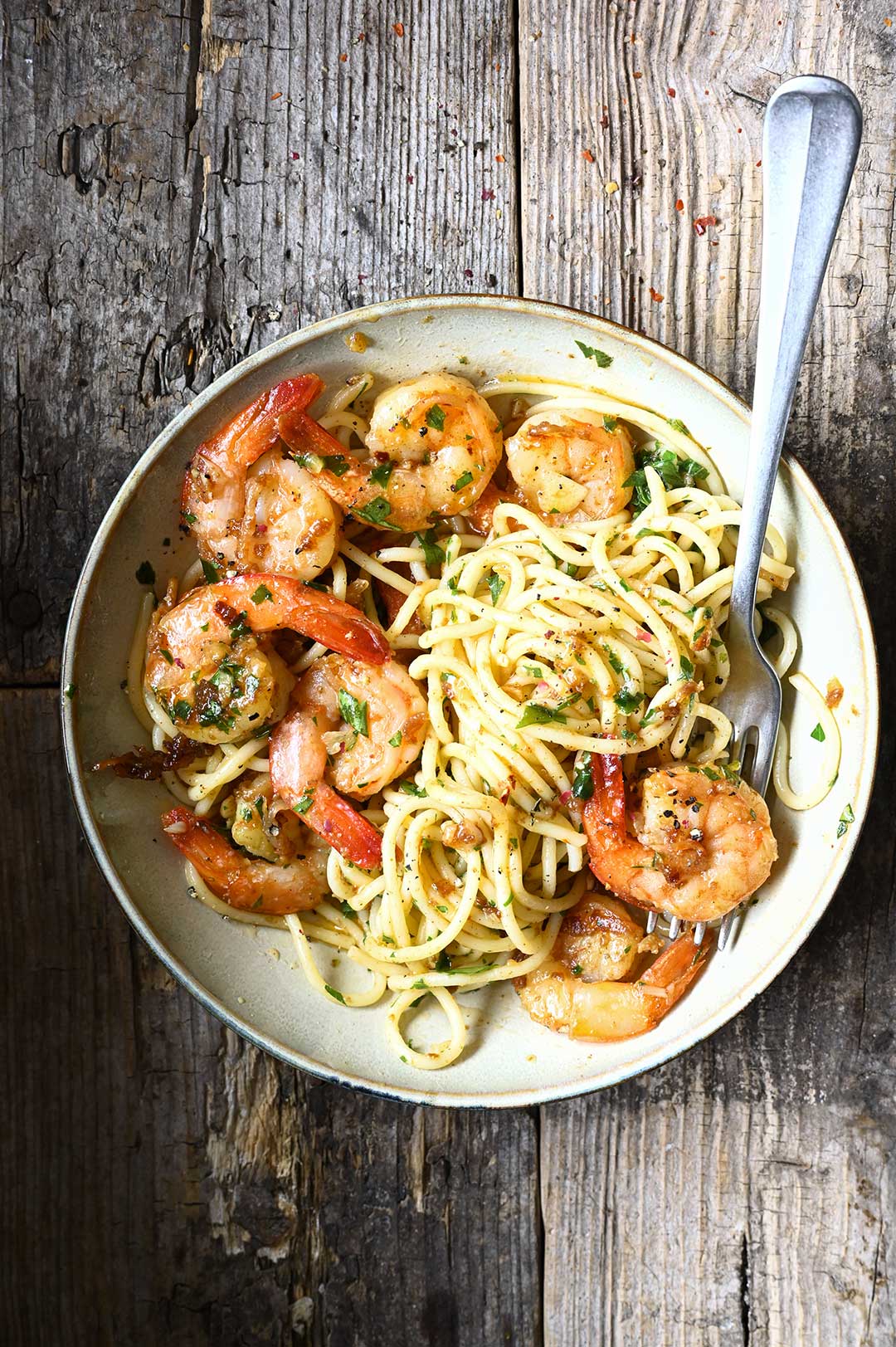 Wil je op de hoogte blijven van mijn nieuwe recepten? Abonneer je dan op mijn NIEUWSBRIEF.
Dit heb je nodig
400 g spaghetti
600 g gepelde scampi's
4 grote tenen knoflook, fijngehakt
60 g roomboter
3 el olijfolie
1 el honing
2 el citroensap
1/2 tl gerookt paprikapoeder
1/4 tl cayennepeper
1/2 tl rode chilipeper, meer naar smaak
2 el gehakte peterselie
zeezout + zwarte peper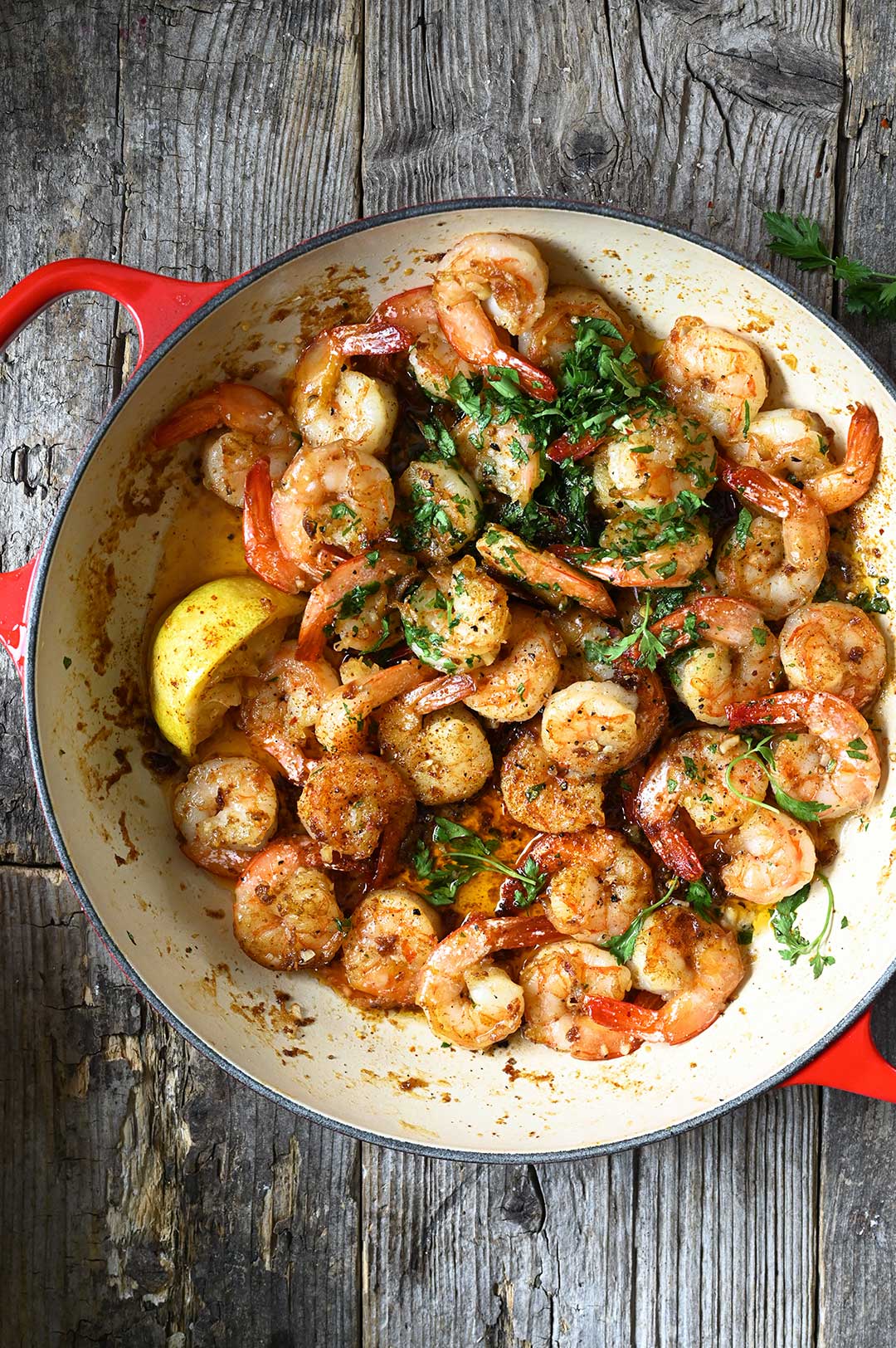 Zo maak je het
Kook de spaghetti in een pot met gezouten water. Giet af.
Dep de scampi's droog. Verhit een grote koekenpan op middelmatig vuur en voeg de helft van de boter toe. Laat 2-3 minuten bakken of tot de boter begint te schuimen en begint te bruinen. Zet het vuur hoger en voeg de scampi's toe. Breng op smaak met zout, peper en gerookte paprika. Bak de scampi's goudbruin, ongeveer 3 minuten per zijde. Voeg de rest van de boter, de olijfolie en knoflook toe. Bak nog 2 minuten mee.
Roer nu het citroensap, honing, cayennepeper en de chili eronder. Bestrooi met peterselie en meng met spaghetti. Proef en voeg indien nodig meer zout, peper en chilipeper toe. Serveer dadelijk. Smakelijk.
Als je dit recept uitprobeert, laat dan hieronder een reactie achter of deel je foto's op Instagram en vergeet niet om mij te taggen @anna_s_table. Ik kijk ernaar uit!