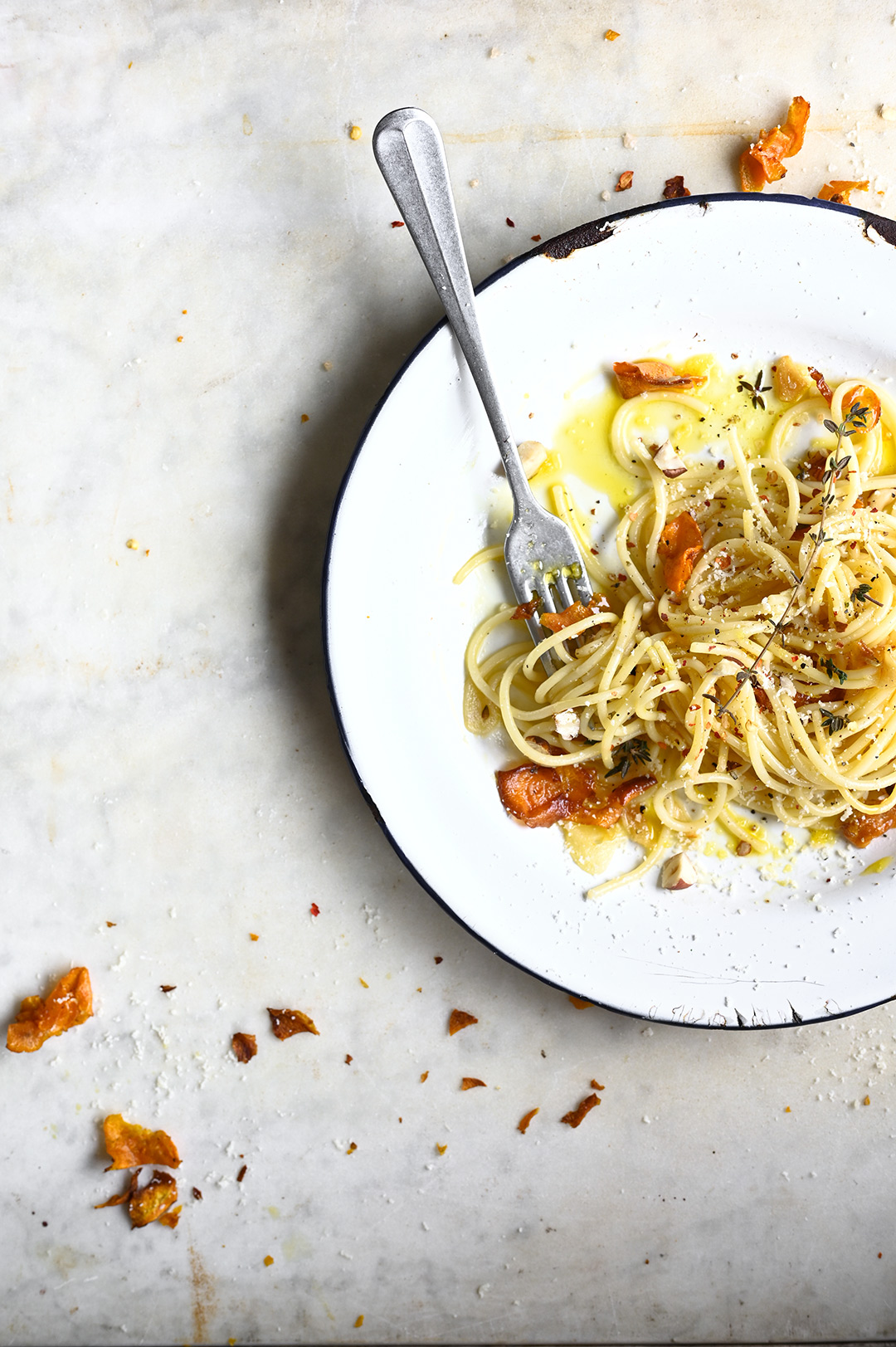 Pasta met beurre noisette en knapperige zoete aardappelchips is een van de beste combos.
Je hebt slechts een paar ingrediënten nodig om dit onvergetelijk gerechtje te bereiden.
Samen met geroosterde hazelnoten, chilipeper en gebrande boter is dit gerecht eenvoudig om te maken, maar wel eentje met veel smaak en een fantastische textuur. Pittig met veel knoflook en parmezaanse kaas. Doe er de knapperig gebakken zoete aardappelchips bij – bingo – absoluut verbluffend!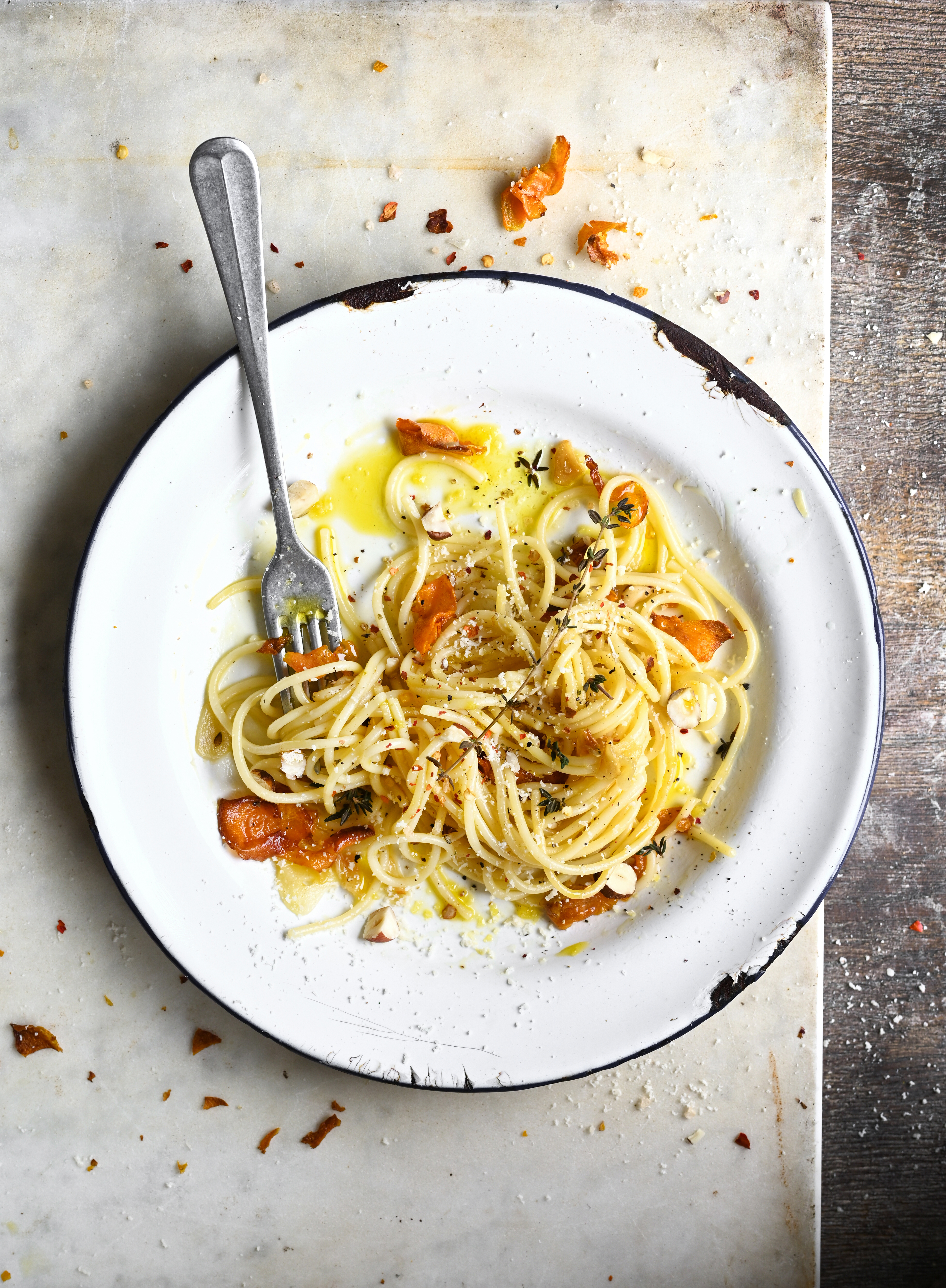 Dit heb je nodig
pasta
500 g spaghetti
150 g ongezouten roomboter
4 teentjes knoflook, in flinterdunne plakjes
6 takjes tijm
zeezout + zwarte peper
2 el citroensap
1/2 tl chilivlokken + meer voor de afwerking
1 el geroosterde en gehakte hazelnoten
vers geraspte parmezaanse kaas
zoete aardappelchips
1 zoete aardappel
250 ml raapolie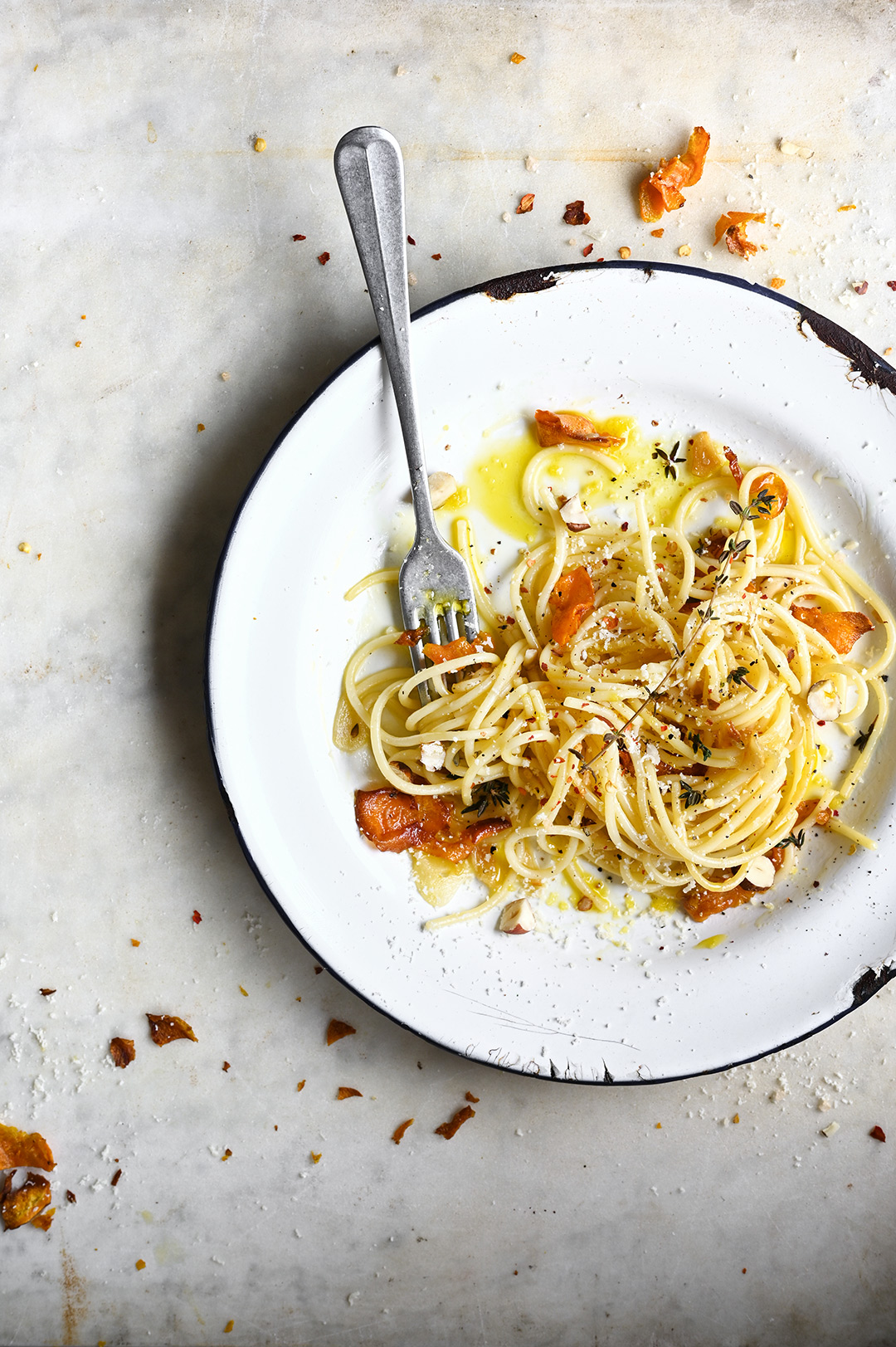 Zo maak je het
Was en schil de zoete aardappel. Snijd met een dunschiller in reepjes of ronde chips. Verhit de olie in een pan. Bak de plakjes in één laag gedurende een minuut of tot ze goudbruin zijn. Je wilt niet dat ze te donker worden, dan smaken ze bitter. Laat ze uitlekken op keukenpapier. Herhaal dit met de overgebleven plakjes zoete aardappel.
Kook de spaghetti in een pan met gezouten kokend water. Giet af.
Verhit ondertussen een grote koekenpan op hoog vuur. Voeg de boter en knoflook toe, laat het geheel 2 minuten bakken of tot de boter begint te schuimen. Voeg de chilivlokken, zout en peper toe en bak nog 2 minuten verder. Voeg het citroensap en de tijmblaadjes toe.
Verdeel de pasta over de kommen. Werk af met de zoete aardappelchips en de botersaus, bestrooi met peper, geroosterde hazelnoten, nog extra chilivlokken en vers geraspte parmezaanse kaas. Smakelijk.