Dit funky eenpansgerecht met scampi's is te goed om zomaar aan je voorbij te laten gaan. Knoflook, wijn, boter, een handvol spinazie en natuurlijk zoveel reuze scampi's als je maar kan opeten. Bovendien is het verbijsterend makkelijk te maken en klaar in 20 minuten.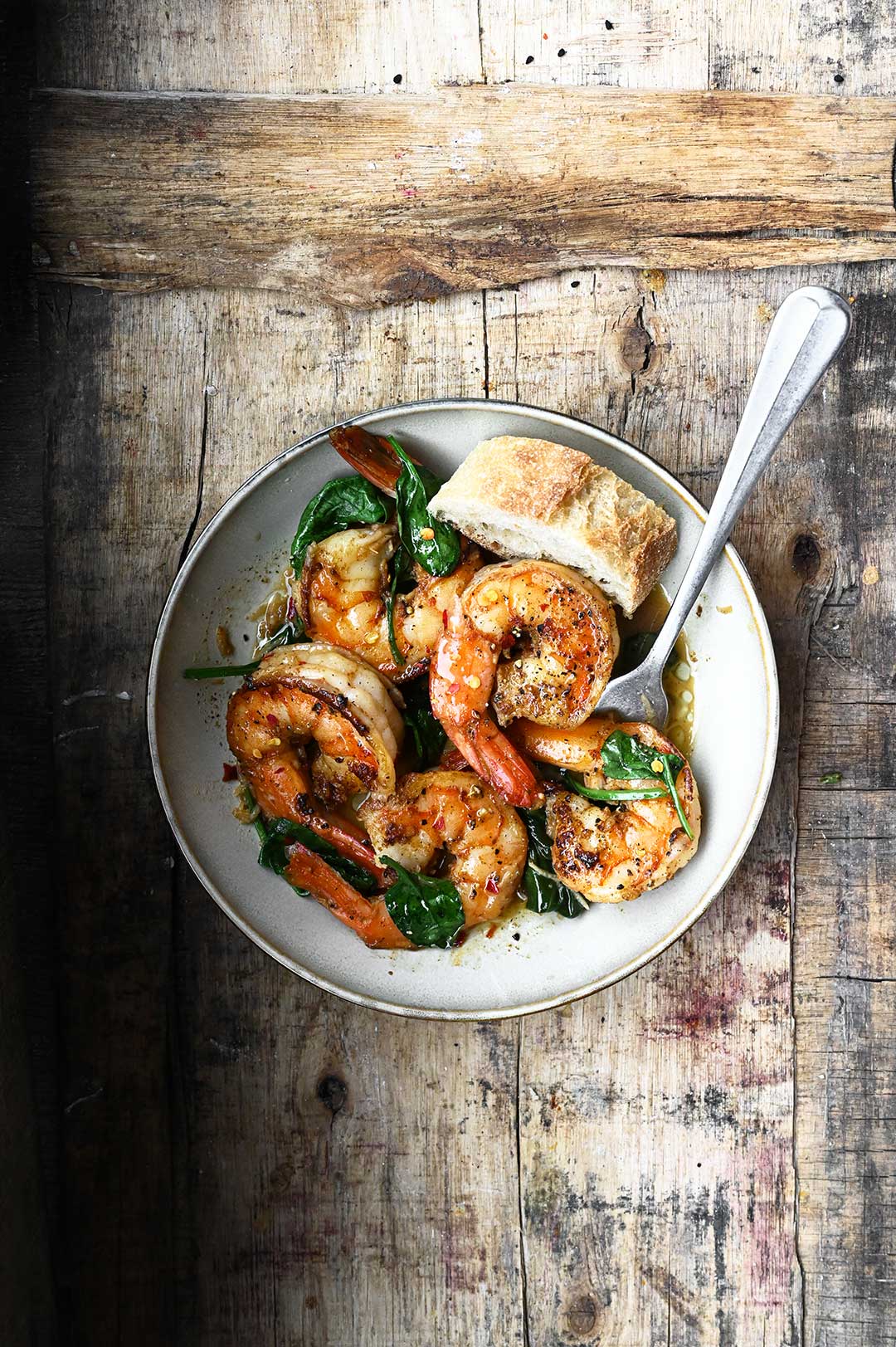 We beginnen met het kortstondig marineren van de scampi's in een mix van geraspte knoflook, olie en wat kruiden. Zo creëren we een diepere smaak en geven we het hele gerecht extra karakter. Vervolgens schroeien we de scampi's, maken de saus, voegen de spinazie toe, en klaar. Elke hap is een ware smaakexplosie. 
Serveer in kommen of rechtstreeks uit de pan, met vers brood en een frisse salade. Heerlijk!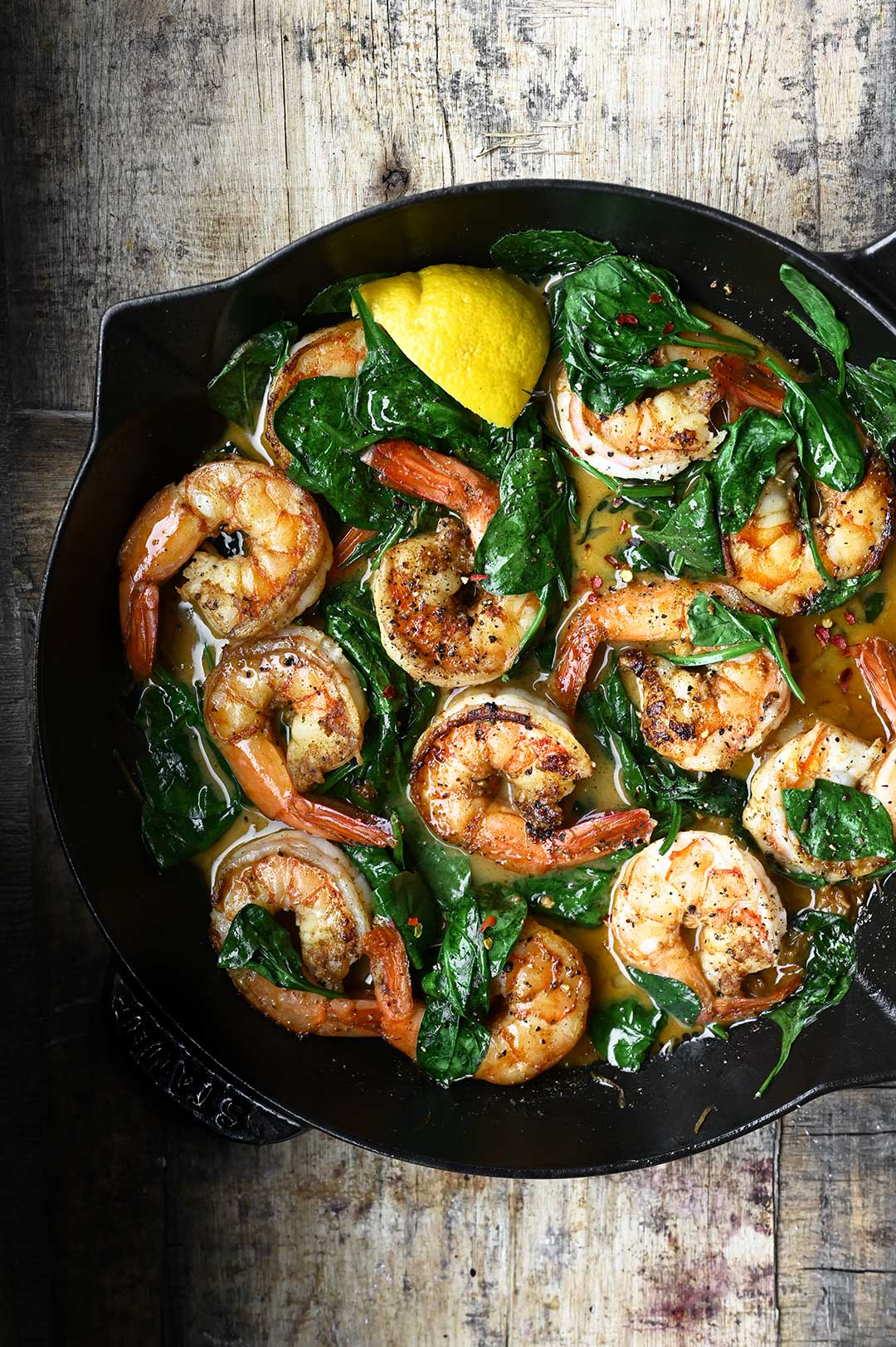 Dit is een fantastische doordeweekse maaltijd, een date night treat of iets speciaals voor uw volgende dinner party met vrienden. Je kan het voor 2 personen als hoofdgerecht serveren, of voor 4 personen als voorgerecht.
Bekijk mijn VIDEO om te zien hoe makkelijk je dit gerecht kan maken.
Meer makkelijke gerechten:
Scampi's in pittige tomatenroomsaus met pasta
Romige polenta met scampi's en chorizo
Taco's met scampi's, koolsla en miso aïoli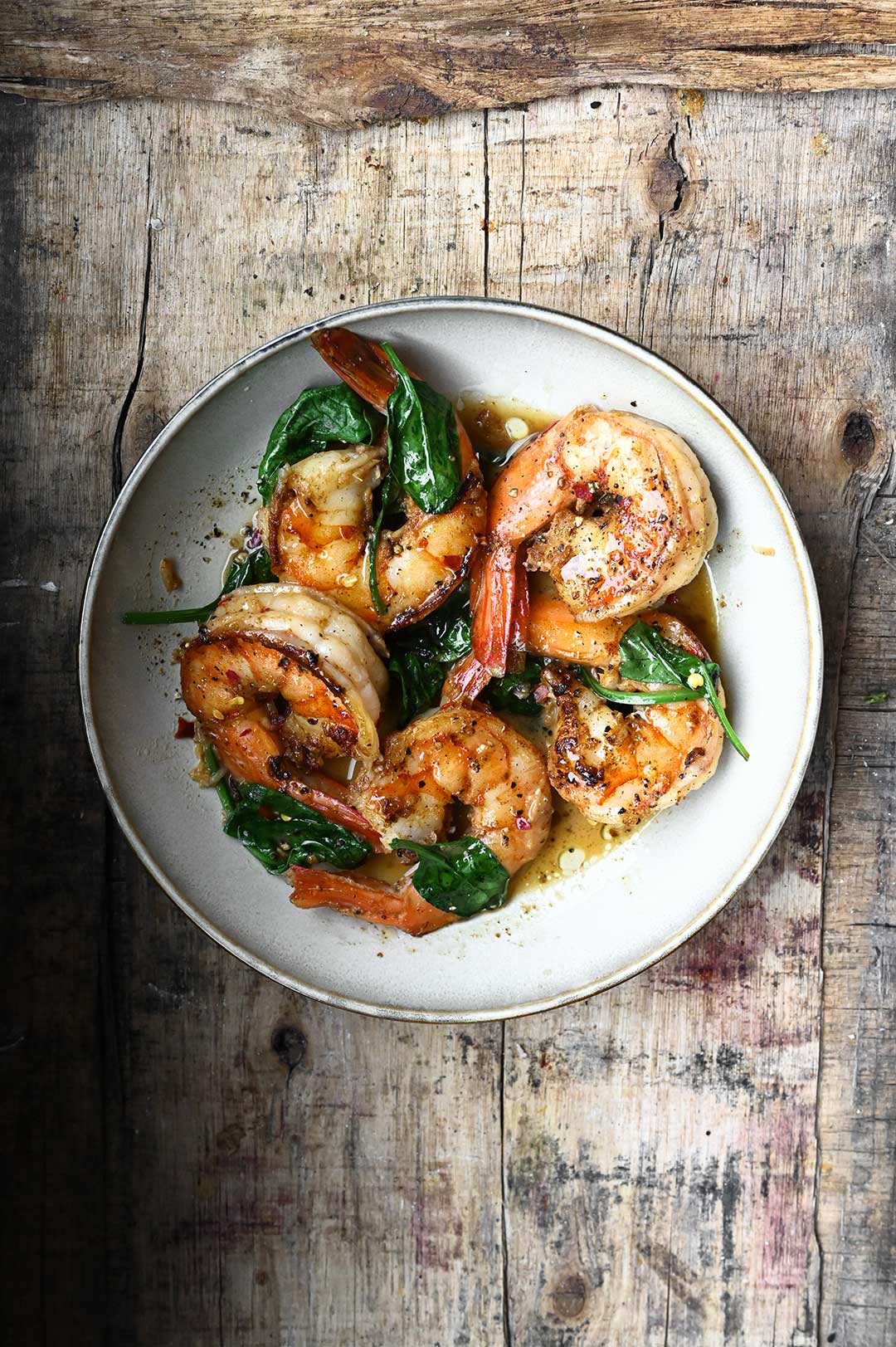 Dit heb je nodig
450 g scampi's, gepeld
60 g spinazie
60 g roomboter
3 el olijfolie
6 knoflookteentjes
125 ml droge witte wijn
2 el vissaus
1 tl elk: gemalen koriander, gemalen komijn, cayennepeper, zwarte peper, gerookt paprikapoeder
2 el citroensap
brood
Zo maak je het
Bekijk mijn VIDEO om te zien hoe makkelijk je dit gerecht kan maken.
Rasp de knoflook fijn in een middelgrote kom. Voeg scampi's, 1 el olijfolie, vissaus, koriander, komijn, cayennepeper, gerookte paprika en zwarte peper toe. Meng het geheel en zet 10 minuten opzij. Als je de scampi's langer wil marineren, geen probleem, zet ze dan in de koelkast gedurende 30 minuten of max 1 uur.
In deze stap is het belangrijk om het recept snel klaar te maken en op een hoog vuur te bakken.
Verhit de resterende 2 el olijfolie in een grote koekenpan. Leg de scampi's in een enkele laag naast mekaar in de pan, schroei gedurende 1 minuut. Draai om en schroei de andere kant ook 1 minuut. Blus met witte wijn, kook nog 1 minuut. Doe de boter erbij en roer tot deze gesmolten is. Voeg dan spinazieblaadjes toe en roer tot deze verwelkt zijn, 30 seconden tot max 1 minuut. Besprenkel met citroensap. Serveer!