Scampi's in een honing-looksausje? Ik kan mij niets beters voorstellen!
Klaar in 20 minuten, met crunchy cashews, look, zoete honing en zoute sojasaus. Zalig! Roer daar nog verse basilicum en noedels doorheen en je hebt een ongelooflijk lekker gerecht.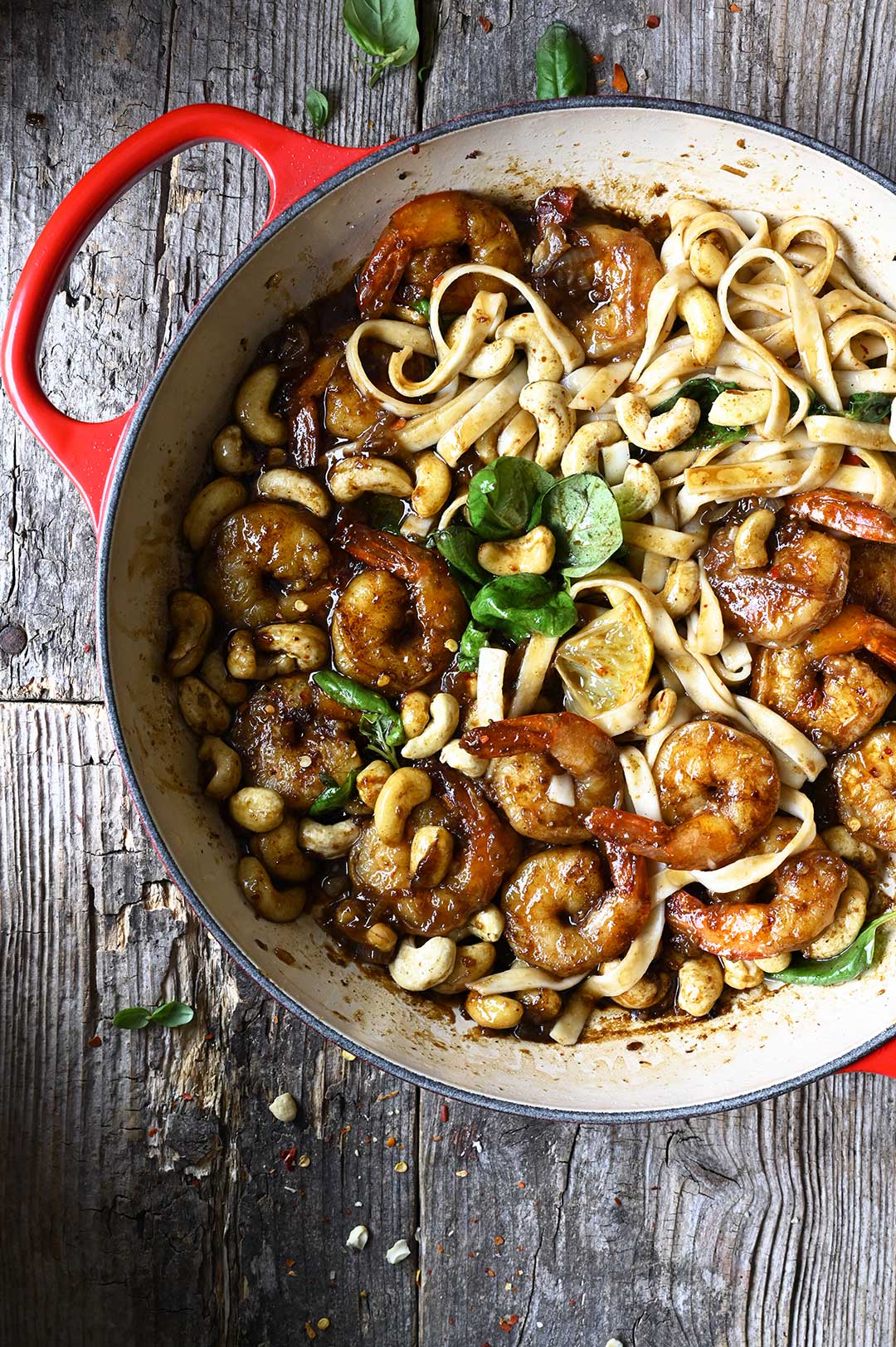 Dit is een makkelijk recept dat extra speciaal aanvoelt. Aziatisch geïnspireerd met een vleugje Italiaans. Niet traditioneel, maar zo lekker.
Scampi's worden samen met cashewnoten gebakken in een zoete soja-looksaus en de verse basilicum zorgt voor extra smaak. Ik vind het lekker om er udon noedels onder te scheppen, maar het is ook heerlijk met rijstnoedels. Eigenlijk kan je elk type pasta gebruiken, spaghetti zou hier ook lekker zijn.
De saus is gemaakt met knoflook, chili, citroen, soja- en oestersaus en zoete honing. Makkelijk en heerlijk! Een echte aanrader!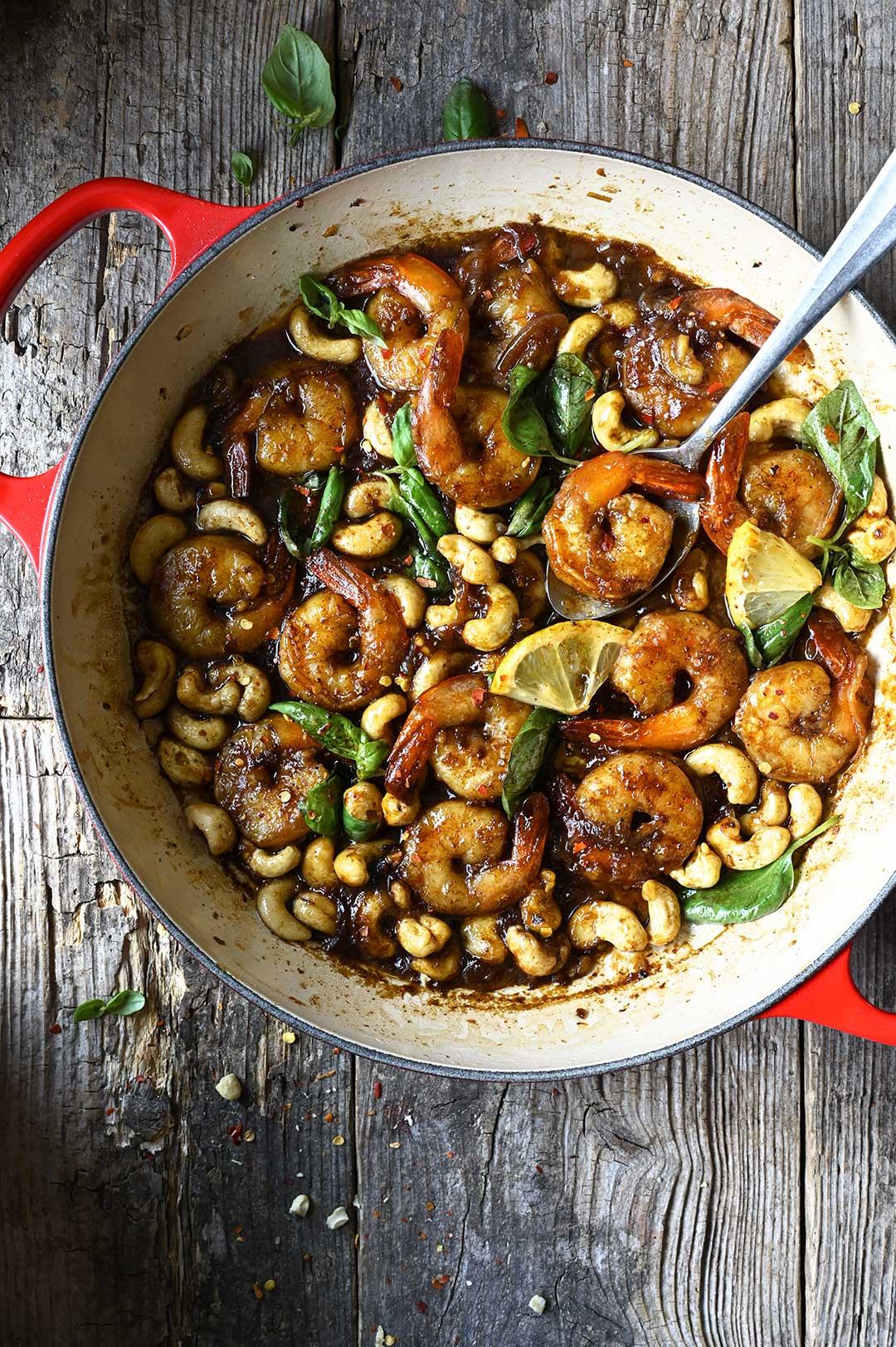 Dit heb je nodig
250 g udon noedels
300 g gepelde scampi's
50 g cashewnoten
1 sjalot, fijngehakt
4 tenen knoflook, fijngehakt
2 el rijstolie of plantaardige olie
1/2 tl chilipoeder
1 tl vers geraspte gember of 1/2 tl gemberpoeder
2 el maïszetmeel
3-4 el sojasaus
1 el oestersaus
1 el honing
150 ml water
1 el citroensap
zwarte peper
20 g verse basilicumblaadjes (van ongeveer 6 takjes)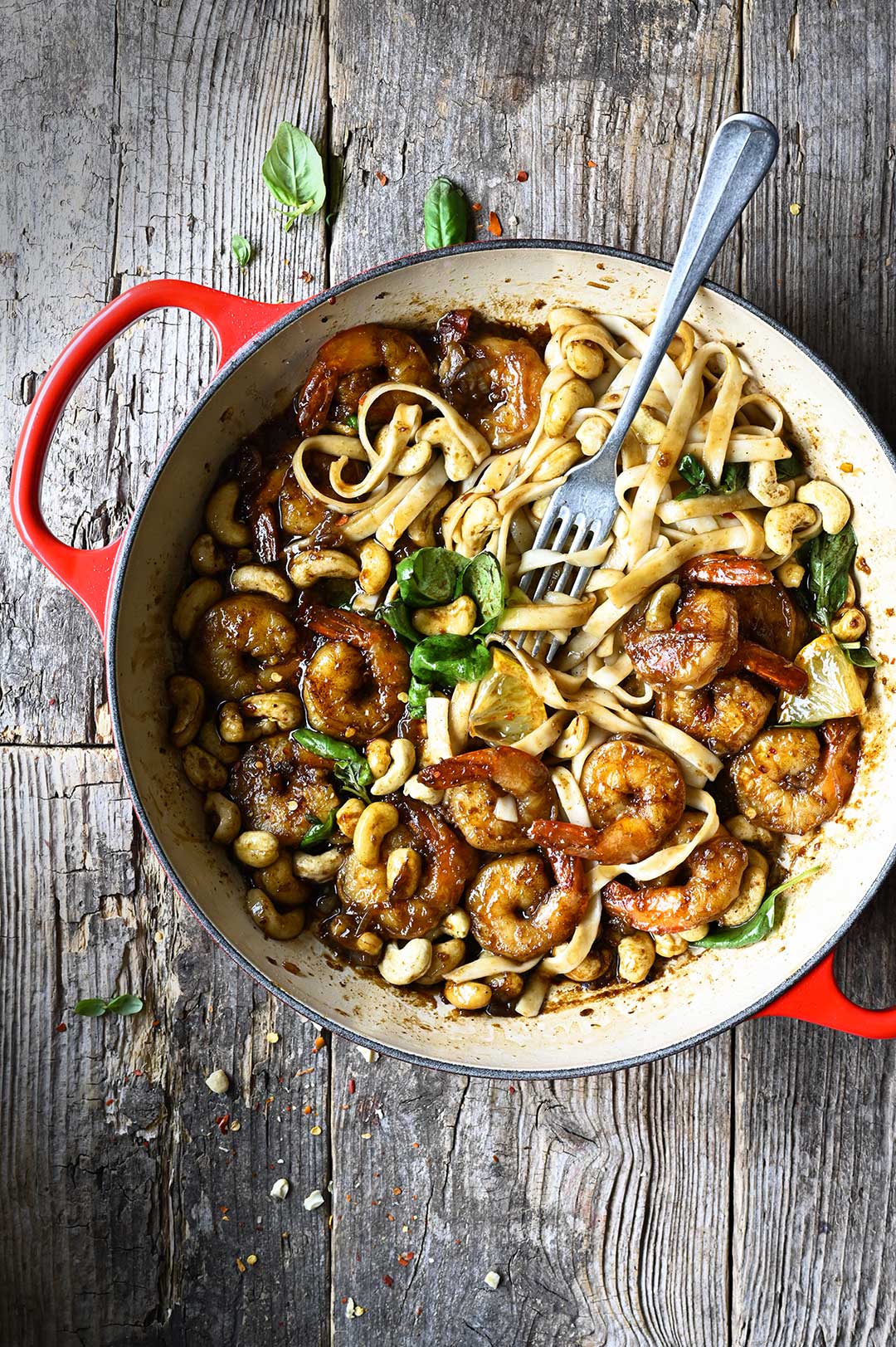 Zo maak je het
Kook de noedels volgens de aanwijzingen op de verpakking.
Dep de scampi's droog.
Verhit de olie in een grote koekenpan op middelhoog vuur. Voeg de scampi's toe en bak, al roerend, ongeveer 2-3 minuten per zijde. Voeg knoflook, sjalot, gember, chili en cashewnoten toe. Bak gedurende 1-2 minuten.
Roer het maïszetmeel erdoor. Roer vervolgens de sojasaus, oestersaus, honing en water erdoorheen. Breng het mengsel aan de kook en laat 5 minuten pruttelen, schraap de gebruinde stukjes met een houten lepel van de pan en roer af en toe tot de saus begint in te dikken. Haal van het vuur en roer het citroensap en de basilicumblaadjes erin. Proef en breng op smaak met zwarte peper. Voeg extra sojasaus toe indien nodig en wat water als je de saus wat dunner wilt.
Serveer met noedels. Smakelijk!