Scampi's en rigatoni in een pittige tomatenroomsaus met knoflook, zongedroogde tomaten en witte wijn. Geserveerd met crunchy oregano-broodkruimels en feta. Superlekker, om duimen en vingers af te likken.
Dat scampi's en pasta samen overheerlijk zijn, wisten jullie waarschijnlijk al. Witte wijn en room voegen verfijning en een rijke toets toe aan de tomatensaus. De gedroogde chili peper geeft de saus een pittige kick. De knapperige oregano-broodkruimels en de zoute feta zijn een must, de finishing touch, de kers op de taart. En dit allemaal met slechts een paar ingrediënten en 30 minuten van je tijd. 
Deze saus op basis van tomaten en scampi's past geweldig bij eender welke pasta of rijst, maar je kan het natuurlijk ook met brood serveren.
Geen fan van feta? Gebruik parmezaan of burrata.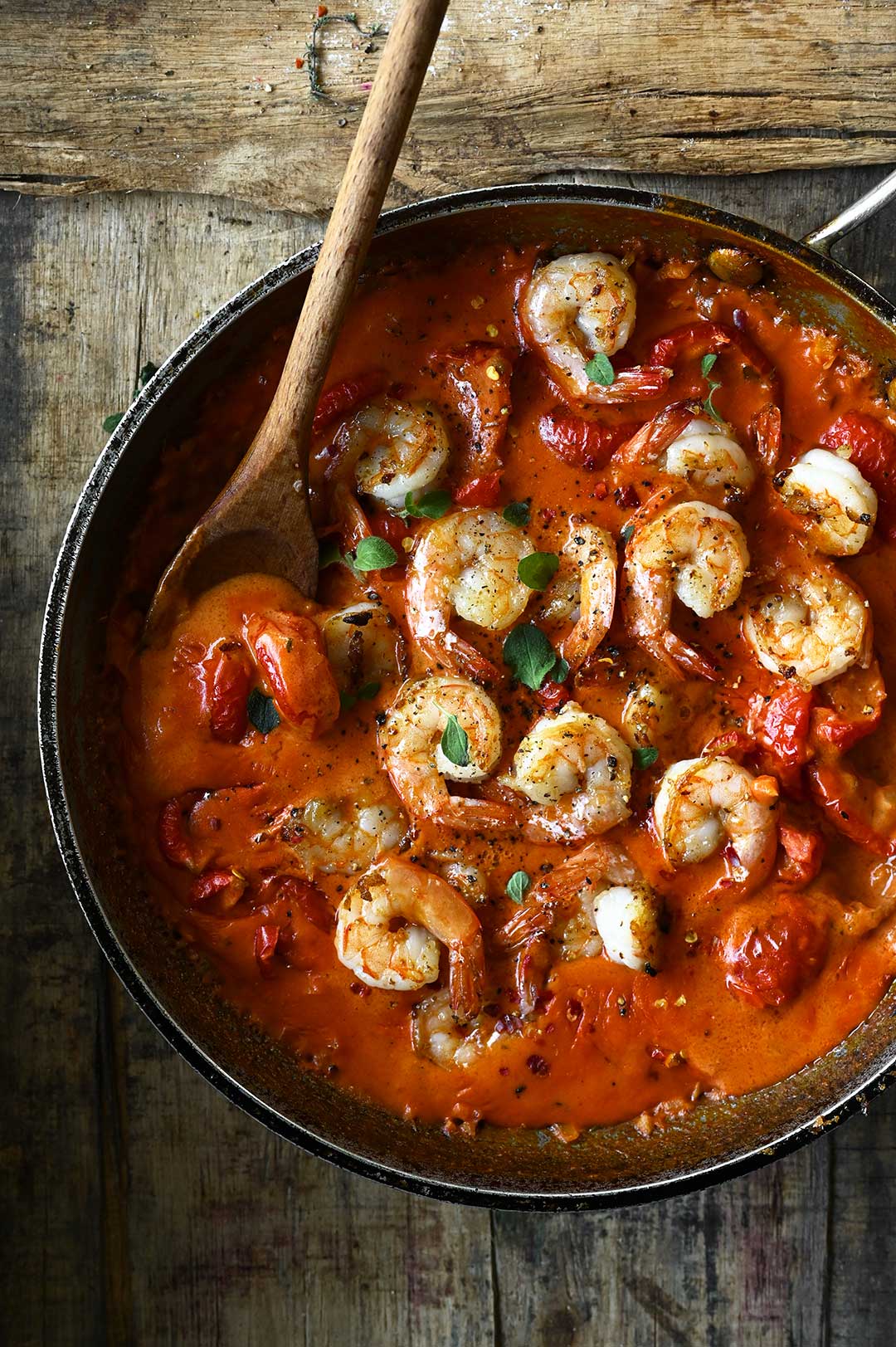 Het is een super eenvoudig recept, waarbij je maar enkele stappen moet volgen. Eerst maken we de broodkruimels met oregano, daarna bakken we de scampi's. Vervolgens maken we de tomatensaus. In de tussentijd koken we de pasta. Tot slot mengen we alles samen. Klaar!
Ga naar mijn WEB STORY om te zien hoe makkelijk je dit gerecht kan maken!
Andere recepten met scampi's:
Taco's met scampi's, koolsla en miso aïoli
Pikante wok met scampi en szechuanpeper
Spaghetti met scampi, look en beurre noisette
Wil je op de hoogte blijven van mijn nieuwe recepten? Abonneer je dan op mijn NIEUWSBRIEF. 
Dit heb je nodig
450 g rigatoni
450 g scampi's, gepeld
olie, van de zongedroogde tomaten
4 tenen knoflook, fijngehakt
1 sjalot, fijngehakt
1 blikje tomatenblokjes
200 ml room 20%
120 g semi-zongedroogde tomaten, zonder olie
120 ml droge witte wijn
1 tl gedroogde chili peper, meer naar smaak
1/2 tl elk: gedroogde oregano, tijm, gerookt paprikapoeder
1 tl vissaus
1 kopje panko broodkruimels + 1 el gehakte verse oregano of 1 tl gedroogde oregano
verkruimelde feta, voor de afwerking
zout + zwarte peper
Zo maak je het
Kook de pasta in gezouten water beetgaar. Giet af.
Verhit ondertussen een grote koekenpan op middelmatig vuur en voeg 3 el olie toe (van de zongedroogde tomaten). Eenmaal warm, voeg panko toe, bak ongeveer 4 minuten tot het goudkleurig begint te worden, roer af en toe. Voeg oregano toe en bak nog 1 minuut. Haal de panko uit de koekenpan.
Voeg 3 el olie toe aan dezelfde pan. Voeg scampi's toe en schik ze naast elkaar in één enkele laag. Bak op hoog vuur. Draai de scampi's na 2 minuten om en bak verder tot ze roze zijn. Breng op smaak met zout en peper. Haal uit de pan en leg op een bord.
Verhit 2 el olie, voeg knoflook en sjalot toe. Fruit ongeveer 2 minuten. Schraap met een houten lepel de bruine stukjes van de koekenpan. Blus met witte wijn en laat tot de helft inkoken, ongeveer 3 minuten. Voeg de tomaten toe en breng alles aan de kook. Roer de room en de zongedroogde tomaten eronder. Kruid met oregano, tijm, gedroogde chili, gerookte paprika, vissaus, zout en peper. Laat het geheel op een laag vuur sudderen tot de saus licht ingedikt is, ongeveer 10 minuten.
Voeg de scampi's toe en verwarm zachtjes op matig vuur.
Meng met pasta en serveer met veel broodkruimels, feta en wat extra gedroogde chili. Smakelijk!
Ga naar mijn WEB STORY om te zien hoe makkelijk je dit gerecht kan maken!
Als je dit recept uitprobeert, laat dan hieronder een reactie achter of tag mij in je foto's op Instagram met @anna_s_table of met #servingdumplings. Ik kijk ernaar uit!
AND… IF YOU LOVE THESE RECIPES … please consider supporting my work for just the cost of a cup of coffee.