Deze zalm sashimi met miso is niet alleen onweerstaanbaar, hij is ook foolproof en klaar in ongeveer 15 minuten. Een geweldig voorgerecht of een snack om te genieten op een warme zomeravond, of als een snelle healthy lunch met sushi-rijst erbij. Yup! Zo veelzijdig, slechts één recept, maar je kan combineren op tal van manieren.
Dun gesneden zalm, miso sojadressing, citroensap, kappertjes en verse komkommer. Samen vormen ze een perfecte balans van milde, zure en zoute smaken.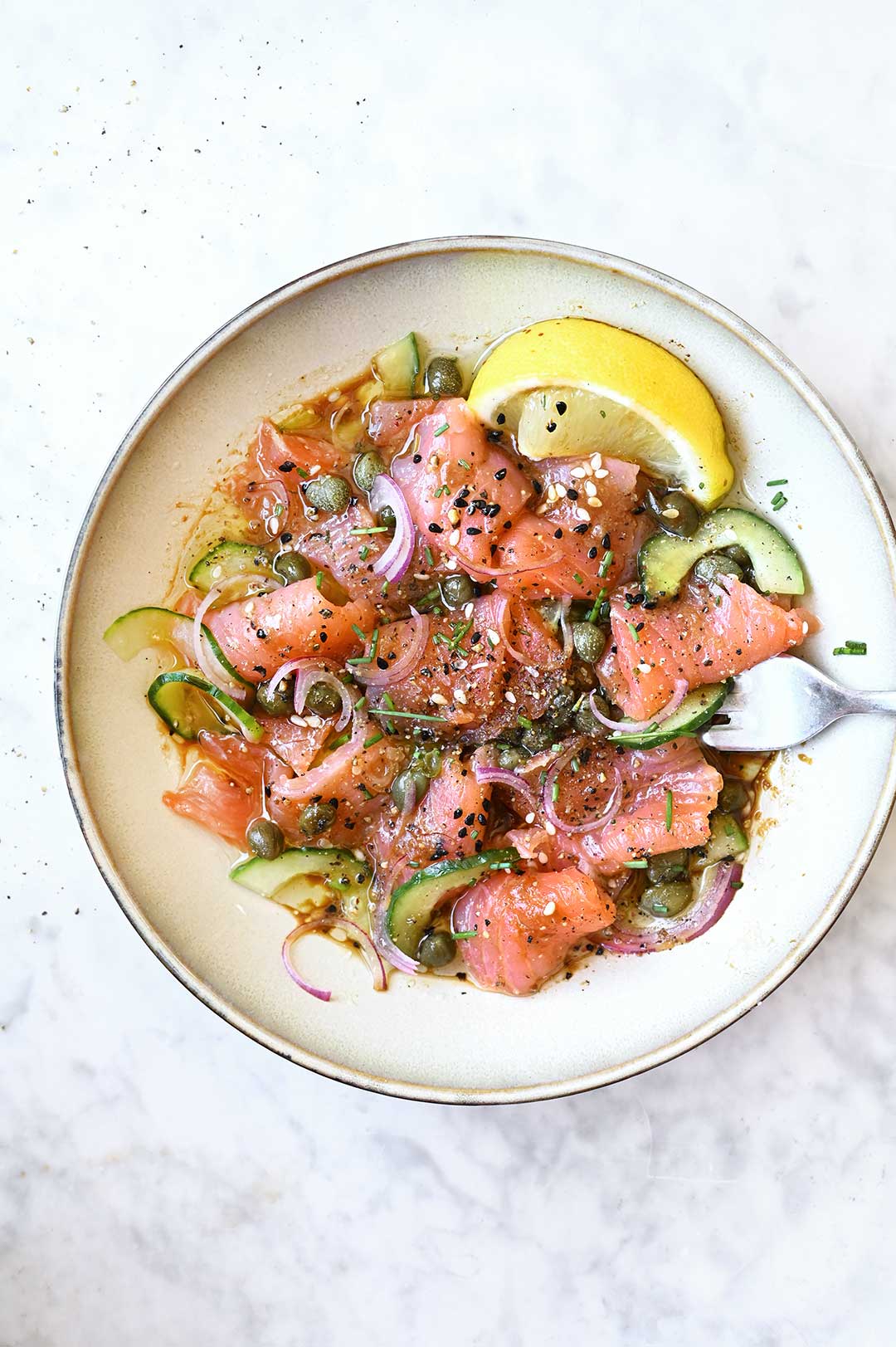 Misopasta heeft een diepe smaak, soja en citroensap geven het extra karakter. Ze pairen geweldig bij deze rauwe vis. Waarschijnlijk denk je, enkel miso-dressing en zalm kan toch niet zo goed smaken? Maar natuurlijk wel, en de textuur is overheerlijk.
Deze dressing is misschien wel een goede reden om een klein bakje met umami-gevulde misopasta in de koelkast te bewaren. Gecombineerd met een paar ingrediënten uit de voorraadkast, geeft het de zalm een ultra-rijke, hartelijke smaak.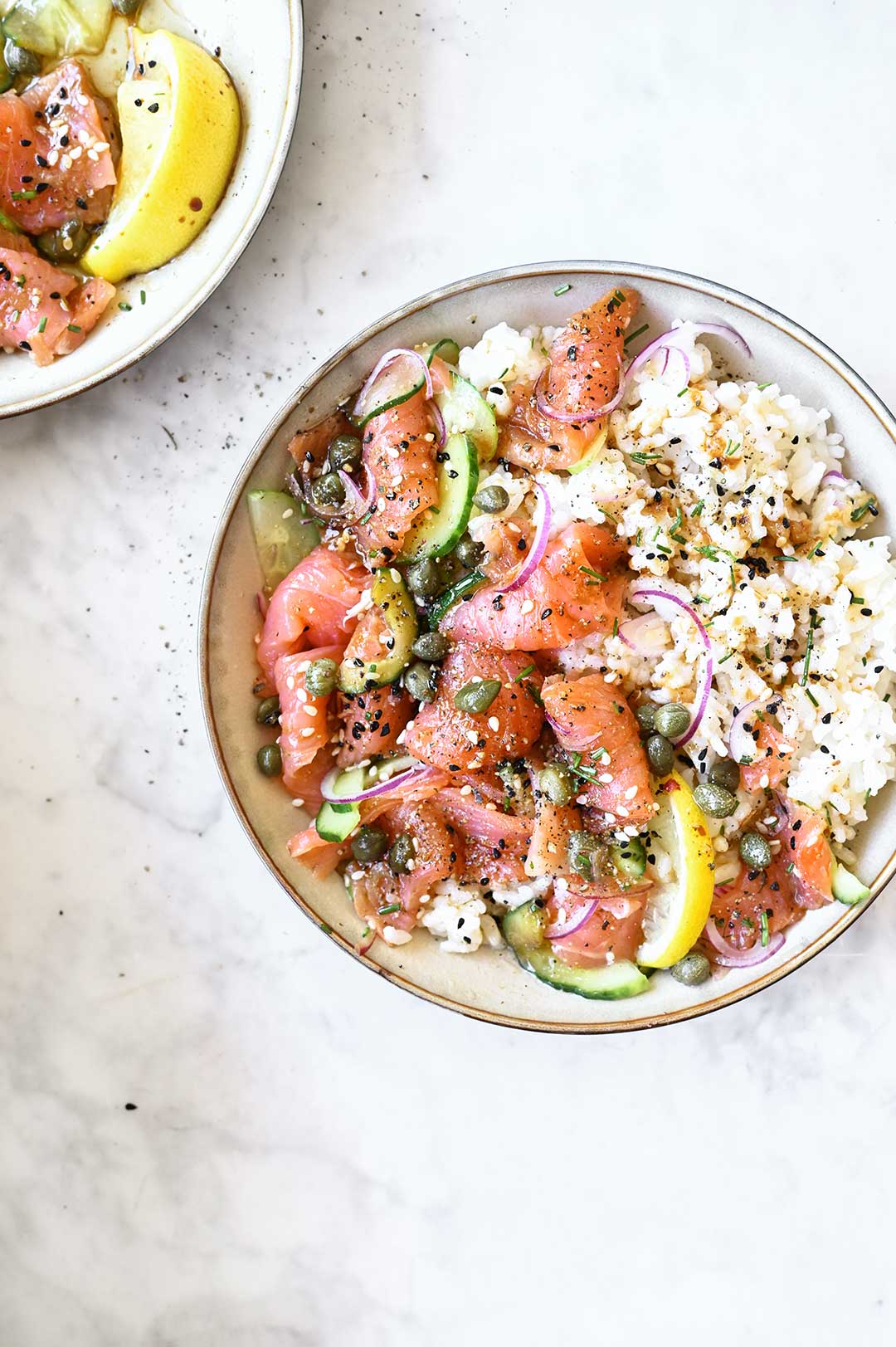 Als je het als lunch met de rijst maakt, moet je het zeker maken met sushi-rijst. En de paar stukjes zijdezachte zalm zullen je lunch meteen oppeppen. Je zult verbaasd zijn hoe zoiets simpels zo compleet en gezond kan smaken. 
Een beetje miso-dressing geeft deze maaltijd een snelle en chique twist. De sushi-rijst absorbeert de dressing, maar behoudt toch zijn zachte textuur.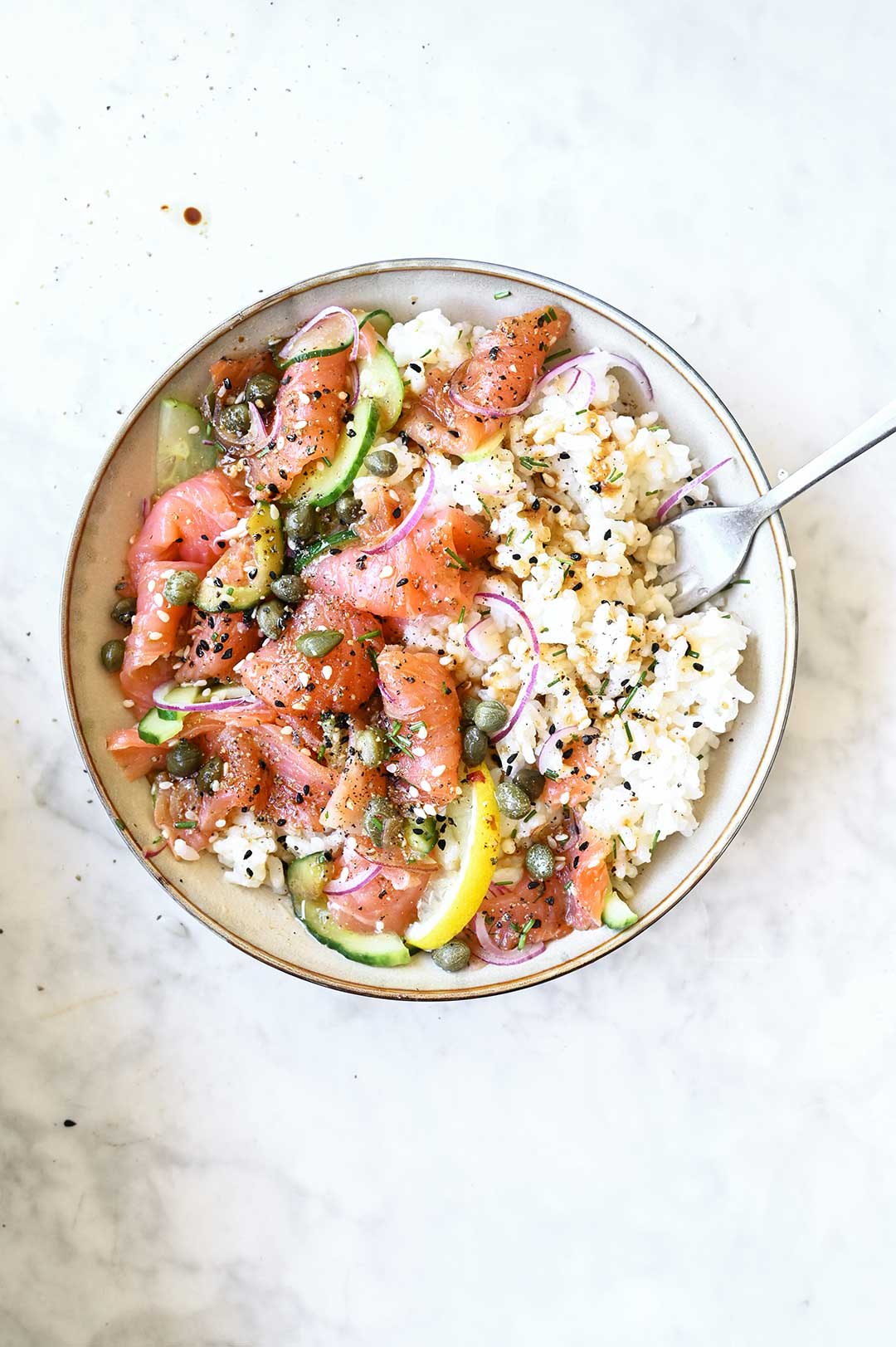 Tip: Koop de meest verse zalm die je kan vinden, bv. wilde zalm en nooit eentje die bevroren is geweest.
Wil je meer serveren? Dit recept kan makkelijk verdubbeld worden.
Ook de moeite om te proberen:
Wilde rijst met spinazie, gepocheerd ei en kimchi
Wok met aubergine en halloumi
Oosterse ceviche met zalm
Dit heb je nodig
250 g verse zalm, zonder vel
1 el kappertjes
1 kleine rode ui, dun gesneden
1/2 komkommer, dun gesneden
1 tl sesamzaad
1 tl bieslook, fijngesneden
fleur de sel + zwarte peper
miso sojadressing
2 el olijfolie
2 el sesamolie
1 el sojasaus
1 tl witte miso
1 el citroensap
1/2 tl bruine suiker
+ als lunch met rijst
125 g sushi-rijst, gekookt volgens de aanwijzingen op de verpakking
Zo maak je het
Meng alle ingrediënten voor de miso sojadressing in een kleine kom.
Snijd de zalm met een scherp mes in zeer dunne plakjes. Schik de plakjes in een kom, waarbij je ze een beetje overlapt. Werk af met komkommerschijfjes, sesamzaadjes, bieslook en rode ui.
Besprenkel met de miso dressing. Kruid licht met zout en peper. Strooi de kappertjes erover en serveer met citroenschijfjes. Dien onmiddellijk op!
Of serveer als een gezonde lunch of lichte maaltijd met sushi-rijst. Een echte aanrader!
Tip: Verdubbel de dressing om de rijst te besprenkelen.