Rijstpap met kokosmelk, een twist op het klassieke recept. Romig, op smaak gebracht met tahini, kardemom en kaneel.
De smaak van blauwe bessen-coulis met gember zal je verbazen en het je zeer moeilijk maken om er vanaf te kunnen blijven.
Een lepel tahini in de rijstpap voegt op zijn beurt dan weer een licht nootachtige smaak toe en vormt een perfecte match met de zoete kokosmelk en de siroop van de gestoofde blauwe bessen. De magie van dit recept zit in de verborgen smaken.
Je kan het serveren als ontbijt, lunch of zelfs als dessert. En het beste is dat je de rijst en de coulis tegelijkertijd maakt. Een minimale voorbereiding met ingrediënten die je waarschijnlijk bij de hand hebt.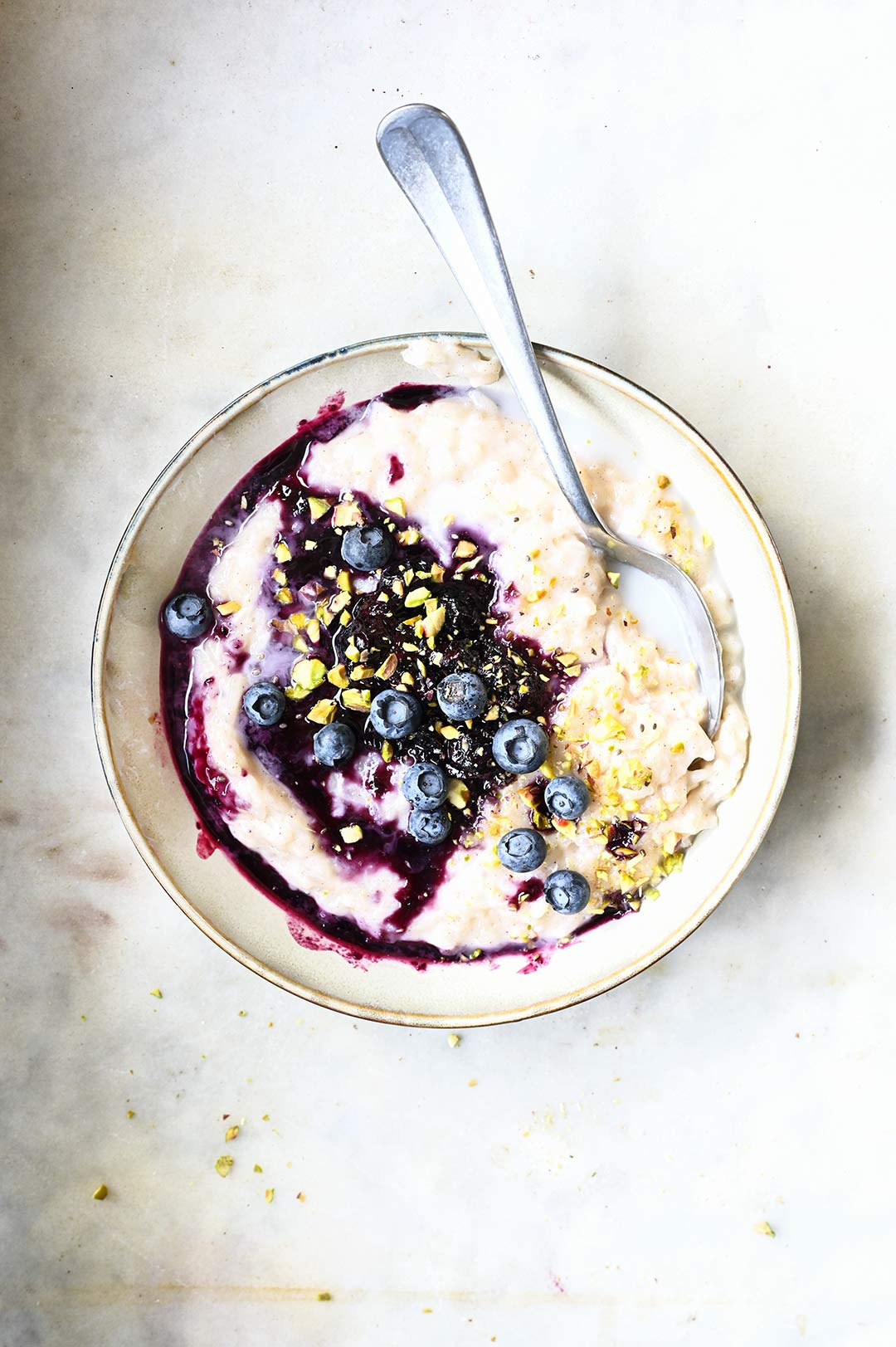 De geur van kruiden en gestoofde bosbessen die op het vuur staan te pruttelen is op zich al een reden om dit dessert te maken. Neem wat extra tijd om de melk op een laag vuurtje te laten sudderen, hierdoor komen de aroma's vrij, en wordt de rijst zacht en romig.
De gestoofde blauwe bessen met kaneel en zachte gembertoets zijn overheerlijk. Je kan de restjes in je koelkast bewaren, klaar voor je volgende ontbijt, of voor een dessert met een bolletje vanille-ijs.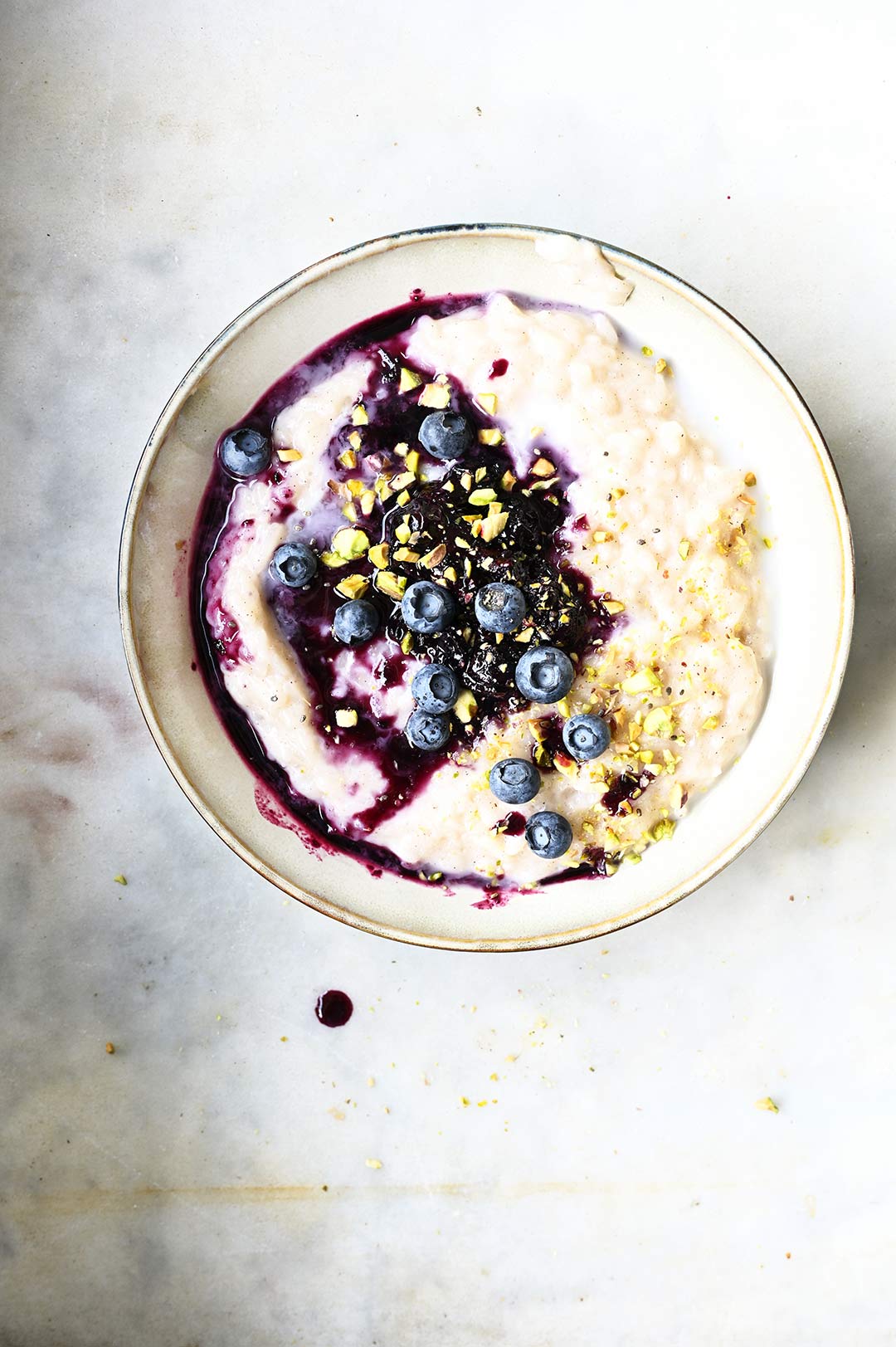 In dit recept heb ik jasmijnrijst gebruikt, maar witte of bruine rijst is ook lekker. Je kan er wat extra amandelpasta aan toevoegen voor een romig resultaat of je kan het serveren met gehakte amandelen of andere noten en zaden. Serveer met yoghurt, of gebruik pindakaas in plaats van tahini. Rijstpap is persoonlijk, en dit recept hier is hoe ik het graag eet.
Zei iemand 'ontbijt'?! Hier wat meer recepten:
Broodjes gebakken met ei, spinazie en feta
Gezonde havermout pannenkoeken
Bagel-egg-in-a-hole with hummus and roasted veggies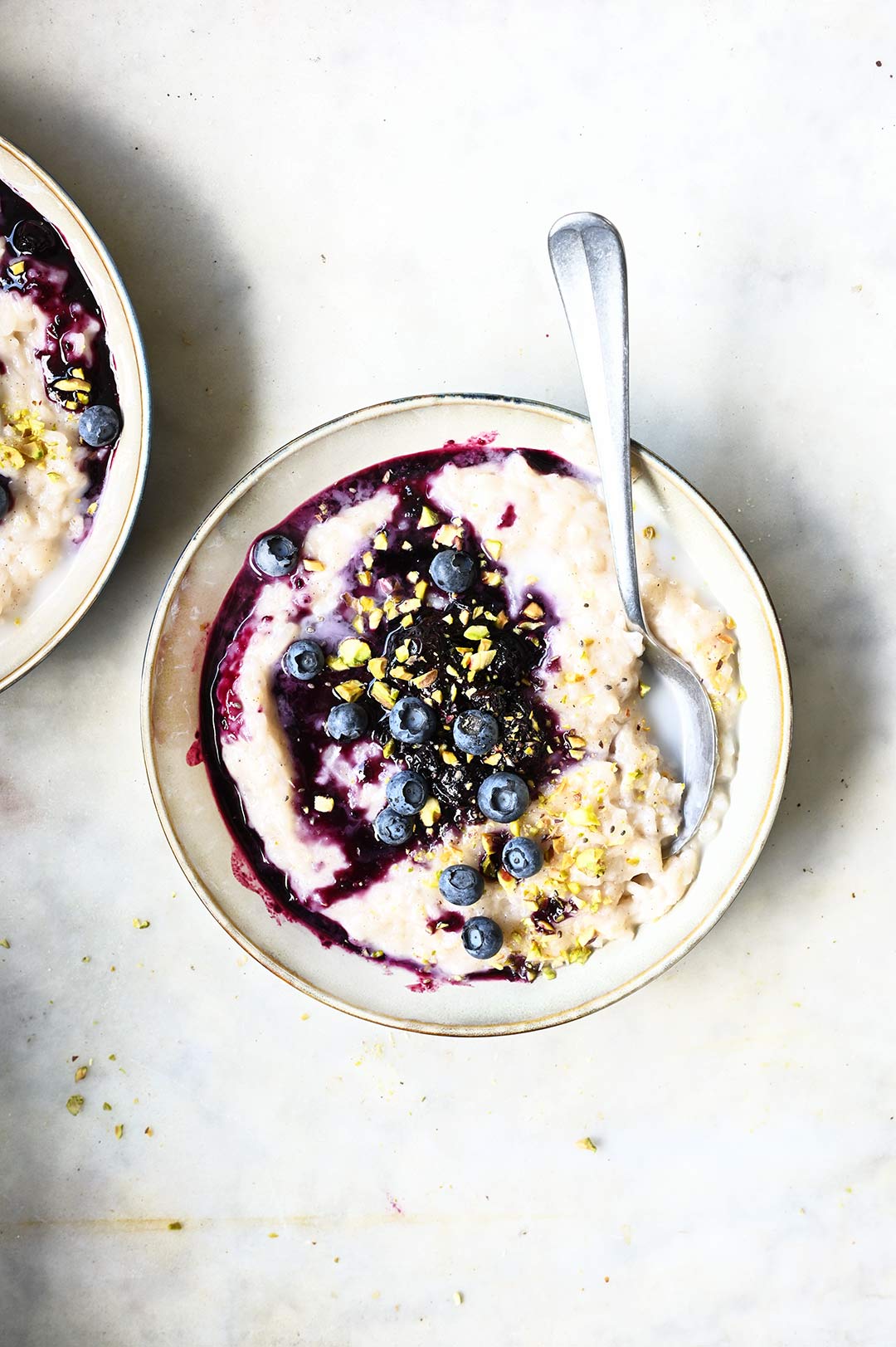 Dit heb je nodig
rijstpap
200 g jasmijn rijst, of witte of bruine rijst
750 ml – 1 L kokosmelk
50 g suiker
1 tl vanille-extract
1/2 tl kaneel
1/4 tl gemalen kardemom
een snufje zout
1 el tahini
gestoofde blauwe bessen
100 g blauwe bessen
2 el suiker
1 tl citroensap
1/2 tl vers geraspte gember
1/2 tl kaneel
+
gehakte pistachenoten, voor de afwerking
Zo maak je het
Breng de rijst, suiker, een snufje zout en 750 ml kokosmelk aan de kook in een grote kookpot. Verlaag het vuur en laat sudderen, roer af en toe tot de kokosmelk is geabsorbeerd, ongeveer 20 minuten.
Roer vervolgens het vanille-extract, kaneel en kardemom erdoor.
Voeg de rest van de kokosmelk toe en kook tot het geheel dikker is geworden, de rijst zachtgekookt en de melk door de rijst geabsorbeerd is, ongeveer 20 minuten.
Bereid ondertussen de bessen-coulis. Doe de blauwe bessen, suiker, gember en het citroensap in een pan en verwarm op middelhoog vuur. Breng het geheel aan de kook en laat het pruttelen tot de bessen hun sap beginnen te lossen, ongeveer 5 minuten. Haal van het vuur en zet opzij.
Zodra de kokosmelk opgenomen is door de rijst en er geen vloeistof meer in de pot zit, roer je de tahini eronder.
Schep de rijstpap in 4 kommen. Serveer met gestoofde blauwe bessen en bestrooi met pistachenoten. Smakelijk!