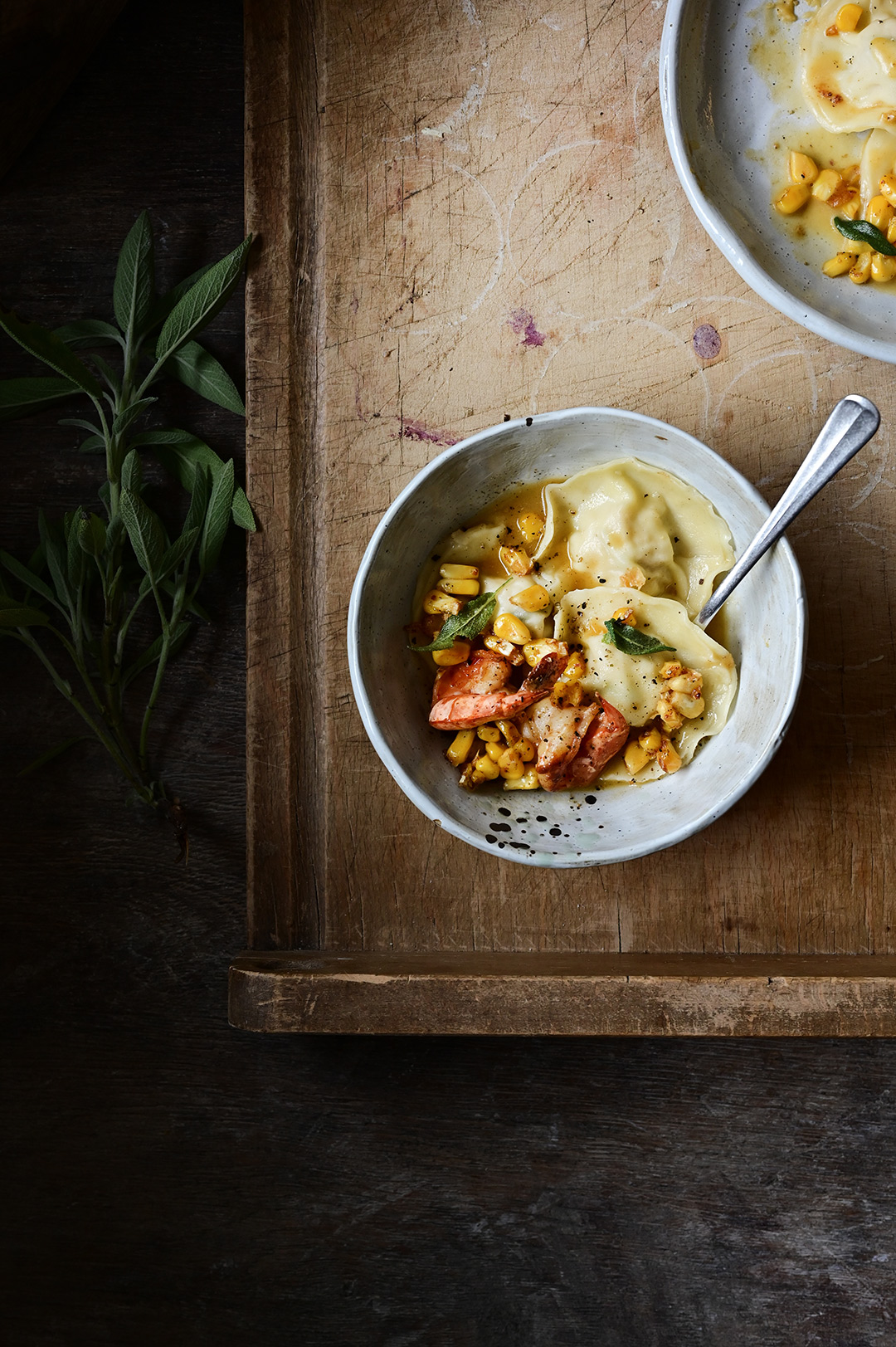 Dit zouden weleens je favoriete ravioli kunnen worden. Ze zijn heerlijk en onweerstaanbaar, met een perfect elastisch en rekbaar deeg. Gevuld met varkensvlees, scampi's en stukjes parmezaanse kaas.
Om tijd te besparen, heb ik de vulling in een keukenmachine bereid. Het meest tijdrovende deel van het proces is het maken van de ravioli, maar het is een zeer ontspannende en bevredigende ervaring. Zeker de moeite waard! 
Ik heb de ravioli geserveerd in een intense bouillon, doordrenkt met knoflook en kruiden. Tot slot bestrooide ik ze met geroosterde maïs, scampi's en gebakken salieblaadjes. Het is een aanradertje, gegarandeerd!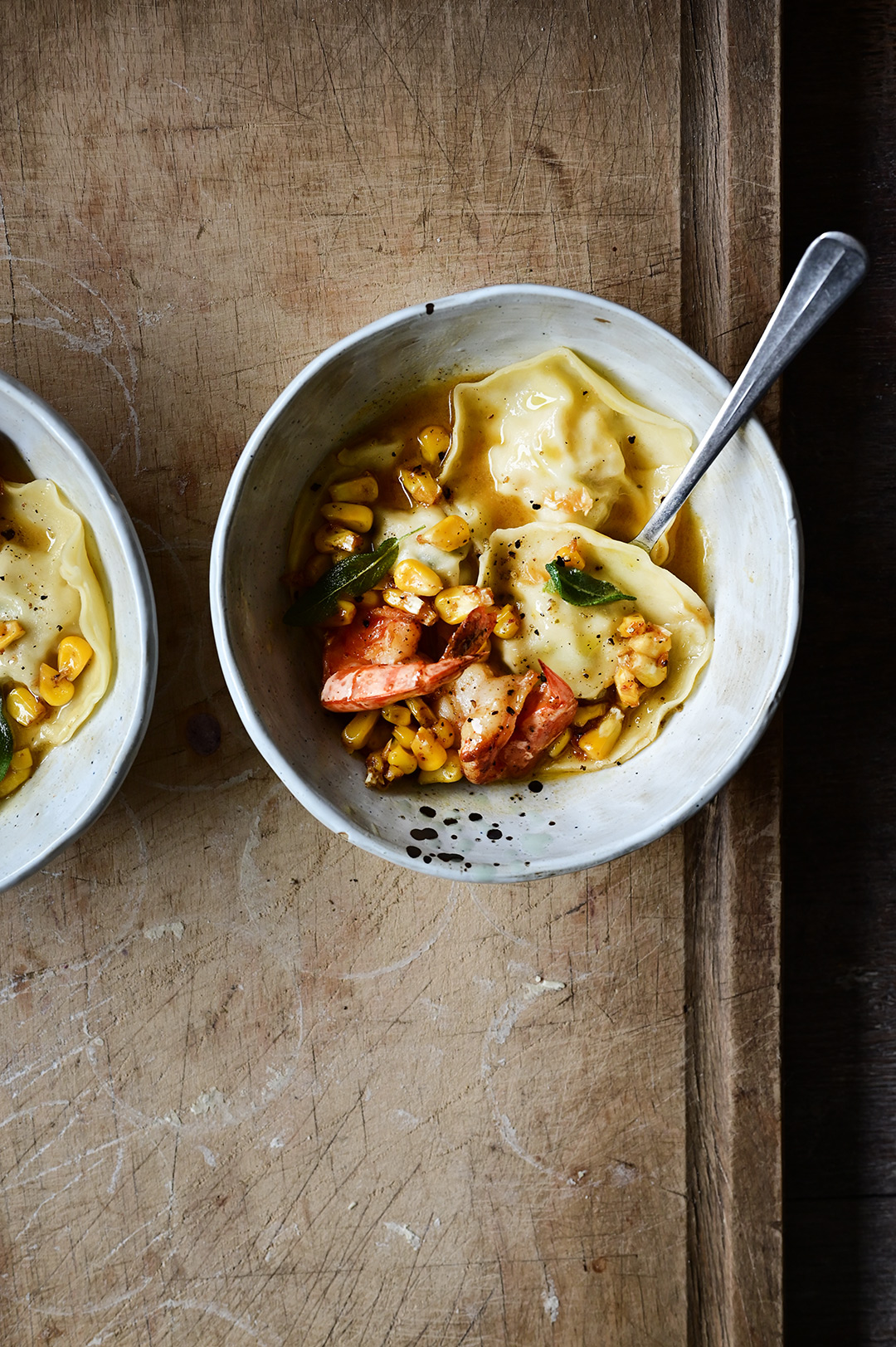 Dit heb je nodig
deeg
500 g semola rimacinata
250 ml warm water
1 klontje boter, op kamertemperatuur
snufje zout
vulling
400 g gemalen varkensvlees
400 g scampi's met pantsers en koppen
100 g parmezaanse kaas, grof gehakt
1 el volle room
1 sjalot, fijngehakt
2 teentjes knoflook, fijngehakt
1 el gehakte salieblaadjes
1 el olijfolie
zeezout + zwarte peper
bouillon
overgebleven pantsers en koppen van scampi's
100 ml witte wijn
1 wortel, grof gehakt
1 ui, gesnipperd
2 teentjes knoflook, fijngehakt
1 tl gedroogde rozemarijn
1 tl gedroogde tijm
1 laurierblad
1 el olijfolie
1 klontje boter
zeezout + zwarte peper
finishing touch
1 maïskolf, de korrels eraf gesneden
8 scampi's, schoongemaakt
1 teentje knoflook, fijngehakt
1 klontje boter
gebakken salieblaadjes
zeezout + zwarte peper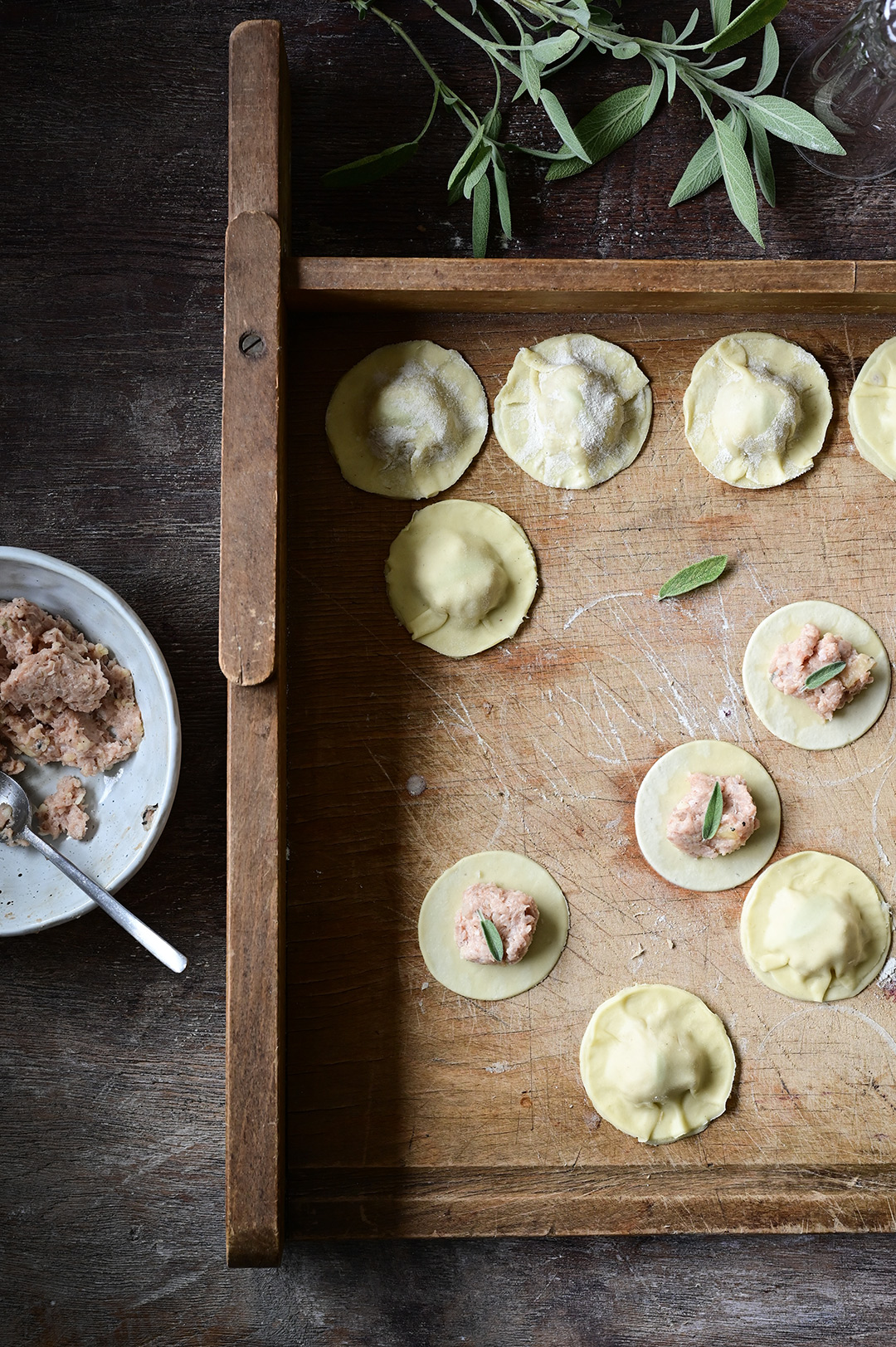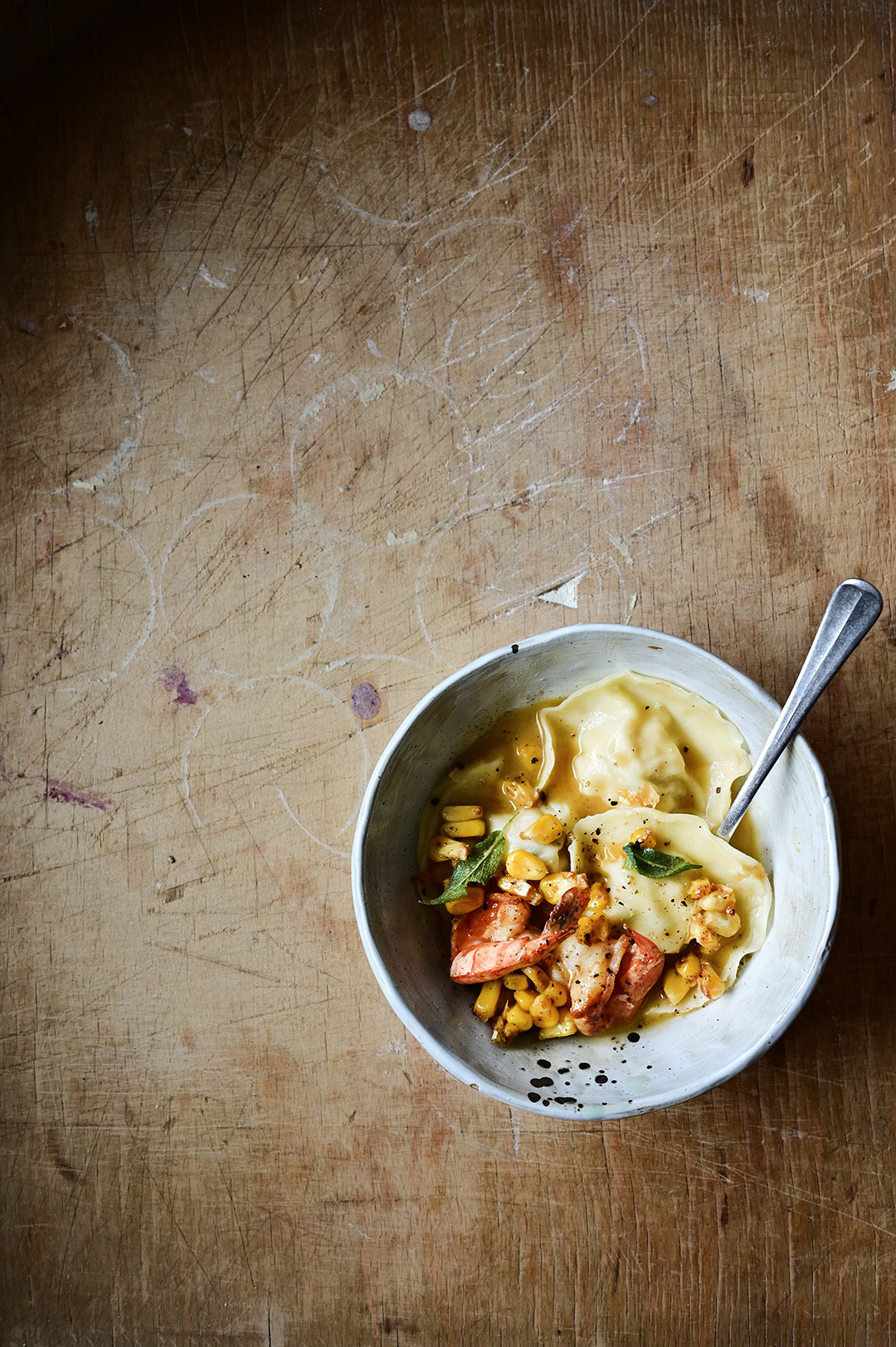 Zo maak je het
Doe de bloem, boter, water en zout in de mengkom van je keukenmachine en laat 5 minuten draaien op een matige snelheid. Rol het dan met de hand tot een bal. Dek af en zet apart.
Maak de bouillon, pel de scampi's en trek de koppen eraf. Bewaar de gepelde scampi's voor de vulling. Verhit de olie in een kookpot en bak de koppen en de pantsers 3 minuten op hoog vuur, blijf voortdurend roeren. Voeg knoflook en ui toe en bak nog 3 minuten. Voeg de witte wijn toe en kook gedurende 2 minuten, overgiet met water tot alles onderstaat. Voeg wortel, rozemarijn, tijm en laurierblad toe, breng op smaak met zout en peper. Breng aan de kook, dek de pot af en laat 40 minuten sudderen op een zacht vuurtje. Plaats een fijne zeef over een andere kookpot en giet de bouillon door de zeef. Breng terug aan de kook, voeg de boter toe en breng op smaak met zout en peper. Dek af en laat sudderen tot het vocht tot de helft is gereduceerd.
Maak de vulling, verhit de olie in een koekenpan en fruit de sjalot en knoflook zacht. Doe de gepelde scampi's in de keukenmachine samen met de zachte knoflook en sjalot. Voeg het gemalen varkensvlees, de parmezaanse kaas, room en de salieblaadjes toe. Breng op smaak met zout en peper. Mix tot een gladde vulling. Zet opzij.
Verdeel het deeg in 8 stukken. Bestuif met wat bloem en rol ze uit tot lange dunne lappen of haal het deeg doorheen de pastamolen.
Snijd de pastavellen met een dresseerring of een glas in kleine en iets grotere cirkels. Leg bolletjes vulling op de kleine cirkels. Bevochtig het deeg rond de vulling met water. Leg de grotere cirkels voorzichtig over de vulling, druk ze aan zodat er geen lucht in de pakketjes achterblijft. Plak de randen aan elkaar.
Kook in zout water gedurende ongeveer 3-5 minutes, de kooktijd kan variëren naargelang de dikte van uw deeg. Haal ze uit het water met een schuimspaan.
Verhit de boter in een koekenpan. Voeg scampi's toe en bak ze aan beide kanten goudbruin. Voeg maïs toe en bak gedurende 3 minuten op hoog vuur. Zet het vuur uit, roer onmiddellijk de knoflook erdoor en breng op smaak met zout en peper.
Serveer de ravioli in een kom met geroosterde maïs, gebakken garnalen en de bouillon. Werk af met gebakken salieblaadjes. Smakelijk!