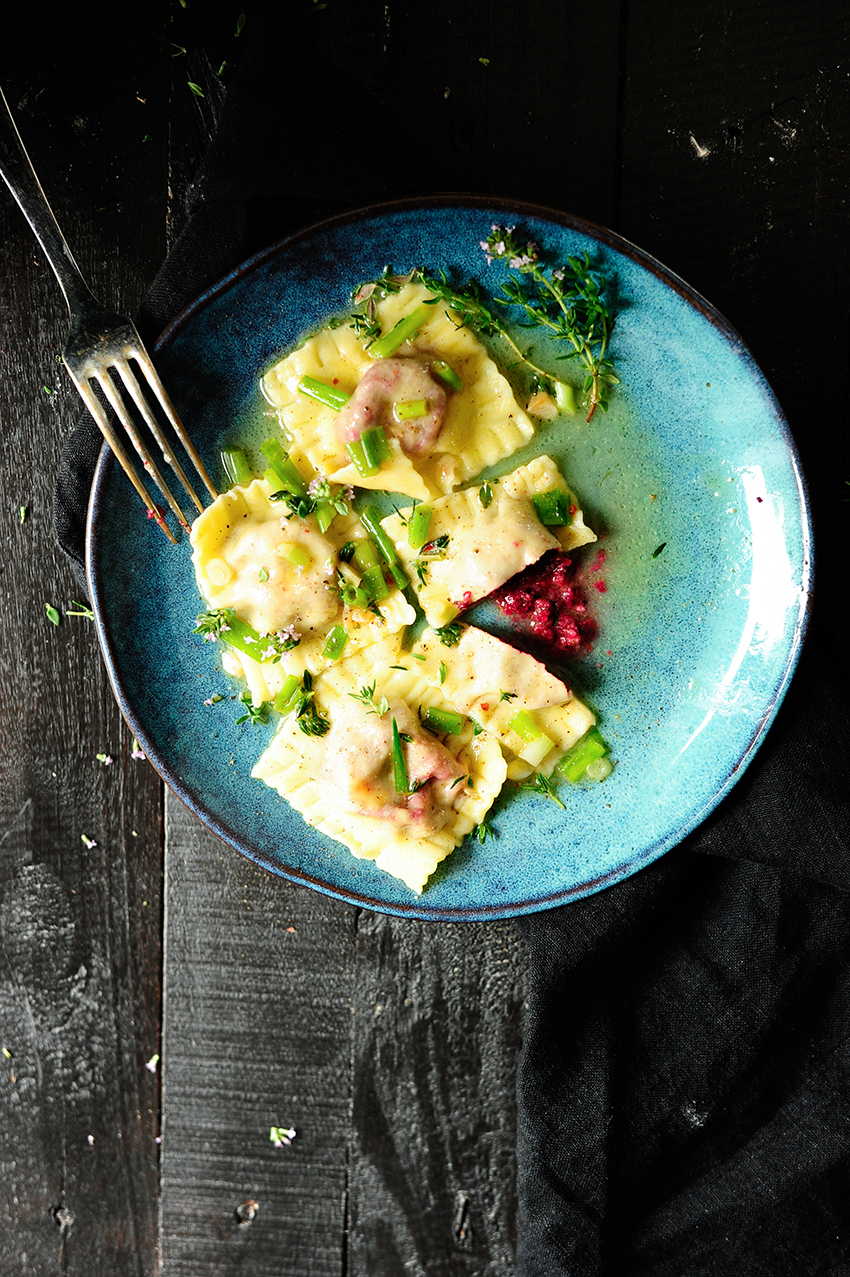 Dit zijn waarschijnlijk mijn favoriete ravioli, ik werd verliefd bij de eerste hap. Sinds ik jonge bietjes in de tuin heb, probeer ik van alles te maken wat ik eerder nog niet geproefd had. De jonge bietenblaadjes gemengd met geitenkaas, walnoten en parmezaanse kaas, dan omhuld in zelfgemaakte pasta is pure hemel. Omdat de vulling simpele, lekkere smaken heeft, wilde ik de saus eenvoudig houden, gewoon een botersausje met tijm en lente-uitjes. Perfect!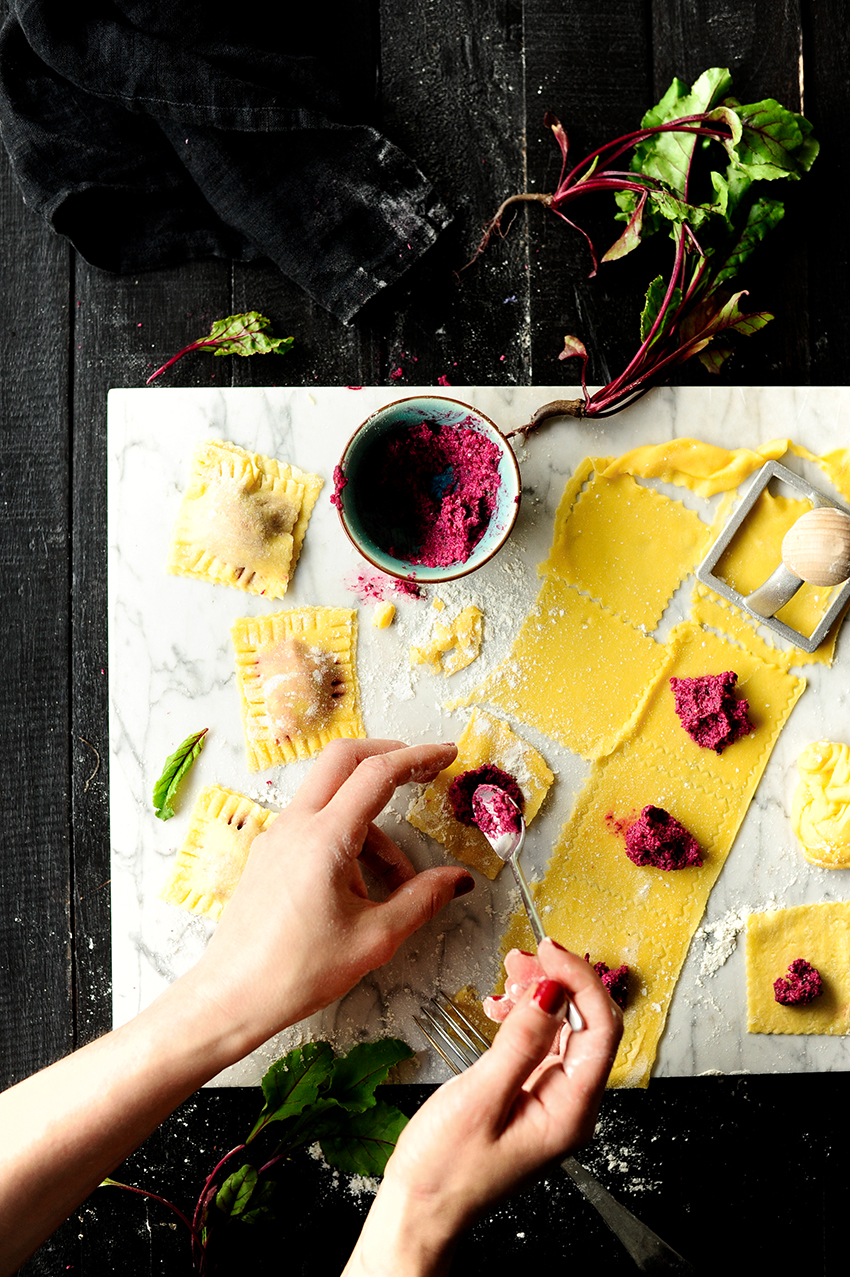 Dit heb je nodig
het pastadeeg
400 g bloemtype 500 of semola rimacinata
4 bio eieren
4 el olijfolie
4 el water
snufje zout
de vulling
2 klontjes boter
1 teentje look, fijngehakt
8 baby bietjes met jonge blaadjes
blaadjes van 2 takjes tijm
zeste van 1/2 citroen
snuifje nootmuskaat
100 g geraspte Parmezaanse kaas
150 g verse geitenkaas
50 g walnoten
zout en zwarte peper
de botersaus
3 klontjes boter
1 teentje look, fijngehakt
100 ml groentebouillon
zeste van 1/2 citroen
blaadjes van 3 takjes tijm
6 lente-uien, fijngehakt
zout en zwarte peper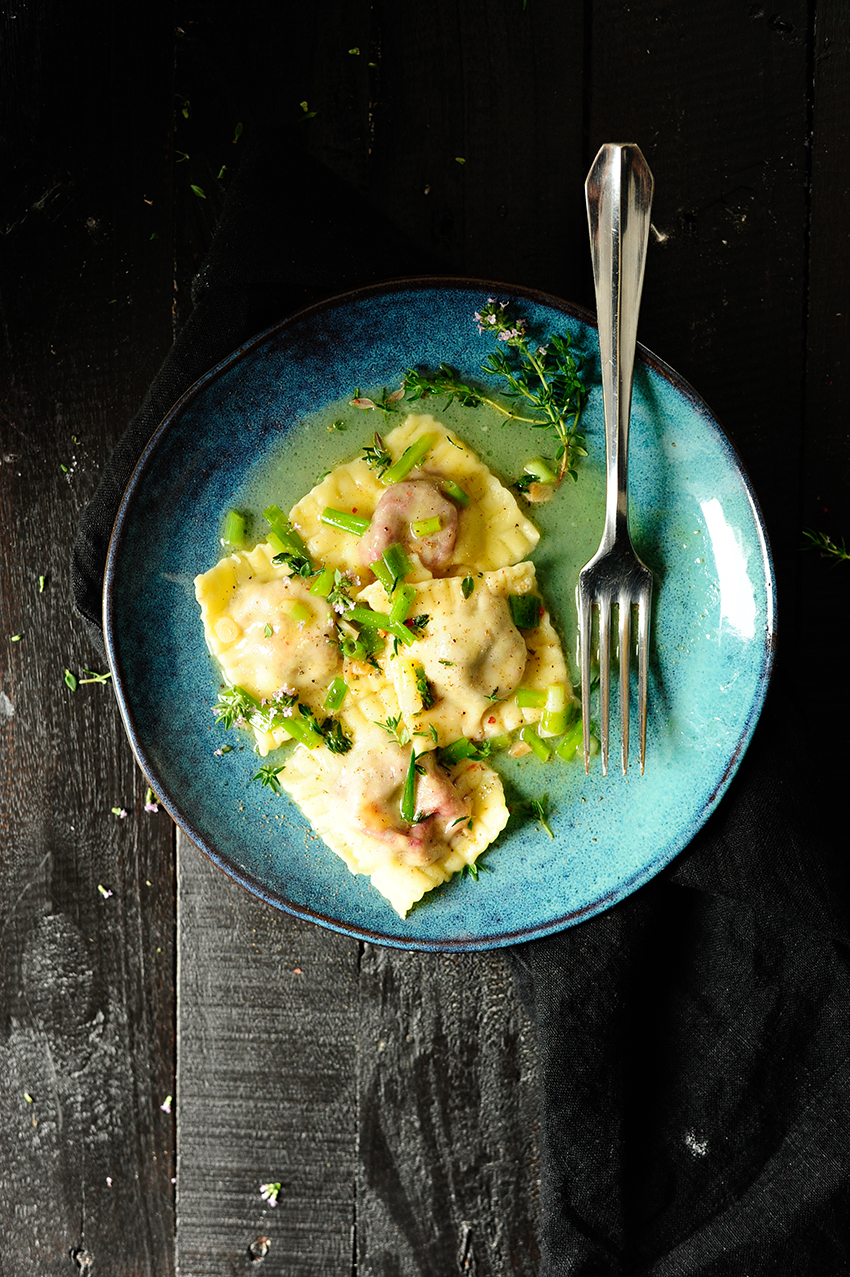 Zo maak je het
Doe de bloem, eieren, olie, water en zout in de mengkom van je keukenmachine en laat 5 minuten draaien op een matige snelheid. Rol het dan met de hand tot een bal. Dek af en zet apart.
Spoel de bietjes onder stromend water, snijd de wortels af. Snijd de bietjes in kleine blokjes, snijd de stengels in reepjes, hak de blaadjes in kleine stukken. Verhit de boter in een pan, fruit de sjalot en de knoflook op een laag vuurtje. Voeg de bietjes en de stengels toe, laat 10 minuten stoven. Kruid met tijm, nootmuskaat, zout en peper. Voeg vervolgens de blaadjes toe en laat het nog 5 minuten stoven.
Doe de bieten naar de blender, voeg Parmezaan, geitenkaas, citroenzeste en walnoten toe. Mix en breng op smaak met zout en peper.
Verdeel het deeg in 4 stukken. Bestuif met wat bloem en rol ze uit tot lange dunne lappen of haal het deeg doorheen de pastamolen.
Plaats toefjes vulling op een deeglap. Bestrijk het deeg met water rond de toefjes. Plaats een tweede lap voorzichtig over de vulling, druk het aan zodat er geen lucht in de pakketjes achterblijft. Snijd de ravioli uit en druk de randen lichtjes aan met een vork.
Kook in gezouten water gedurende ongeveer 3-5 minutes, de kooktijd kan variëren naargelang de dikte van uw deeg. Haal ze uit het water met een schuimspaan.
Smelt de boter in de pan, fruit de knoflook op een zacht vuurtje. Giet de bouillon erbij en laat het koken. Voeg tijm en lente-uitjes toe en kruid met zout en peper.
Serveer onmiddellijk. Smakelijk!