Ramen noedels in een rijke bouillonsoep, gecombineerd met geroosterde pompoen en shiitakes in miso-glaze. Comfort food op zijn best.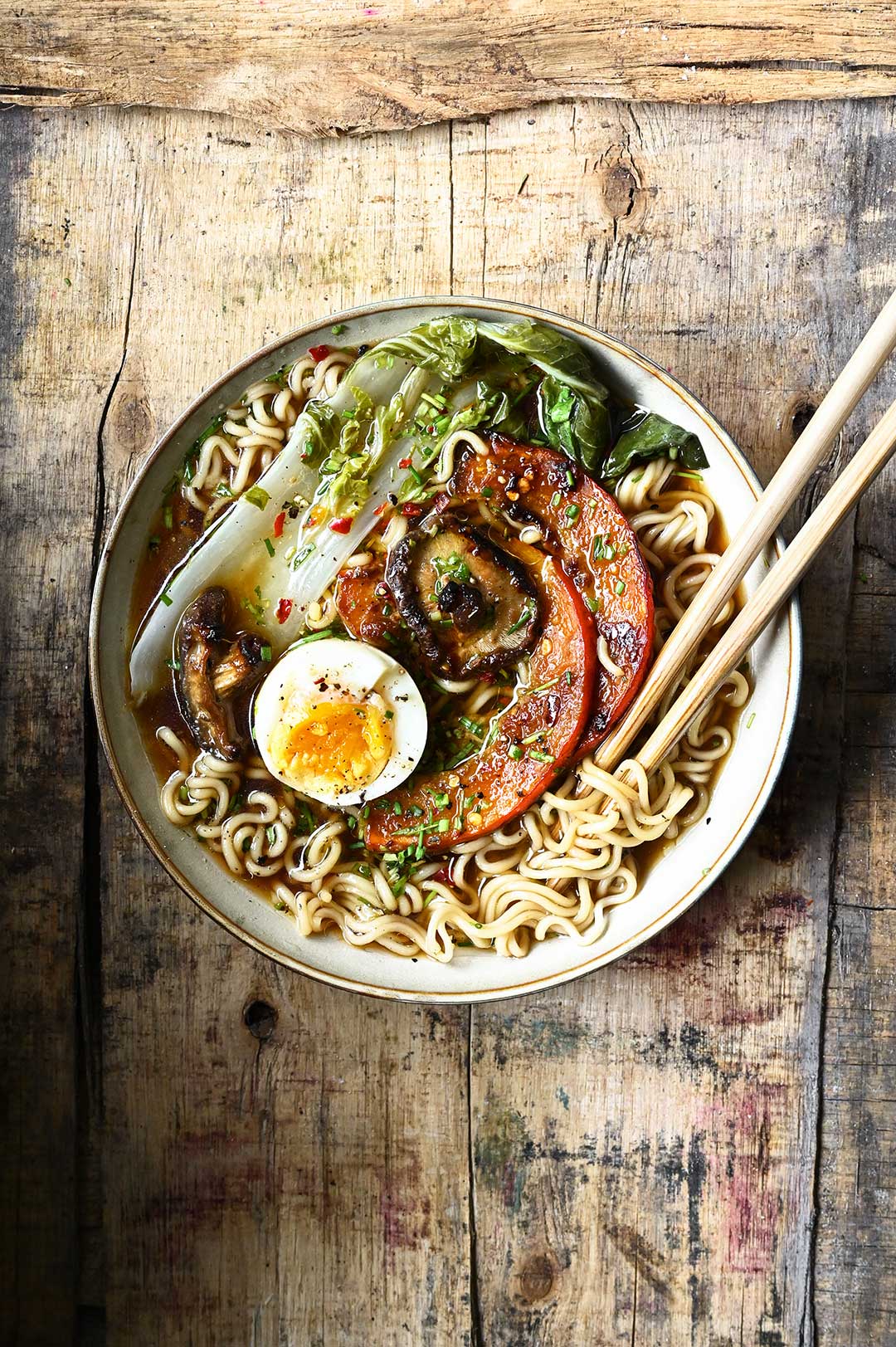 In dit recept maken we een groentebouillon en brengen we het op smaak met sojasaus, mirin, gember, knoflook en miso. Om het net dat tikkeltje specialer te maken, serveren we het met geroosterde pompoen.
De pompoen roosteren we ongeschild. Deze wordt zacht in de oven, waardoor hij perfect eetbaar wordt. Daarna mengen we de pompoen samen met de shiitakes in een miso-glaze en terwijl de bouillon pruttelt, roosteren we ze in de oven.
Als alles klaar is, en dit duurt ongeveer 40 minuten, serveren we de ramen met pompoen en shiitakes. Een extra topping zoals een zachtgekookt ei, pak choi, gehakte bieslook en wat sesamolie is alles wat deze soep nodig heeft.
Bekijk mijn Instagram Highlights om te zien hoe makkelijk je dit gerecht kan maken.
For the love of ramen:
Snelle ramen soep met kaas
Miso ramen met kip en pindakaas
Ramen met varkenshaasje en broccolini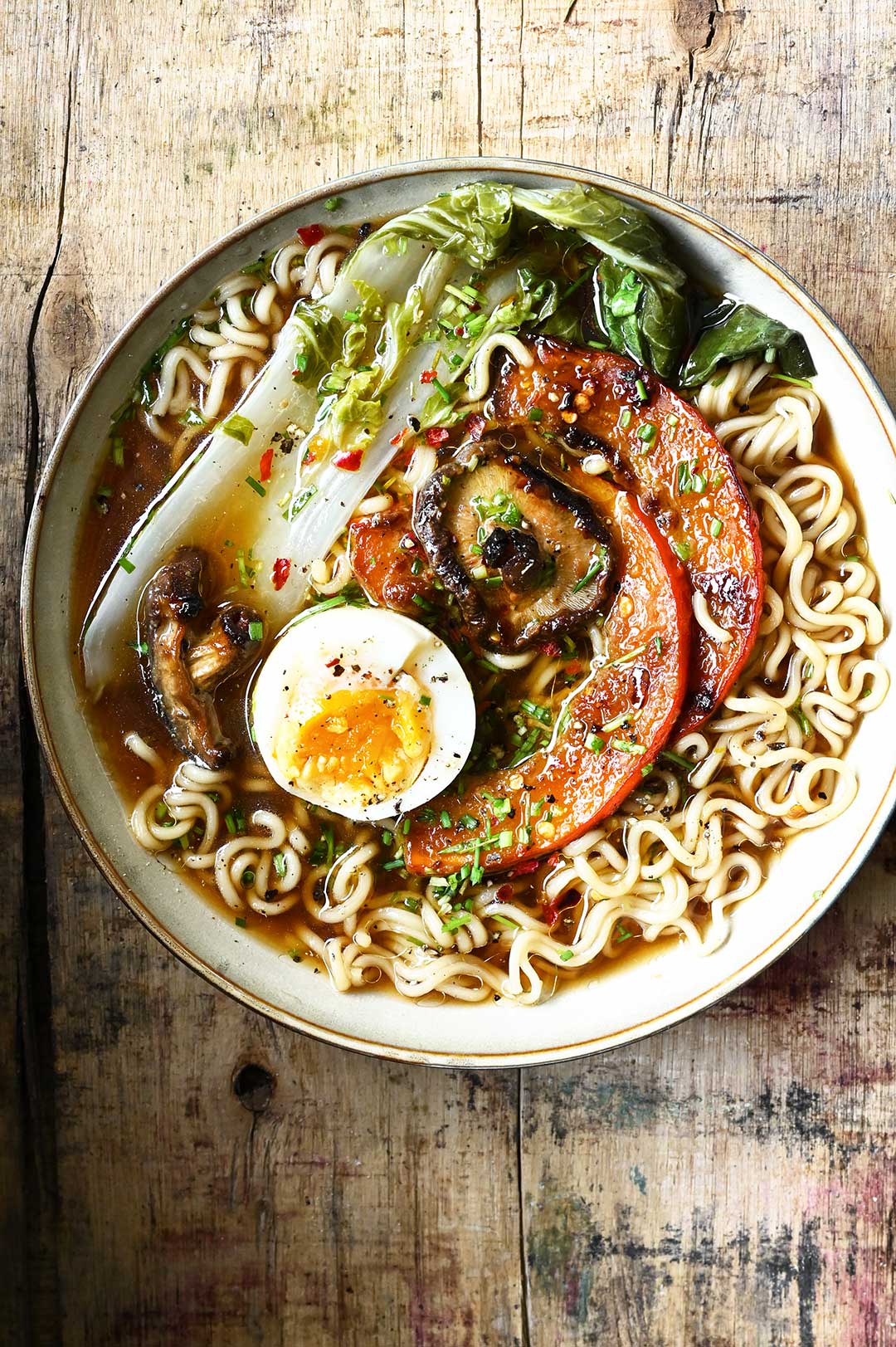 Dit heb je nodig
groentebouillon
4 sjalotten, doormidden gesneden
8 tenen knoflook, geplet
1 (2,5 cm) stuk gember, in plakjes
2 wortelen, geschild en in stukken gesneden
2 el witte miso
60 ml sojasaus
3 el mirin
2 L water
pompoen & shiitakes
400 g pompoen, ongeschild, in plakjes gesneden
100 g shiitakes
1 tl gedroogde rode chilipeper
miso-glazuur
1 el sojasaus
1 el mirin
1 el honing
1 el witte miso
1 tl sesamolie
3 el rijstolie
2 tenen knoflook, fijngehakt
voor de afwerking
400 g instant ramen noedels
4 eieren
pak choi
fijngehakte bieslook
gedroogde rode chilipeper
sesamolie
Zo maak je het
Bekijk mijn Instagram Highlights om te zien hoe makkelijk je dit gerecht kan maken.
Doe de sjalotten, knoflook, gember en wortelen in een kookpot. Giet het water erover. Voeg sojasaus, miso en mirin toe. Breng aan de kook en laat 30 minuten pruttelen.
Verwarm de oven voor op 220°C.
Meng alle ingrediënten voor het glazuur in een kleine sauspan, breng aan de kook en laat 1 minuut opwarmen tot de miso gesmolten is.
Doe de pompoen en shiitakes in een kom. Giet het glazuur erover en meng alles goed door elkaar. Leg de pompoen en de shiitakes op een met bakpapier beklede bakplaat en bestrooi met gedroogde chilipeper. Rooster gedurende 10 minuten. Draai om en rooster verder gedurende 10-15 minuten of tot de pompoen zacht en gekarameliseerd is.
In tussentijd. Kook de eieren 5 minuten in kokend water. Kook de ramen noedels volgens de aanwijzingen op de verpakking, ongeveer 2-4 minuten. Giet door een zeef, spoel met vers water en laat uitlekken.
Wanneer de bouillon klaar is, giet deze door een zeef in een grote kom en gooi de restjes weg. Giet de gezeefde bouillon terug in de pot, voeg pak choi toe en laat sudderen op een laag vuurtje, gedurende 5 minuten of totdat de stengels zachter beginnen te worden. Vergeet niet te proeven voordat je de bouillon serveert, je kan altijd bijkruiden of kokend water toevoegen als het te sterk van smaak is.
Verdeel de noedels over de kommen en giet de bouillon eroverheen. Werk af met de geroosterde pompoen, shiitakes, pak choi en zachtgekookte eieren. Besprenkel met sesamolie, bestrooi met gehakte bieslook en gedroogde rode chilipeper. Smakelijk!