Een krokante galette met rabarber, aardbeien en vanille, van verwennerij gesproken.
Je zal verstelt staan hoe makkelijk het is om de knapperige bodem zelf te maken met dit über simpel en betrouwbaar recept. Wees wel voorzichtig dat je hem niet zoals ik op één avond volledig opeet. Na mijn lumineus idee om er een schep vanille-ijs bij te halen was er geen weg terug.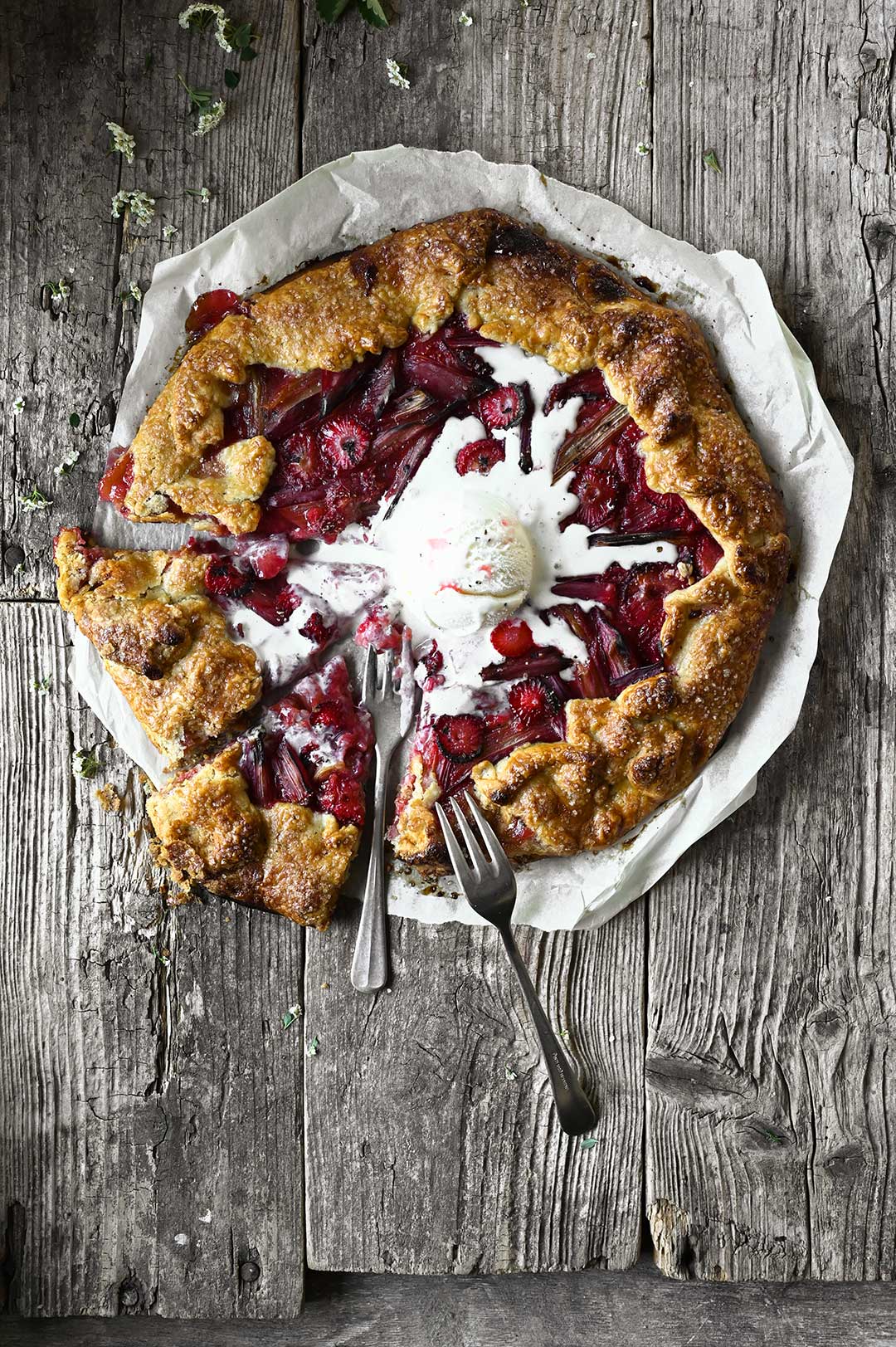 Terwijl we allemaal meestal een taart of een cake bakken, heb ik veel liever deze nonchalante galette. Hij heeft alles, een delicaat knapperig deeg en een smaakvolle fruitvulling, en het komt ook goed uit dat je niet alles perfect moet afwerken. Want hoe je ook probeert, je zal er nooit in slagen om hem perfect vor, te geven, en zo hoort het ook.
De charme zit hem in de onvolkomenheden. Het is prima als de vruchtensappen een beetje lekken en je kan de fancy rooster-technieken van een taart overslaan. Je hoeft ook niet blind te bakken en dergelijke. Je rolt het deeg uit, doet de vulling erover en je vouwt het op. En bakken maar.
Maar omdat het redelijk eenvoudig is, betekent het niet dat een galette geen showstopper kan zijn. Zeker niet als je er een kleurrijke schoonheid van maakt.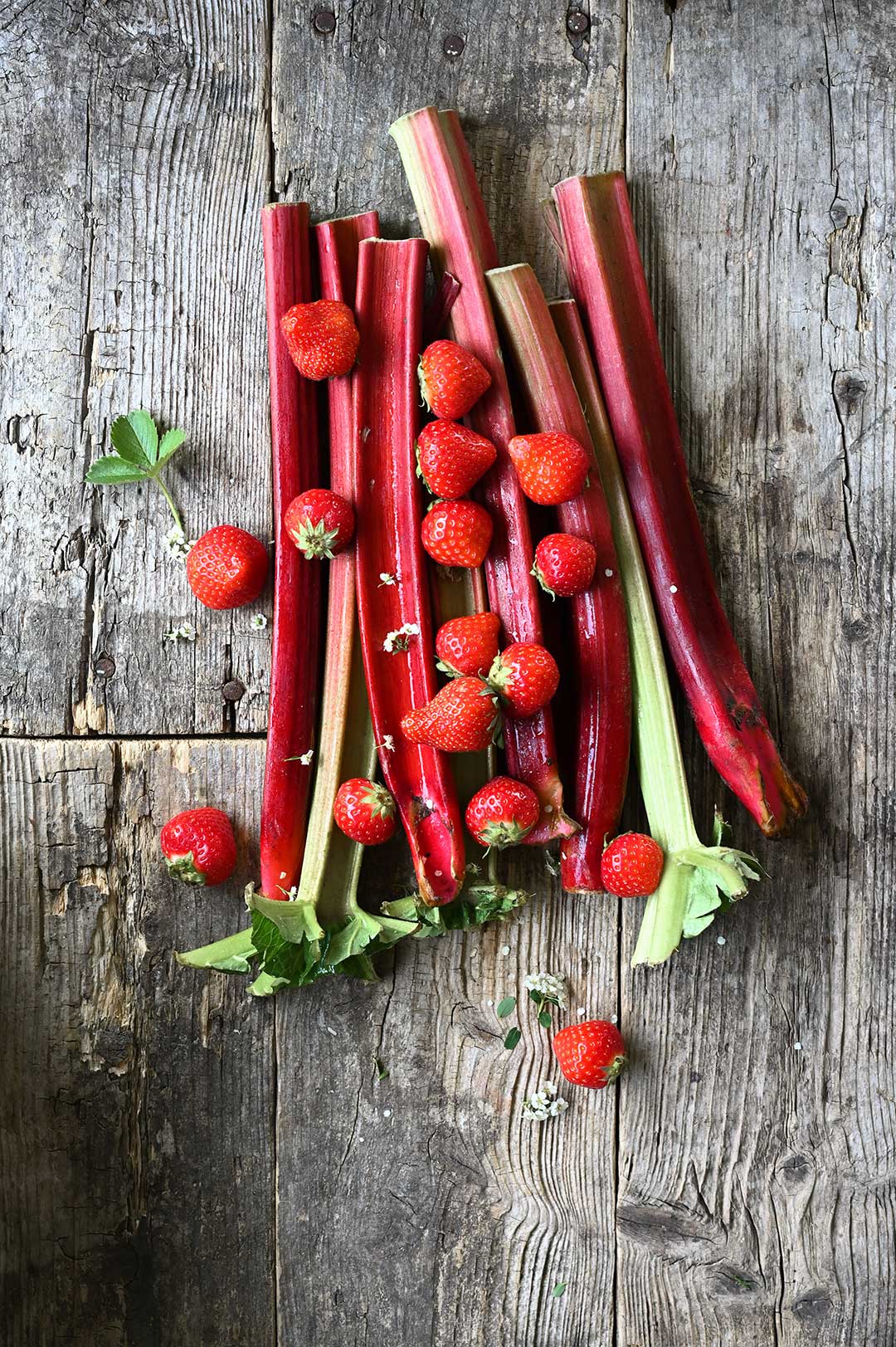 Rabarber wordt vaak over het hoofd gezien, maar samen met aardbeien is hij de 'perfect match'.
De aardbeien zijn zoet genoeg om de zure tinten van rabarber in balans te brengen, en ze voegen een mooie kleur toe aan de galette. Zalig warm uit de oven met een schep vanille-ijs.
Als je van fruitige lekkernijen houdt en geen geduld hebt voor het maken van taarten, maak dan gewoon deze galette.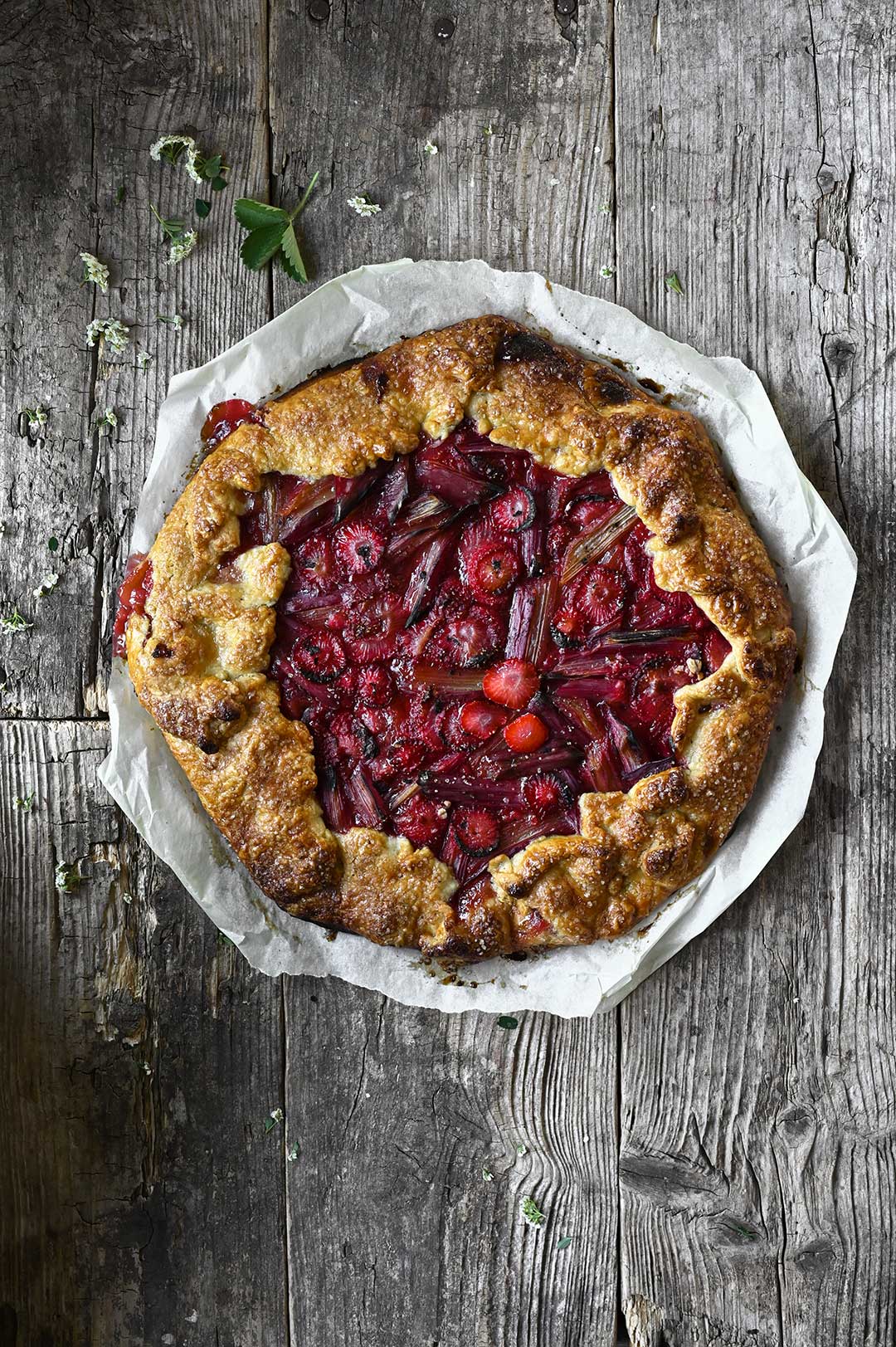 Enkele tips.
Dit super knapperige deeg kan gebruikt worden voor al jouw galettes, taarten, cheesecake-bodems of de Amerikaanse pie. Het is een no-stress boterdeeg, makkelijk te maken en waar je op terug kan vallen. Het deeg kan 2 dagen op voorhand gemaakt worden en koel bewaard. Of ingevroren kan je het 3 maanden bewaren.
Ik strooi ook graag havermout op de bodem van mijn deeg, net voordat ik de vulling erop doe, zodat het de vruchtensappen kan absorberen.
En voor het bakken bestrijk ik het deeg met een geklutst ei en bestrooi het met grove suiker om een mooie glans en een lekkere crunch te krijgen.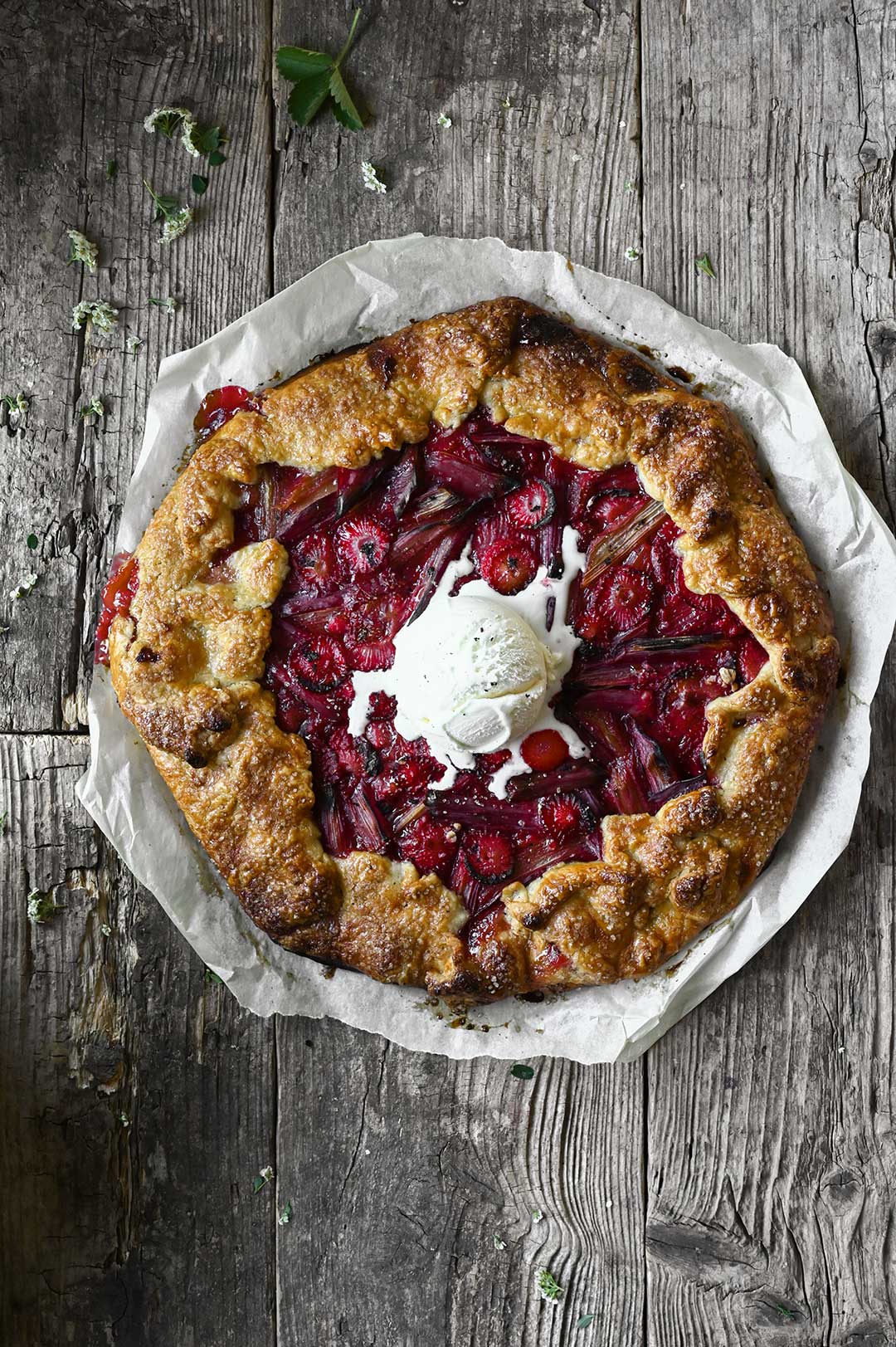 Dit heb je nodig
boterdeeg
150 g bloem
140 g koude boter
2 el suiker
1/4 tl zout
3-4 el ijswater
rabarbervulling
200 g rabarber, in de lengte doorgesneden en dan in stukken van 5 cm
250 g aardbeien, kroontjes eraf en in stukjes gesneden
120 g lichtbruine suiker
2 tl citroensap
1/2 tl citroenzeste
20 g maïszetmeel
vanillezaadjes van 1/2 vanillestokje
50 g instant havermout
+
1 ei opgeklopt met 1 tl melk, voor het bestrijken van het deeg
grove suiker
vanille-ijs voor de afwerking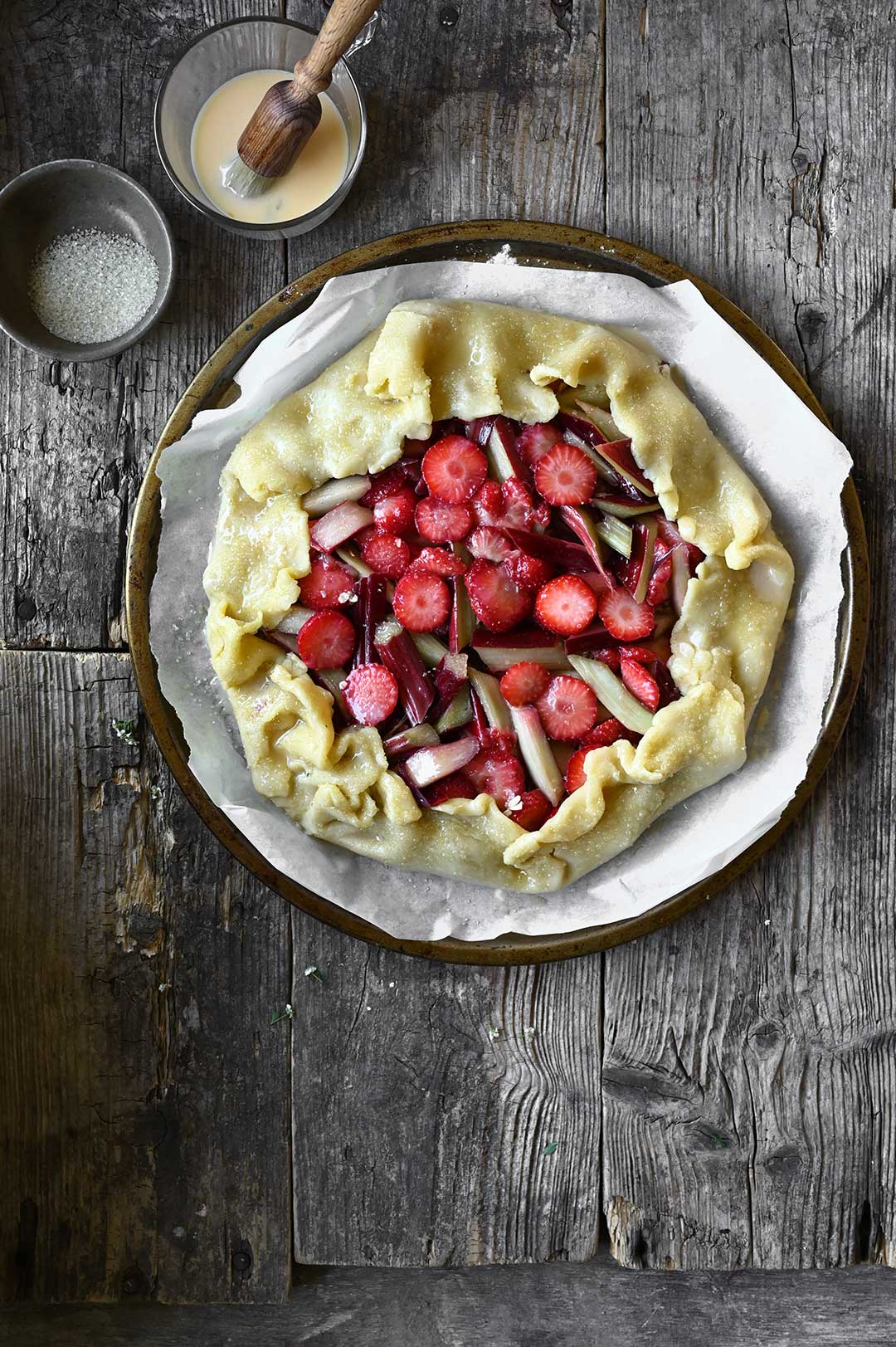 Zo maak je het
Doe de bloem, suiker, zout en boter in je keukenmachine. En mix tot een kruimelig deeg, gedurende ongeveer 1 minuut. Voeg langzaam ijswater toe, 1 eetlepel per keer, en pulseer tot een mooi geheel.
Leg het deeg op een licht bebloemd werkvlak en vorm een bal. Wikkel het deeg in plastic en laat het minstens 1 uur afkoelen.
Meng rabarber met aardbeien, suiker, citroensap en zeste, maïszetmeel en vanille.
Rol het deeg uit op een licht bebloemd werkvlak. Leg op een met bakpapier beklede bakplaat.
Leg het fruit in het midden van het deeg en laat een rand van 4 cm over. Vouw de randen van het deeg naar binnen over de vruchten.
Leg nu de hele bakplaat in de diepvries gedurende ongeveer 15 minuten. Verwarm ondertussen de oven voor op 190°C.
Haal de galette uit de diepvries, bestrijk het deeg met het opgeklopte ei en bestrooi met grove suiker. Bak tot het deeg diep goudbruin is en de vulling borrelt, gedurende ongeveer 40-45 minuten.
Serveer warm met een schep vanille-ijs. Zalig!