Gehaktballetjes gestoofd in een sausje van bruin bier en gekarameliseerde uien, daarna geserveerd over romige polenta met ricotta. Dit 30-minuten gerecht heeft echt alle eigenschappen om je ongenadig van je sokken te blazen.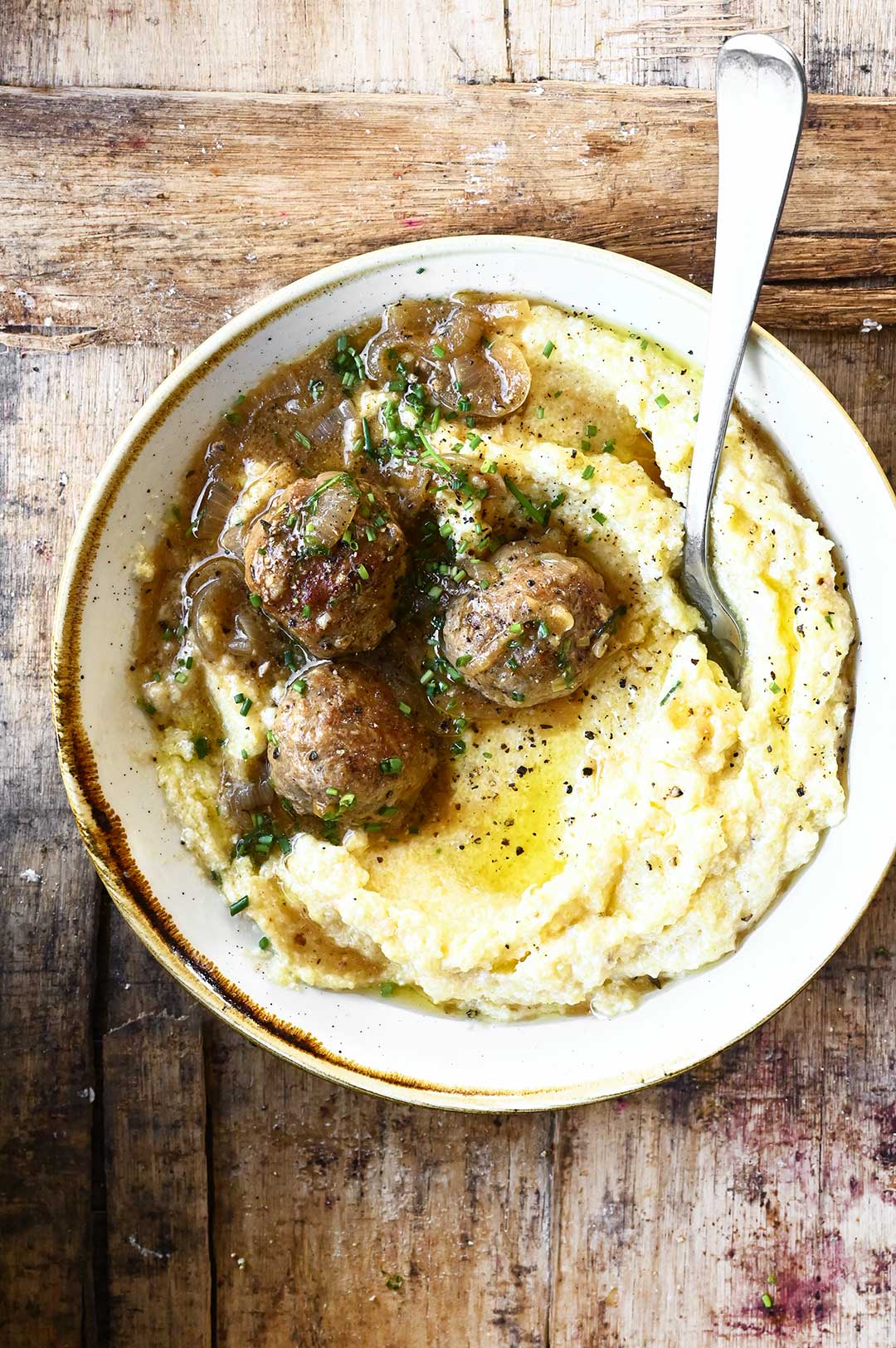 De gekarameliseerde uien samen met het donker bier geven dit gerecht super veel smaak. We serveren het geheel over een heerlijke polenta met ricotta. De ricotta zorgt voor een romige toets zonder al te veel vet, terwijl de parmezaanse kaas diepte en karakter toevoegt. De ingrediënten zijn eenvoudig maar de smaak is enorm. Het hele gerecht maak je klaar in ongeveer 30 minuten en het wordt zonder twijfel een maaltijd om nooit te vergeten.
Bekijk mijn VIDEO om te zien hoe makkelijk je dit gerecht kan maken.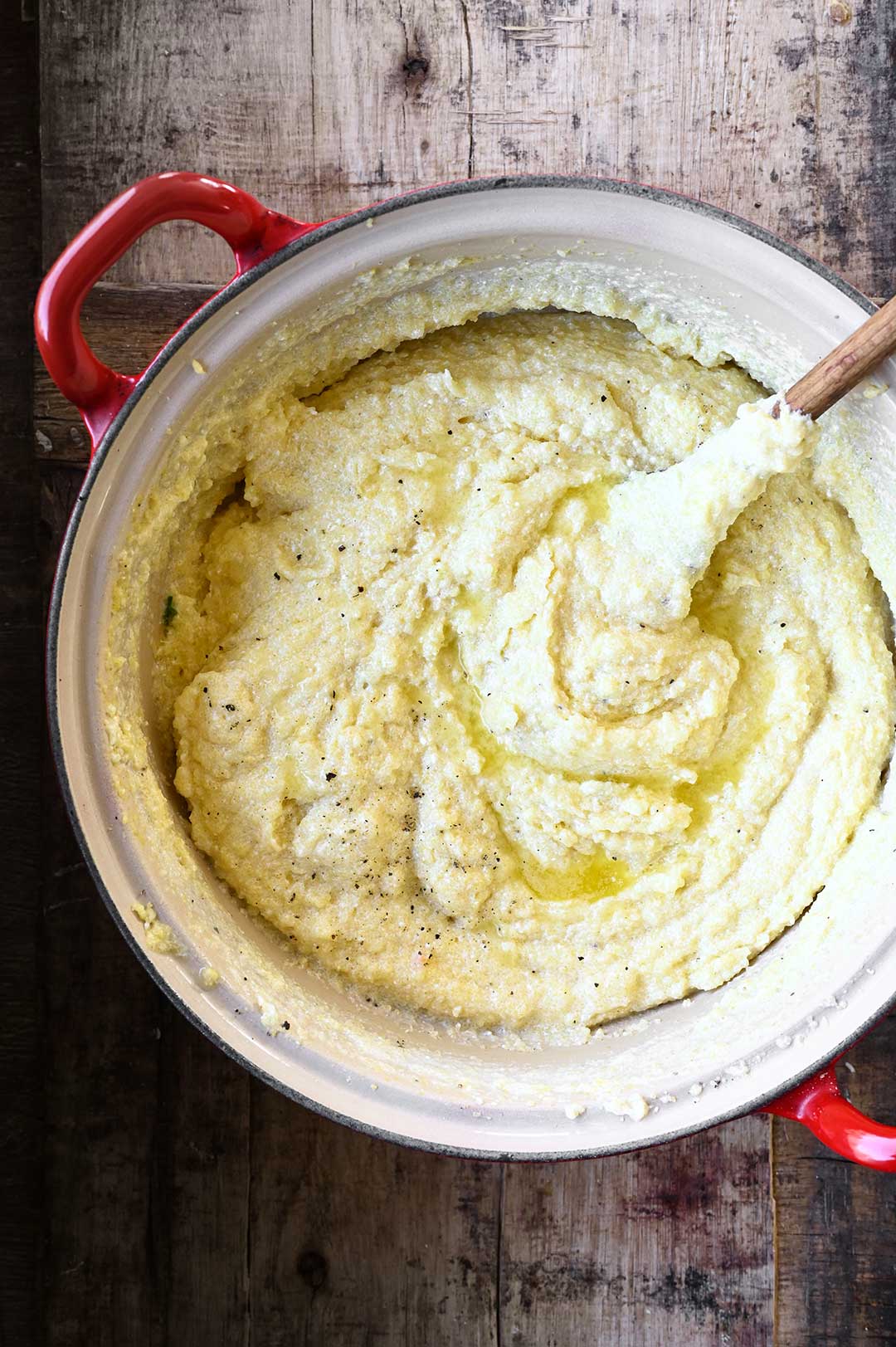 TIPS
– voor de gehaktballen kan je ook kippengehakt, rund- of gemengd gehakt gebruiken
– voeg champignons toe aan de saus
– vervang bruin bier door runderbouillon
– serveer met een salade, geroosterde broccoli of sperziebonen
– geen polenta? serveer met aardappelpuree
More polenta, please! 
Romige polenta met scampi's en chorizo
Polenta met miso champignons en zongedroogde tomaten
Romige polenta en paddenstoelen in een biersausje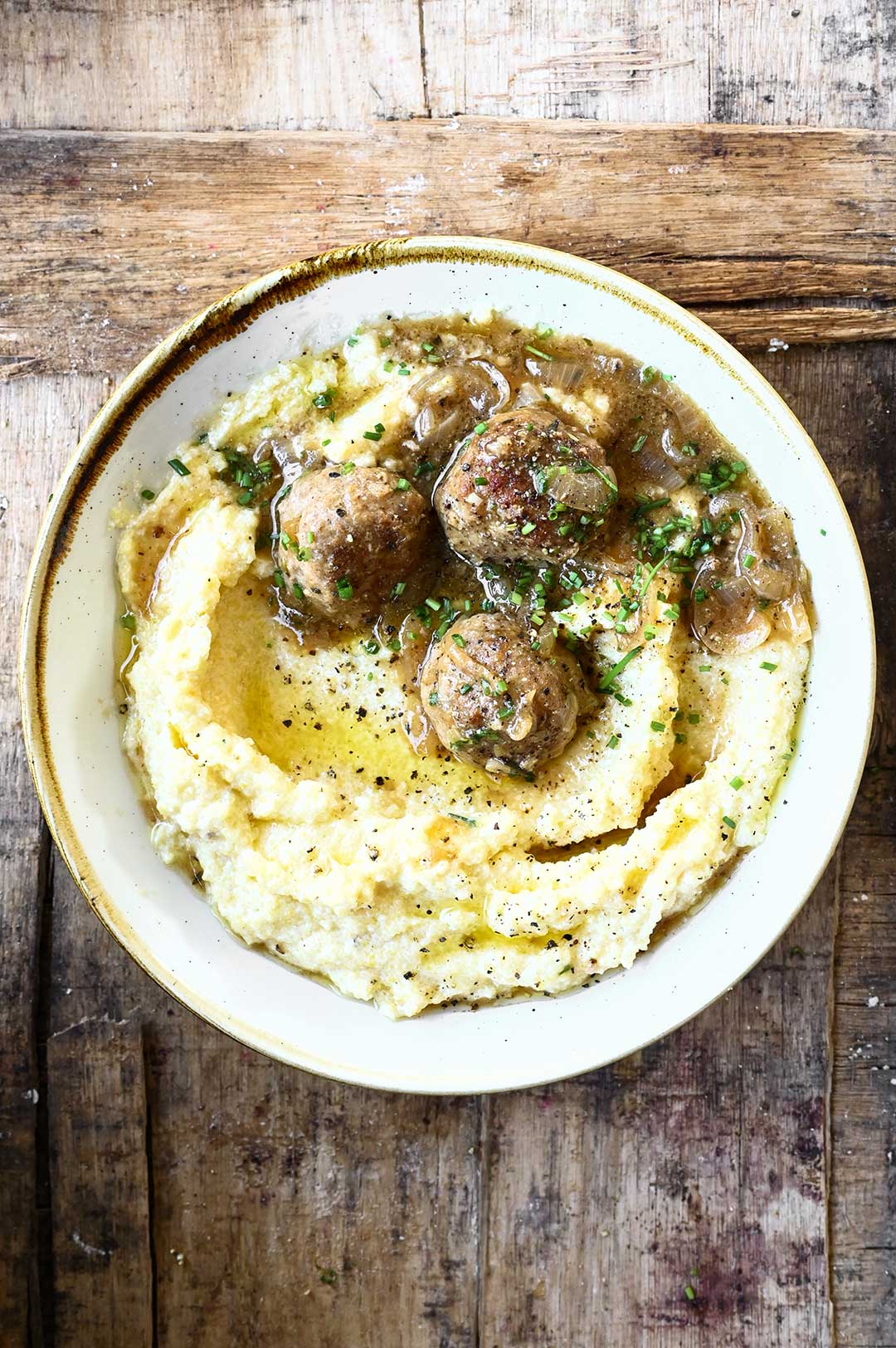 Dit heb je nodig
polenta met ricotta
200 g instant polenta
500 ml kippenbouillon
500 ml volle melk
200 g ricotta
80 g geraspte Parmezaanse kaas
2 el roomboter
zout en zwarte peper, naar smaak
gehaktballetjes
500 g gemengd gehakt
1/2 tl elk: zout, zwarte peper, paprikapoeder, cayennepeper, knoflookpoeder, uienpoeder
1/4 tl nootmuskaat
1 ei
2 el paneermeel
saus
2 middelgrote uien, in dunne plakjes
3 teentjes knoflook, fijngehakt
250 ml bruin bier
250 ml kippenbouillon
3 el olijfolie
3 el boter
1 tl milde mosterd
1 tl van elk: zwarte peper, gedroogde oregano, gedroogde tijm
2 el bloem
gehakte bieslook, om te serveren
salade, geroosterde broccoli of sperziebonen, om te serveren
Zo maak je het
Bekijk mijn VIDEO om te zien hoe makkelijk je dit gerecht kan maken.
Doe alle ingrediënten voor de gehaktballen in een grote kom. Meng het geheel en rol tot balletjes.
Verhit 1 eetlepel boter en 2 eetlepels olijfolie in een grote koekenpan met anti-aanbaklaag op matig vuur. Voeg de gehaktballetjes toe en bak ze bruin terwijl je ze 2-3 keer omdraait (ongeveer 10-12 minuten), Leg op een bord.
Doe in dezelfde koekenpan 1 eetlepel olijfolie en 2 eetlepels boter toe. Stoof de uien op laag vuur, 5 minuten. Voeg knoflook toe en fruit 2 minuten. Roer zwarte peper, oregano, tijm en bloem erdoor. Laat de bloem 1 minuut bakken terwijl je voortdurend roert. Giet bier en kippenbouillon erbij, roer dan de mosterd erdoor. Breng de saus aan de kook.
Schuif de gehaktballetjes met al hun vrijgekomen sappen terug in de pan. Voeg zout en peper naar eigen smaak toe. Laat op laag vuur sudderen terwijl je de polenta maakt.
Breng in een kookpot kippenbouillon en melk aan de kook. Doe de polenta erbij terwijl je blijft roeren, kook ongeveer 2 minuten op een laag vuurtje. Roer de ricotta, parmezaan, zout en zwarte peper eronder. Voeg de boter toe en roer alles tot een geheel. Zet het vuur uit, dek af en laat 1 minuut staan. Als de polenta te dik wordt, verdun dan met wat extra melk of kippenbouillon. Voeg meer zout en peper toe, indien nodig.
Verdeel de polenta over kommen, leg er de gehaktballetjes en de saus op. Serveer met gehakte bieslook, een salade of geroosterde broccoli. Eet smakelijk!