Pizza uit een gietijzeren pan zeg je? Als je er eenmaal van geproefd hebt, zal je een pizza niet snel meer op een andere manier maken! Het hele idee van dit recept is, dat je de pizza bakt in de pan, in een oven op een hoge temperatuur. Op deze manier werkt de pan als een extra oven en het resultaat is een pizza met de meest knapperige en heerlijk luchtige korst die je je maar kan inbeelden. Om nog maar te zwijgen van de dikke bodem bedekt met een lading gesmolten kaas en gehakt op smaak gebracht met Italiaanse kruiden.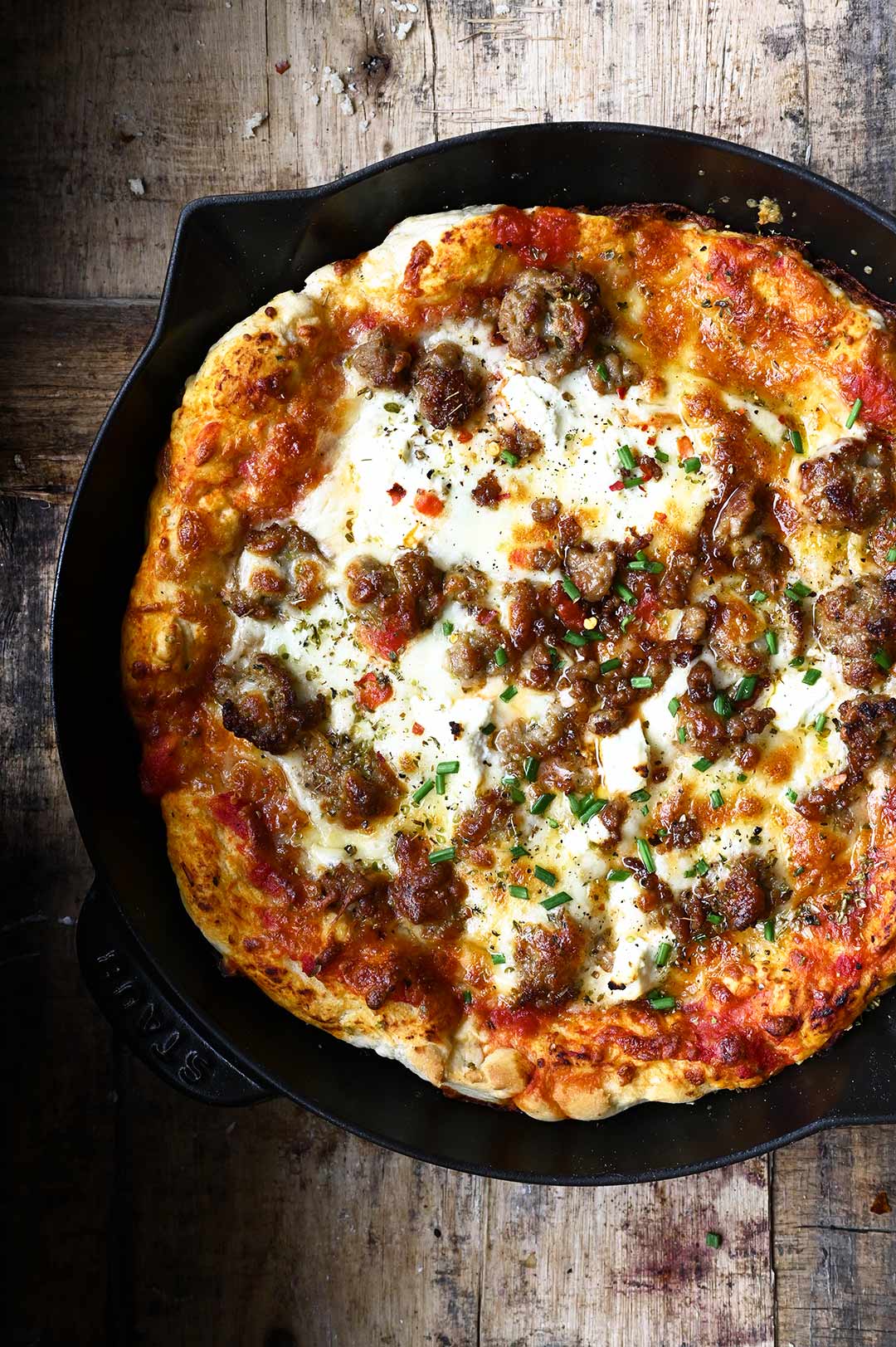 Bij zelfgemaakte pizza draait alles om experimenteren, dus aarzel niet om wat extra's toe te voegen. Salami, spek of je favoriete groenten zijn geweldige keuzes. 
Heb je geen gietijzeren koekenpan? Geen probleem! Je kan deze pizza nog steeds maken met een licht ingeoliede bakvorm of een ovenvaste koekenpan.
Bekijk mijn VIDEO om te zien hoe makkelijk je dit gerecht kan maken.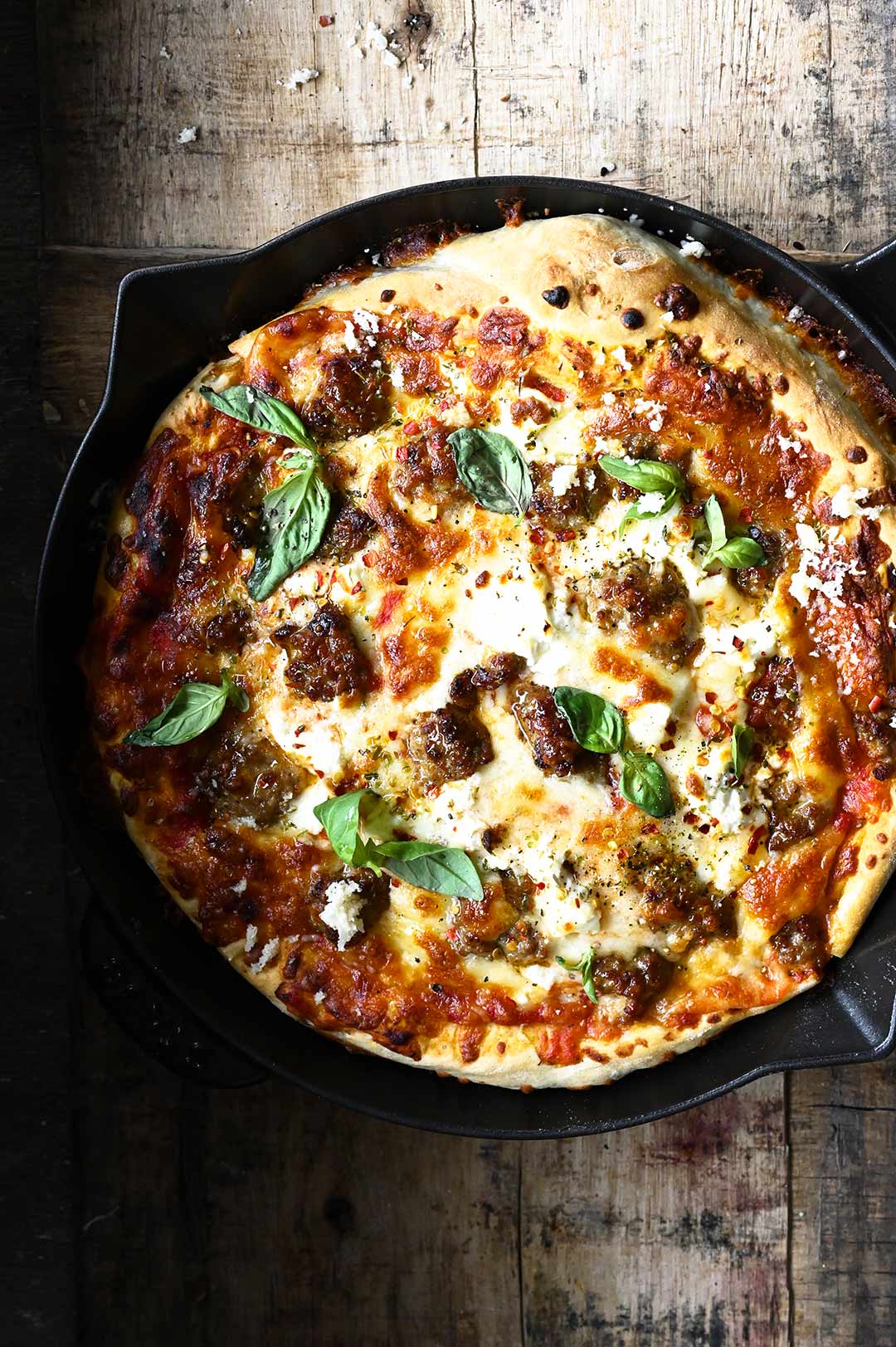 Meer pizza recepten:
Pizza met kip en jalapeños
Pizza baguette met champignons in balsamico azijn
Libanese pizza met lams en geitenkaas
Dit heb je nodig
pizzadeeg
u kan kant-en-klaar pizzadaag gebruiken of dit recept volgen…
460 g broodmeel
3 el droge gist
250 ml warm water
1 el volle melk
2 el olijfolie
1 tl zout
1 tl honing
tomatensaus
100 ml gehakte tomaten uit blik
2 el olijfolie
1/2 tl knoflookpoeder
zout + zwarte peper
toppings
500 g Italiaanse worst OF gemengd gehakt op smaak gebracht met 1/2 tl elk: gedroogde tijm, gedroogde oregano, knoflookpoeder, zoete paprika, gemalen venkelzaadjes, zout, zwarte peper
250 g geraspte mozzarella
100 g ricotta
gedroogde oregano, voor de afwerking
gedroogde rode chilipeper, voor de afwerking
verse basilicumblaadjes of gehakte bieslook, voor de afwerking
Zo maak je het
Bekijk mijn VIDEO om te zien hoe makkelijk je dit gerecht kan maken.
Doe de gist, water en honing in de kom van je keukenmachine, roer de ingrediënten lichtjes door elkaar en zet 5-10 minuten opzij tot alles begint te schuimen.
Voeg bloem, melk, olijfolie en zout toe en kneed minstens 10 minuten met een deeghaak, op een lage stand tot je een elastisch deeg krijgt.
Vet een andere middelgrote kom lichtjes in met olijfolie en laat het deeg erin vallen. Dek af en laat op kamertemperatuur rijzen gedurende 30 minuten tot 1 uur rijzen, of tot het deeg verdubbeld is.
Verwarm de oven voor op 250°C.
Maak ondertussen de saus. Meng de ingrediënten in een kleine kom, roer en zet opzij. Als de tomaten te veel saus bevatten. Giet ze dan in een fijne zeef en laat uitlekken.
Doe het gehakt in een andere kom en meng het met de kruiden. Breek in stukken en rol licht tot 'imperfecte' gehaktballen (zonder ze tot 'stevige' gehaktballen te rollen).
Verhit 3 el olijfolie in een grote koekenpan op middelmatig vuur. Voeg de 'gehaktballen' toe en laat ze gedurende 3 tot 5 minuten zachtjes gaar worden. Haal de pan van het vuur.
Als het deeg klaar is. Draai het uit op een bebloemd oppervlak en verdeel het in 2 ballen.
Olie de gietijzeren pan (⌀26cm) lichtjes in. Plaats 1 deegbal in de pan en druk deze uit naar de randen van de pan. Het is normaal dat het deeg een beetje terug stuitert. U kan de pizza's één voor één bakken, of in twee pannen tegelijk. Of het resterende deeg invriezen voor een andere keer.
Verspreid de tomatensaus over het deeg. Werk af met de helft van de mozzarella, gevolgd door de ricotta en de gehaktballetjes. Bestrooi met de resterende mozzarella, oregano en gedroogde chilipeper.
Zet de koekenpan in de oven, verlaag de temperatuur tot 230°C en bak de pizza in ongeveer 15-17 minuten, totdat de bodem knapperig is en de kaas begint te bubbelen.
Bestrooi met verse basilicum of bieslook en serveer. Smakelijk!