Zelfgemaakte pizza in slechts 20 minuten? Pizza baguette is de makkelijkste manier om dit te bereiken. Het is nostalgisch voor de volwassenen en de beste vriend van elk kind. Niet alleen is het een geweldige snack of een lekkere lunch, maar in combinatie met een eenvoudige salade creëer je in een handomdraai een snelle maaltijd voor het hele gezin. 
Een pizza baguette maken is niet moeilijk, je hebt er nauwelijks een recept voor nodig. Deze is met extra kaas, een beetje messy en heeft maar een handvol ingrediënten nodig. Enkel wat zacht stokbrood of ciabatta, een goede tomatensaus, champignons, twee soorten kazen (mozzarella + Parmezaanse), dan nog salami of dunne plakjes spek. Afbakken in de oven, en klaar. Comfort food op zijn best. En als je niet zo van salami houdt, gebruik dan ham of maak een vegetarische versie. We werken af met gehakte bieslook, ketchup en aïoli. En vergeet niet te serveren met een salade met balsamico vinaigrette.
Ga naar mijn Instagram Highlights om te zien hoe makkelijk je dit gerecht kan maken.

Meer snelle receptjes:
Toast champignon met room, kip en een eitje
Stoofpotje van witte bonen met feta en een gepocheerd ei
Broodjes gebakken met ei, spinazie en feta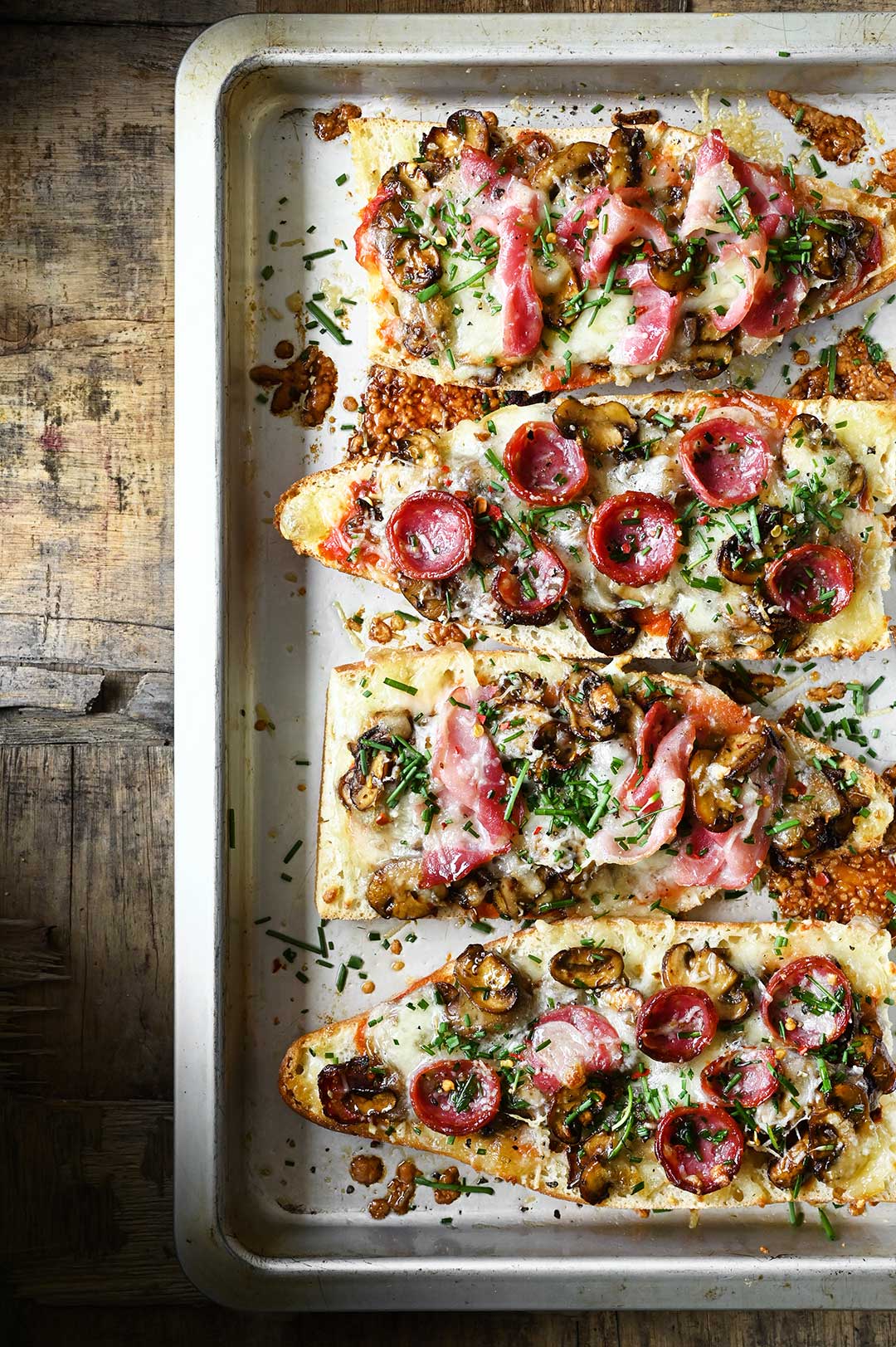 Dit heb je nodig
1 zacht stokbrood
150 ml goede tomatensaus
150 g geraspte mozzarella
40 g geraspte parmezaan
salami, worst, ham of dunne plakjes spek
champignons met balsamico azijn
250 g champignons, in plakjes
2 teentjes knoflook, fijngehakt
1 el balsamico azijn
1 sjalot, in dunne plakjes
1 tl marjolein
1 tl gedroogde rode chilipeper
zout + zwarte peper
+
ketchup
aïoli
gehakte bieslook
salade met een balsamico vinaigrette (optioneel)
Zo maak je het
Ga naar mijn Instagram Highlights om te zien hoe makkelijk je dit gerecht kan maken.
Verwarm de oven voor op 200°C.
Verhit de olijfolie in een koekenpan, voeg de champignons toe en bak gedurende 3 minuten op hoog vuur. Voeg knoflook en sjalot toe en laat 1 minuut fruiten. Roer de balsamico azijn, marjolein en gedroogde chilipeper eronder en breng op smaak met zout en peper. Bak nog 1 minuut verder. Haal van het vuur.
Snij het stokbrood met een gekarteld mes in 3 (of 2) gelijke stukken, snij dan elk stuk overlangs door.
Leg het brood op een bakplaat, met de opengesneden kant naar boven en verdeel de tomatensaus gelijkmatig over het brood. Leg de gebakken champignons erop, bestrooi met mozzarella en Parmezaanse kaas. Werk af met salami en spek. Bak tot de kaas gesmolten is, ongeveer 10-12 minuten.
Serveer dadelijk met gehakte bieslook, ketchup en aïoli. Lekker met een salade erbij. Smakelijk!