Wok met scampi, szechuanpeper en gebakken uien. Pittig, snel en klaar in 15 minuten.
Vooral de textuur en de smaken maken dit gerecht echt geweldig, de basis zijn knapperige uien en een sojasaus met veel knoflook.
Vooraleer je begint te wokken kook je de rijst (of noedels), daarna gaat het vrij snel. Dus de sleutel om alles goed uit te voeren is om al je ingrediënten al gesneden en klaar te hebben, want als je eenmaal begint te wokken is er geen weg meer terug. Concentreer je op de uien! Voor het beste resultaat moet je de uien kort bakken op hoog vuur, om ze zo knapperig mogelijk te houden. Als je graag wat meer groenten hebt, kan je spinazie, wortelen of paksoi toevoegen, maar mijn favorieten zijn shiitakes.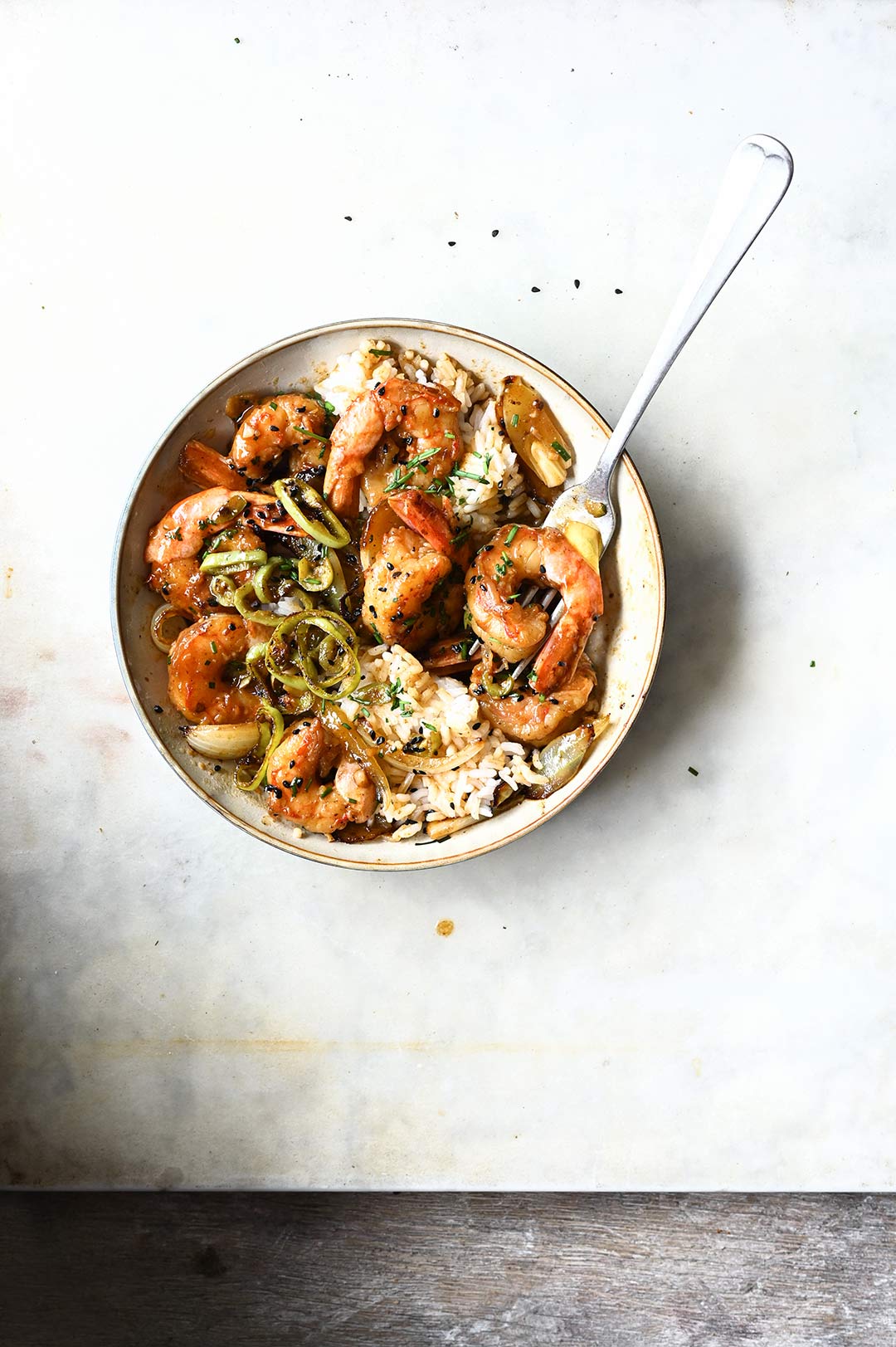 Dit pittig gerecht is ook makkelijk te maken met kip of tofu. Je kan het zo pikant of mild maken als je maar wil!
Kan je geen szechuan peperkorrels vinden? Gebruik dan een mix van jeneverbes en chilivlokken.
Meer makkelijke recepten met scampi:
Spaghetti met scampi, look en beurre noisette
Parelcouscous met scampi en verse erwtjes
Scampi's met cashews, honing en look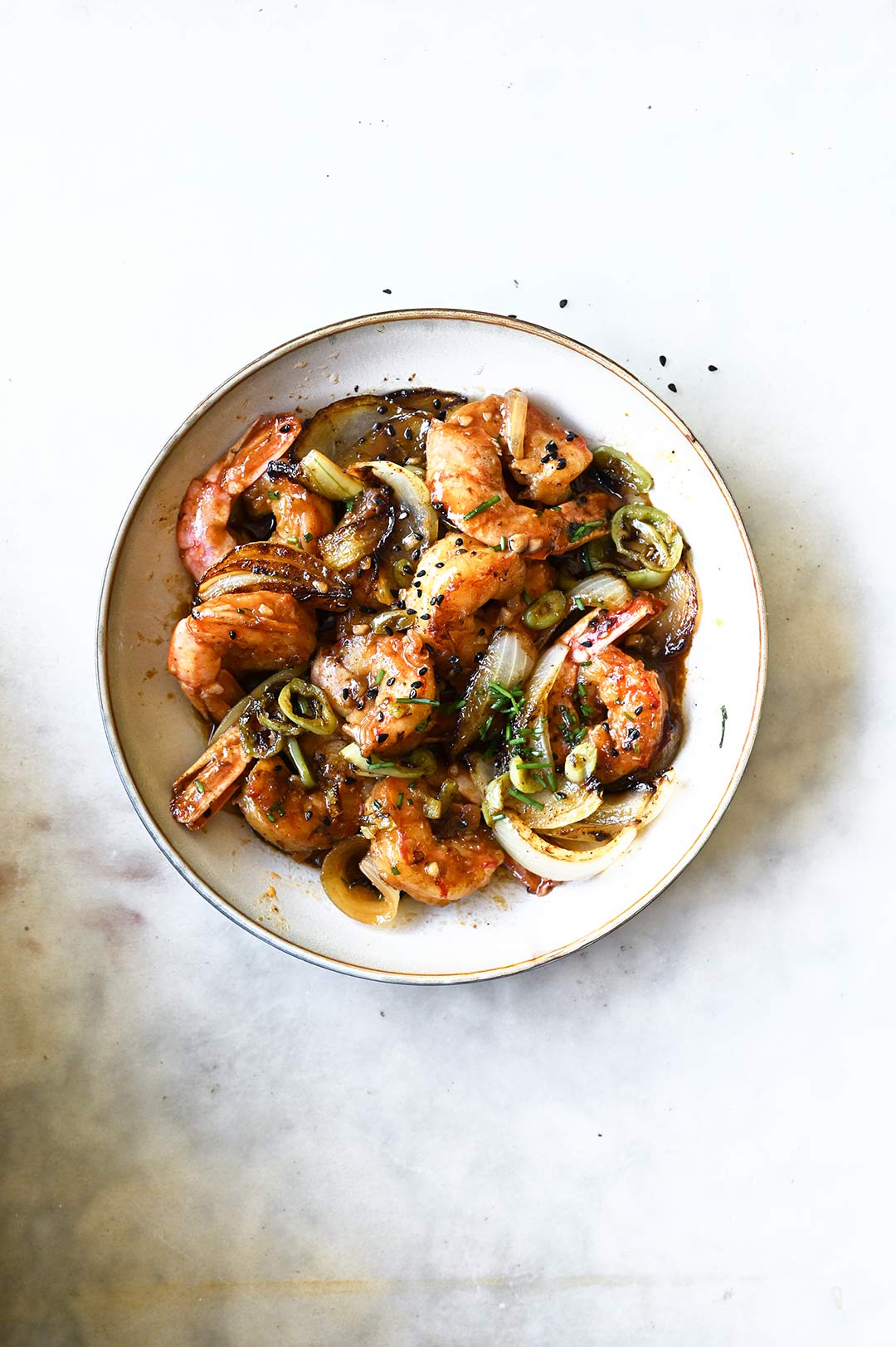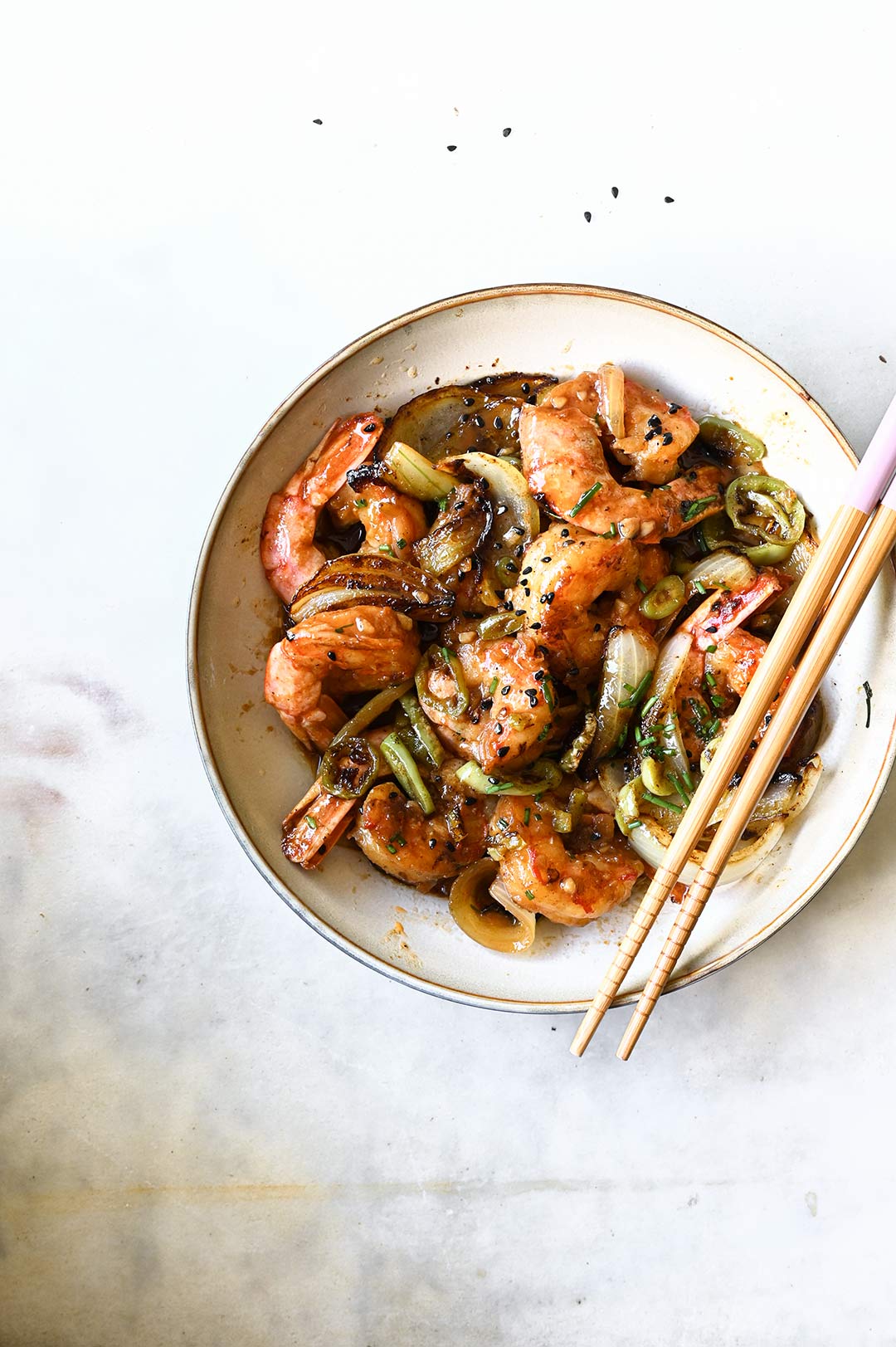 Dit heb je nodig
scampi's
400 g gepelde scampi's
2 uien, in dikke plakken
1 chili, fijn gesneden (of meer naar eigen smaak)
3 tenen knoflook, fijngehakt
1 tl szechuan peperkorrels, verbrijzeld met een vijzel
3 el rijstolie
saus
1 el sesamolie
2 tl bruine suiker
5 el sojasaus
2 el oestersaus
1 el maïszetmeel
1 el rijstazijn
1 tl miso
+ voor het serveren
fijngesneden bieslook
gestoomde jasmijnrijst of udon noedels
sesamzaadjes
Zo maak je het
Kook de rijst of noedels volgens de aanwijzingen op de verpakking.
Meng de ingrediënten voor de saus in een kleine kom.
Verhit de rijstolie in een wok op een hoog vuur tot deze gloeiend heet is en begint te dampen. Voeg de scampi's toe en roerbak 2 minuten tot ze net gaar zijn en bijna helemaal roze. Doe de uien erbij en roerbak 1-2 minuten, nog steeds op hoog vuur.
Voeg de geplette peperkorrels, chili en knoflook toe en roerbak 30 seconden, voeg dan de saus toe en blijf roeren, nog ongeveer 30 seconden, of totdat de saus dikker is geworden en aan de scampi's begint te plakken.
Serveer met rijst en bestrooi met bieslook en sesamzaad. Smakelijk.