Mini-galettes met een knapperig deeg en een laagje zoete peren met kaneel en amandelen. Een heerlijk, elegant, ongecompliceerd dessert.
Galettes zijn easygoing en veel minder tijdrovend dan een taart maar zeker zo lekker. In een mini-versie worden ze absoluut onweerstaanbaar . Je kan ze zoals deze een ronde vorm geven , maar ook vierkant. Regels zijn er niet! 
Je kan ze warm of op kamertemperatuur serveren. Je kan ze ook op voorhand maken als je een dinner party plant  en ze daarna snel eventjes opwarmen. Maar vergeet zeker niet om ze te serveren met een schepje roomijs, vanillesaus of slagroom.
Geen tijd om het basisdeeg te maken? Gebruik in plaats daarvan kant-en-klaar bladerdeeg. Zo makkelijk!
Ga naar mijn WEB STORY om te zien hoe makkelijk je deze taartjes kan maken!
Meer heerlijke galettes:
Bladerdeegtaartjes met bosbessen en vijgen
Abrikozentaartjes met honing
Rabarber en aardbeien-galette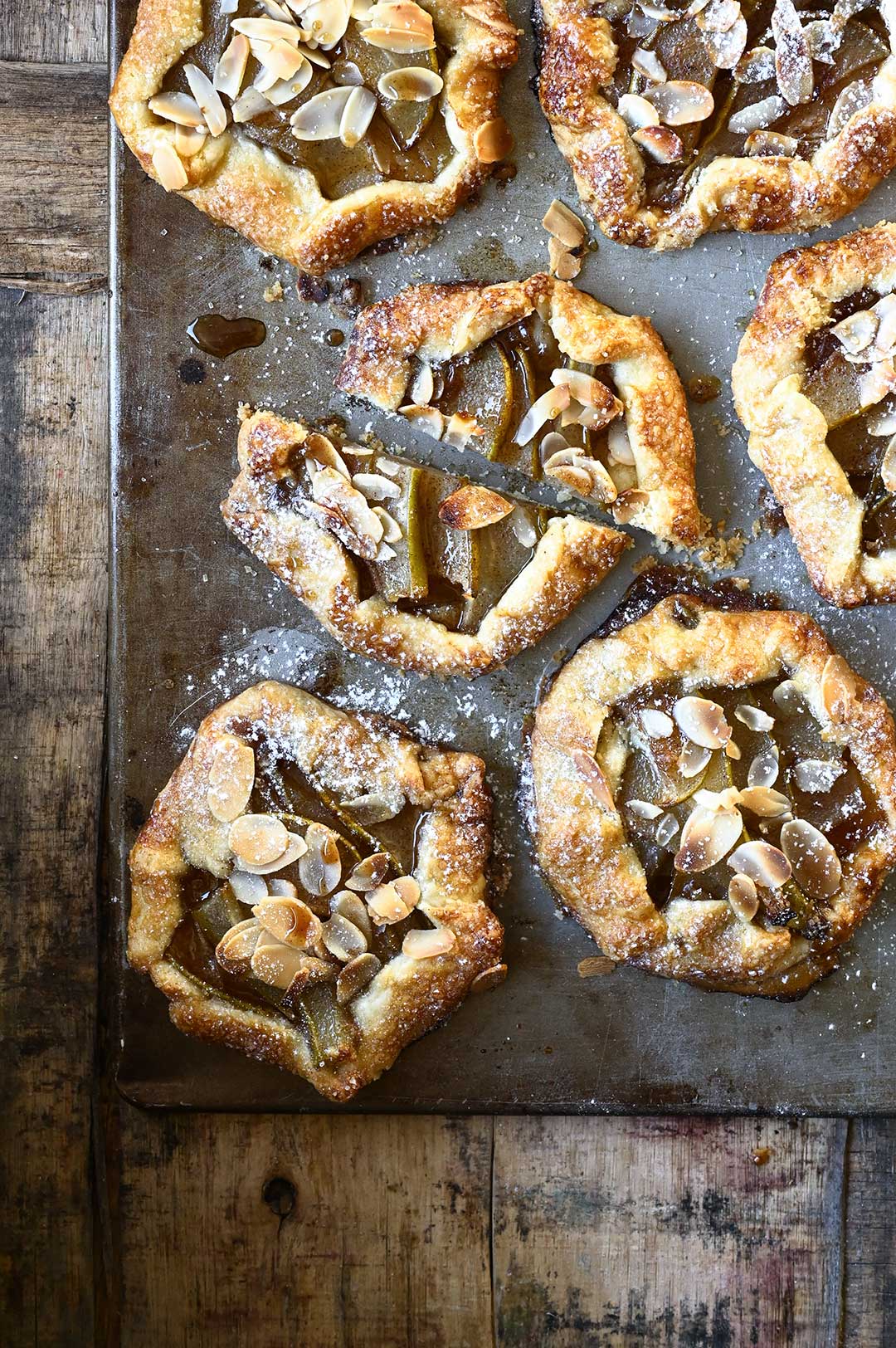 Wil je op de hoogte blijven van mijn nieuwe recepten? Abonneer je dan op mijn NIEUWSBRIEF. 
Dit heb je nodig
basisdeeg galette
150 g bloem
140 g koude boter
2 el suiker
1/4 tl zout
3-4 el ijswater
vulling met peren
4 kleine rijpe peren, in dunne plakjes gesneden
100 g lichtbruine suiker
1 el citroensap
1 tl kaneel
1 el maïszetmeel
3 el amandelschilfers
+
1 ei opgeklopt met 1 tl melk, voor het bestrijken van het deeg
grove suiker
vanille-ijs, slagroom of vanillesaus voor de afwerking
…IF YOU LOVE THESE RECIPES … please consider supporting my work for just the cost of a cup of coffee.

Zo maak je het
Doe de bloem, suiker, zout en boter in je keukenmachine. En mix tot een kruimelig deeg, gedurende ongeveer 1 minuut. Voeg langzaam ijswater toe, 1 eetlepel per keer, en pulseer tot een mooi geheel.
Leg het deeg op een licht bebloemd werkvlak en vorm een bal. Wikkel het deeg in plastic en laat het minstens 30 minuten afkoelen.
Meng de peren met suiker, citroensap, maïszetmeel en kaneel.
Verwarm de oven voor op 190C.
Rol het deeg uit op een licht bebloemd werkvlak en druk cirkels uit het deeg. Leg ze daarna op een bakplaat bekleed met bakpapier. Leg de peren in het midden van elke cirkel. Vouw vervolgens de randen van het deeg naar binnen over de vruchten. Bestrooi met amandelschilfers.
Bestrijk de randen van het deeg met het opgeklopte ei en bestrooi met grove suiker. Bak tot het deeg diep goudbruin is, gedurende ongeveer 20 minuten.
Laat lichtjes afkoelen en serveer. Smakelijk!
Ga naar mijn WEB STORY om te zien hoe makkelijk je deze taartjes kan maken!
Als je dit recept uitprobeert, laat dan hieronder een reactie achter of tag mij in je foto's op Instagram met @anna_s_table of met #servingdumplings. Ik kijk ernaar uit!