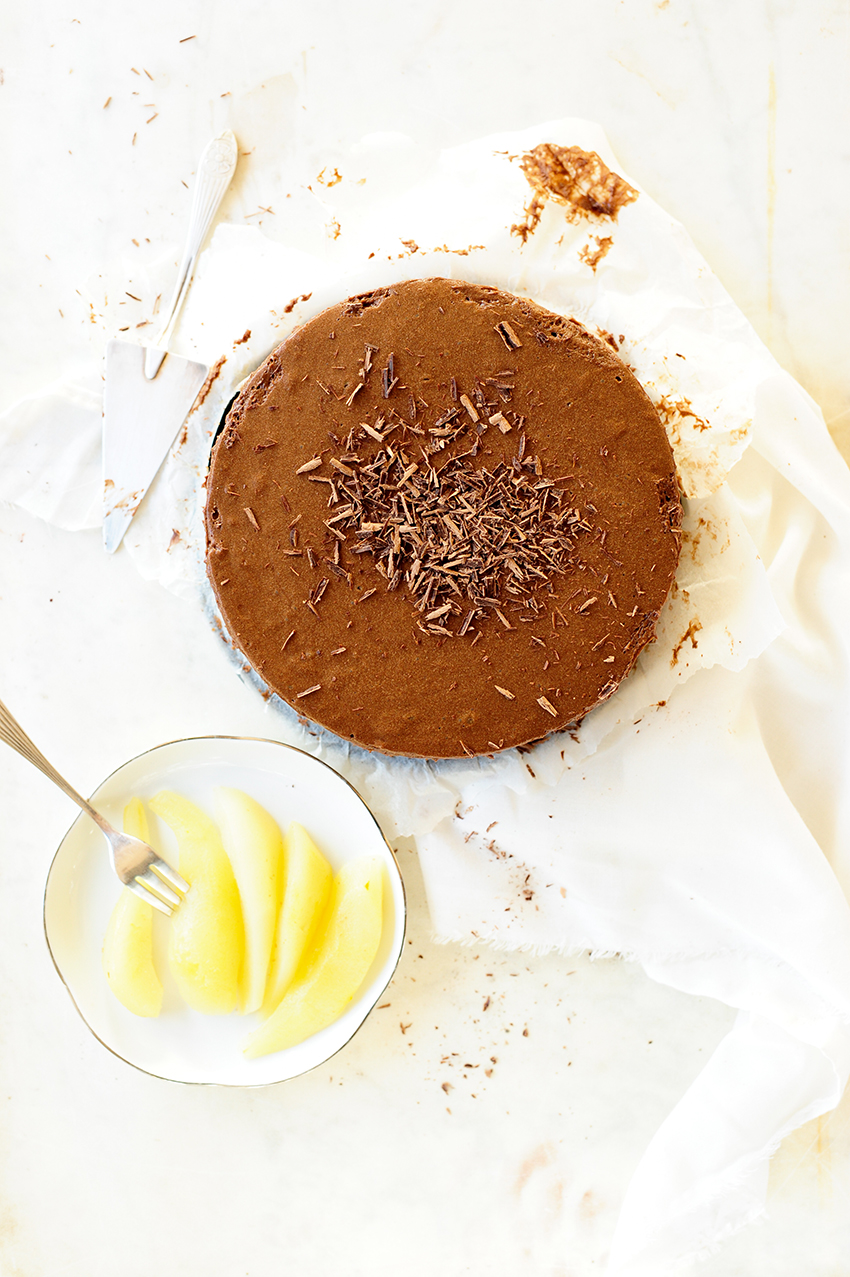 Zijn jullie klaar voor een flinke portie chocolade?! Maak kennis met deze decadente chocoladetaart gevuld met vanilleperen en een romige mousse van pure chocolade. Een hemels dessertje.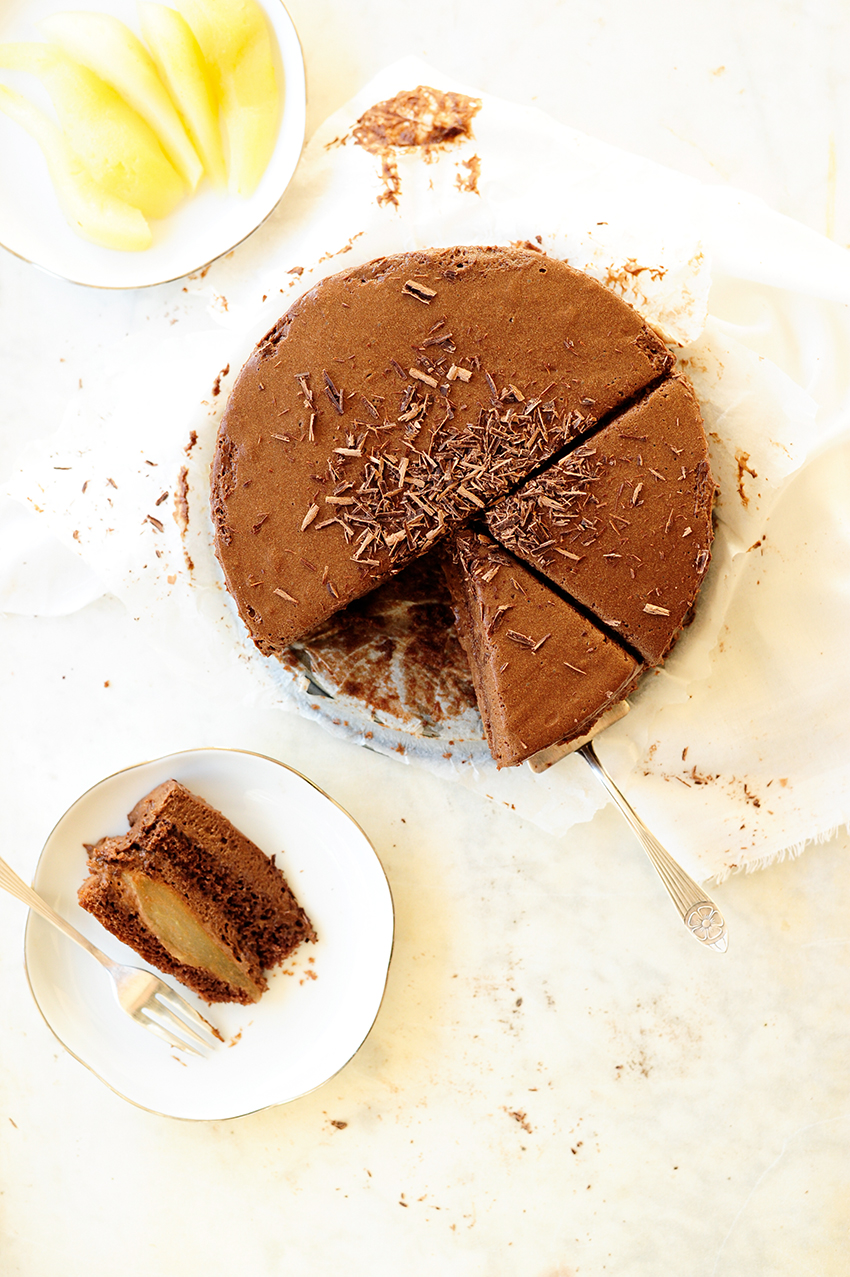 Dit heb je nodig
de chocoladecake
75 g bloem
75 g aardappelzetmeel
125 g suiker
3 bio eieren
2 el bakpoeder
2 tl cacaopoeder
de chocolademousse
200 g pure chocolade
80 g suiker
8 bio eieren
snuifje zout
de vanilleperen
3 peren
70 g suiker
sap van een 1/2 citroen
1 vanillestokje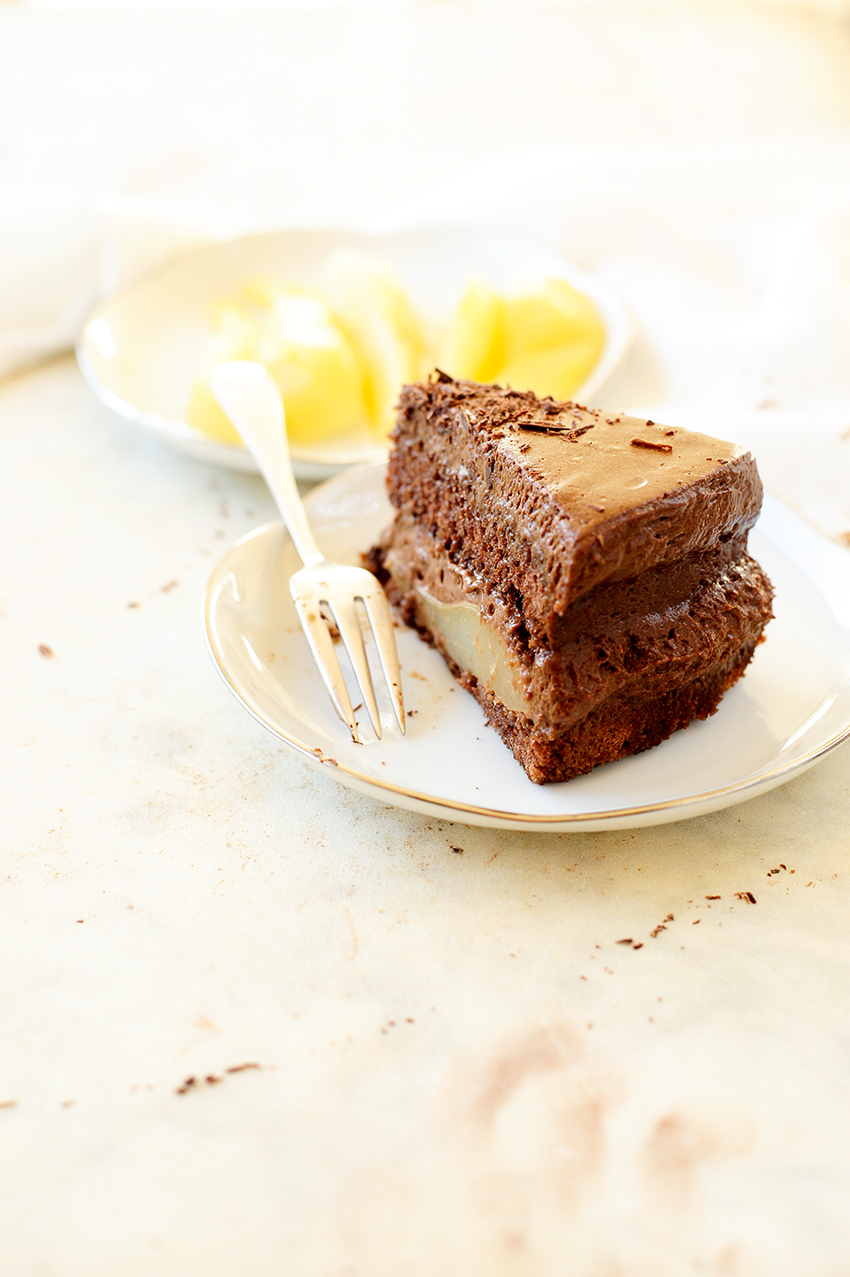 Zo maak je het
Meng de bloem met aardappelzetmeel, bakpoeder en cacao. Klop in een aparte kom de eieren met de suiker en 4 eetlepels heet water tot een romige massa. Schep daarna langzaam het bloemmengsel erdoor.
Bedek de bodem van een springvorm van 20 cm doorsnede met bakpapier en vet de zijkanten in met boter. Doe het beslag erin en bak gedurende 30 minuten op 175°C. Haal uit de oven en laat afkoelen.
Schil de peren, snijd in vieren en verwijder het klokhuis. Doe in een pannetje, voeg suiker, het in tweeën gesneden vanillestokje en citroensap toe, giet dan water erover, net genoeg om de vruchten te bedekken. Breng aan de kook, zet het vuur lager en laat afgedekt 20 minuten koken. Giet de peren af boven een kom.
Maak de chocolademousse. Laat de chocolade en de boter au bain-marie smelten. Splits de eieren, klop de eierdooiers met de suiker tot een lichte massa of tot de suiker volledig is opgelost en meng dan met de gesmolten chocolade. Klop de eiwitten met een snuifje zout stijf en roer met het chocolademengsel.
Snijd de taart horizontaal in 2 schijven. Leg de eerste schijf op de bodem van de springvorm en besprenkel met de perensiroop. Verdeel de peren, doe de helft van de chocolademousse erover en plaats de tweede schijf van de taart. Besprenkel opnieuw met perensiroop en verspreid de rest van de mousse gelijkmatig over de taart. Laat hem gedurende een uur of een hele nacht opstijven in de koelkast. Bestrooi met de geraspte chocolade. Smakelijk!