Pasta met gerookte zalm, mascarpone en zongedroogde tomaten. Onwaarschijnlijk makkelijk te maken, en het best te omschrijven als een regelrechte smaakbom. Je kan deze pasta serveren als snelle doordeweekse maaltijd voor je familie of een etentje voor vrienden. Bonus? Het hele gerecht is klaar in ongeveer 15 minuten!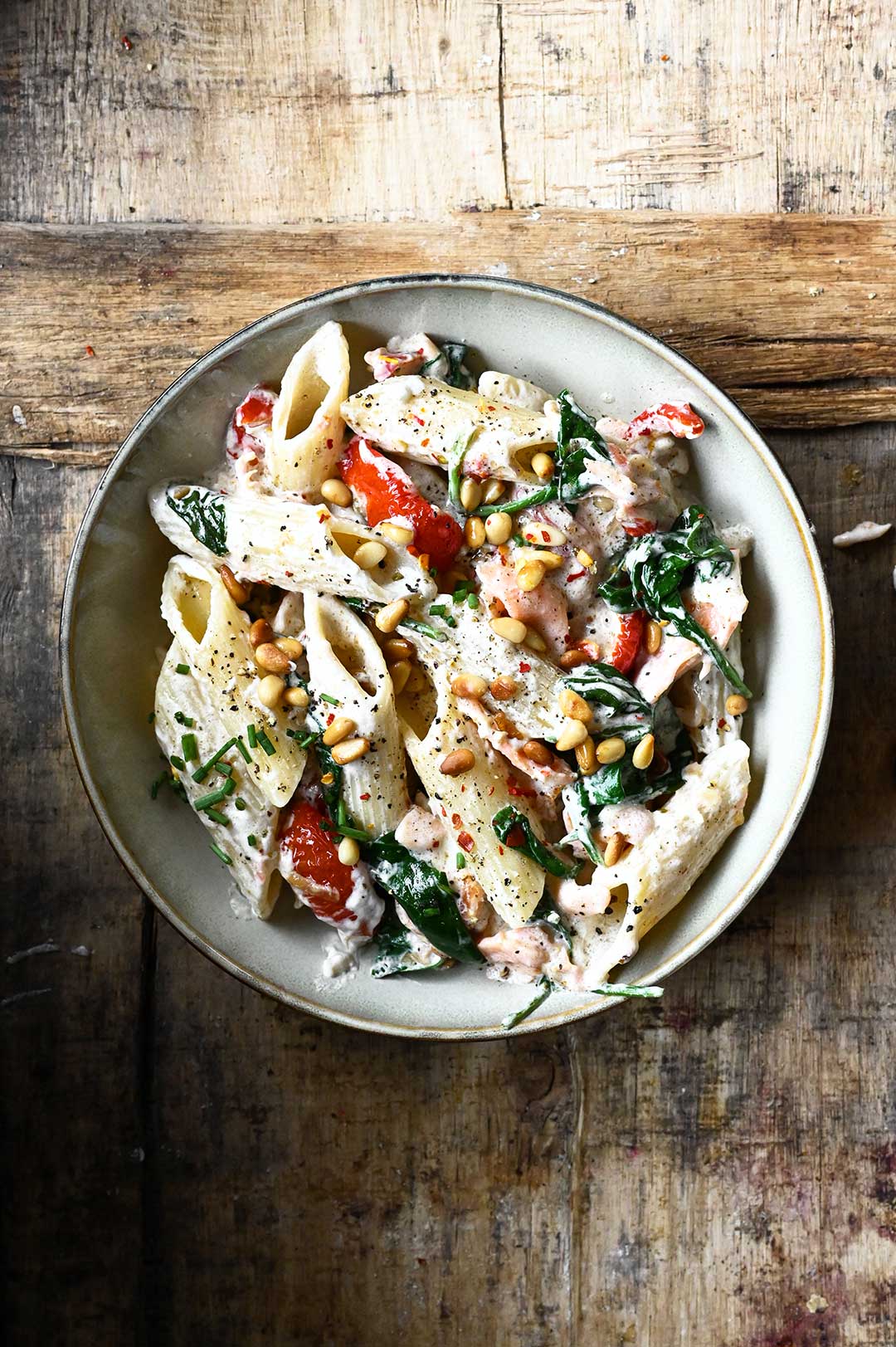 In dit recept is de gerookte zalm het verrassende ingrediënt. Het zorgt eigenlijk al voor een groot deel van de kruiding door zijn licht zoute en aangenaam rokerige smaak. En je kan wel raden dat er samen met de mascarpone en de tomaten een heerlijke saus ontstaat, lichter dan een roomsaus maar toch zijdezacht en rijk. We voegen geroosterde pijnboompitten toe voor nog een extra laagje textuur en smaak. Serveer de saus met wat gecrushte chilli flakes en gehakte bieslook. Dit is een veelzijdig recept dat makkelijk een rotatie aankan in je weekmenu. Een echte aanrader.
Bekijk mijn VIDEO om te zien hoe makkelijk je dit gerecht kan maken.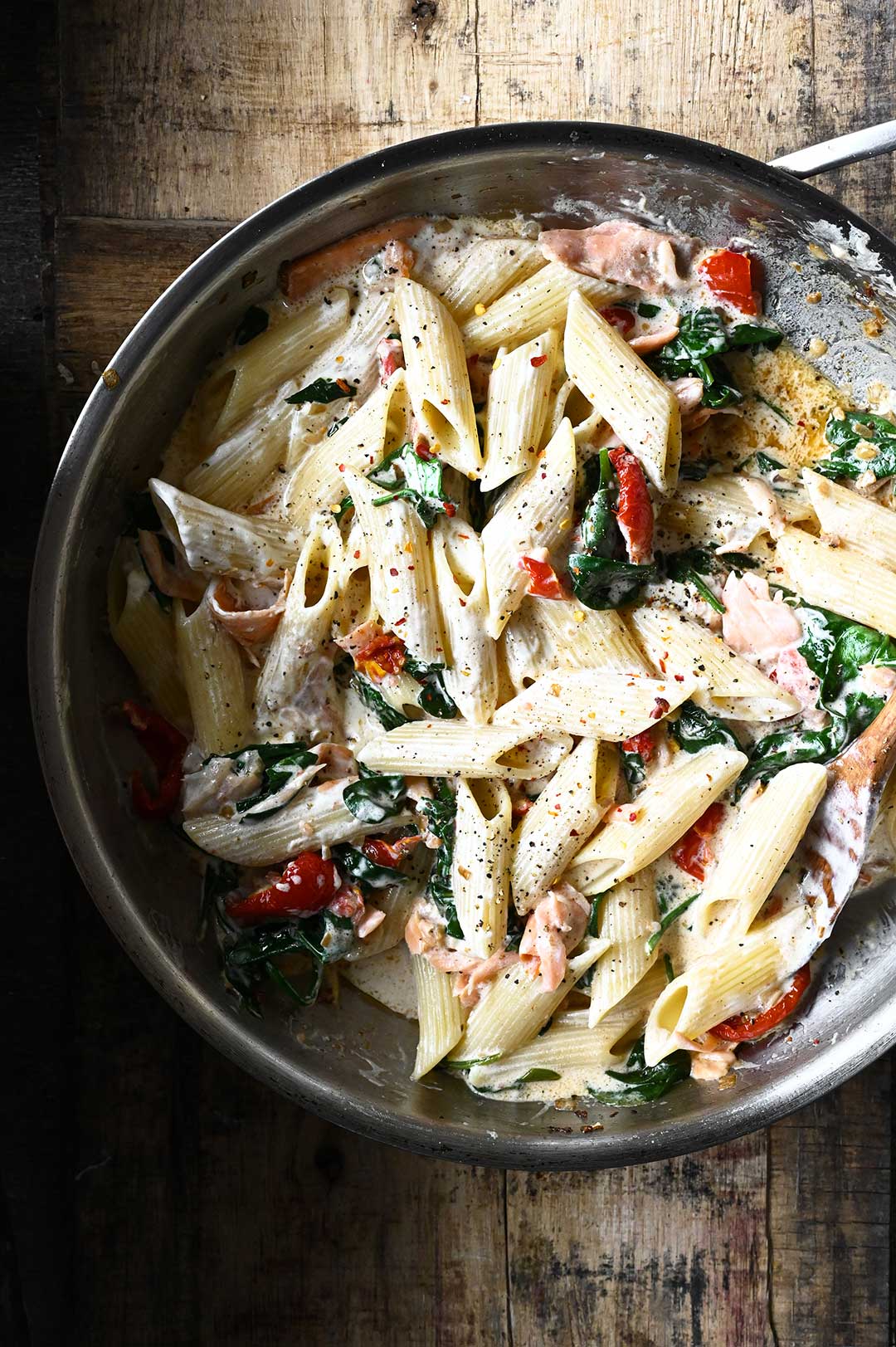 NOTITIES:
Je kan ook zalm uit blik of gebakken verse zalm gebruiken. Vervang de spinazie door broccoli, asperges of boerenkool. Ook de zongedroogde tomaten kan je makkelijk omruilen voor kerstomaatjes. Of maak het gerecht vegetarisch of gebruik gerookt spek. Vergeet ook niet om je eigen favoriete pasta te gebruiken. In ieder geval je kan dit gerecht volledig naar je hand zetten door gewoon enkele dingen te veranderen. Het zal lijken alsof je een heel nieuw gerecht hebt gemaakt, en ik beloof je dat niemand er iets van zal merken, dat is hoe ik het altijd doe.
Meer makkelijke gerechten:
Pasta met gerookte zalm en chorizo
Zalm met een romige tomatensaus en crunchy chorizo
Orecchiette met beurre noisette, walnoten en salie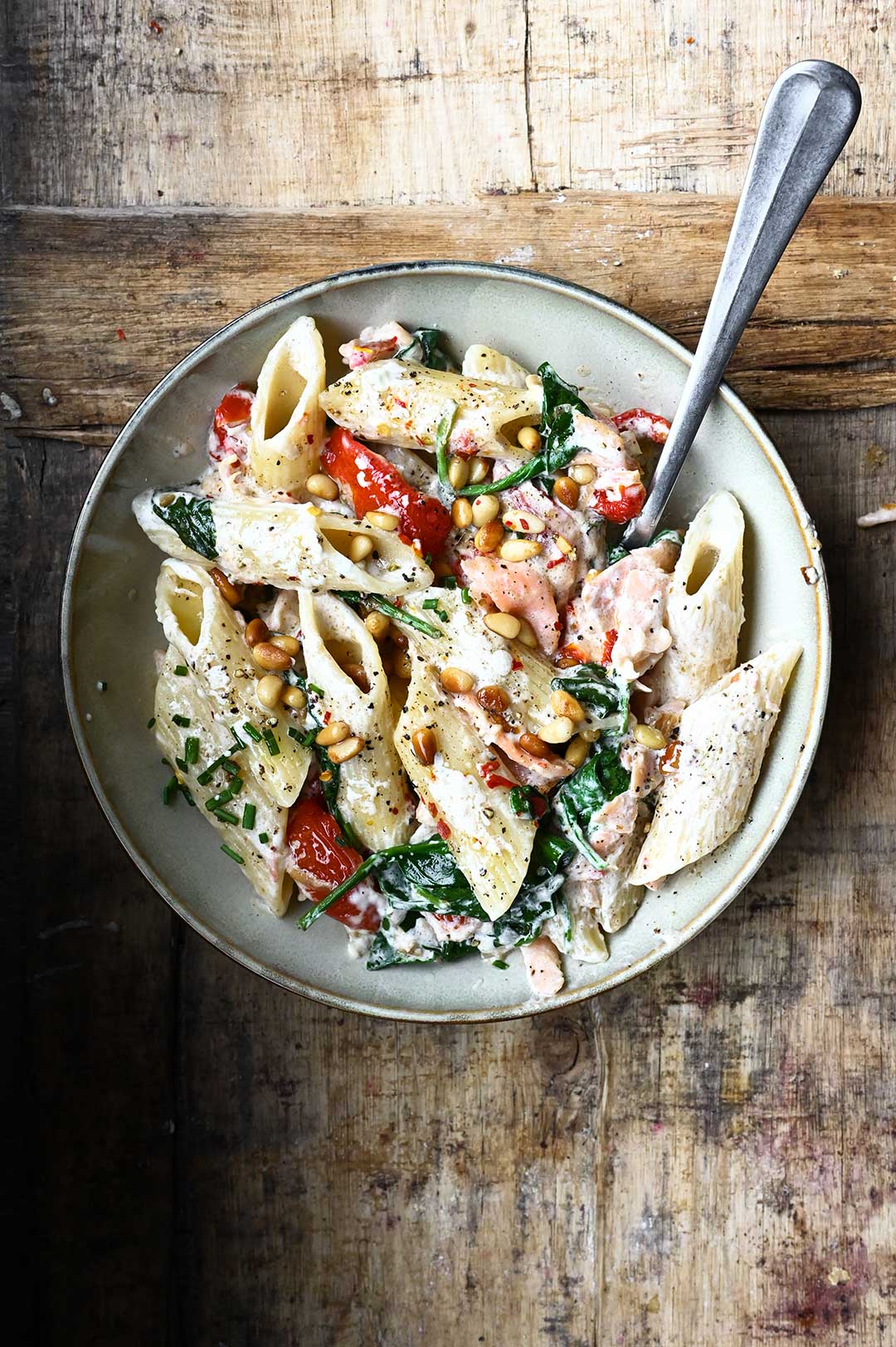 Dit heb je nodig
200 g penne
150 g gerookte zalm, in reepjes
200 g mascarpone
80 g semi-gedroogde tomaten, uitgelekt (olie apart gehouden)
100 g spinazie
3 teentjes knoflook, fijngehakt
1 sjalotje, fijngehakt
3 el olie van de zongedroogde tomaten
1 el citroensap
1/2 tl elk: gemalen komijn, geplette gedroogde chilipeper, oregano, zout, zwarte peper
1/4 tl geraspte nootmuskaat
4 el pijnboompitten
gehakte bieslook, voor de afwerking (optioneel)
Zo maak je het
Bekijk mijn VIDEO om te zien hoe makkelijk je dit gerecht kan maken.
Kook de pasta beetgaar in gezouten water. Giet af en behoud 1/2 kopje van het kookwater.
Verhit een grote koekenpan op een matig vuurtje, voeg 1 el olie toe. Voeg de pijnboompitten toe en rooster ze tot ze goudbruin zijn, 1-2 minuten. Haal uit de pan en laat de restjes geroosterde olie in de pan.
Doe 2 el olie in de koekenpan, voeg de knoflook en de sjalot toe. Fruit gedurende 2 minuten. Voeg komijn, nootmuskaat, chilipeper, oregano, zout en peper toe. Fruit ongeveer 1 minuut.
Roer de spinazie erdoor en bak 1 minuut tot het lichtjes verwelkt. Voeg zongedroogde tomaten toe, bak 2 minuten mee.
Voeg nu citroensap, gerookte zalm en mascarpone toe, roer tot het net gemengd is. Schep de pasta erdoor en voeg 1/4 kopje kookwater toe.
Serveer dadelijk met gehakte bieslook, geroosterde pijnboompitten en wat extra gedroogde chilipeper. Eet smakelijk!