Scampi's met fettuccine in een romig sausje. Een echte aanrader voor wanneer je snel iets fancy op tafel wil zetten zonder al te veel tijd te verliezen in de keuken. Met dit gerecht in uw achterzak heb je ook nog eens een heerlijk idee dat decadent genoeg is voor eender welke date night. Je zal merken dat er hoe dan ook fans zullen opduiken voor een 2de ronde. Yess!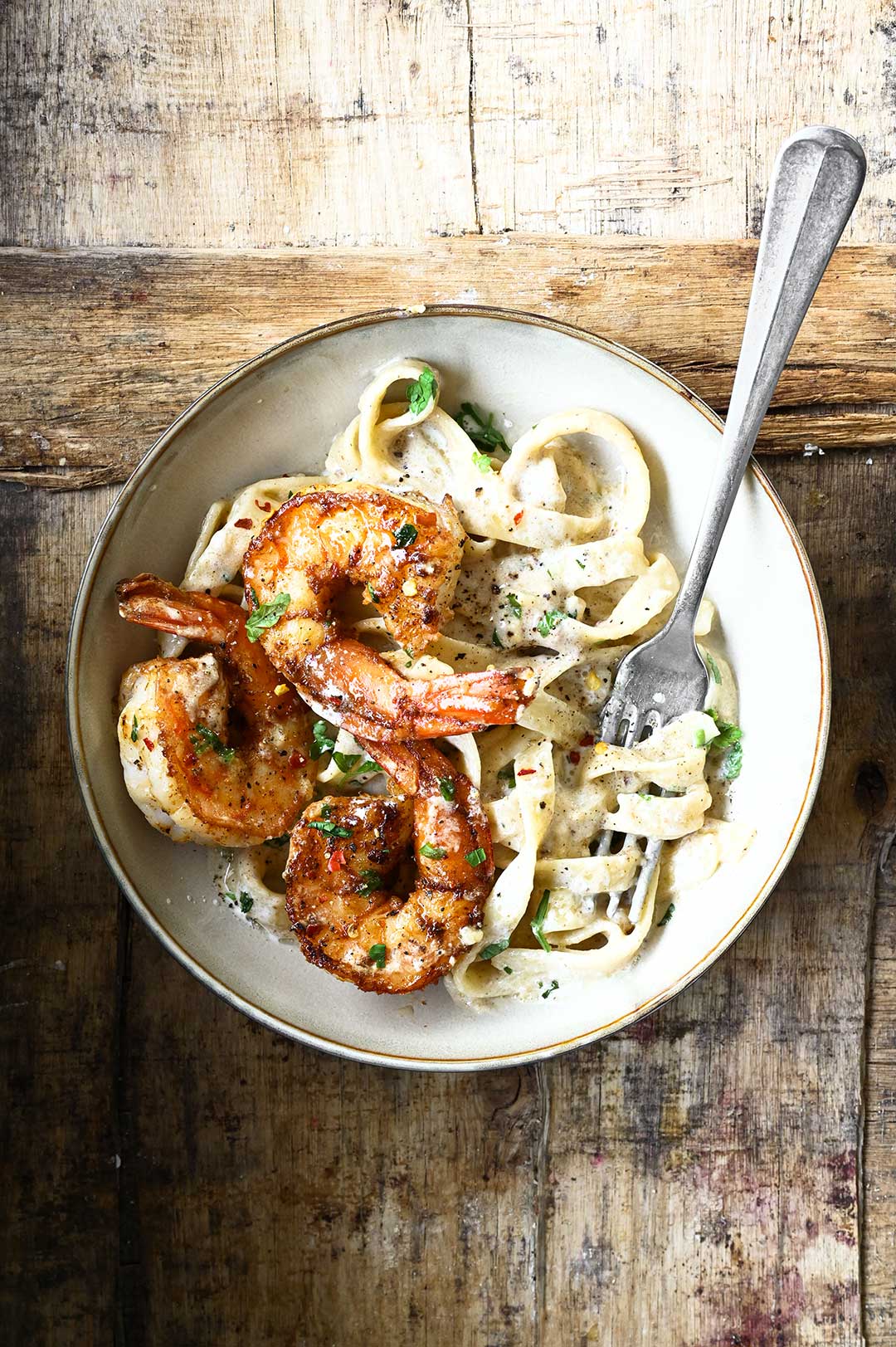 We geven de saus wat extra dimensie door er Parmezaanse kaas, Cheddar en zwarte peper aan toe te voegen… en verse peterselie die de pasta opfleurt als geen ander. De scampi's worden geserveerd met fettuccine, maar dit gerecht is net zo lekker wanneer we het koolhydraatarm maken met courgette pasta. Serveer er een eenvoudige salade bij, besprenkeld met olijfolie en balsamicoazijn, en BOEM! Bekijk mijn VIDEO om te zien hoe makkelijk je dit gerecht kan maken!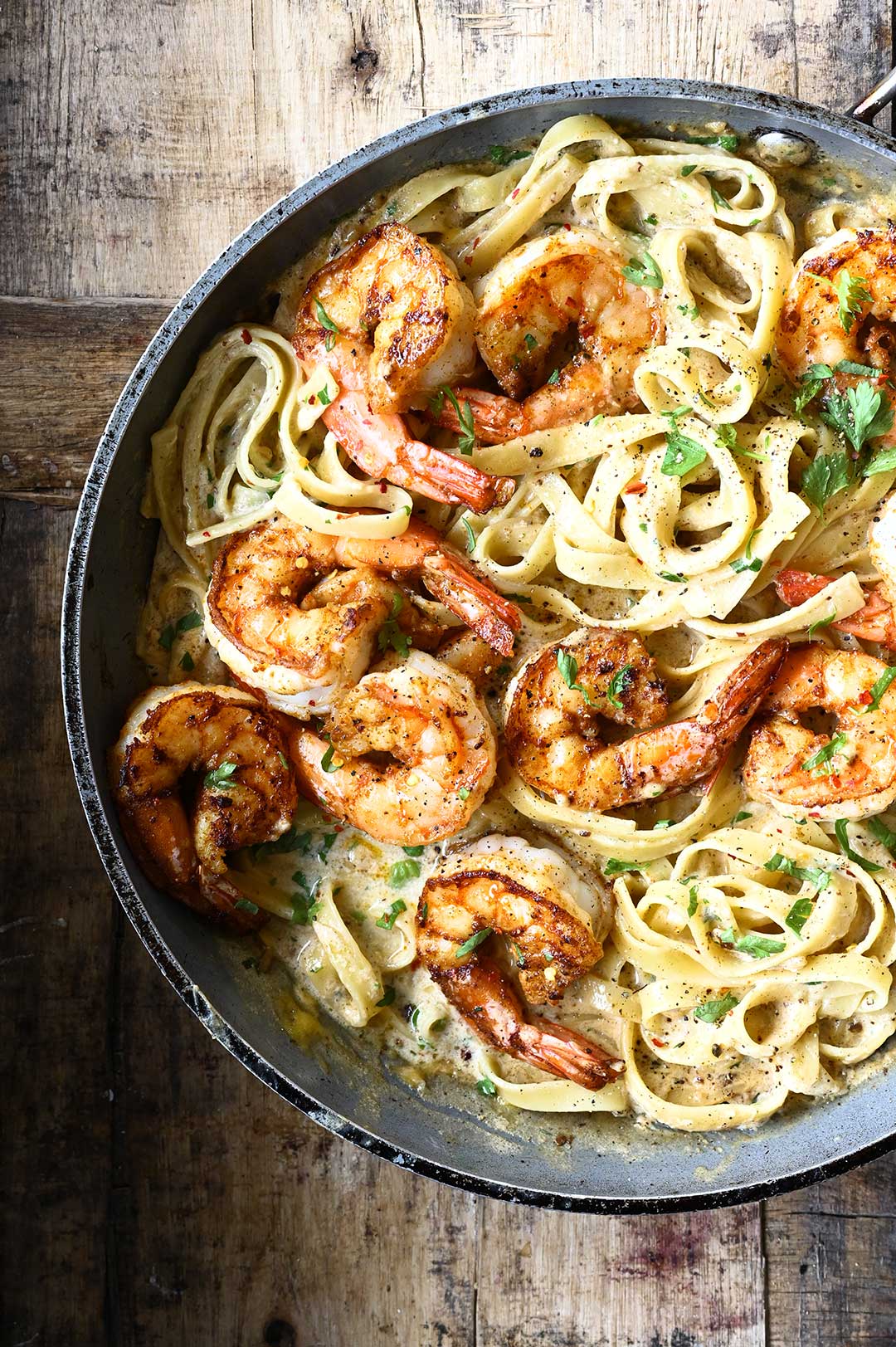 More pasta, please! 
Pasta met kip en romige pesto
Scampi's in pittige tomatenroomsaus met pasta
Orecchiette met beurre noisette, walnoten en salie
Wil je op de hoogte blijven van mijn nieuwe recepten? Abonneer je dan op mijn NIEUWSBRIEF.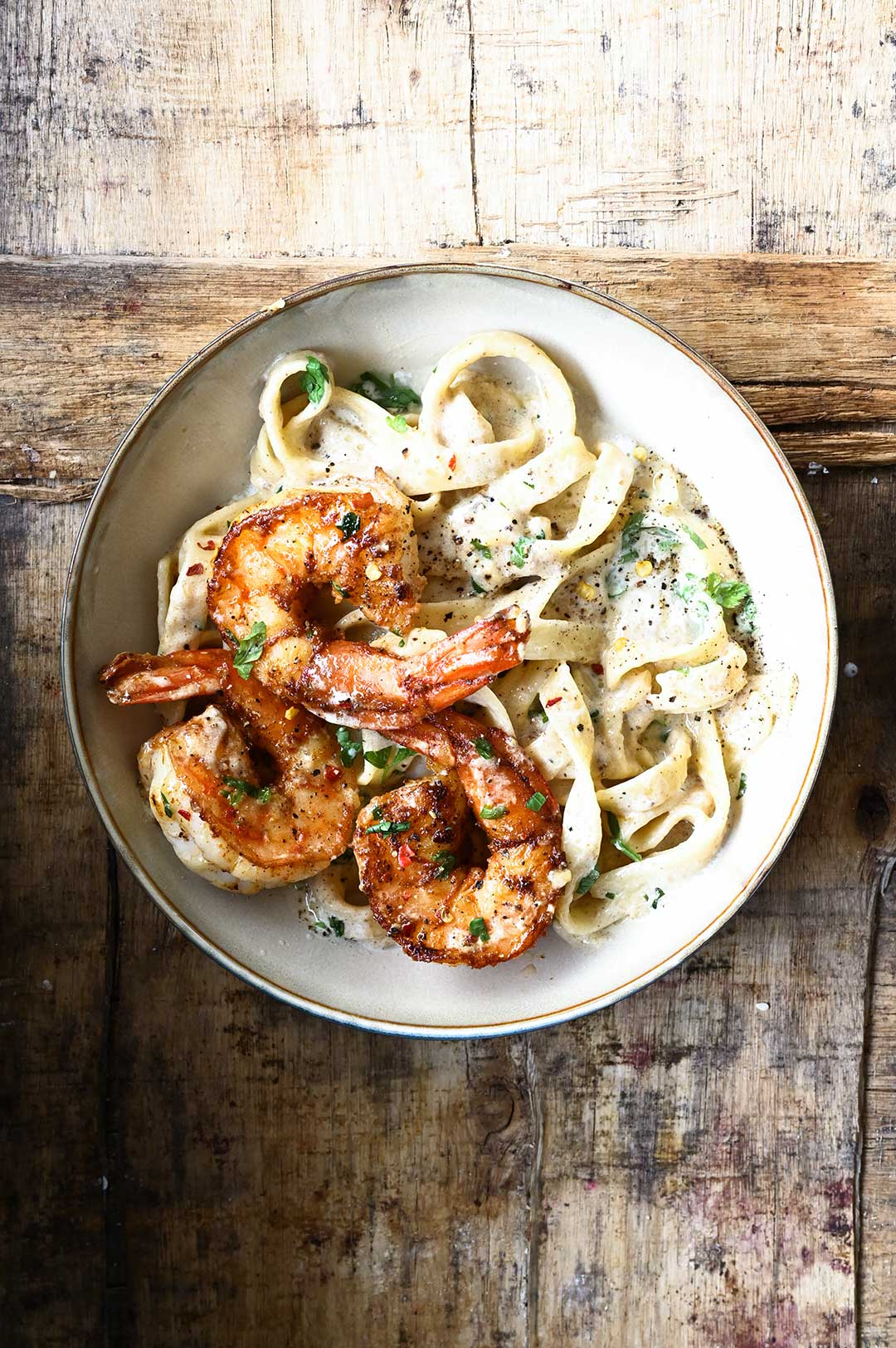 Dit heb je nodig
200 g fettuccine
400 g gepelde scampi's
3 el olijfolie
1 klontje boter
2 teentjes knoflook, fijngehakt
250 ml volle melk
40 g geraspte Parmezaanse kaas
40 g geraspte Cheddar of mozzarella
1 tl milde mosterd
kruiden, van elk 1 tl: knoflookpoeder, uienpoeder, zoete paprikapoeder, zout, zwarte peper, cayennepeper
2 el gehakte verse peterselie
chilivlokken, voor de afwerking
zout + zwarte peper
geraspte Parmezaanse kaas, voor de afwerking (optioneel)
Zo maak je het
Kook de pasta in een grote pot kokend, royaal gezouten water. Giet af en bewaar 1 kopje kookwater.
Doe de scampi's en de kruiden in een kom. Meng en zet eventjes opzij. Hak dan de knoflook en de peterselie fijn.
Verhit 1 eetlepel olijfolie en de boter in een grote koekenpan. Doe de scampi's erin en bak gedurende 1 minuut op hoog vuur. Draai ze om en bak de andere kant gedurende 1 minuut. Haal de scampi's uit de pan.
Verhit in dezelfde pan 2 el olijfolie. Voeg knoflook toe en fruit 2 minuten op laag vuur. Giet de melk erbij en breng het geheel aan de kook. Roer de mosterd, peterselie, zout en zwarte peper erdoorheen.
Voeg de pasta toe en roer. Zet het vuur uit. Roer de kazen en 1/2 kopje van het  kookwater eronder. Roer tot het gemengd is. Voeg extra kookwater toe en roer tot een romige saus. Voeg meer kookwater toe indien nodig. Doe de scampi's terug in de pan en roer alles goed door elkaar. Proef, voeg meer zout en peper toe indien nodig.
Verdeel de pasta over kommen, bestrooi met chilivlokken en serveer onmiddelijk. Eet smakelijk!
Bekijk mijn VIDEO om te zien hoe makkelijk je dit gerecht kan maken!
And …IF YOU LOVE THESE RECIPES … please consider supporting my work for just the cost of a cup of coffee.

Als je dit recept uitprobeert, laat dan hieronder een reactie achter of deel je foto's op Instagram en vergeet niet om mij te taggen @anna_s_table. Ik kijk ernaar uit!