Pasta met pesto, champignons en kikkererwten. Als je na een drukke dag eens wat minder tijd hebt dan is dit een leuk recept om achter de hand te hebben om toch iets fancy op tafel te zetten dat in een mum van tijd klaar is. Boordevol champignons, knapperige kikkererwten en knoflook, gemengd met een zelfgemaakte pesto en veel Parmezaanse kaas.
Minder tijd of geen basilicum bij de hand? Gebruik je favoriete kant-en-klare pesto.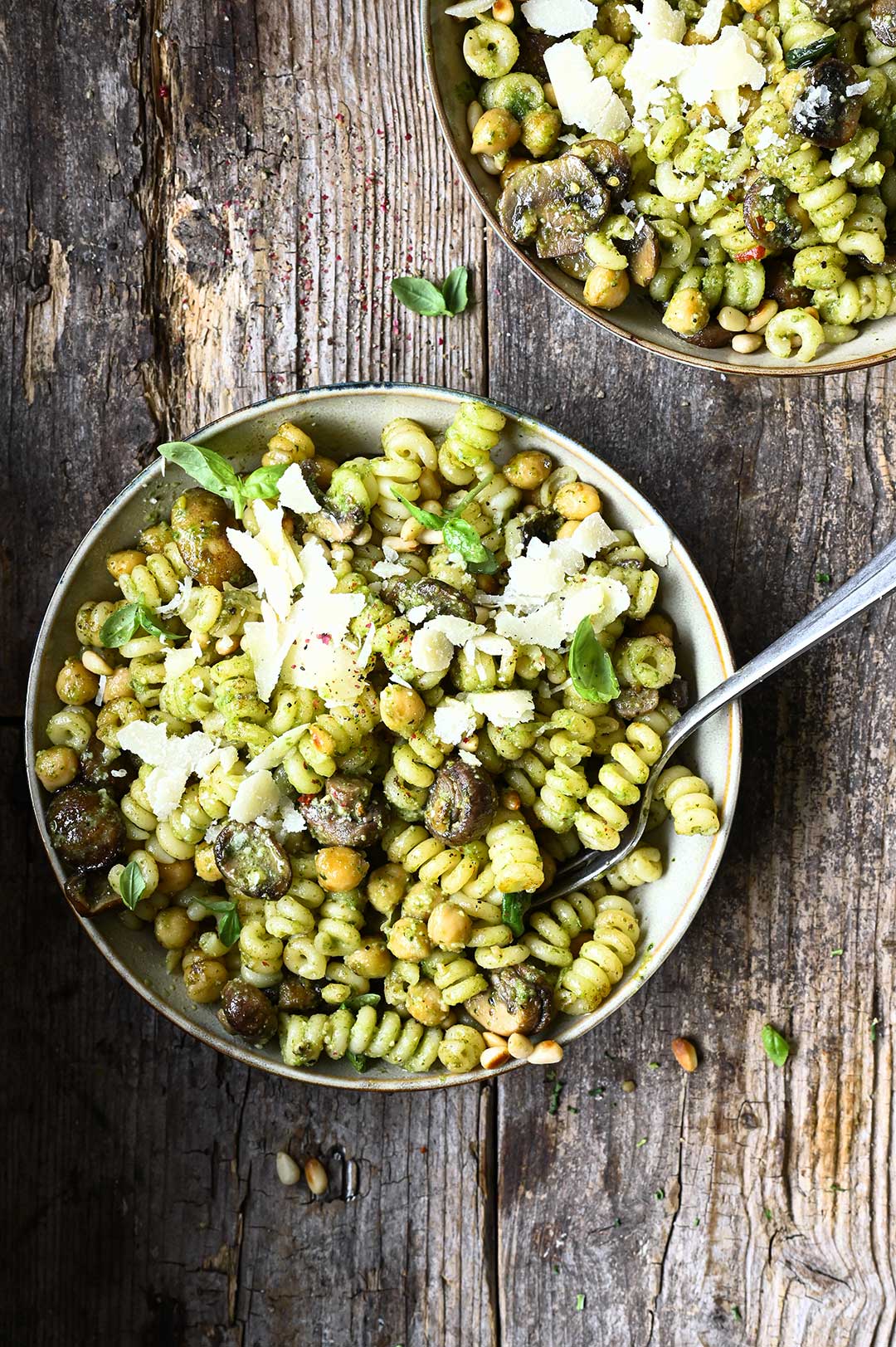 Een eenvoudig vegetarisch gerecht. De smaak van champignons in combinatie met een zelfgemaakte pesto is overheerlijk. Daarbij een portie kikkererwten en basilicum, een echte aanrader.
Als je wil kan je ook bonen of linzen gebruiken, maar ook bospaddestoelen, cantharellen of oesterzwammen. Elke eetbare paddenstoel past hier fantastisch bij.
Ga naar mijn WEB STORY om te zien hoe makkelijk je dit gerecht kan maken!
3 andere snelle pastagerechten:
Pasta met gerookte zalm en chorizo
Pasta met geroosterde paprika en zongedroogde tomatensaus
15 minuten pasta met broccoli en basilicum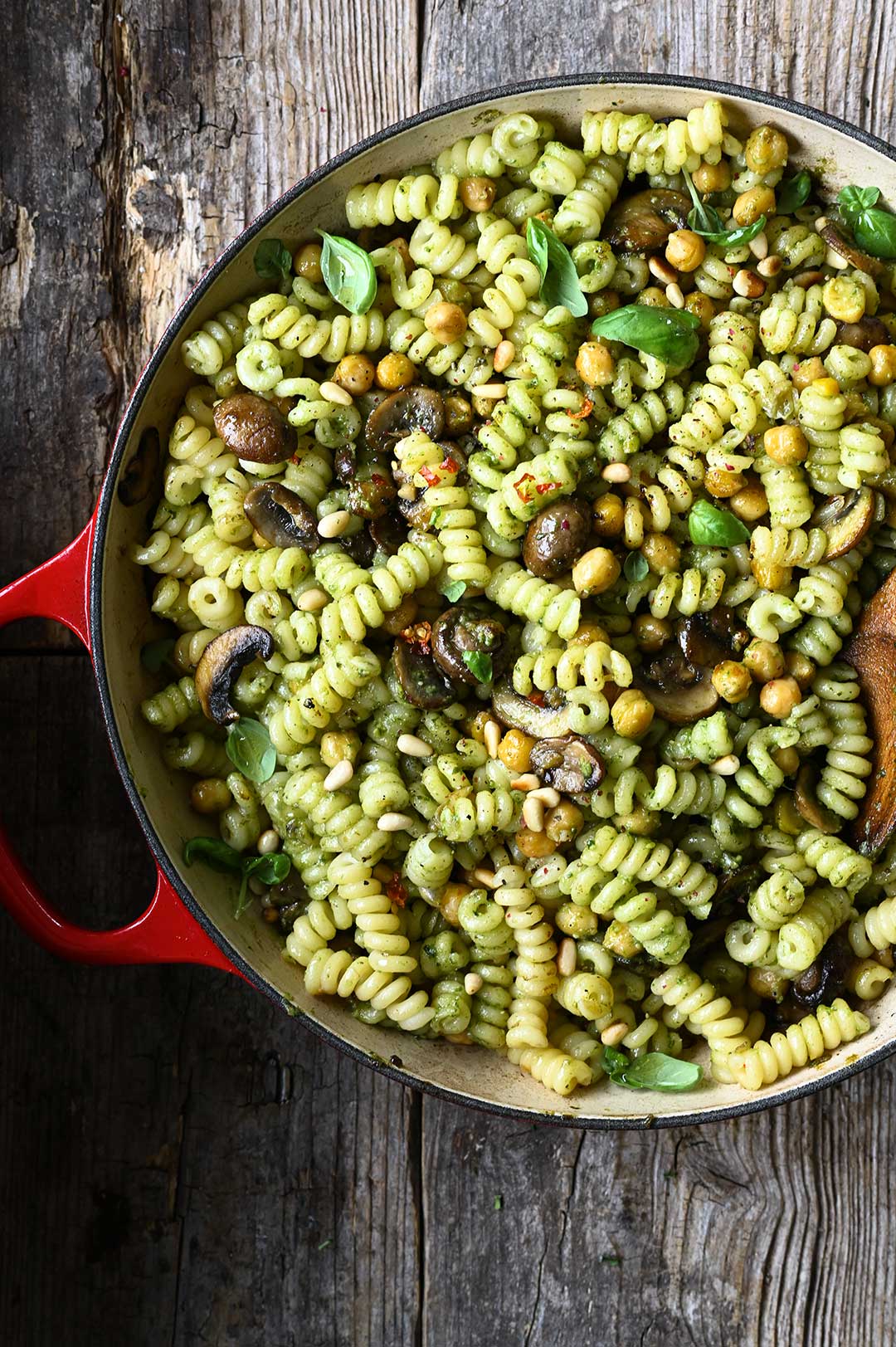 Dit heb je nodig
250 g  pasta
250 kastanjechampignons, schoongemaakt en gehakt
1 blikje kikkererwten, afgegoten
3 el olijfolie
2 el roomboter
4 tenen knoflook, fijngehakt
1 tl gerookte paprikapoeder
zeezout + zwarte peper
pesto
je kan gebruik maken van kant-en-klare pesto, maar zelfgemaakte is altijd beter!
30 g basilicumblaadjes
2 el geroosterde pijnboompitten
100 g geraspte parmezaan
50 ml olijfolie
1 el citroensap
1 el balsamico azijn
zeezout + zwarte peper
+ voor de afwerking
parmezaan
geroosterde pijnboompitten
gedroogde chili peper
verse basilicum
Zo maak je het
Kook de pasta beetgaar in gezouten water.  Giet af en behoud 1/4 kopje van het kookwater.
Doe de ingrediënten voor de pesto in een blender en mix fijn. Breng op smaak met zout en peper. Zet opzij.
Verhit de boter in een grote koekenpan op middelhoog vuur. Als de boter gesmolten is en begint te schuimen, voeg dan de champignons toe. Bak goudbruin, roer af en toe, gedurende 4-5 minuten. Voeg de olijfolie toe en roer de kikkererwten en knoflook erdoor. Bak, ongeveer 3 minuten. Kruid met paprikapoeder, zout en peper.
Voeg de pasta, pesto en een flinke scheut van het kookwater toe. Roer alles onder elkaar, en verhit nog even gedurende 1-2 minuten. Serveer dadelijk met geraspte Parmezaanse kaas, basilicum, pijnboompitten en gedroogde chili. Smakelijk!
Ga naar mijn WEB STORY om te zien hoe makkelijk je dit gerecht kan maken!