Tagliatelle met paddenstoelen en balsamicoazijn in een boter-looksausje. Eenvoudig, superlekker, een beetje luxueus en in ongeveer 15 minuten klaar! 
De paddenstoelen worden gebakken zonder boter op een hoog vuur, op deze manier kunnen ze perfect bruinen en hun smaak behouden. Vervolgens voegen we de boter en knoflook toe samen met wat gedroogde chilipeper en kruiden. We serveren alles met romige burrata en geroosterde pijnboompitten. Verslavend lekker.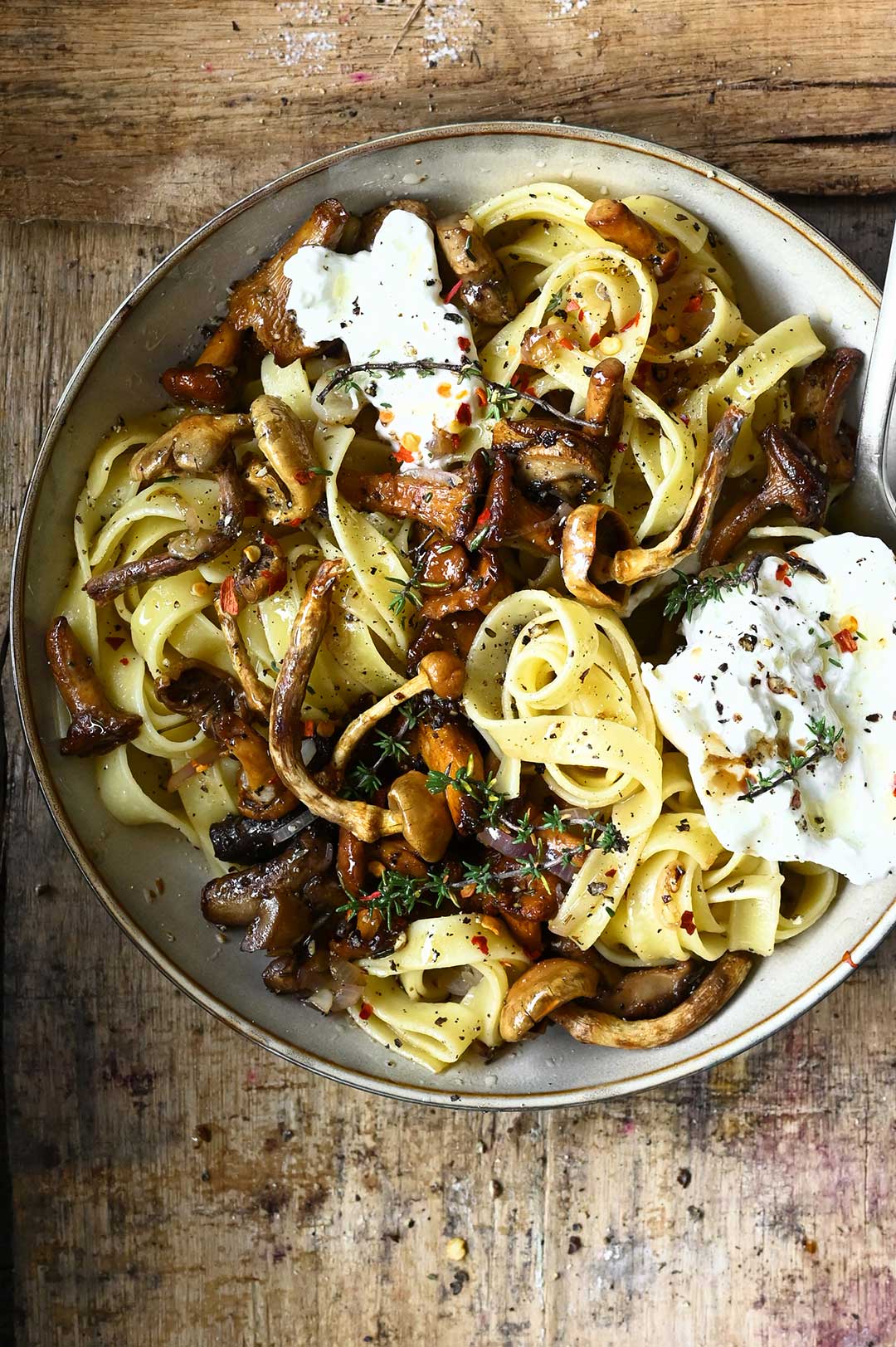 Dit gerechtje zit boordevol paddenstoelen. En hoewel een mix van wilde paddenstoelen deze pasta verrijkt, gewone bruine champignons komen hier zeker ook tot hun recht. De knoflook en balsamicoazijn liften de smaken en de burrata zorgt voor een romige toets. Dit is zo'n gerecht dat je het gevoel geeft een sluwe kok te zijn.
Ga naar mijn WEB STORY om te zien hoe makkelijk het is om dit heerlijk gerecht te maken!
Meer gerechten met champignons:
Pasta met rode pesto, champignons en zongedroogde tomaten
Romige polenta en paddenstoelen in een biersausje
Aziatische paddenstoelensoep met noedels
Wil je op de hoogte blijven van mijn nieuwe recepten? Abonneer je dan op mijn NIEUWSBRIEF.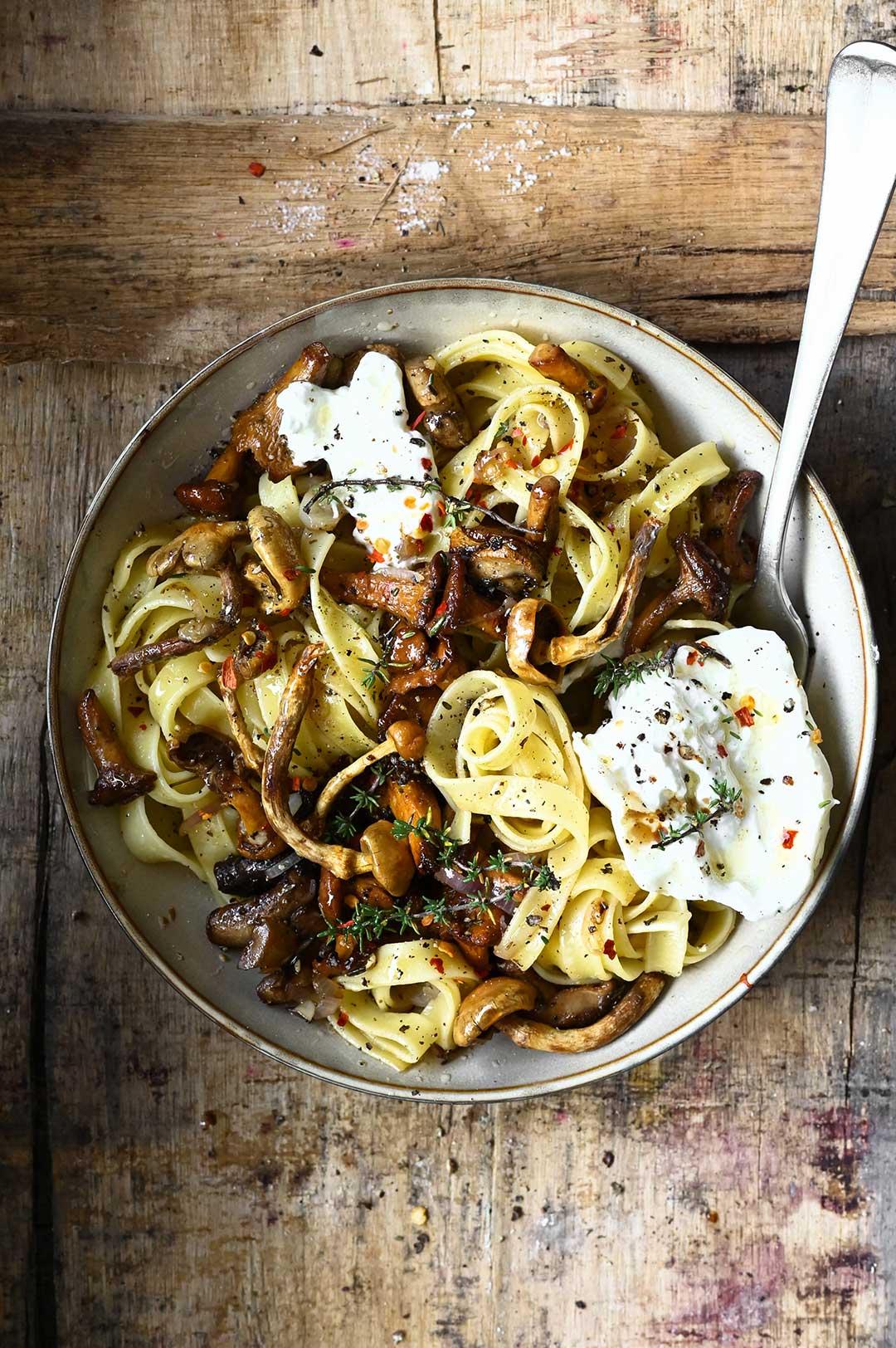 Dit heb je nodig
250 g tagliatelle
300 g wilde paddenstoelen, in grote stukken
3 teentjes knoflook, fijngehakt
1 sjalot, fijngesneden
2 el olijfolie
30 g roomboter
3 el balsamicoazijn
1 tl elk: gedroogde tijm, salie, gerookte paprika, gedroogde rode chilipeper
zout + zwarte peper
burrata
geroosterde pijnboompitten
verse tijm
Zo maak je het
Kook de tagliatelle in gezouten water.
Verwarm een grote koekenpan op hoog vuur. Voeg de paddenstoelen toe. Bak gedurende 6-8 minuten. De paddenstoelen zullen vocht gaan afgeven, voeg dan olijfolie en alle kruiden toe. Als de paddenstoelen beginnen te bruinen, voeg balsamicoazijn en boter toe. Bak tot de boter gesmolten is. Voeg knoflook en sjalot toe, bak gedurende 2 minuten.
Meng met pasta en serveer met burrata, pijnboompitten en verse tijm. Smakelijk!
Ga naar mijn WEB STORY om te zien hoe makkelijk je dit gerecht kan maken!
Als je dit recept uitprobeert, laat dan hieronder een reactie achter of tag mij in je foto's op Instagram met @anna_s_table of met #servingdumplings. Ik kijk ernaar uit!