Deze romige pasta met spinazie, knapperige plakjes spek en ricotta zou best weleens je nieuwe favoriet kunnen worden. Met zijn hartelijk ricotta sausje boordevol smaken heeft hij echt alles waardoor je soms zo verlangt naar je volgende pasta avond. Klaar in een handomdraai met slechts een minimum aan ingrediënten… Ja graag!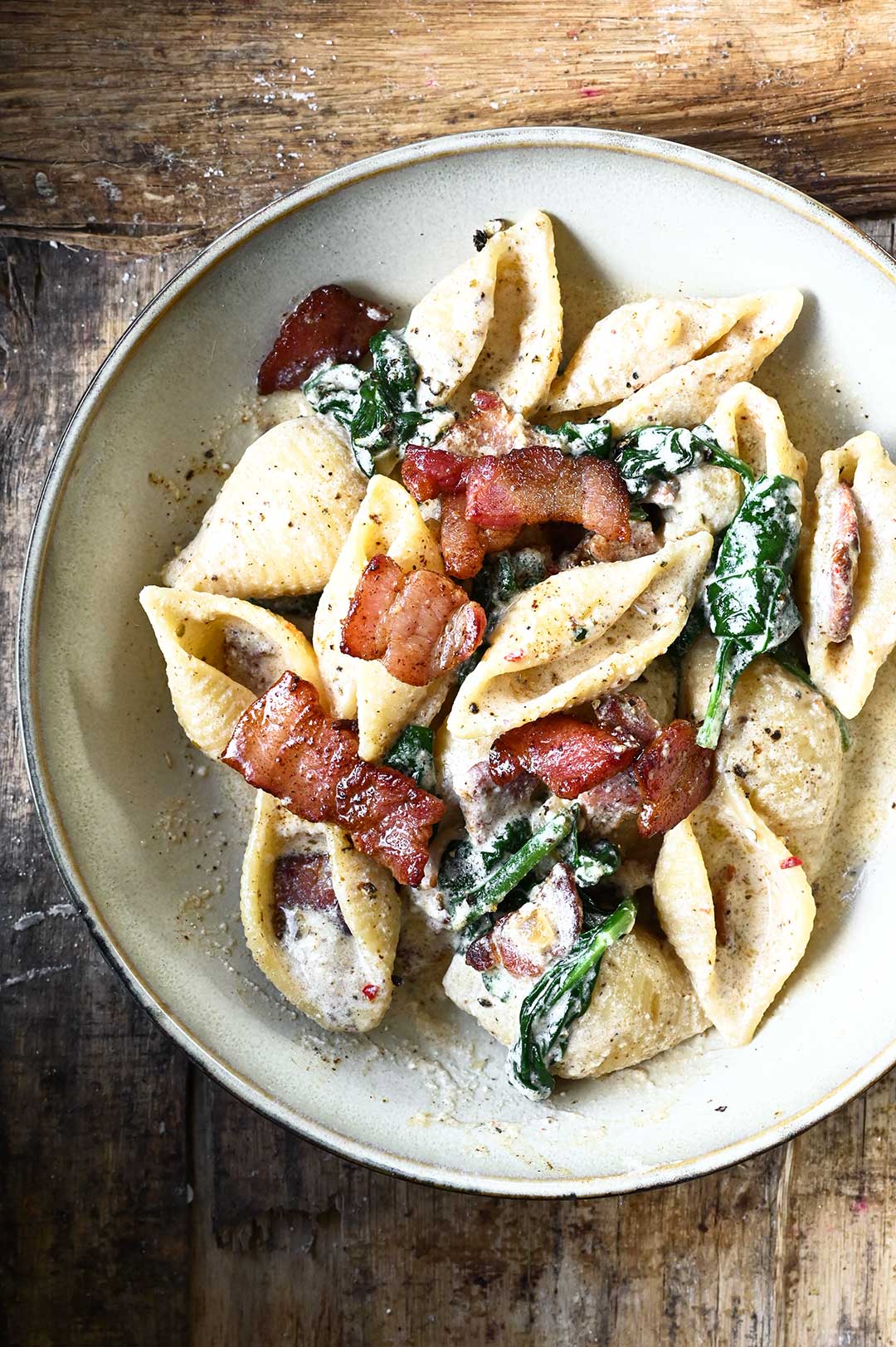 Om deze pasta romig te maken, voegen we natuurlijk room toe, maar het geheim is eigenlijk de ricotta. We doen een paar flinke lepels ervan in de pan, mengen het met de pasta en het kookwater om zo een rijke en fluweelzachte saus te creëren.
Als de kruiden niet meegerekend zijn, heb je maar vijf hoofdingrediënten in dit gerecht. Eerst bakken we het spek knapperig, dan voegen we knoflook en ui toe. Vervolgens doen we de spinazie erbij en roeren kort tot deze lichtjes verwelkt. Als je niet van spinazie houdt, kan je er geblancheerde broccoli, erwten of rucola bij doen. We werken het af met wat room en ricotta, dan gaat de pasta erbij samen met een scheutje kookwater.  Serveren doen we met wat extra rode chilivlokken. En klaar!
Bekijk mijn VIDEO om te zien hoe makkelijk je dit gerecht kan maken.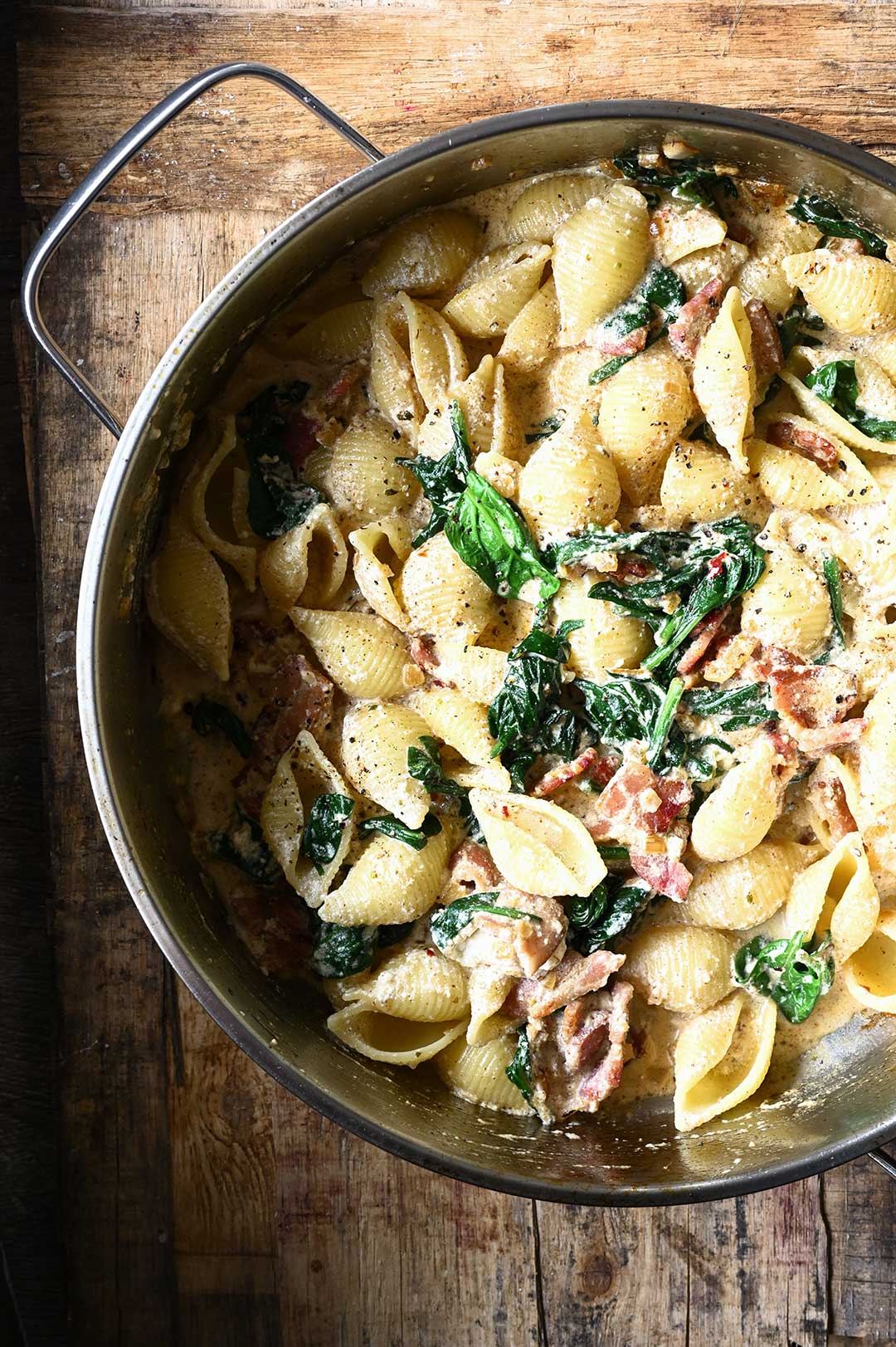 Tips
– de pastavormen die het best bij deze saus passen, zijn kleine schelpjes, orecchiette, penne of fusilli, deze vormen houden de saus het best vast
– vervang spinazie door geblancheerde broccoli, boerenkool, rucola of erwtjes
More creamy ricotta, please! 
Turkse eieren met knoflookyoghurt en pittige beurre noisette
Pasta met aubergine, zongedroogde tomaten en ricotta
Ricotta polenta met gehaktballen in biersaus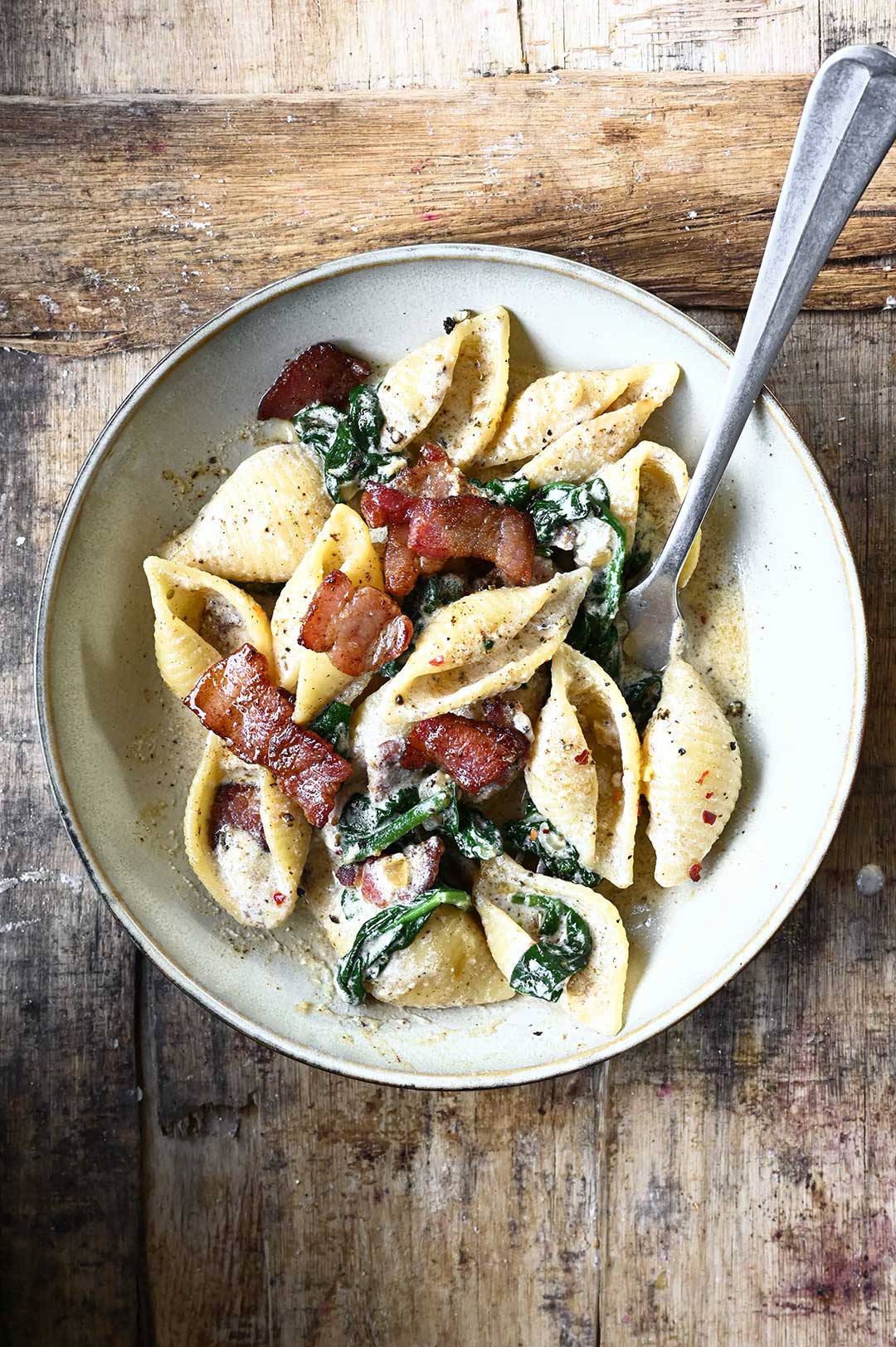 Dit heb je nodig
200 g pasta, zoals schelpjes of orecchiette
150 g spinazie
250 g gezouten spekreepjes
150 g ricotta
100 ml room 20%
2 teentjes knoflook, fijngehakt
1 kleine ui, fijngehakt
kruiden: 1 tl elk: zout, zwarte peper, gedroogde oregano, paprikapoeder, rode chilivlokken
Zo maak je het
Bekijk mijn VIDEO om te zien hoe makkelijk je dit gerecht kan maken.
Kook de pasta in een grote pot kokend, royaal gezouten water. Giet af en bewaar 1/4 kopje kookwater.
Verhit de olijfolie in een grote koekenpan op middelhoog vuur. Voeg het spek toe en bak, ongeveer 5 minuten tot het goudbruin begint te worden. Voeg de knoflook en ui toe en fruit gedurende 2 minuten. Roer de kruiden erdoor.
Voeg de spinazie toe en roer tot het lichtjes verwelkt is. Giet de room erbij en breng aan de kook. Voeg dan de ricotta toe en roer tot het gemengd is. Schep de pasta erdoor en giet een scheutje kookwater erbij. Roer en voeg meer water toe indien nodig, om de saus te verdunnen. Breng op smaak met wat zout of peper. Serveer onmiddellijk met wat extra rode chilivlokken. Smakelijk!