Pasta met een pittig sausje van beurre noisette en olijfolie. Dit vrij makkelijk te maken gerecht geven we een extra kick door er miso, look en gedroogde chilipepers aan toe te voegen. Om af te werken nog een handvol fijngehakte walnoten, knapperige salie-broodkruimels en Pecorino Romano. Deze pasta zou er wel eens voor kunnen zorgen dat miso uw volgende culinaire verslaving wordt. Ongelooflijk eenvoudig maar een 'next level' smaakbom!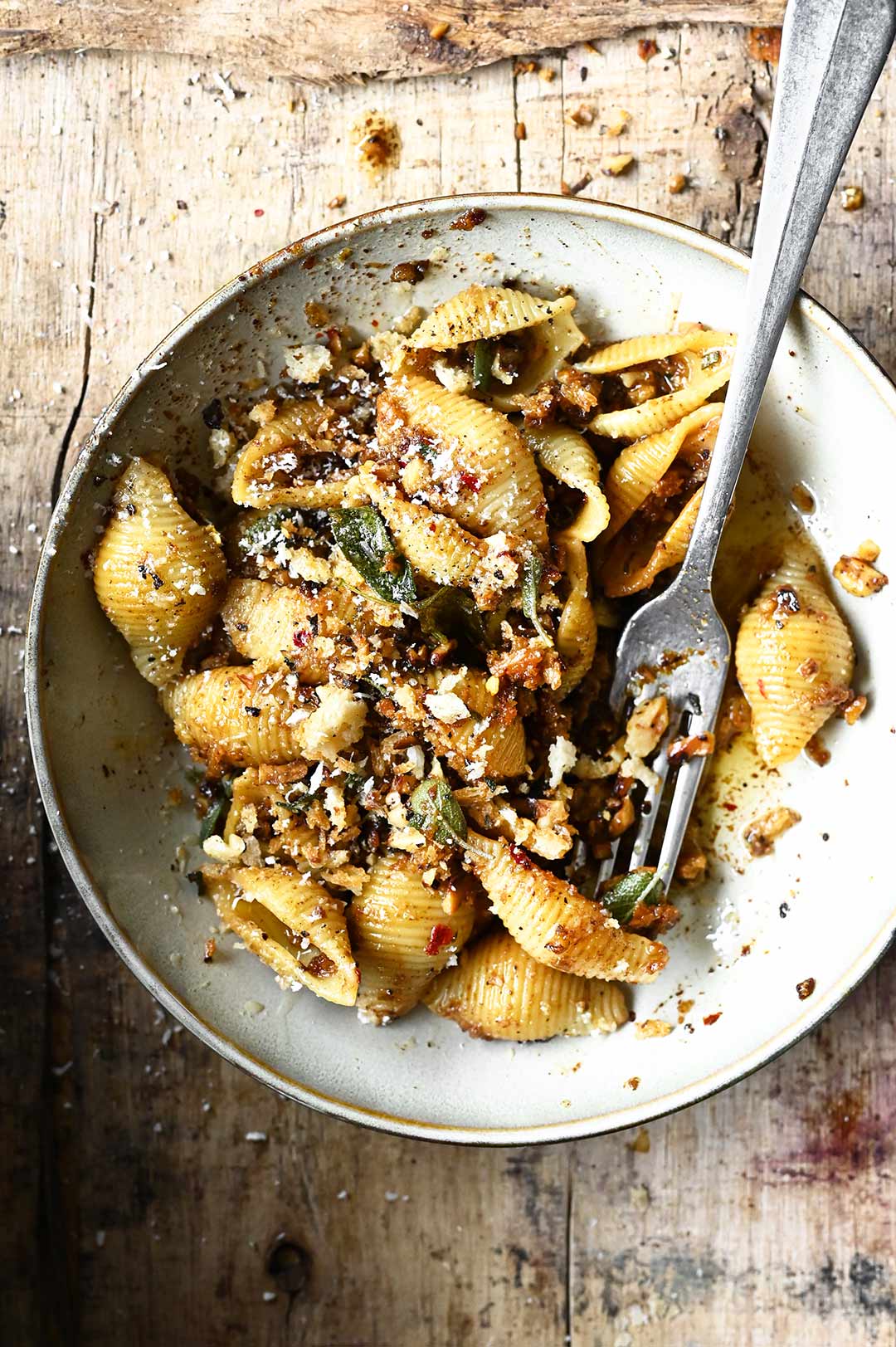 Dit is 'comfort food' op zijn best, boordevol smaak en klaar met slechts een minimum aan inspanning!
Wat de pasta betreft, kan je best pasta zoals orecchiette of schelpjes gebruiken, vanwege de kleine inkepingen die de extra saus kunnen opvangen. Ben je er klaar voor?
Bekijk mijn VIDEO om te zien hoe makkelijk je dit gerecht kan maken.
Meer makkelijke pastagerechten:
Orecchiette met beurre noisette, walnoten en salie
15 minuten pasta met broccoli en basilicum
Pasta met gerookte zalm en chorizo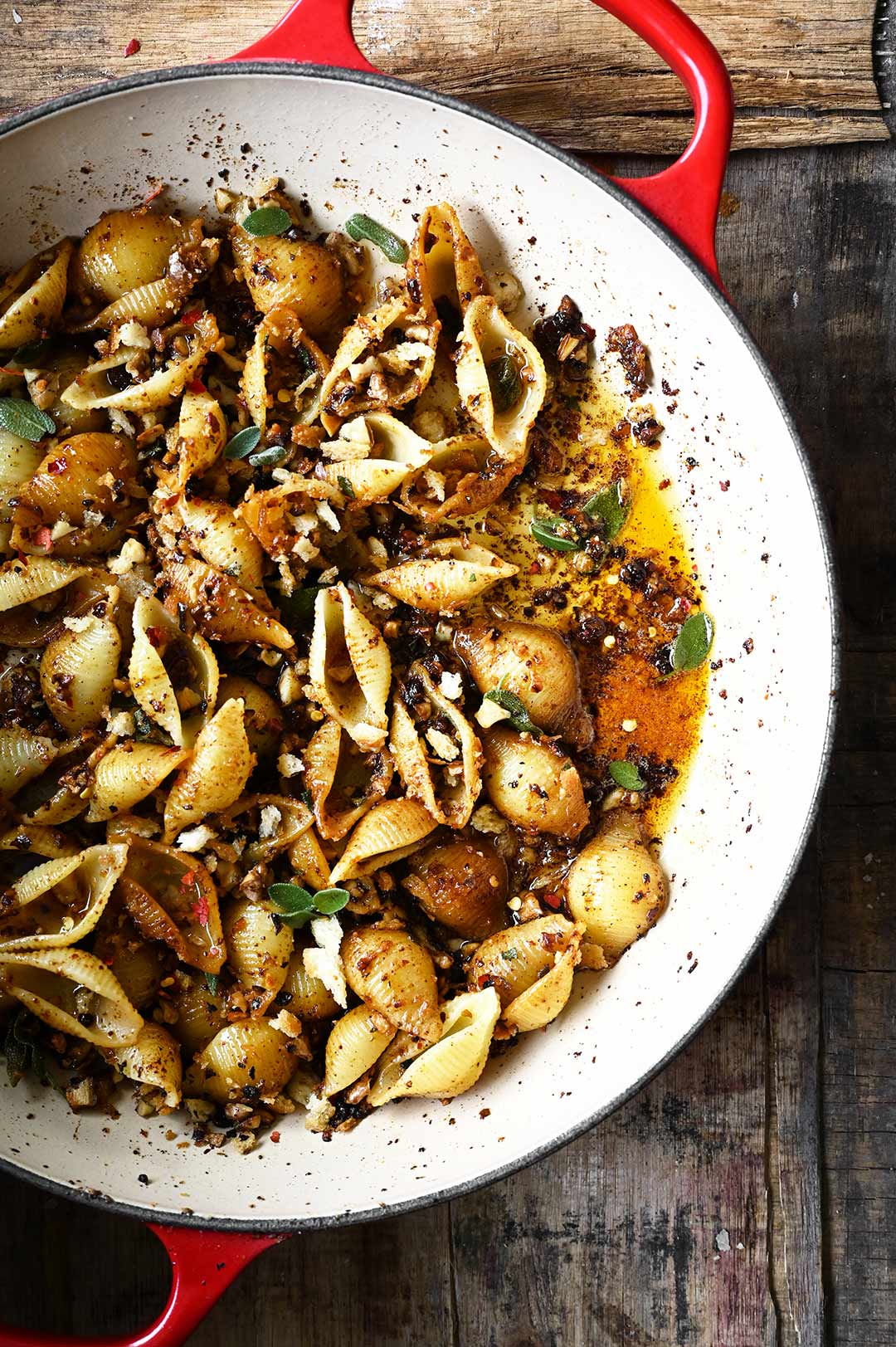 Dit heb je nodig
250 g pasta, schelpjes of orecchiette
2 el roomboter
50 ml olijfolie
4 tenen knoflook, fijngehakt
1/2 el witte miso
1 tl gedroogde chilipeper, extra voor de afwerking
1/2 tl elk: komijn, gerookte paprika, zoete paprika, cayennepeper
20 salieblaadjes
zeezout + zwarte peper
geraspte pecorino, voor de afwerking
broodkruim
30 g panko, broodkruimels
40 g walnoten, fijngehakt
1 el gehakte verse salieblaadjes
3 el olijfolie
Zo maak je het
Bekijk mijn VIDEO om te zien hoe makkelijk je dit gerecht kan maken.
Kook de pasta beetgaar in gezouten water. Giet af en behoud 1/4 kopje van het kookwater.
Voor de broodkruimels. Verhit een grote koekenpan op matig vuur en voeg olijfolie toe. Eenmaal warm, voeg het broodkruim en walnoten toe, bak al roerend gedurende 4 minuten tot alles geroosterd en goudbruin is. Doe de salie erbij en bak deze nog 1-2 minuten mee. Breng op smaak met zout en peper. Haal uit de pan en leg op een bord.
Verhit dezelfde koekenpan op een matig vuur. Voeg de boter toe, zet het vuur lager en bak 2-3 minuten of tot de boter begint te schuimen en te bruinen. Voeg knoflook en olijfolie toe en laat het geheel 2 minuten fruiten tot de look zacht geworden is. Roer de miso erdoor en verlaag het vuur tot een minimum om de miso en/of de knoflook niet te verbranden. Voeg gedroogde chilipeper, salieblaadjes en de kruiden toe.
Meng met pasta en het kookwater. Proef en voeg nu zout en peper toe.
Serveer onmiddellijk met salie-broodkruimels, pecorino en wat extra gedroogde chilipeper. Smakelijk!