Deze pasta met pesto van zongedroogde tomaten en ricotta zou best wel eens jouw nieuwe obsessie kunnen worden. Hij is hartelijk, fluweelzacht en licht, en zal je zonder twijfel doen verlangen naar een volgende pasta avond. In dit recept gebruiken we halfgedroogde tomaten, pijnboompitten, ricotta en een beetje witte miso pasta voor een ongelooflijk rijke pesto. Door slechts enkele ingrediënten en smaken efficiënt te gebruiken houden we dit gerecht eenvoudig, enkel wat knapperig gebakken pancetta toevoegen en… BOEM! Ongelooflijk lekker en klaar in een mum van tijd.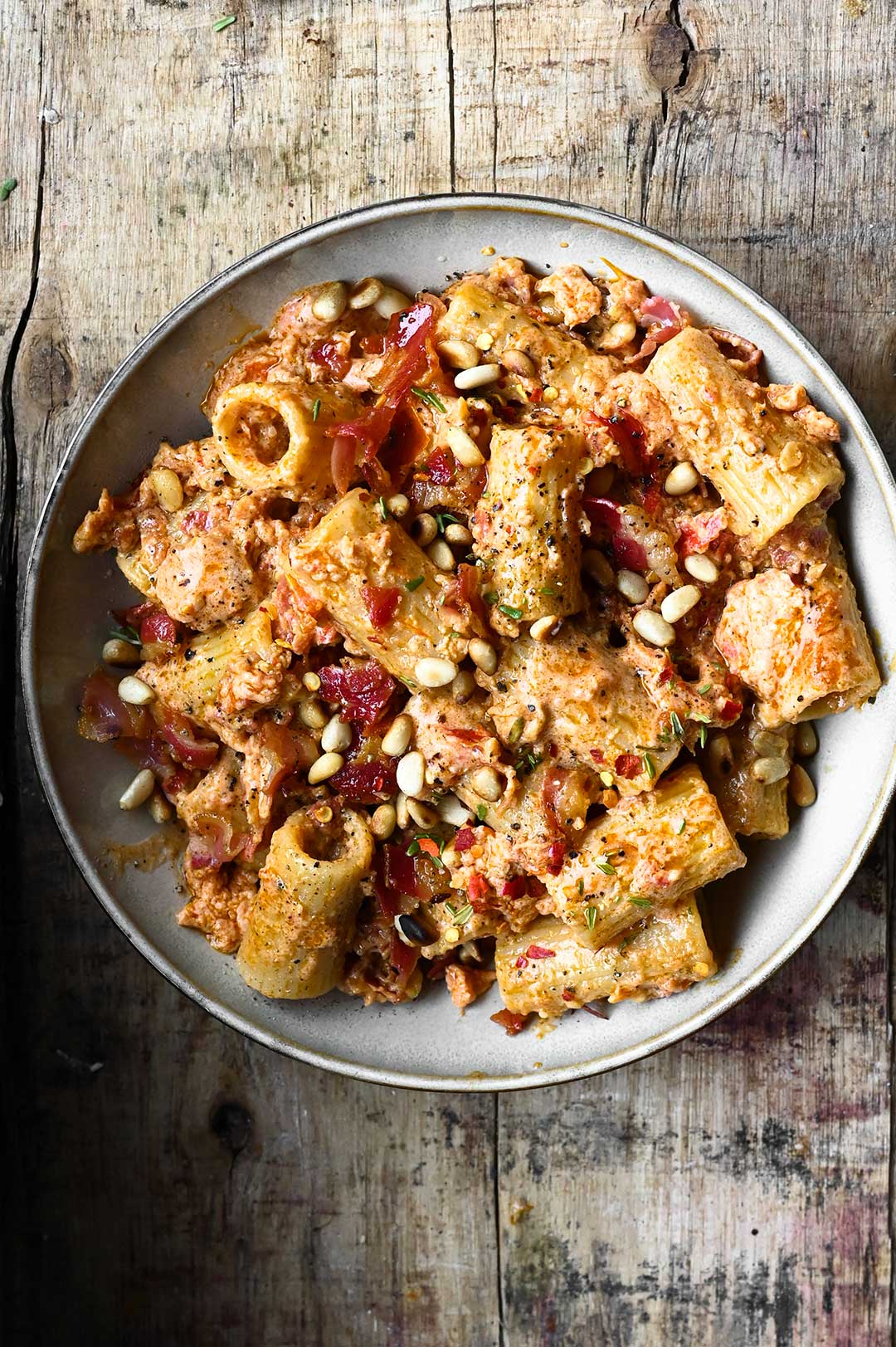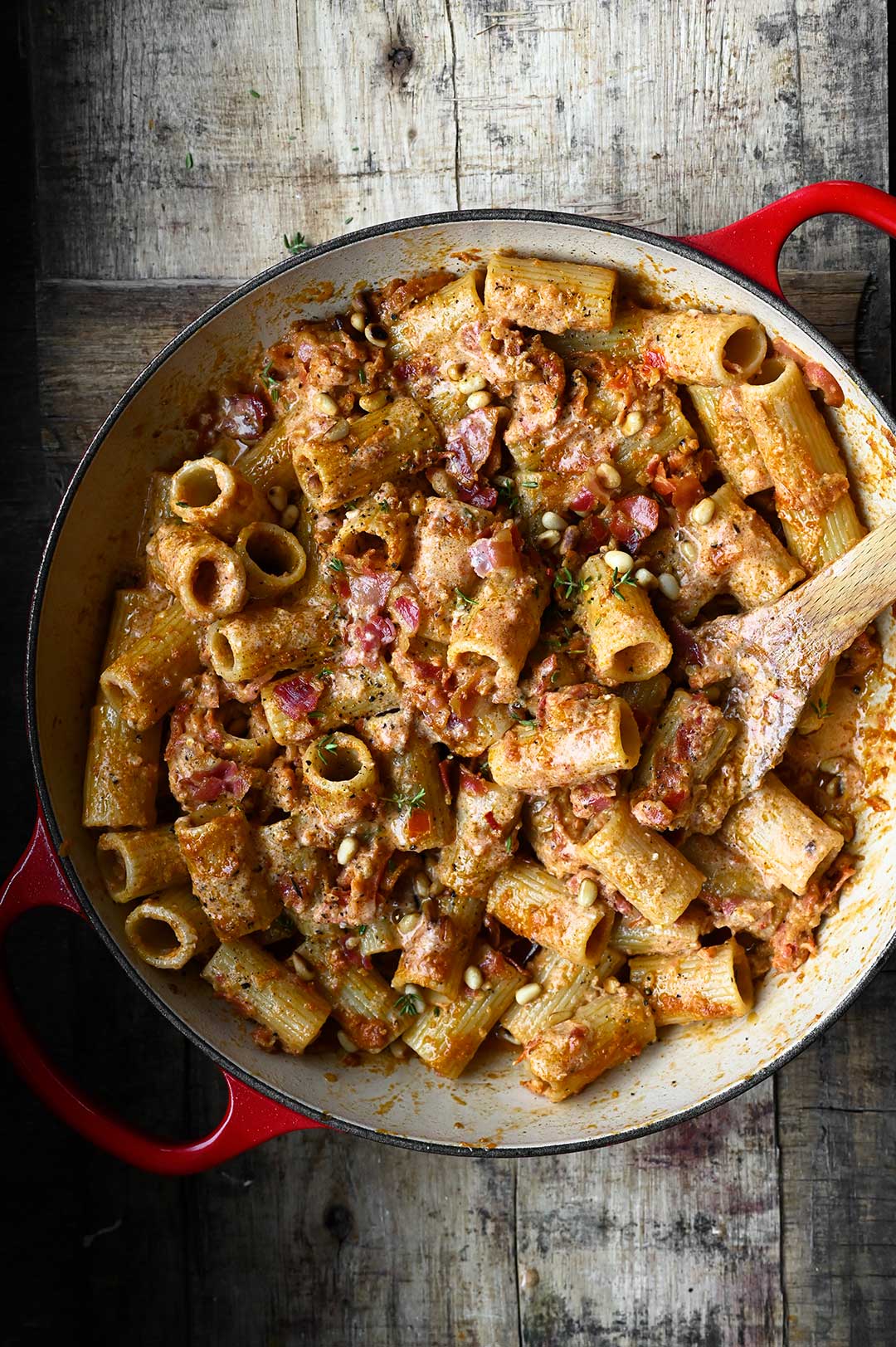 Pesto en pasta's zijn een match made in heaven, maar met deze pesto lijken de mogelijkheden onbeperkt, bijvoorbeeld als dressing op broodjes belegd met geroosterde groenten. Hemels!
Geen pancetta? Gebruik spek of ruil het voor scampi's. Of laat het weg en maak een briljant vegetarisch pastagerecht.
Tip: Serveer met een salade besprenkeld met olijfolie en balsamicoazijn.
Bekijk mijn VIDEO om te zien hoe makkelijk je dit gerecht kan maken!
Meer makkelijke pastagerechten:
Pasta met rode pesto, champignons en zongedroogde tomaten
Pasta met aubergine en miso pesto
Pasta pesto met champignons en kikkererwten
Wil je op de hoogte blijven van mijn nieuwe recepten? Abonneer je dan op mijn NIEUWSBRIEF.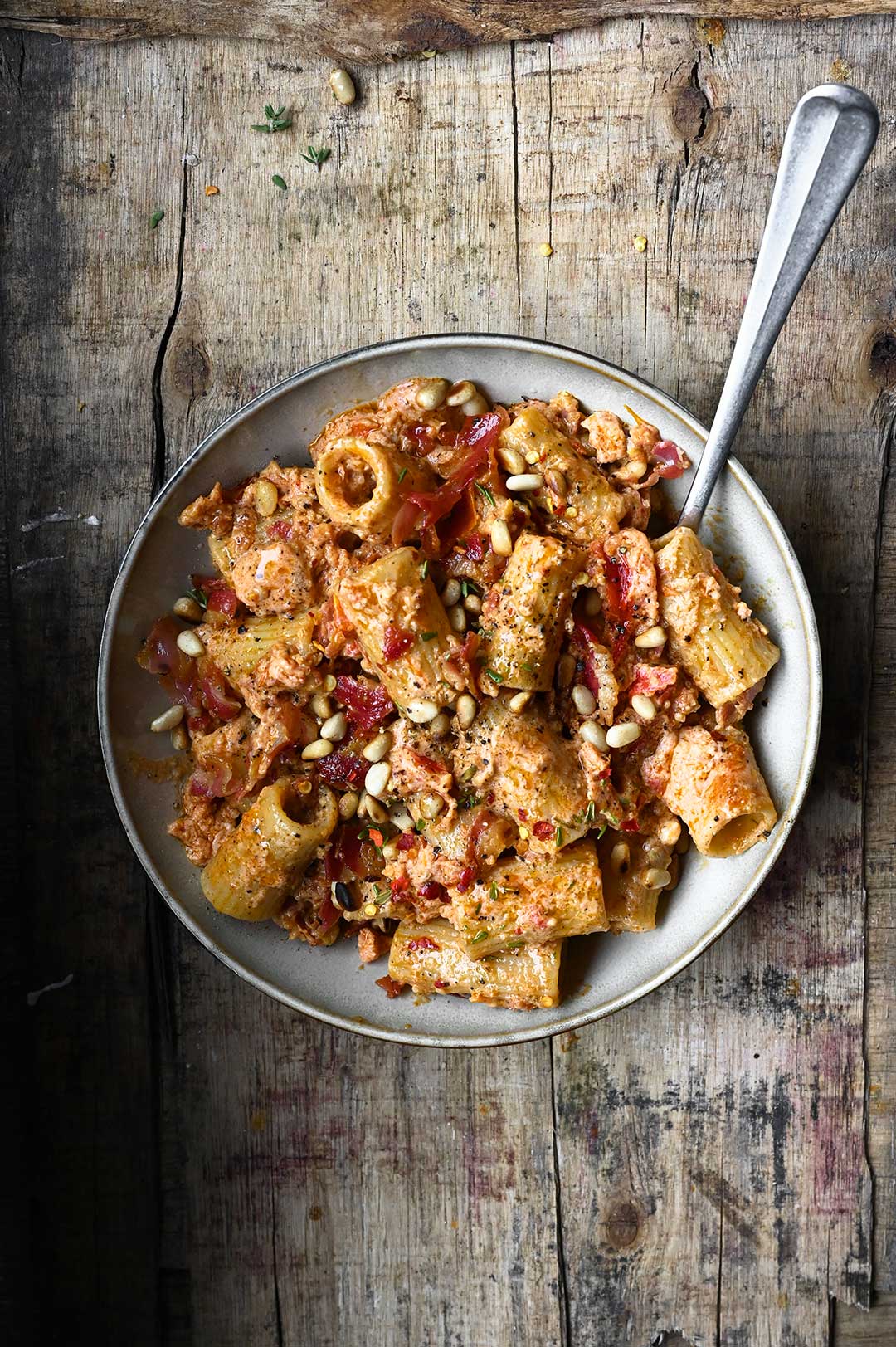 Dit heb je nodig
200 g pasta, zoals rigatoni, paccheri of penne
170 g pancetta, of spek, in blokjes gesneden
2 knoflookteentjes, fijngehakt
1 el olijfolie
3 el pijnboompitten
verse tijm, voor het opdienen (optioneel)
pesto van zongedroogde tomaten met ricotta
140 g semi-gedroogde tomaten, uitgelekt (olie apart gehouden)
120 g ricotta
30 g geroosterde pijnboompitten
80 ml olie van de zongedroogde tomaten
1 tl miso
1 el citroensap
1 tl gedroogde rode chilipeper, of meer naar eigen smaak
1 tl gerookte paprikapoeder
1/2 tl zwarte peper
Zo maak je het
Kook de pasta beetgaar in gezouten water. Giet af en behoud 1/2 kopje van het kookwater.
Doe de zongedroogde tomaten, ricotta, pijnboompitten, citroensap, miso, chilipeper, gerookte paprika en zwarte peper in je keukenmachine. Pureer. Voeg dan de olie toe en mix tot een gladde saus.
Verhit de olijfolie op middelhoog vuur in een grote koekenpan. Voeg pancetta toe en bak gedurende 3 minuten. Gooi indien nodig het overtollige vet van de pancetta weg. Voeg pijnboompitten toe, bak tot de pancetta bruin en knapperig is, ongeveer 5 minuten. Voeg knoflook toe en fruit op een laag vuur, 1-2 minuten.
Roer de pesto doorheen de pancetta, laat even sudderen, ongeveer 1 minuut. Haal van het vuur. Voeg de pasta en 1/4 kookwater toe, roer en doe er meer kookvocht bij indien nodig. Proef en kruid met extra zwarte peper. (Als je geen pancetta gebruikt, proef en voeg zout toe)
Verdeel de pasta over de kommen. Bestrooi met extra versgemalen zwarte peper en garneer met tijm, eet! Bekijk mijn VIDEO om te zien hoe makkelijk je dit gerecht kan maken!
…IF YOU LOVE THESE RECIPES … please consider supporting my work for just the cost of a cup of coffee.

Als je dit recept uitprobeert, laat dan hieronder een reactie achter of tag mij in je foto's op Instagram met @anna_s_table of met #servingdumplings. Ik kijk ernaar uit!