Pasta met kip in een romige zwarte pepersaus. Eigenlijk is dit een recept voor de klassieke Alfredo saus, maar met extra vers gemalen zwarte en groene peperkorrels. Dit overheerlijk knock-out gerecht is klaar in een handomdraai en een droom voor elke pastaliefhebber.
Hier serveren we de pasta met gebakken kipfilets, maar het is perfect mogelijk om de kip weg te laten en zo in recordtempo een perfect romige pasta op tafel te zetten die ook zonder vlees met glans zijn mannetje zal staan.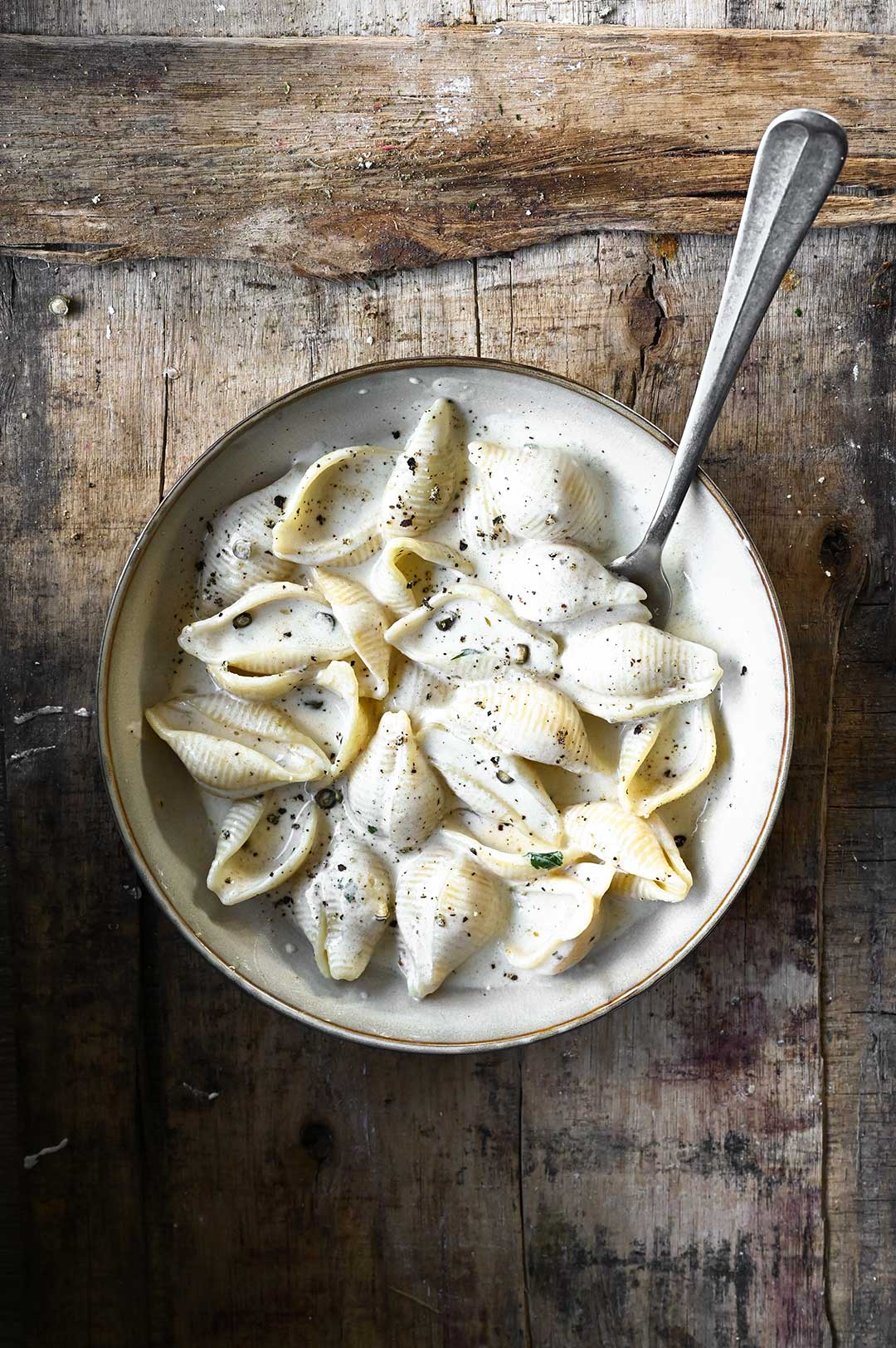 Als de kip en de pasta klaar zijn, beginnen we aan de saus. Het duurt maar een paar minuten om deze te maken en we gebruiken hiervoor de pan waarin we de kip hebben gebakken. Dan nog even de warme pasta erdoorheen mengen en klaar. Een next level gerecht in no time! 
Je kan de pasta serveren met een bijpassende salade besprenkeld met een balsamico-vinaigrette. Heerlijk!
En als super handig extra voordeel kan je deze saus gebruiken voor tal van andere pasta's en groenten, je kan er spekjes bijdoen of champignons. Smakelijk!
Ga naar mijn WEB STORY om te zien hoe makkelijk je dit gerecht kan maken!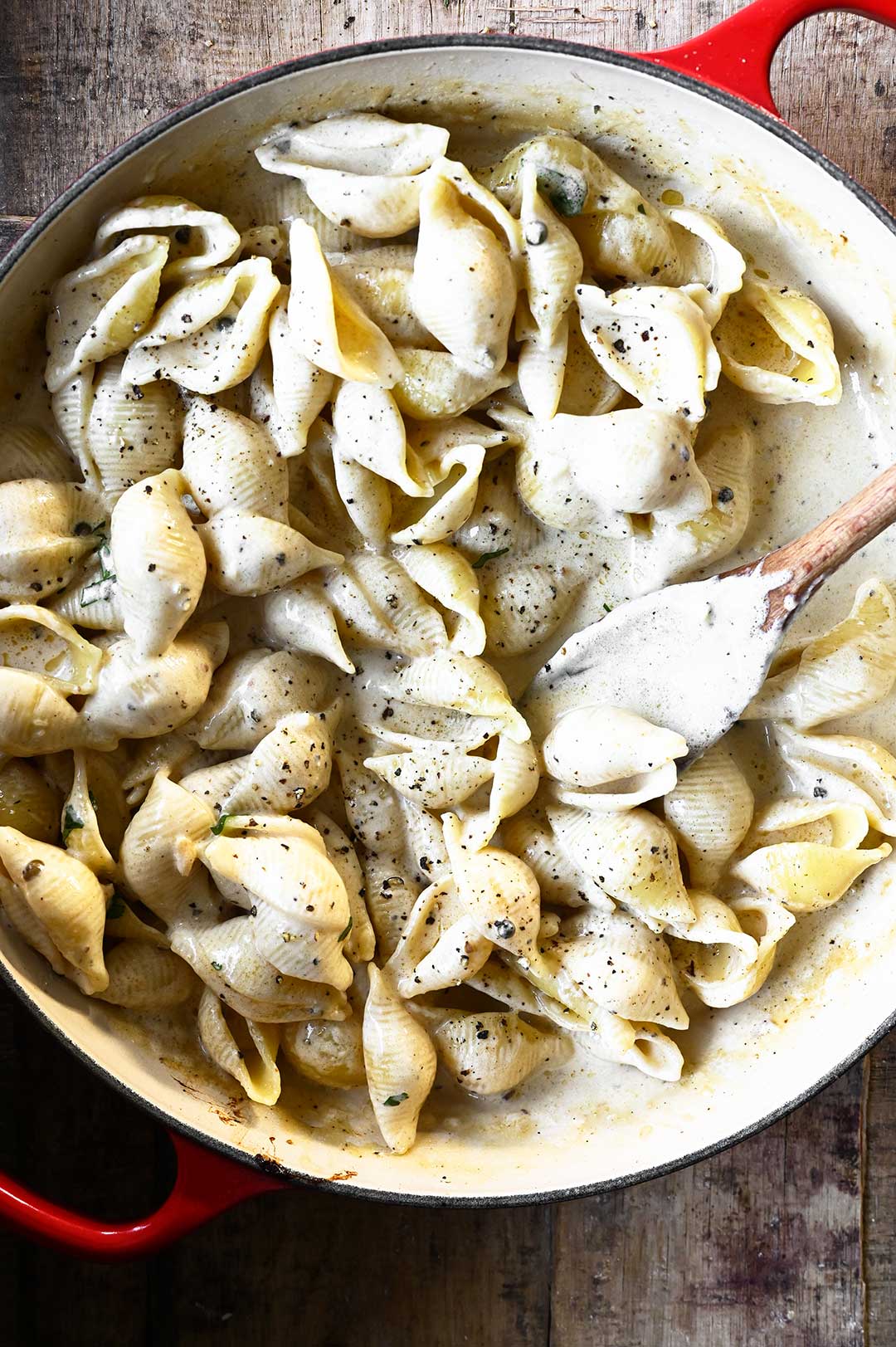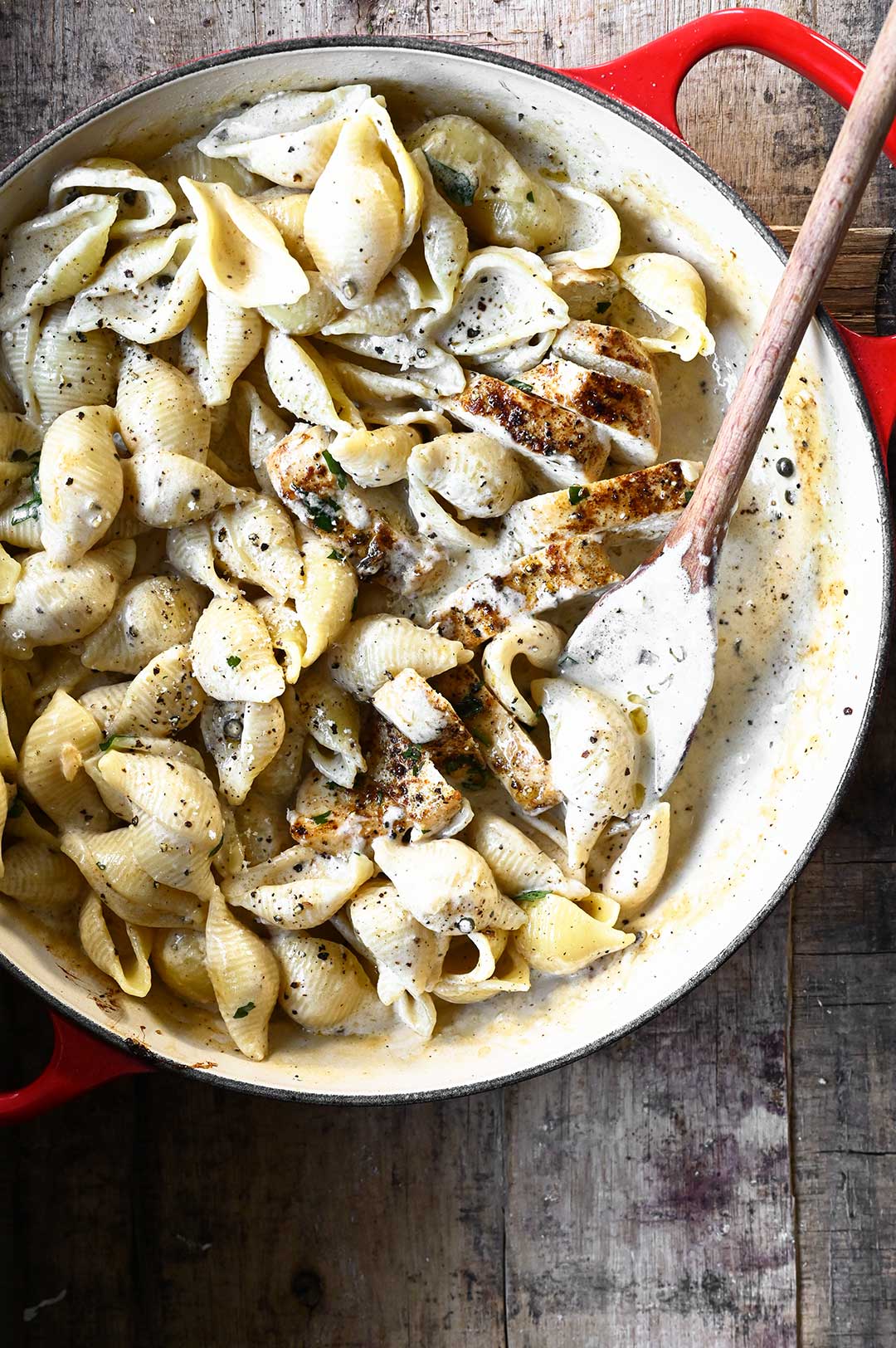 Meer makkelijke pastagerechten:
Pasta met geroosterde paprika en zongedroogde tomatensaus
Pasta met kip en asperges in een romige pepersaus
Pasta met broccoli in een romige pepersaus


Wil je op de hoogte blijven van mijn nieuwe recepten? Abonneer je dan op mijn NIEUWSBRIEF.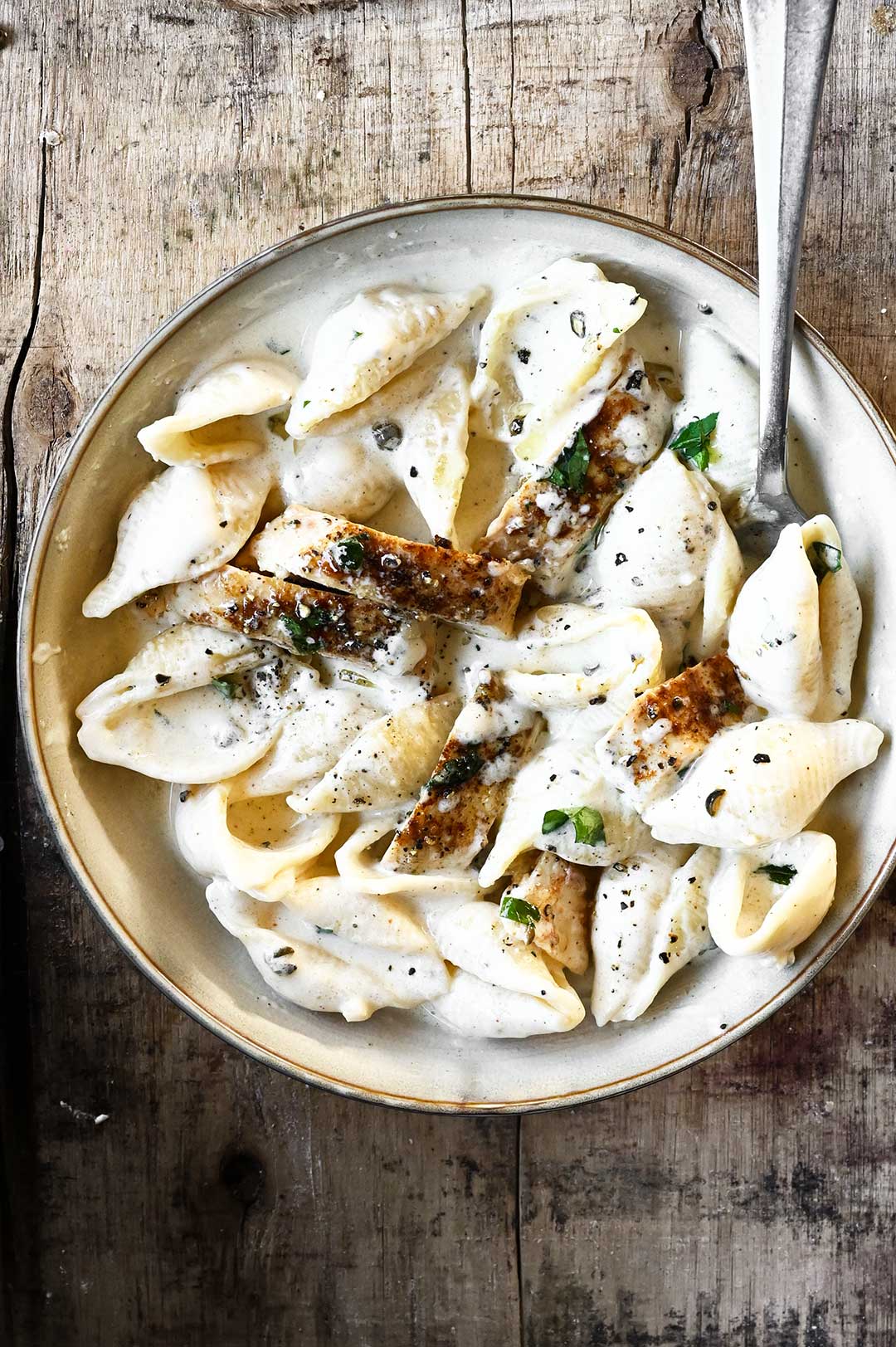 Dit heb je nodig
200 g pasta zoals schelpjes, orecchiette of penne
2 kippenborstfilets
2 el olijfolie
1 el roomboter
1/2 tl van elk: gerookte paprika, zout, zwarte peper
saus
30 g roomboter
2 kleine knoflookteentjes, fijngehakt
250 ml volle room 35% of halfvolle room 20%
90 g geraspte Parmezaan
2 tl versgemalen zwarte peperkorrels
1 tl opgelegde groene peperbolletjes, fijngehakt
1/2 tl cayennepeper
zout
voor de afwerking
1 el gehakte peterselie
versgemalen zwarte peper
Zo maak je het
Kook de pasta beetgaar in gezouten water. Giet af en behoud 1/4 kopje van het kookwater.
Als je dit recept zonder kip maakt, ga dan rechtstreeks naar de volgende stap.
Snij ondertussen de kippenborstfilets horizontaal doormidden. Kruid beide zijden met zout, peper en gerookte paprika. Verhit boter en olijfolie in een grote koekenpan. Voeg de filets toe en bak op middelmatig vuur, gedurende 2-3 minuten per zijde of tot ze aan beide kanten gebruind zijn. Haal de kip eruit en leg op een bord. Laat even rusten, snij daarna in reepjes.
Als de pasta klaar is. Smelt de boter in dezelfde koekenpan. Voeg knoflook, zwarte peper, groene peper en cayennepeper toe. Fruit op een laag vuurtje gedurende 2 minuten. Voeg de room toe en breng het geheel aan de kook. Kruid met zout en zet het vuur uit. Roer de Parmezaanse kaas erdoor en meng met pasta.
Roer de gesneden kip eronder, als de saus te dik wordt, voeg een scheutje kookwater toe. Het is oké als de saus een beetje lopend is, de saus zal dikker worden als hij afkoelt. Voeg indien nodig wat zout toe.
Serveer meteen met wat extra zwarte peper en garneer met gehakte peterselie. Smakelijk!
Ga naar mijn WEB STORY om te zien hoe makkelijk je dit gerecht kan maken!
…IF YOU LOVE THESE RECIPES … please consider supporting my work for just the cost of a cup of coffee.

Als je dit recept uitprobeert, laat dan hieronder een reactie achter of deel je foto's op Instagram en vergeet niet om mij te taggen @anna_s_table. Ik kijk ernaar uit!