Dit is zo'n pasta die je zeker een keer geprobeerd moet hebben. Het is een heerlijk gerecht waarin we pesto combineren met Alfredo saus. En je mag er zeker van zijn, wanneer je deze twee samen brengt, magic happens. Het resultaat is lichter, maar toch boordevol krachtige smaken. Voeg er ook nog eens heerlijk krokant gebakken kip aan toe, en je hebt een smaakbom van formaat in no-time.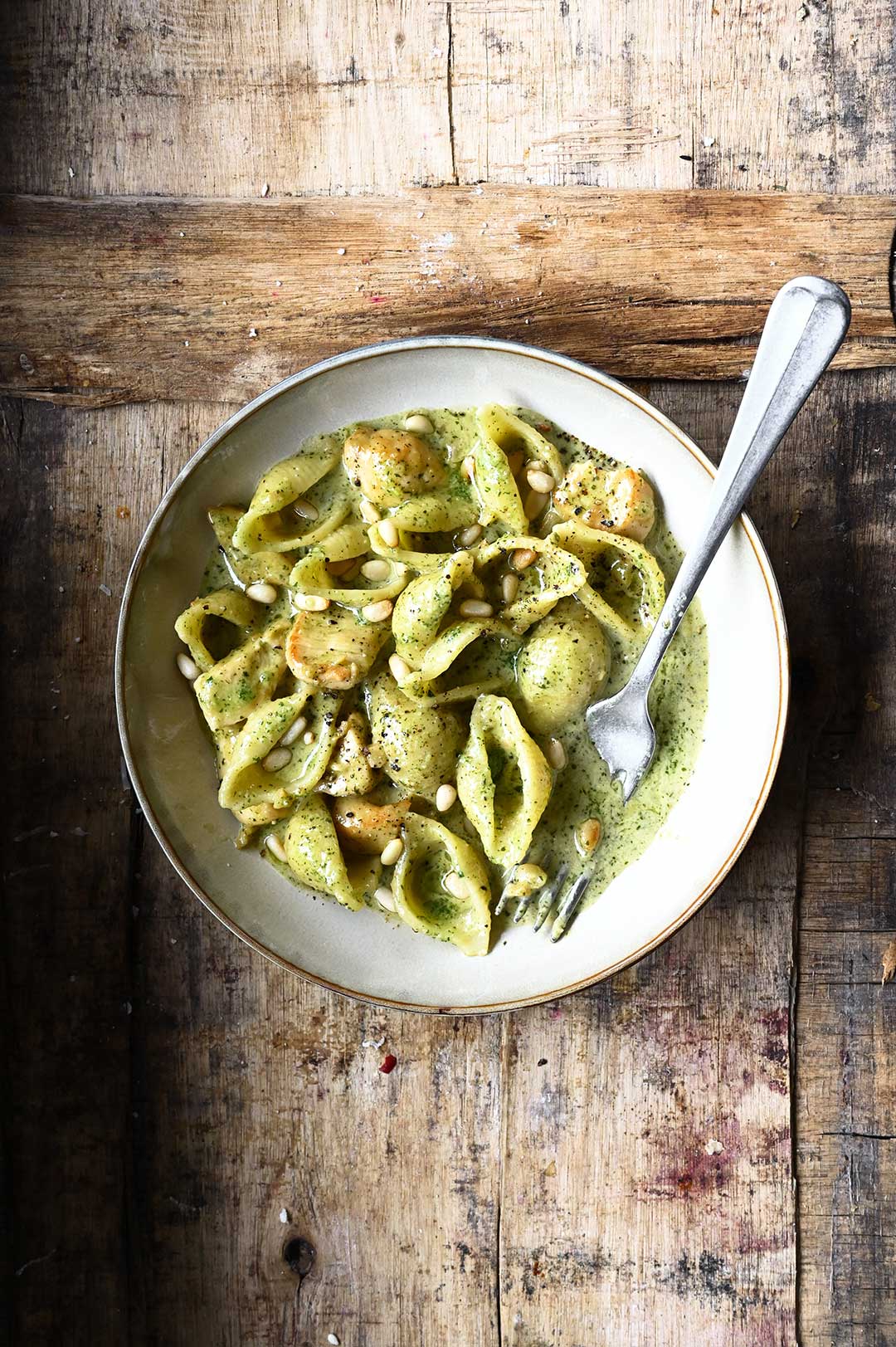 Een klassieke pesto is zonder twijfel een van de lekkerste sauzen. Maar romige pesto is misschien nog beter. Het maakt het gerecht rijker en lijkt wel voorbestemd om te serveren met pasta schelpjes of orecchiette. Deze pastavormen zijn in staat om super veel saus op te vangen. Een echte aanrader!
Bekijk mijn VIDEO om te zien hoe makkelijk je dit gerecht kan maken.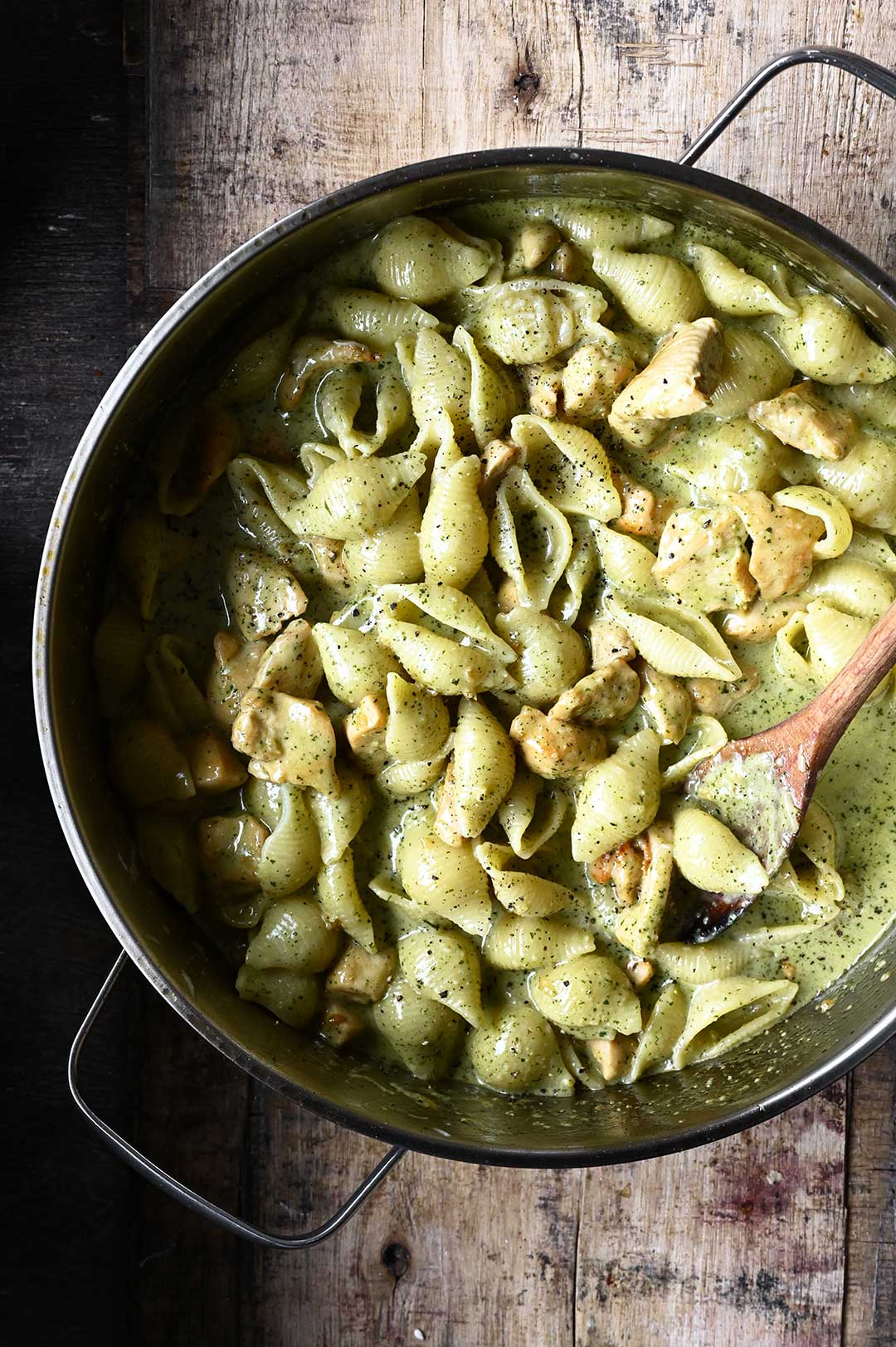 NOTITIES
Je kan hier zelfgemaakte pesto of jouw favoriete kant-en-klare pesto gebruiken.
In dit recept gebruiken we volle room, maar je kan zeker ook halfvolle gebruiken.
Meer makkelijke gerechten:
Pasta met kip in romige zwarte pepersaus
Penne met gerookte zalm en mascarpone
Pasta met aubergine, zongedroogde tomaten en ricotta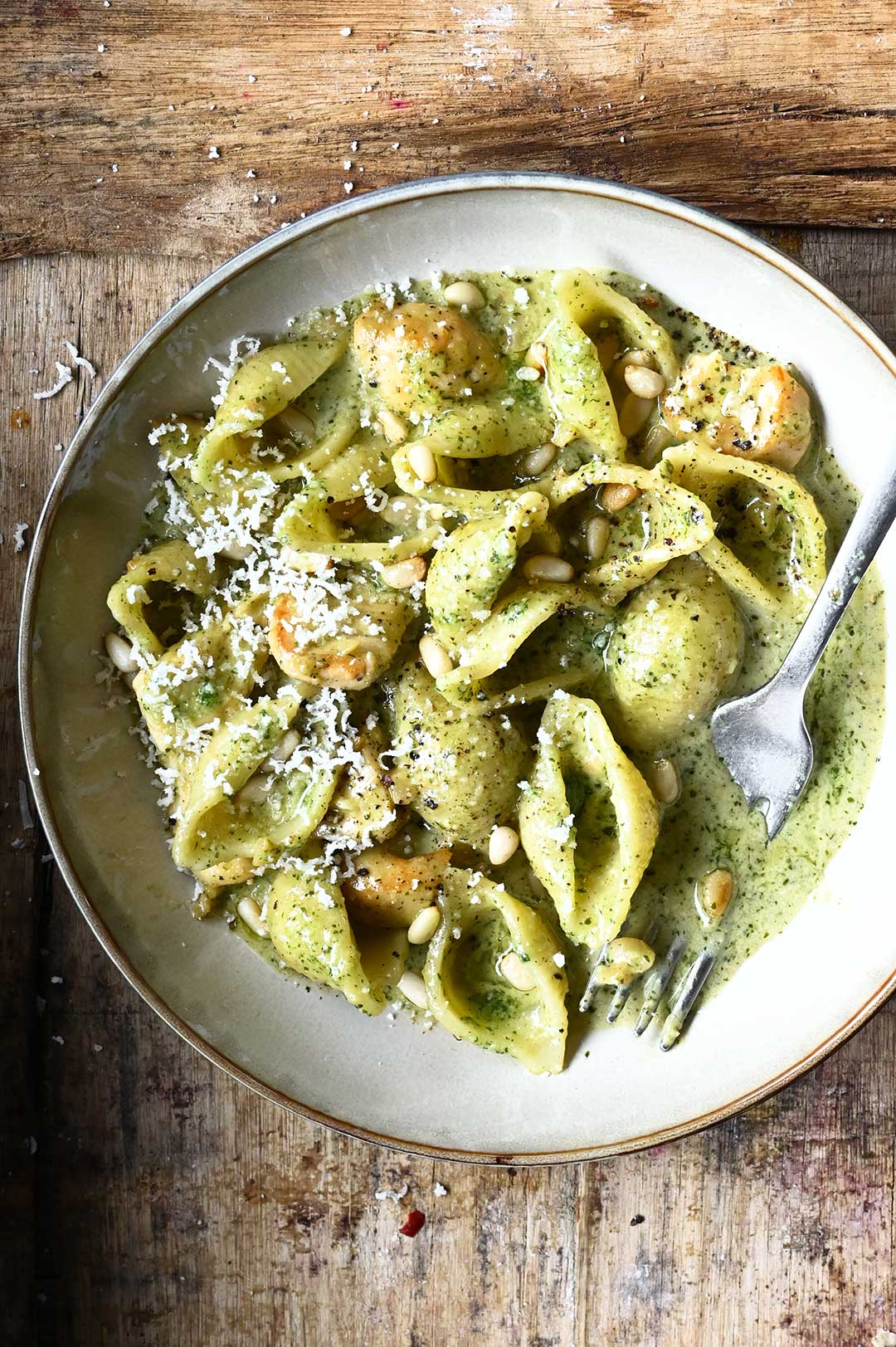 Dit heb je nodig
150 g pasta, schelpjes of orecchiette
2 kipfilets, in dunne plakjes gesneden
3 el olijfolie
30 g roomboter
4 teentjes knoflook, fijngehakt
200 ml volle of halfvolle room
40 g geraspte Parmezaanse kaas
zout + zwarte peper
geroosterde pijnboompitten, om te serveren
geraspte Parmezaanse kaas, om te serveren
pesto
40 g basilicum
40 g geroosterde pijnboompitten
80 ml olijfolie
30 g geraspte Parmezaanse kaas
zout + zwarte peper
1 el citroensap
Zo maak je het
Bekijk mijn VIDEO om te zien hoe makkelijk je dit gerecht kan maken.
Kook de pasta beetgaar in een grote pot kokend, royaal gezouten water. Giet af en bewaar 1/4 kopje kookwater.
Maak de pesto. Doe basilicum, pijnboompitten, Parmezaanse kaas, citroensap, zout en peper in een keukenmachine of blender. Terwijl de machine draait, druppel er langzaam de olijfolie bij. Blijf mixen tot de pesto goed gemengd is, maar nog enige textuur heeft.
Doe de olijfolie en de helft van de boter in een diepe koekenpan. Laat op een matig vuur smelten. Voeg de kip toe, breng op smaak met zout en peper. Bak tot de kip bruin en knapperig is aan de buitenkant, ongeveer 5 minuten. Haal uit de pan.
Voeg de rest van de boter toe. Doe de knoflook erbij en fruit gedurende 2 minuten. Giet de room erbij en breng aan de kook. Roer om eventuele bruine stukjes van de bodem van de pan op te lossen. Voeg pesto en gebakken kip toe. Breng op smaak met extra zwarte peper. Schep de pasta erdoor en voeg de Parmezaanse kaas toe, roer tot de kaas gesmolten is. Voeg indien nodig een scheutje kookvocht toe. Haal de pan van het vuur.
Serveer met geraspte Parmezaanse kaas en geroosterde pijnboompitten. Eet smakelijk!