Een zalige pasta met pompoen, pancetta en mascarpone. Geserveerd met broccolini, salie en pompoenpitten. Lekker en ongelooflijk makkelijk te maken!
De lichte, glanzende saus op basis van geroosterde pompoen, kookvocht en mascarpone komt samen met de pasta in dezelfde kookpot. Het resultaat? Een buitengewoon heerlijke en smeuïge pastaschotel die ongeveer in 30 minuten klaar is, een must-make!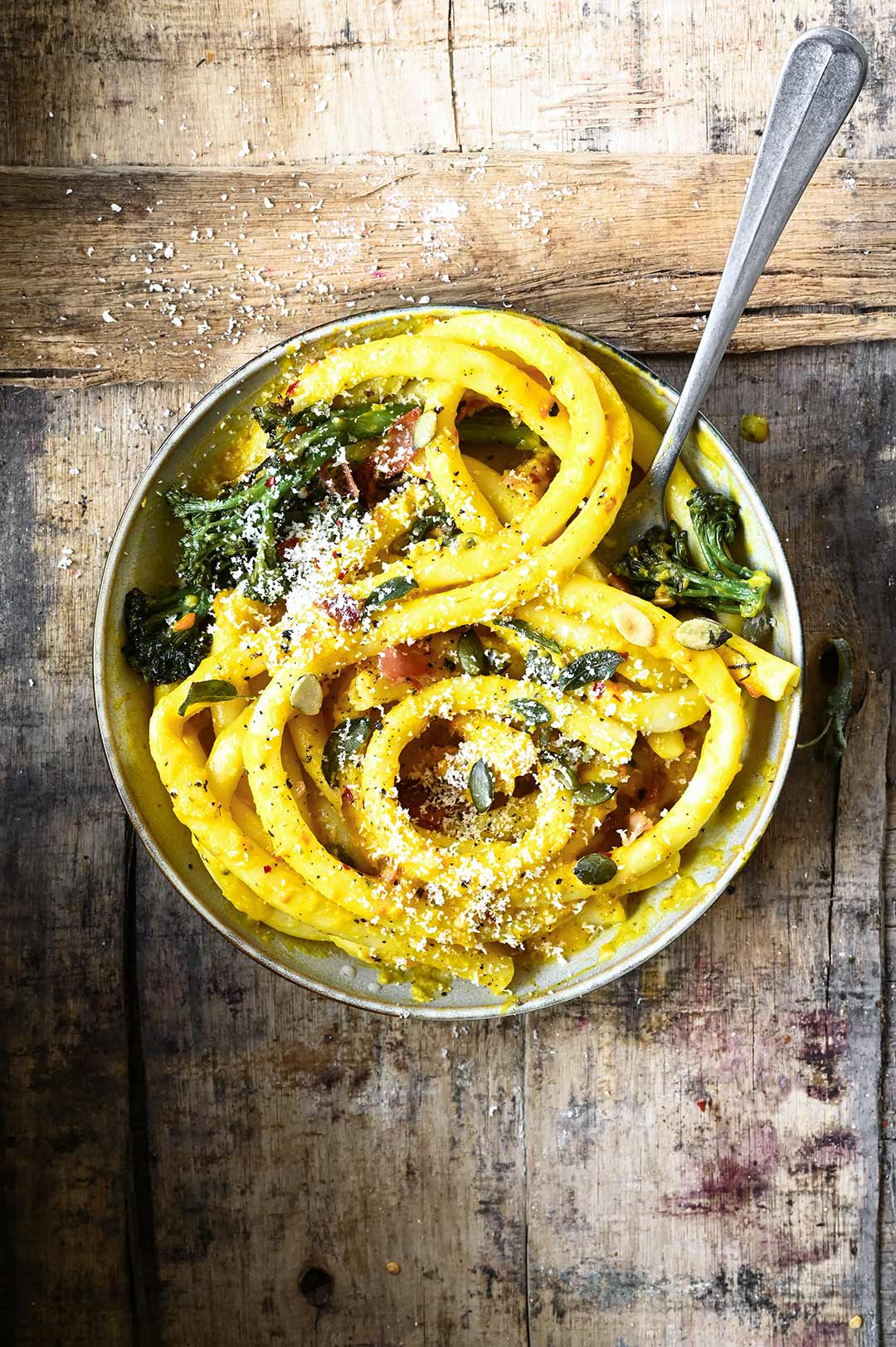 Tip: Voor dit recept kan je eender welke pastasoort gebruiken. In plaats van de pancetta, kan je ook spekblokjes gebruiken of het vlees helemaal weglaten om een vegetarische versie te maken.
Bekijk mijn Instagram Highlights om te zien hoe makkelijk je dit gerecht kan maken!
Inspiratie voor makkelijke gerechten:
Pasta pesto met champignons en kikkererwten
Kipfilet met Parmezaan, spinazie en orzo
Pikante wok met scampi en szechuanpeper
Dit heb je nodig
250 g pasta
400 g pompoen, met schil, in blokjes gesneden
1 bosje broccolini
250 g mascarpone
150 g pancetta, in dunne reepjes gesneden (kan weggelaten worden voor een vegetarische versie)
olijfolie
1 el citroensap
1 tl elk: gedroogde tijm, salie, oregano, gedroogde rode chilipeper
1 hele knoflookbol
zout + zwarte peper
+
4 el geroosterde pompoenpitten
20 verse saliebladeren
geraspte parmezaan, voor de afwerking
Zo maak je het
Bekijk mijn Instagram Highlights om te zien hoe makkelijk je dit gerecht kan maken.
Verwarm de oven voor op 220°C.
Snij de pompoen (met schil) in kleine blokjes. Snij met een scherp mes de bovenkant van de knoflookbol af. Leg de pompoen op een bakplaat en besprenkel met 4 el olijfolie. Bestrooi met tijm, oregano, salie en chilipeper. Breng op smaak met zout en peper. Leg de knoflook erbij. Rooster gedurende 15 minuten.
Haal uit de oven, voeg broccolini toe. Kruid en besprenkel met olie. Plaats de bakplaat terug in de oven en bak nog 10-15 minuten verder.
Kook ondertussen de pasta beetgaar in gezouten water. Giet af en behoud 1/2 kopje van het kookwater.
Rooster de pompoenpitten gedurende 2-3 minuten in een droge koekenpan. Leg ze op een bord.
Verhit in dezelfde koekenpan 2 el olijfolie. Voeg pancetta toe en bak deze knapperig en goudbruin. Leg op een bord.
Voeg salieblaadjes toe aan dezelfde koekenpan en bak gedurende 10 seconden of tot ze knapperig zijn. Leg op een bord bedekt met keukenpapier.
Als de pompoen klaar is, doe deze (zonder broccolini) in een keukenrobot. Voeg mascarpone en citroensap toe. Knijp ongeveer 6 knoflookteentjes uit (de rest bewaar je in de koelkast om te gebruiken in een ander gerecht). Breng op smaak met zout en peper. Voeg kookwater toe en pureer tot een gladde massa.
Meng met pasta, voeg pancetta en eventueel extra kookwater toe als de saus te dik is. Proef, en breng op smaak met zout en peper. Serveer met geroosterde pompoenpitten, krokante salieblaadjes, gedroogde chilipeper en geraspte parmezaan. Smakelijk!