Zalm met pasta en chorizo? Oh ja, ik ben er dol op.
Weinig ingrediënten, één heerlijk gerecht. Pasta, gerookte zalm, pittige chorizo, zongedroogde tomaten en een botersausje. Klaar in slechts 20 minuten. Met een zomerse toets, maar met genoeg 'pit' om het op koelere avonden te maken. Een heerlijk doordeweeks gerechtje dat winnende smaken combineert.
Deze pasta kan je maken met ingrediënten die misschien in je koelkast liggen. Geen gerookte zalm? Gebruik zalm uit blik. Kan je geen zongedroogde tomaten vinden? Gebruik dan kerstomaten. Of maak het gerecht met andere groenten, spinazie of courgette passen hier ook goed bij.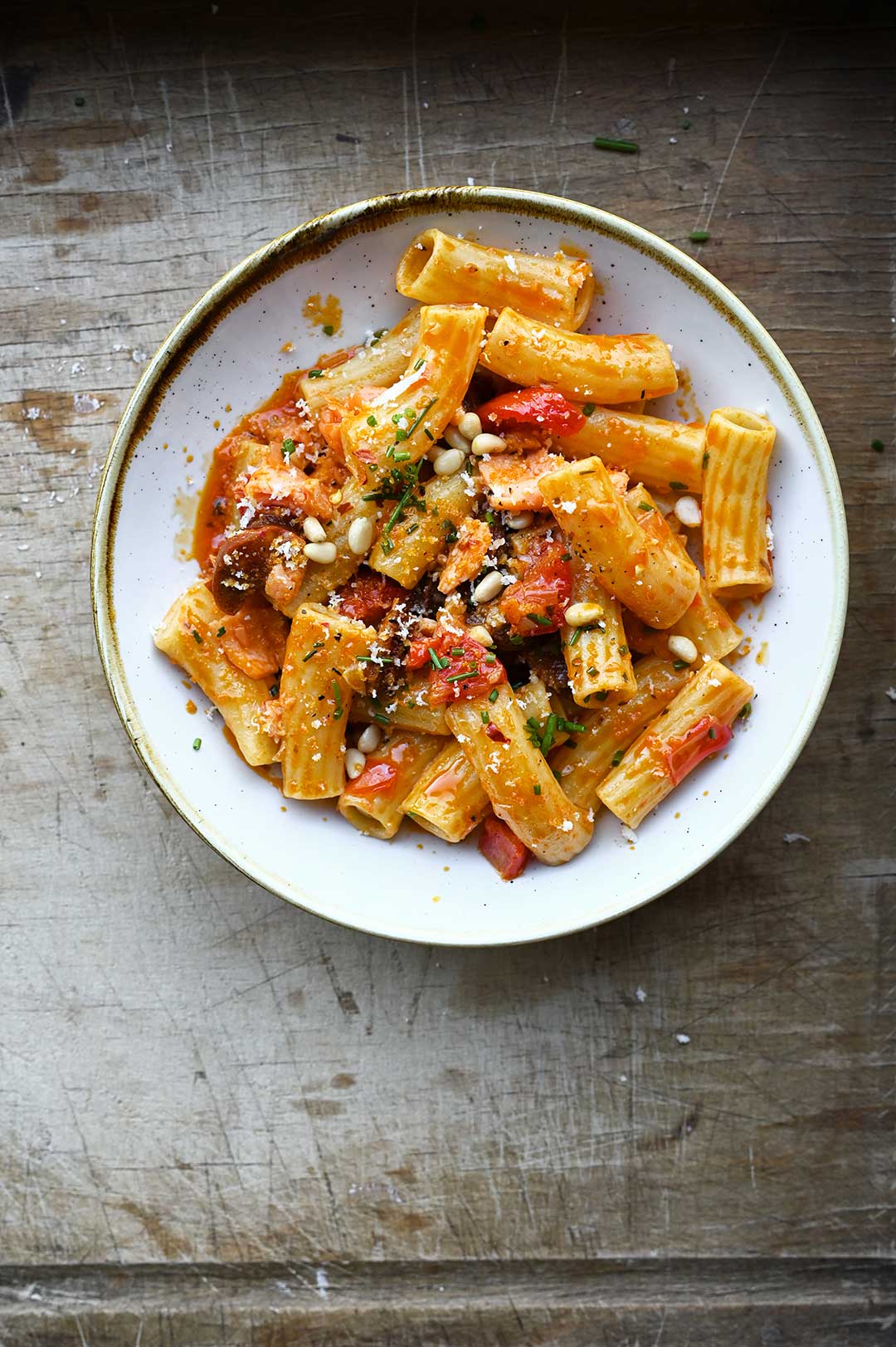 Dit heb je nodig
250 g pasta
150 g gerookte zalm, in plakjes
100 g pikante chorizoworst, in plakjes (je kan ook milde chorizo gebruiken)
200 zongedroogde tomaten of kerstomaten
1 sjalot, fijngehakt
3 tenen knoflook, fijngehakt
1 tl tijm
2 el tomatenconcentraat
2 el citroensap
4 el olijfolie
30 g roomboter
1 tl gerookte paprika
zeezout + zwarte peper
+
gedroogde chili, geroosterde pijnboompitten, geraspte parmezaan voor de afwerking
Zo maak je het
Breng een grote pot met gezouten water aan de kook. Voeg de pasta toe en kook beetgaar volgens de aanwijzingen op de verpakking. Giet af en behoud een deel van het kookwater.
Ondertussen, verhit de olie in een diepe pan hoog vuur. Voeg de chorizo toe en bak gedurende ongeveer 3 minuten, roer af en toe. Zet het vuur lager, voeg knoflook en sjalot toe, fruit gedurende 5 minuten. Voeg zongedroogde tomaten, tomatenconcentraat, citroensap, tijm, gerookte paprika en boter toe. Voeg ongeveer 1/4 glas kookwater toe en laat 3 minuten sudderen op een matig vuur. Roer de gerookte zalm eronder en breng op smaak met een snuifje zout en zwarte peper. Laat nog 2 minuten sudderen. Voeg de pasta toe en meng.
Verdeel de pasta over de kommen. Werk af met parmezaanse kaas, pijnboompitten en chili. Smakelijk!