Deze pasta met spekjes en tomatensaus brengen we op smaak met kerstomaatjes en Parmezaanse kaas, deze laatste zorgt voor een heerlijk smeuïge finishing touch. Je kan dit gerecht allesbehalve saai noemen, hij is buitengewoon eenvoudig te maken en klaar in ongeveer 20 minuten, minimalistisch en superlekker. Een doordeweekse pasta smaakbom van formaat!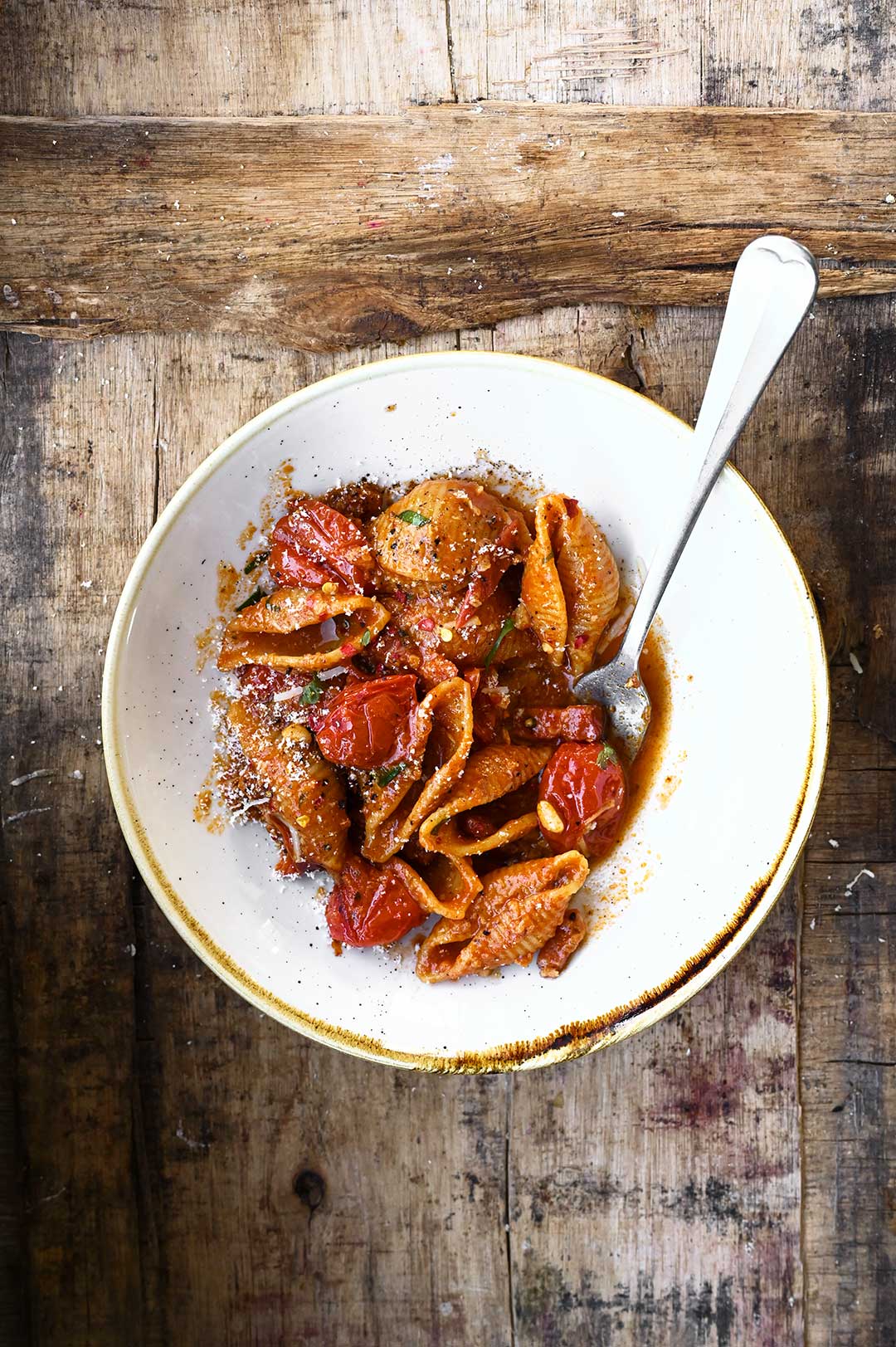 We beginnen met het koken van de pasta. Ondertussen bakken we het spek, voegen tomatenconcentraat, knoflook en kruiden toe. Dan roeren we de kerstomaatjes erdoor en laten alles een paar minuten sudderen, we voegen de pasta toe samen met wat kookvocht voor een zijdezachte saus, et voila! Klaar in een mum van tijd, maar zeer smaakvol. Bestrooi met geroosterde pijnboompitten en wat chilivlokken voor wat extra kick. Serveer met een salade, besprenkeld met olijfolie en balsamico azijn. Bekijk mijn VIDEO om te zien hoe makkelijk je dit gerecht kan maken!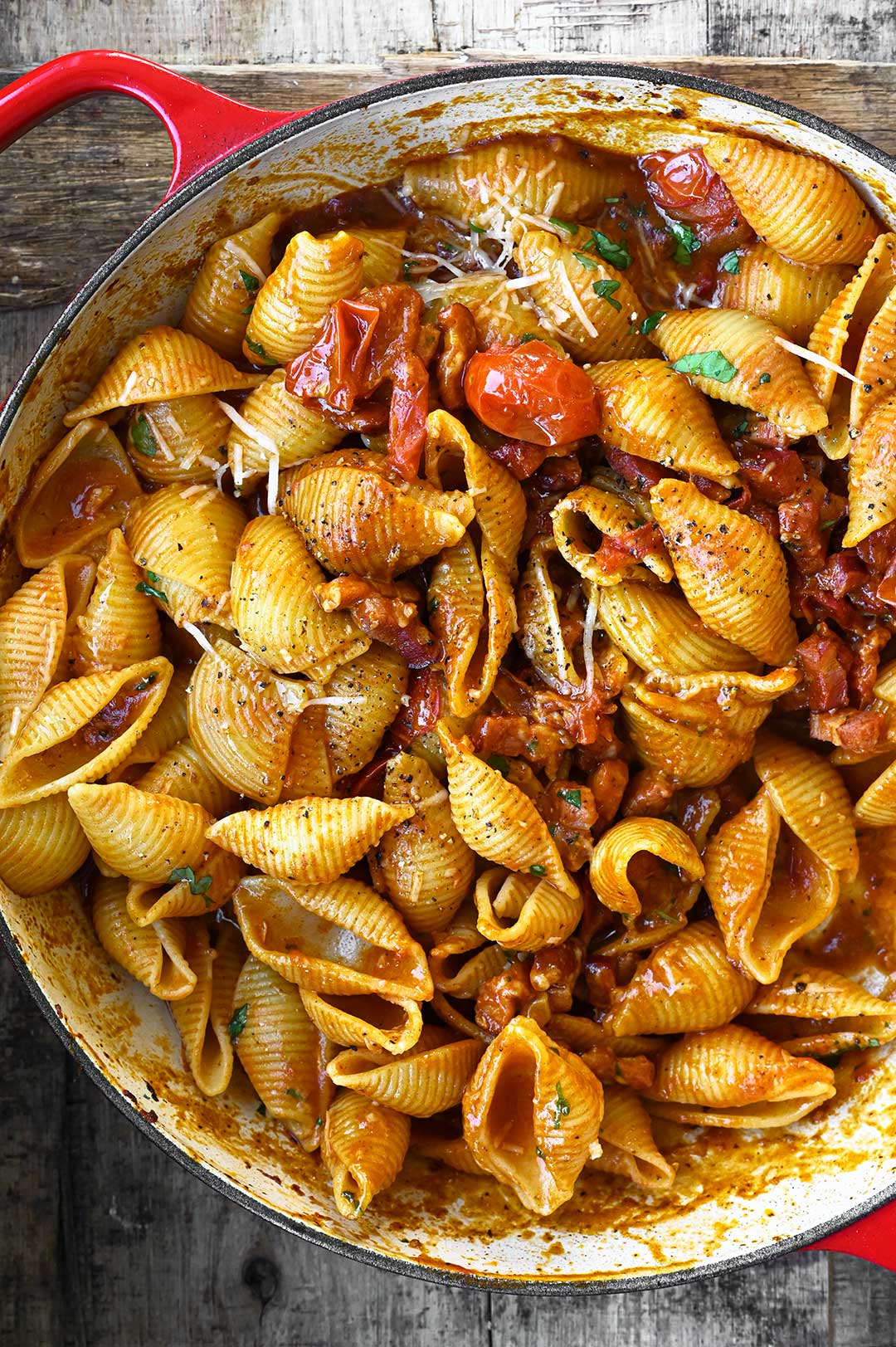 More pasta, please!
Pasta met pesto van zongedroogde tomaten en ricotta
Pasta met rode pesto, champignons en zongedroogde tomaten
Orecchiette met beurre noisette, walnoten en salie
Wil je op de hoogte blijven van mijn nieuwe recepten? Abonneer je dan op mijn NIEUWSBRIEF.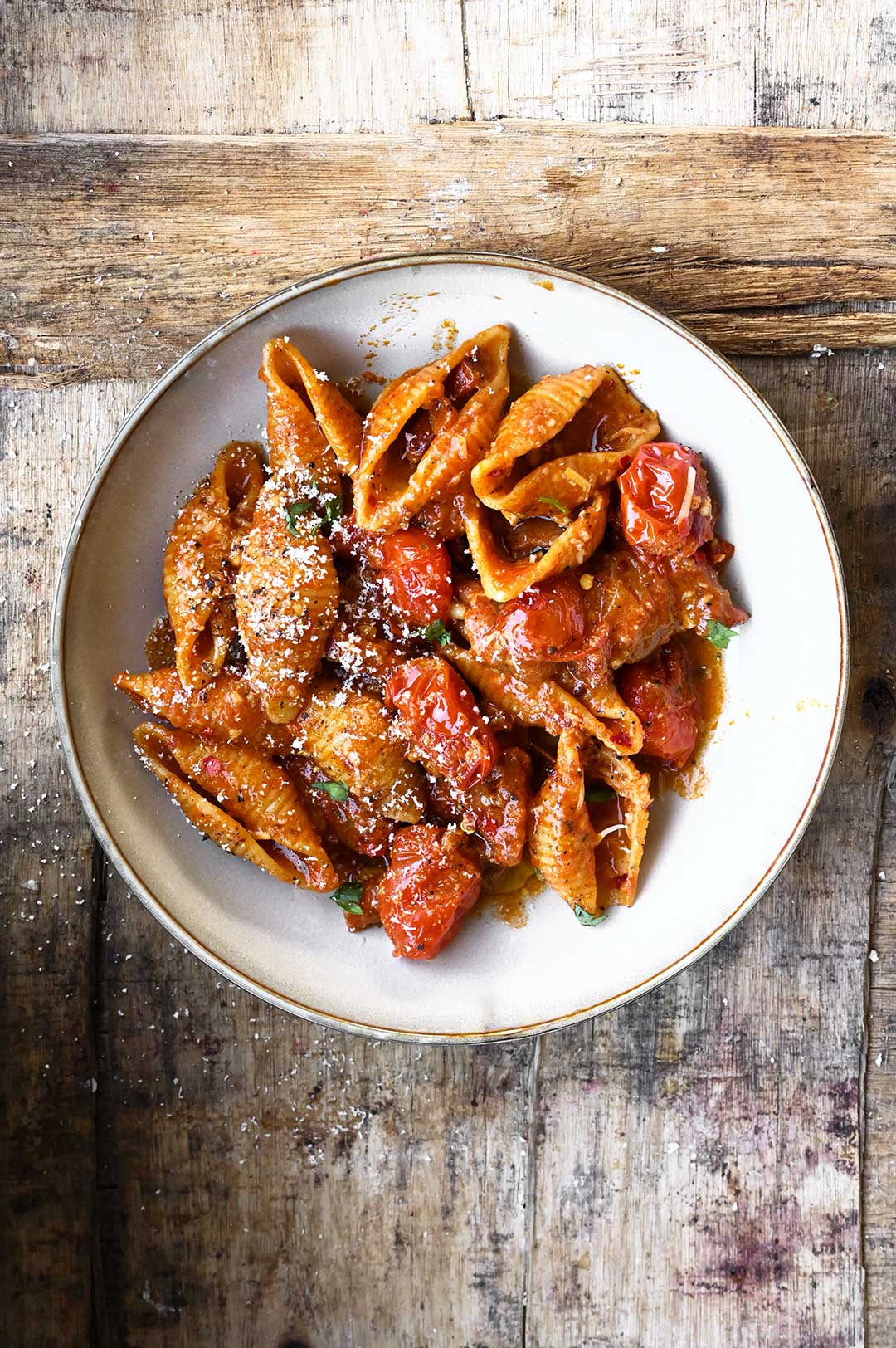 Dit heb je nodig
200 g pasta, schelpjes of orecchiette
200 g gerookte spekblokjes
250 g kerstomaatjes
50 g geraspte Parmezaanse kaas, meer om te serveren
70 g tomatenpuree
2 teentjes knoflook, fijngehakt
1 klontje boter
1 el olijfolie
1/2 tl zout
2 tl zwarte peper
1 tl elk: gedroogde oregano, gerookt paprikapoeder
2 el gehakte verse peterselie
gedroogde rode chilivlokken, om te serveren
geroosterde pijnboompitten, om te serveren
Zo maak je het
Kook de pasta in een grote pot kokend, royaal gezouten water. Giet af en bewaar 1 kopje van het kookwater.
Verhit een grote koekenpan met antiaanbaklaag op middelhoog vuur. Voeg olijfolie en boter toe. Als de boter gesmolten is, voeg dan het spek toe. Bak tot het spek knapperig en goudbruin is, roer af en toe, ongeveer 5 minuten. Bestrooi met zwarte peper en bak nog 1 minuut. Breng op smaak met zout, oregano en gerookt paprikapoeder. Zet het vuur lager en roer het tomatenconcentraat  erdoor, laat 1 minuut bakken.
Voeg kerstomaten en knoflook toe, bak ongeveer 2 minuten of totdat de tomaten beginnen te barsten. Druk op de achterkant van de tomaten met een houten lepel om de sappen eruit te duwen. Voeg 1/2 kopje van het kookwater toe en breng het geheel aan de kook.
Schep de pasta en de peterselie erdoor. Haal van het vuur. Voeg de parmezaanse kaas toe en roer tot een gladde en glanzende saus. Voeg indien nodig meer kookwater toe.
Serveer met gedroogde rode chili en geroosterde pijnboompitten. Bestrooi met extra Parmezaanse kaas. Smakelijk!
Bekijk mijn VIDEO om te zien hoe makkelijk je dit gerecht kan maken!
And …IF YOU LOVE THESE RECIPES … please consider supporting my work for just the cost of a cup of coffee.

Als je dit recept uitprobeert, laat dan hieronder een reactie achter of deel je foto's op Instagram en vergeet niet om mij te taggen @anna_s_table. Ik kijk ernaar uit!