Een licht pastagerecht boordevol courgette en reepjes spek, dit kan in een handomdraai veranderen in jouw favoriete pasta. Super casual en makkelijk te maken. 
De basis voor dit gerecht is een eenvoudige mix van courgette en spekjes, een echte smaakbom. We gebruiken twee verschillende manieren om de courgette te snijden, eentje wordt in hapklare stukken gesneden. De andere wordt geraspt, uiteindelijk mengt de geraspte courgette zich met de spekjes, om zo de pasta met een sappig sausje te bedekken.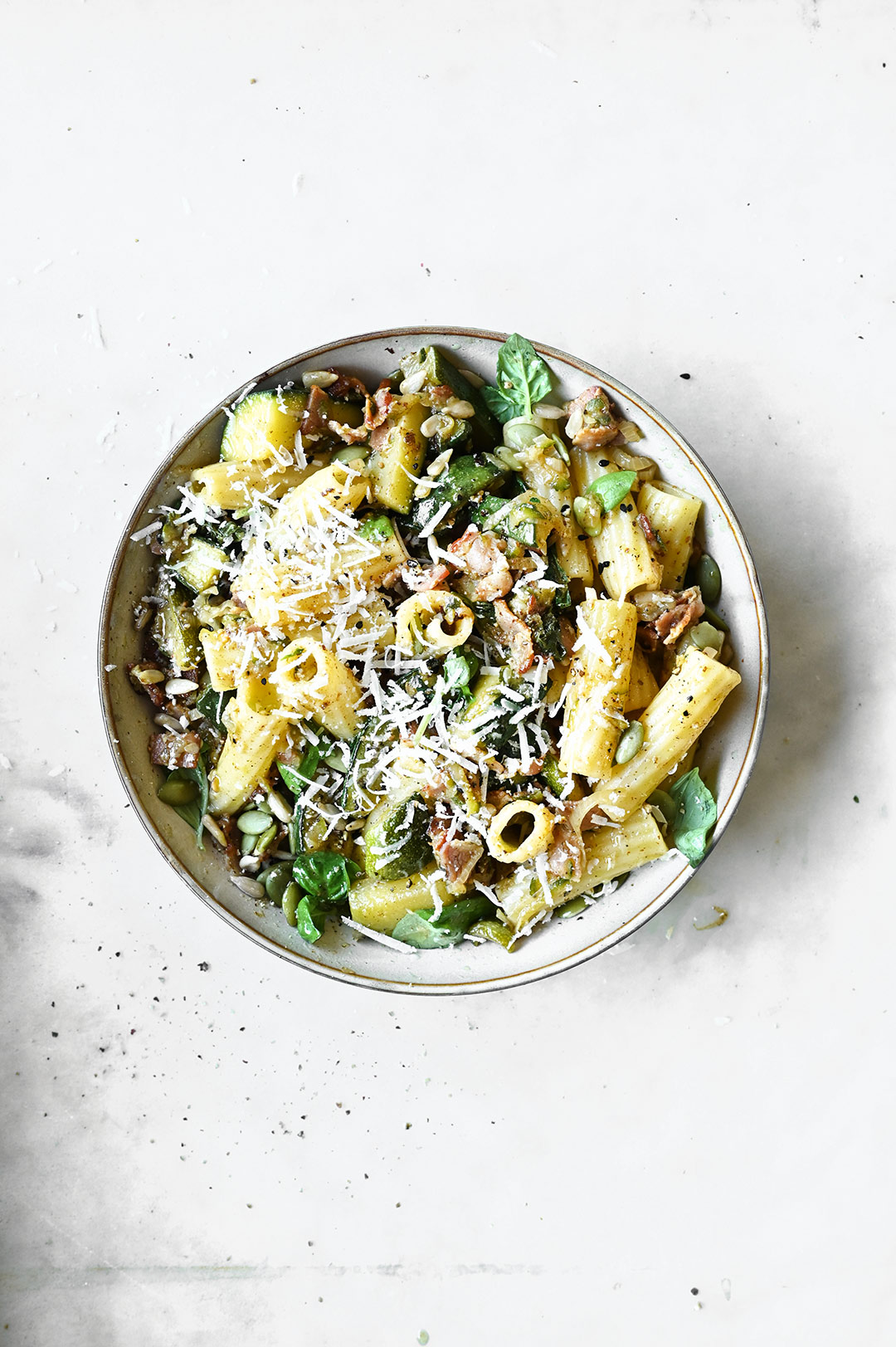 We werken het gerecht af met verse basilicum en veel pompoen- en zonnebloempitten. En serveren het met geraspte parmezaan. Twee woorden. Echt lekker.
Dit is een van die maaltijden waar iedereen dol op kan zijn en die iedereen kan maken. Als je op zoek bent naar inspiratie voor een nieuw pastagerecht, dan is dit een aanradertje.
Extra groentjes? Yup! Je kan wat kerstomaten toevoegen om je gerecht wat te pimpen.
Als het gaat om het type pasta, kan je deze serveren met spaghetti, penne of je lievelingspasta.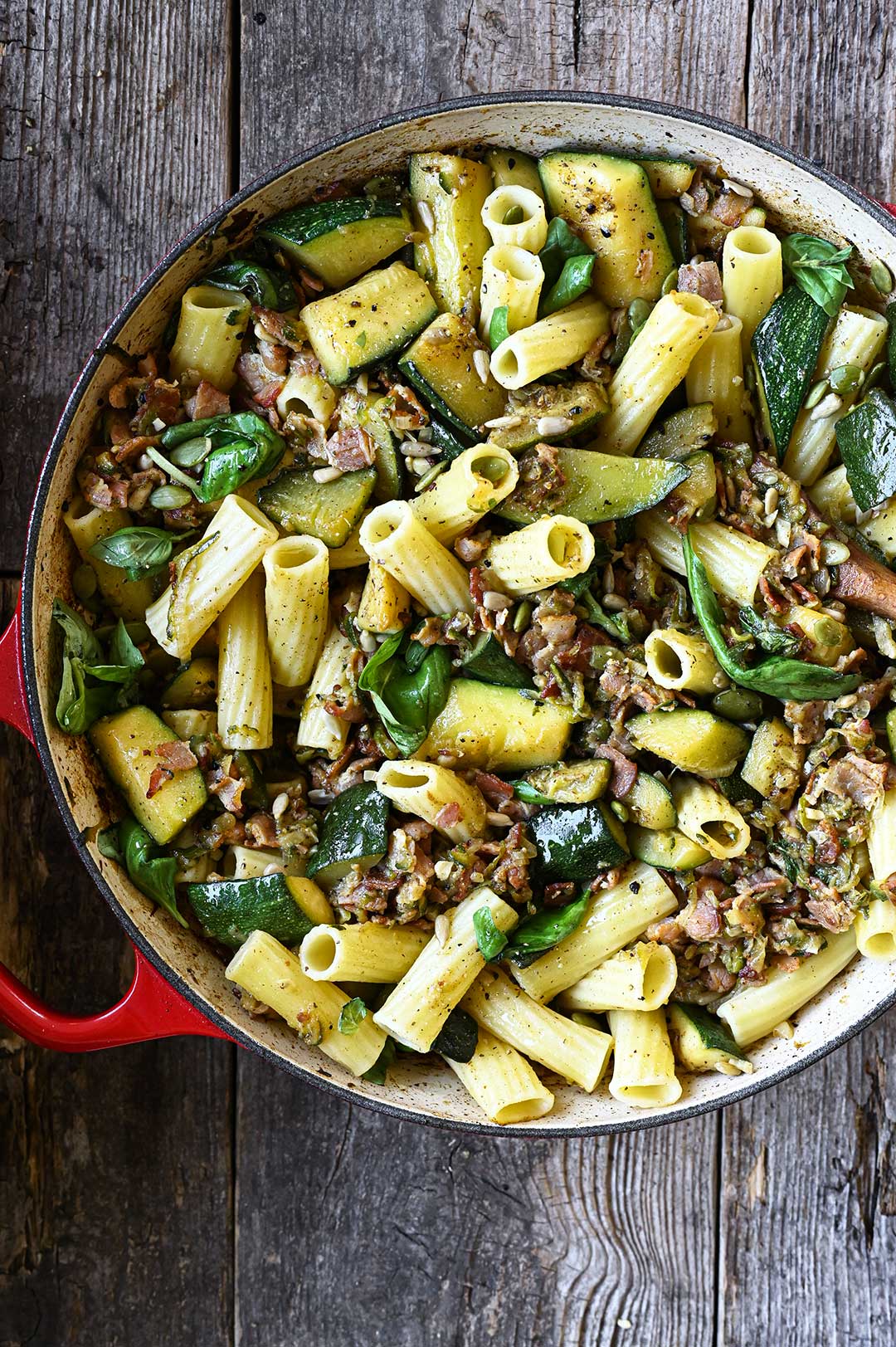 Hungry for more?
Carbonara met mascarpone
Hartelijke champignon bolognese met courgetti
Vegetarisch stoofpotje met eieren
Wil je op de hoogte blijven van mijn nieuwe recepten? Abonneer je dan op mijn NIEUWSBRIEF.
Dit heb je nodig
400 g pasta
300 g ontbijtspek, in dunne reepjes gesneden
2 courgettes
4 tenen knoflook, fijngehakt
1 sjalot, dun gesneden
olijfolie
zeezout + zwarte peper
1 tl gedroogde chili
2 el citroensap
1 bosje basilicum, we gebruiken alleen de blaadjes
4 el mix van zaden: zonnebloempitten + pompoenpitten + zwarte sesamzaad + pijnboompitten
geraspte parmezaan, voor het serveren
Zo maak je het
Kook de pasta in gezouten water. Giet af en behoud 1/4 kopje van het kookwater.
Snijd een van de courgettes in hapklare stukken, rasp de andere courgette fijn.
Verhit 3 el olijfolie in een (zeer) grote koekenpan, voeg de hapklare stukken courgette toe en breng op smaak met zout en peper. Bak, roer af en toe, gedurende 3-4 minuten tot de courgette iets zachter wordt. Haal uit de pan en leg op een bord.
Verhit 3 el olijfolie in dezelfde pan op een hoog vuur, voeg spek toe en bak 4-5 minuten goudkleurig. Voeg geraspte courgette toe en laat 3 minuten meebakken. Voeg knoflook, sjalot en citroensap toe. Breng op smaak met zout, veel zwarte peper en chili. Blus met het kookvocht. Laat even sudderen tot de courgette zachter is geworden, ongeveer 2-3 minuten. Voeg de zaadjes en de hapklare stukjes courgette toe.
Doe de pasta erbij en roer tot de saus de pasta volledig bedekt. Doe het grootste deel van de basilicum erin. Proef en breng op smaak met zout en peper. Serveer met geraspte parmezaan en de resterende basilicumblaadjes. Smakelijk!
Als je dit recept uitprobeert, laat dan hieronder een reactie achter of deel je foto's op Instagram en vergeet niet om mij te taggen @anna_s_table. Ik kijk ernaar uit!