Een romige pasta met broccoli, royaal gekruid met versgemalen zwarte peper. Snel en makkelijk te maken, maar vooral superlekker. Het ziet er misschien maar eenvoudig uit en je gebruikt maar enkel wat roomkaas, knoflook, een beetje olijfolie en chili, maar deze zijn stuk voor stuk smaakbommetjes. En broccoli, om ons een goed gevoel over onszelf te geven. En het beste van alles, het is klaar in 15 minuten.
Wat deze romige broccolisaus anders maakt is de zwarte peper. We voegen zwarte peper eraan toe en als je denkt dat dat genoeg is, doen we er nog een schepje bovenop.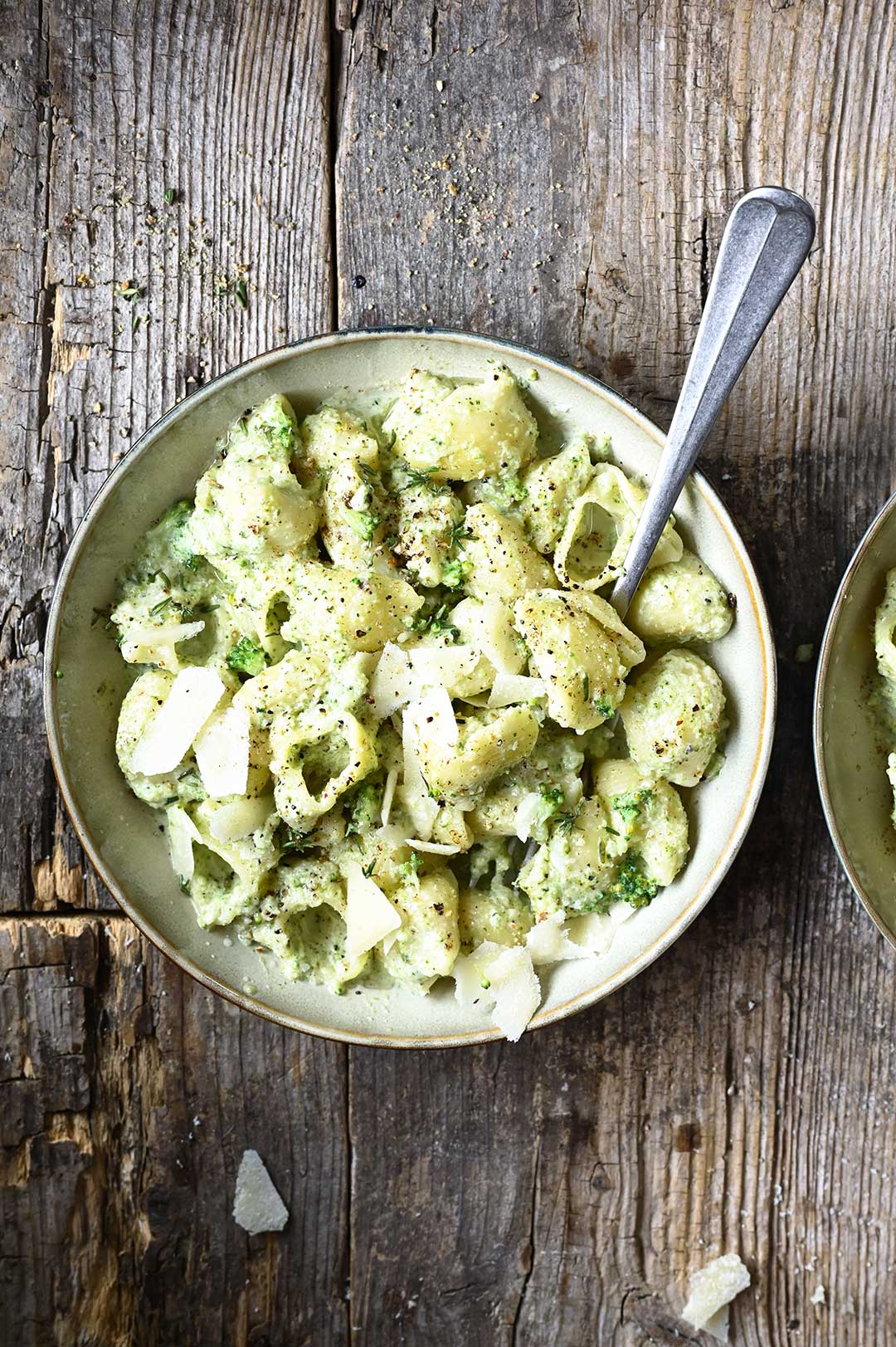 Is dit de perfecte pastasaus? Misschien. Met zijn scherpe, pittige kick van zwarte peper, roomkaas, zoute Parmezaan en gezonde broccoliroosjes, slaan je smaakpapillen zeker op hol. 
De broccoli wordt direct in de saus gemixt, waardoor deze een groene toets krijgt en wat extra vitaminen. Samen met wat van het pasta kookwater en roomkaas, krijgt deze saus een delicate romige textuur. Voeg wat geraspte Parmezaanse kaas toe en je hebt het makkelijkste en meest magische gerecht.
Nog meer lekkere gerechten:
15 minuten pasta met broccoli en basilicum
Ramen met varkenshaasje en broccolini
Pasta met kip en asperges in een romige pepersaus
Wil je op de hoogte blijven van mijn nieuwe recepten? Abonneer je dan op mijn NIEUWSBRIEF.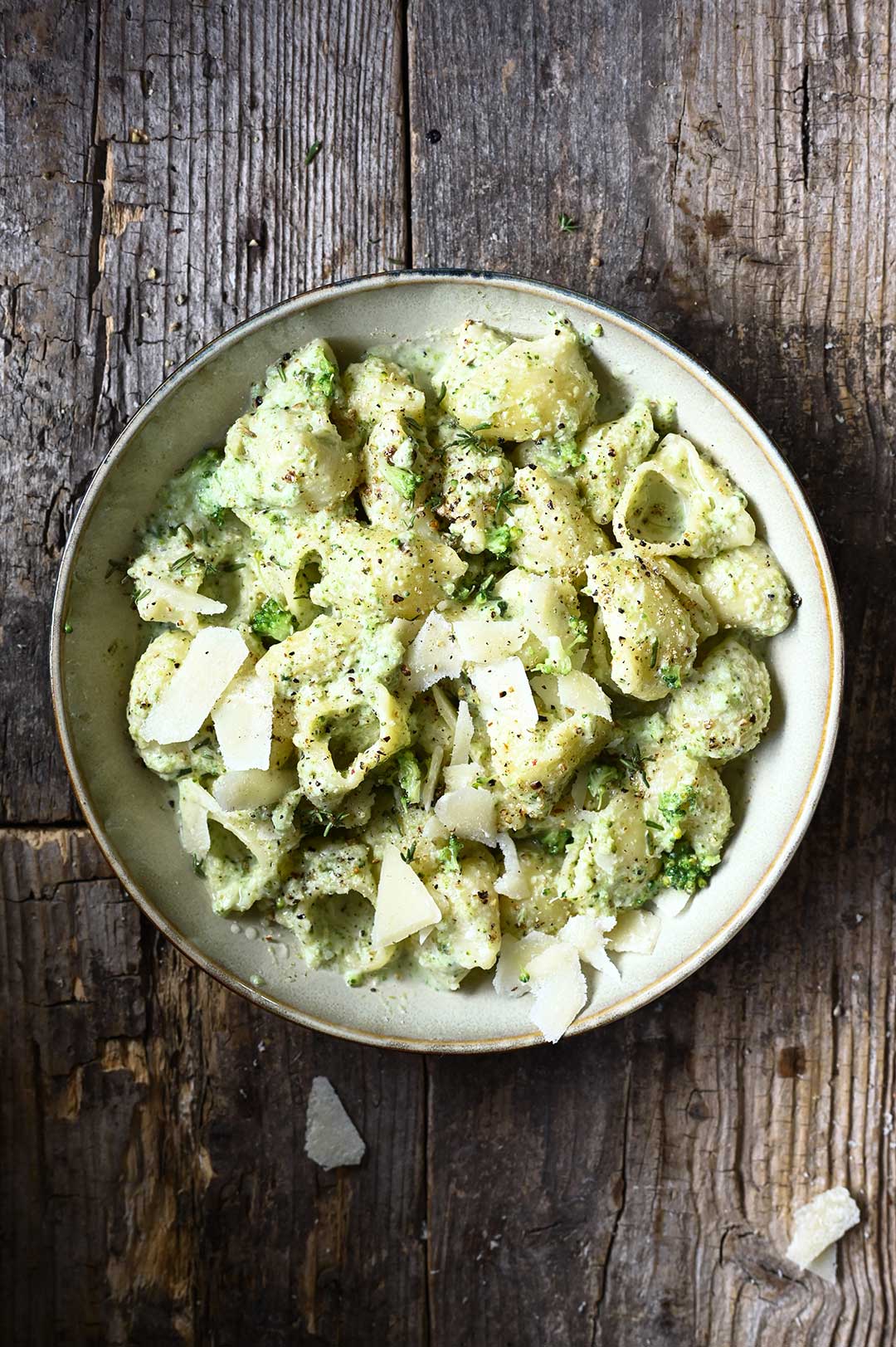 Dit heb je nodig
250 g pasta
1 broccoli, in roosjes
1 tl knoflookpoeder
2 el olijfolie
1 doosje roomkaas met zwarte peper (ik gebruikte Boursin)
50 g geraspte Parmezaan + extra voor de afwerking
1/2 tl gedroogde chili
zeezout + versgemalen zwarte peper
Zo maak je het
Breng een grote pot met gezouten water aan de kook.
Voeg de broccoliroosjes toe, breng het water opnieuw aan de kook en laat 2 minuten koken. Giet het water niet af, haal de broccoli met een schuimspaan eruit en leg in een kom.
Breng hetzelfde water weer aan de kook, voeg de pasta toe en kook beetgaar. Giet af en behoud 1/2 kopje van het kookwater.
Meng in een grote blender of keukenmachine de broccoli samen met de roomkaas, knoflookpoeder, olijfolie, zout, chili en Parmezaanse kaas tot een gladde massa. Giet langzaam 1/4 kopje van het pastawater erbij tot er een romige saus ontstaat. Als de saus te dik is, voeg dan telkens per keer 1 eetlepel pastawater toe. Voeg 1 theelepel vers geraspte zwarte peper toe. Proef en voeg indien nodig meer zout toe.
Meng de warme pasta met de saus. Serveer met Parmezaanse kaas en chili. Strooi op elke portie wat extra zwarte peper, indien gewenst. Smakelijk!
Als je dit recept uitprobeert, laat dan hieronder een reactie achter of deel je foto's op Instagram en vergeet niet om mij te taggen @anna_s_table. Ik kijk ernaar uit!