Pasta met broccoli, walnoten en beurre noisette. Makkelijk te maken en overheerlijk. Dit gerecht is een absolute aanrader op een drukke doordeweekse avond of voor je volgende date night. We gebruiken enkel eenvoudige ingrediënten, maar transformeren ze in een regelrechte smaakbom! Je zal dol zijn op deze geweldige combinatie van broccoli en knapperige walnoten.
En als extra bonus komt erbij dat alles klaar is in ongeveer 20 minuten. Fuzz-free, dat beloof ik je!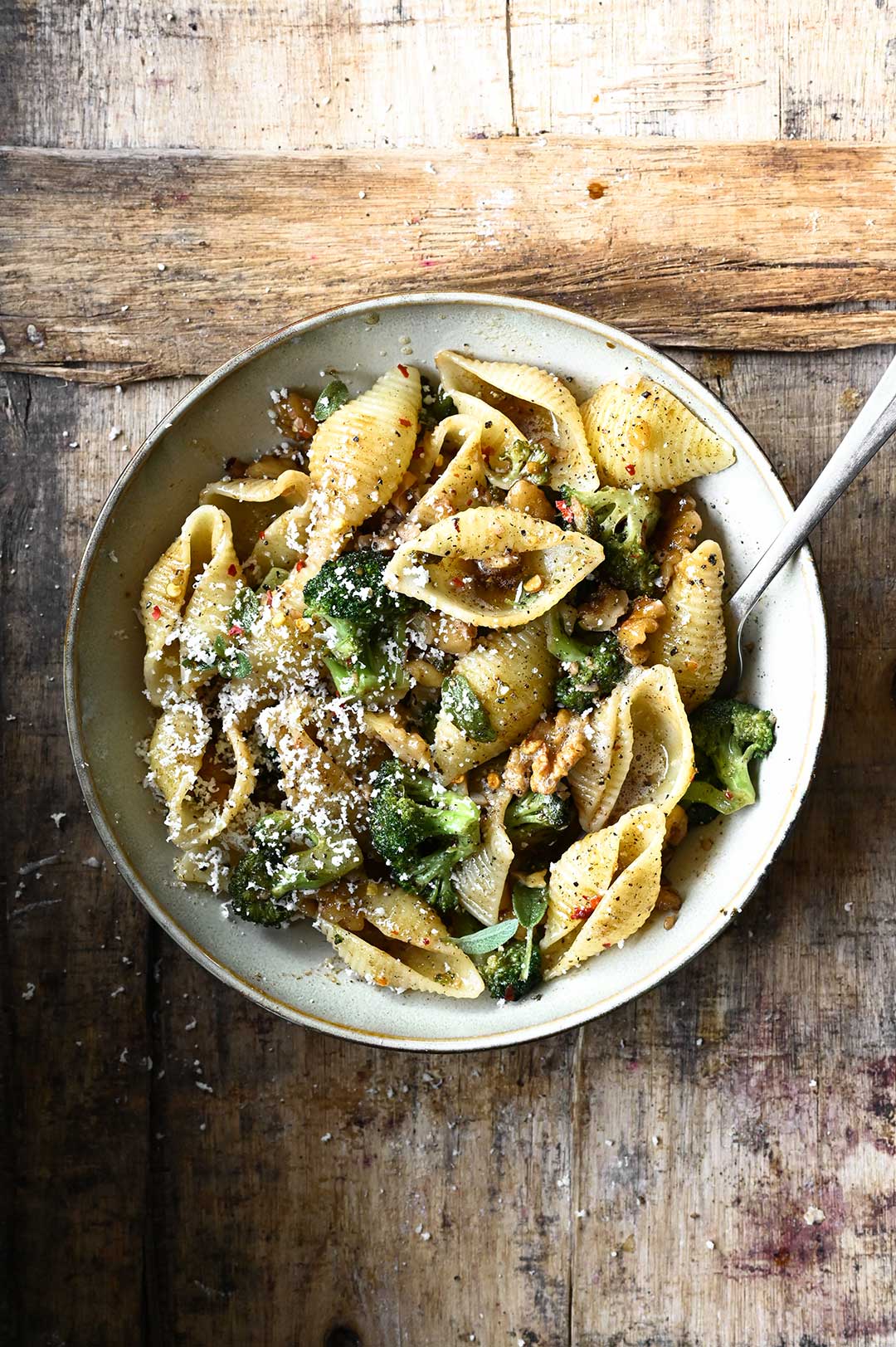 We beginnen met het maken van de beurre noisette met walnoten. Daar voegen we broccoli aan toe en sauteren hem heel eventjes, zo behouden we zijn heerlijke smaak en knapperige textuur. We voegen knoflook, balsamicoazijn, salie en rode pepervlokken toe. Dan doen we de pasta erbij en mengen alles in de rijke botersaus. Het resultaat ziet er niet alleen fantastisch uit maar is ook verbluffend lekker.
Bekijk mijn VIDEO om te zien hoe makkelijk je dit gerecht kan maken.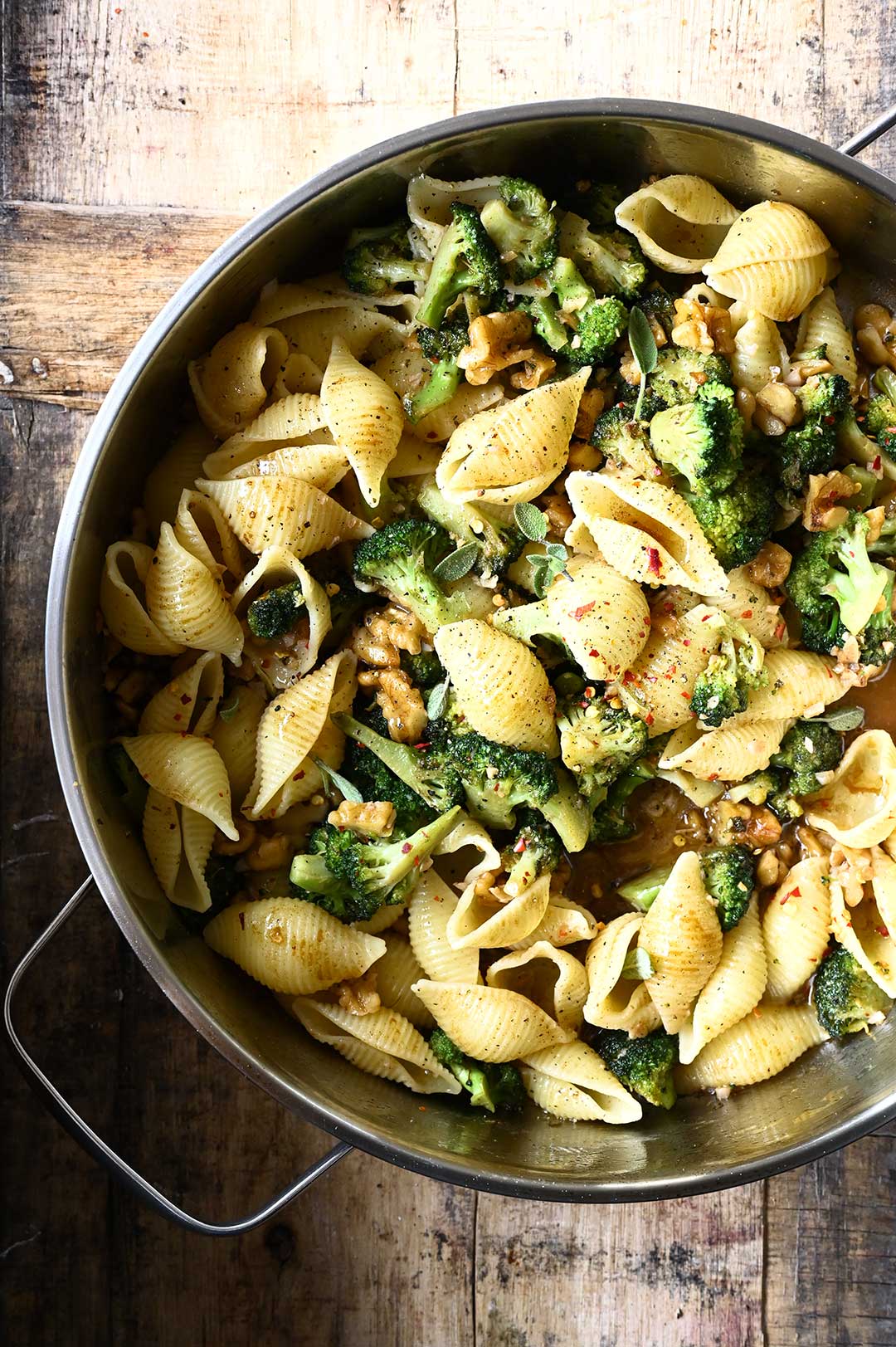 NOTITIES:
Je kan makkelijk de walnoten vervangen door pijnboompitten, hazelnoten, amandelen of zonnebloempitten. Als je geen schelpjes kan vinden, kan je deze moeiteloos vervangen door orecchiette of één van je favoriete pastavormen die de saus kunnen opvangen en vasthouden wanneer deze van het bord naar je mond gaat.
Meer makkelijke gerechten:
Pasta met kip in romige zwarte pepersaus
Pasta met pesto van zongedroogde tomaten en ricotta
Pasta met aubergine en miso pesto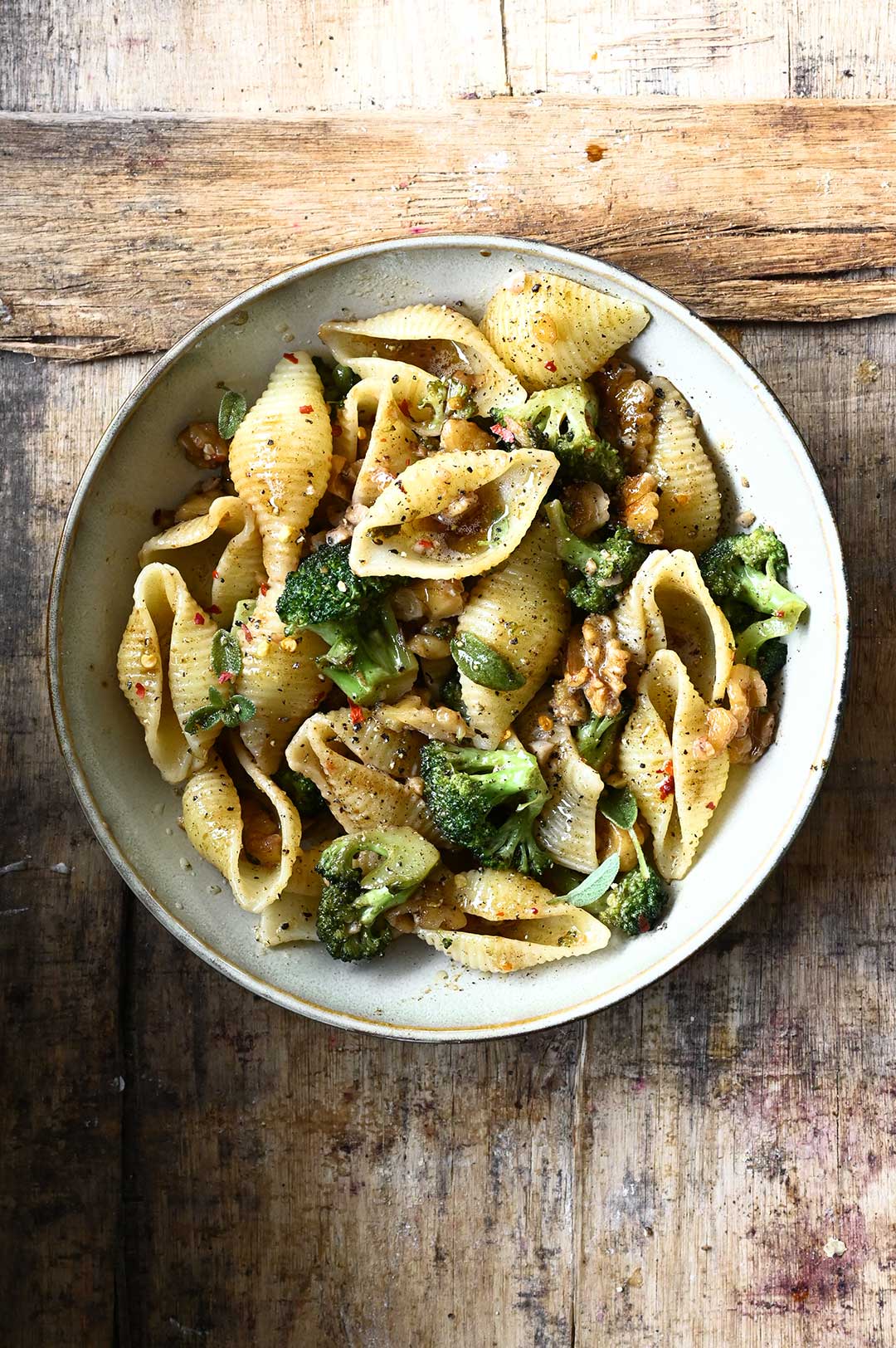 Dit heb je nodig
200 g korte pasta, zoals schelpjes of orecchiette
60 g walnoten, grof gehakt
1 broccoli
3 teentjes knoflook, fijngehakt
60 g gezouten roomboter, op kamertemperatuur
50 ml olijfolie
kruiden: 1 tl van elk: gerookt paprikapoeder, gedroogde salie, gedroogde chilipeper, zout, zwarte peper
2 el balsamicoazijn
geraspte parmezaan, om te serveren
gedroogde chilipeper en zwarte peper, om te serveren
Zo maak je het
Bekijk mijn VIDEO om te zien hoe makkelijk je dit gerecht kan maken.
Kook de pasta in een grote pot kokend, royaal gezouten water.
Snij ondertussen de broccoli in roosjes en dan de roosjes in kleine hapklare stukjes. Snij de stengels in stukjes die ongeveer even groot zijn als de roosjes.
Verhit de helft van de boter in een grote pan of een koekenpan op matig vuur. Bak de boter 2-3 minuten, terwijl je voortdurend roert tot de boter begint te schuimen en te bruinen.
Voeg de walnoten en olijfolie toe. Bak, terwijl je regelmatig roert tot de noten goudbruin worden, ongeveer 3 minuten.
Voeg broccoli en kruiden toe. Bak, terwijl je af en toe roert tot de broccoli gaar, maar nog steeds knapperig is, ongeveer 6 minuten. Voeg knoflook toe en bak nog ongeveer 2 minuten.
Schep, net voordat de pasta beetgaar is 1/2 kopje kookvocht uit de pot met de pasta. Voeg 1/4 kopje kookvocht toe aan de pan met de broccoli. Roer de rest van de boter erdoor en voeg de balsamicoazijn toe.
Giet de pasta af en voeg toe aan de broccoli, roer alles goed door elkaar en haal van het vuur. Voeg meer kookvocht toe indien nodig.
Serveer met wat extra gedroogde chilipeper, zwarte peper en Parmezaanse kaas. Eet smakelijk!