Een onweerstaanbaar kommetje boordevol pasta, groenten en zachte kaas.
Rigatoni met gebakken aubergine en zongedroogde tomaten bedekt met een romig sausje. Een vegetarisch gerecht dat klaar is in ongeveer 20 minuten. Snel, makkelijk, smeuïg en overheerlijk.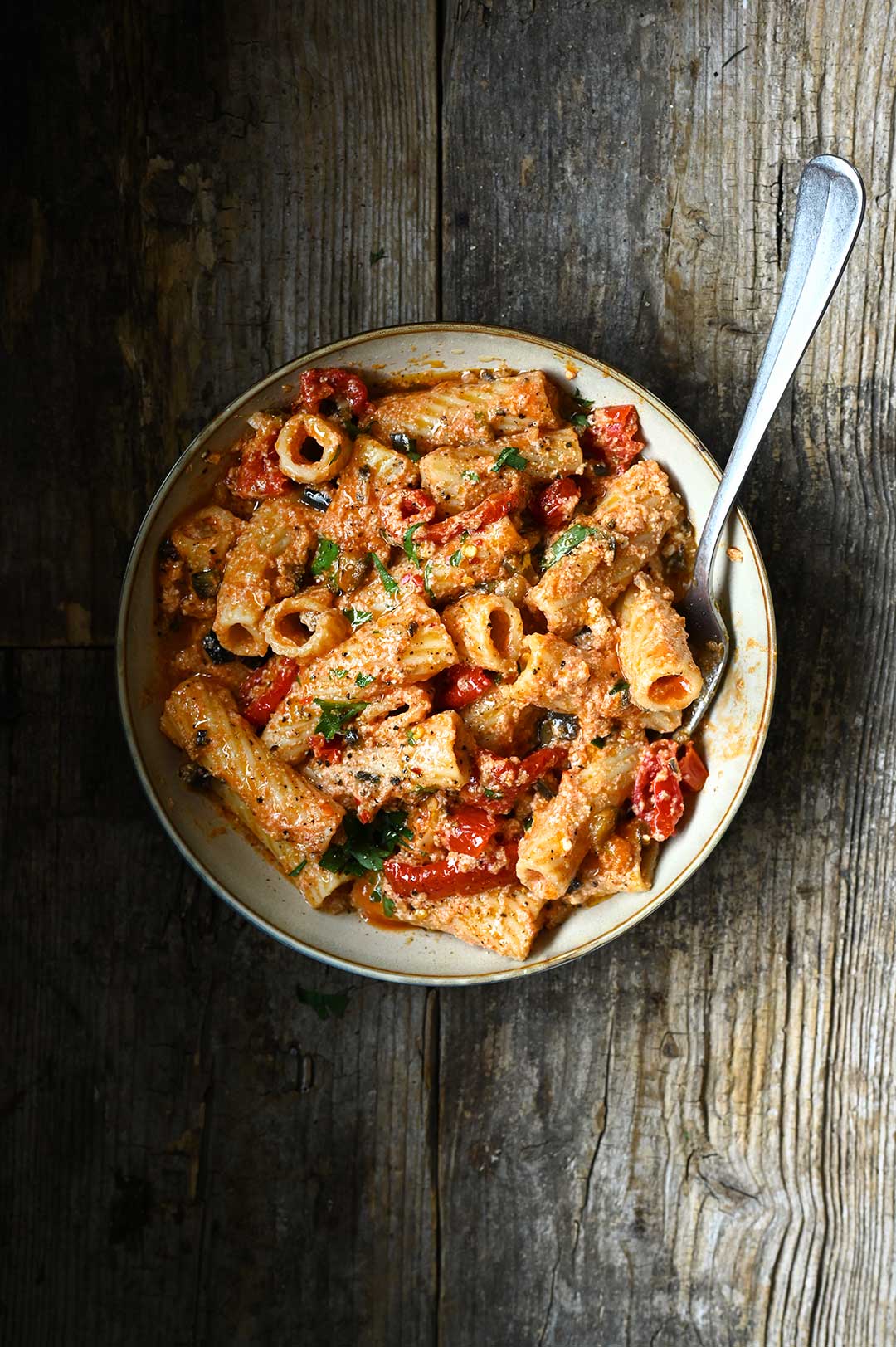 De ricotta smelt in de tomatensaus en maakt deze zacht en romig van smaak. Het is een fantastisch alternatief voor een klassieke tomatensaus. Het is minimaal, licht en met precies de juiste balans tussen smaken en texturen.
Het is een eenvoudig gerecht, enkel pasta, een diepe aubergine-tomatensaus met zongedroogde tomaten en zalige ricotta.
Ga naar mijn WEB STORY om te zien hoe makkelijk je dit gerecht kan maken!
Dit gerecht kan volledig op zichzelf staan als maaltijd. Maar als je op zoek bent om een volwaardig diner te kunnen serveren, kan je er een salade, gegrilde kip of brood bij doen… Of je kan de aubergine bakken samen met wat gehakt of pancetta.
3 andere makkelijke pastagerechten:
Tagliatelle met rundergehakt en kale pesto
Pasta met gerookte zalm en chorizo
15 minuten pasta met broccoli en basilicum
Wil je op de hoogte blijven van mijn nieuwe recepten? Abonneer je dan op mijn NIEUWSBRIEF.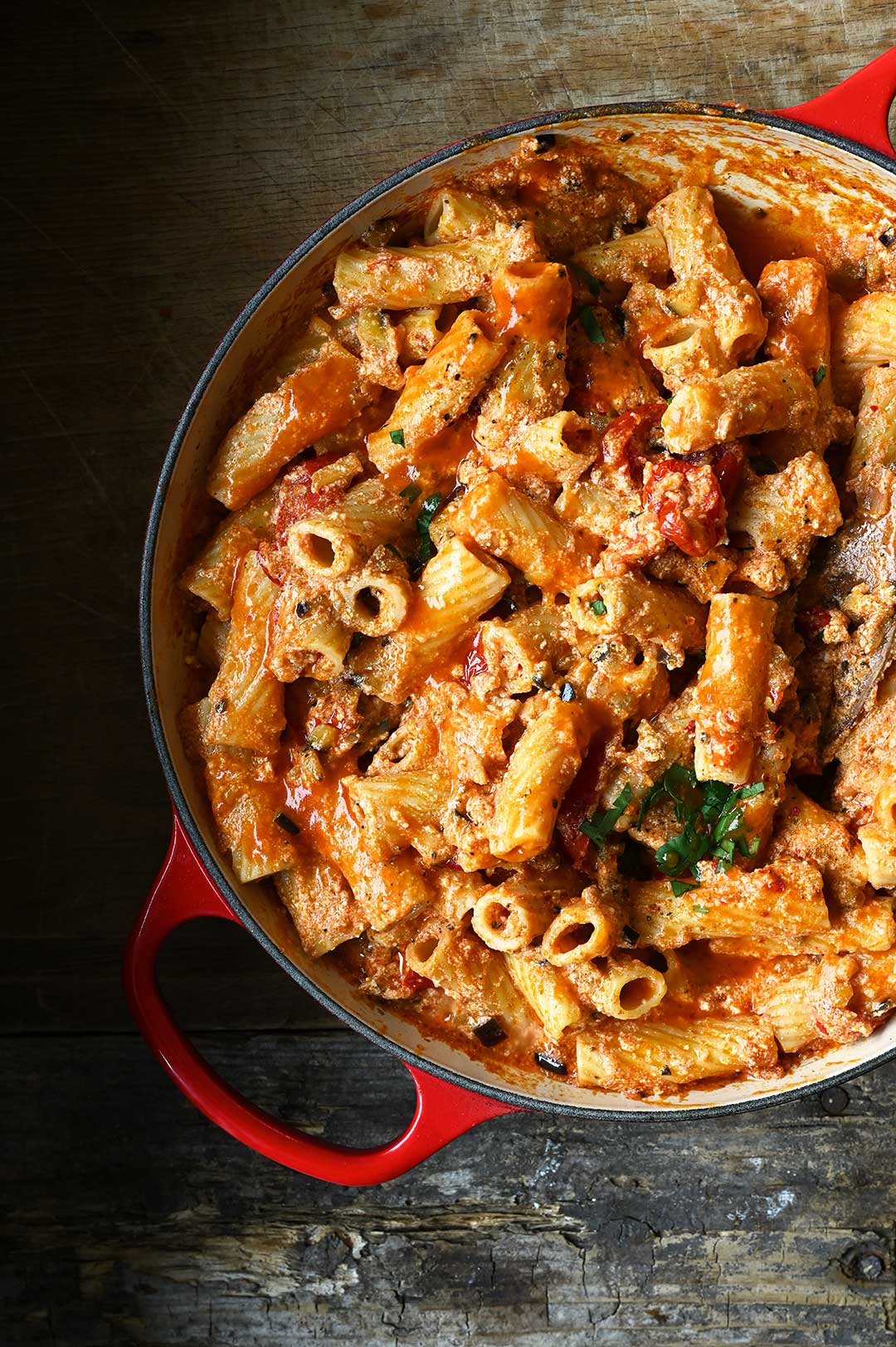 Dit heb je nodig
250 g pasta
1 aubergine, in blokjes gesneden
220 g zongedroogde tomaten met olie
1 sjalot, fijngehakt
3 tenen knoflook, fijngehakt
250 ml tomatenpassata
150 g ricotta
1/2 tl chilipepervlokken
1/2 tl gerookt paprikapoeder
zeezout + zwarte peper
…IF YOU LOVE THESE RECIPES … please consider supporting my work for just the cost of a cup of coffee.

Zo maak je het
Kook de pasta beetgaar in gezouten water. Giet af en behoud 1/4 kopje van het kookwater.
Verhit 5 el olie van de zongedroogde tomaten in een grote koekenpan op middelmatig vuur. Voeg knoflook en sjalot toe, fruit in ongeveer 3 minuten. Doe de aubergine en de zongedroogde tomaten met de resterende olie erbij. Bak op een zacht vuurtje gedurende 5 minuten. Voeg de tomatensaus toe en breng het geheel aan de kook, laat 5 minuten sudderen. Breng op smaak met chilipepervlokken, paprika, zout en peper.
Roer de ricotta en de pasta eronder. Voeg indien nodig een scheut van het kookwater toe. Roer alles goed onder elkaar. Dien onmiddellijk op. Smakelijk.
Ga naar mijn WEB STORY om te zien hoe makkelijk je dit gerecht kan maken!
Als je dit recept uitprobeert, laat dan hieronder een reactie achter of deel je foto's op Instagram en vergeet niet om mij te taggen @anna_s_table. Ik kijk ernaar uit!