Een pasta met gebakken aubergine en gerookte spekjes in een heerlijk tomatensausje afgewerkt met halloumi-broodkruimels. De broodkruimel topping lijkt misschien triviaal, maar sla ze zeker niet over. Ze zorgen voor een knapperige textuur en veranderen deze doordeweekse maaltijd in een feestmaal. Doodsimpel maar overheerlijk is eigenlijk de beste manier om dit gerecht te omschrijven. Haal je bestek al maar boven, want deze verwennerij is klaar in slechts 40 minuten.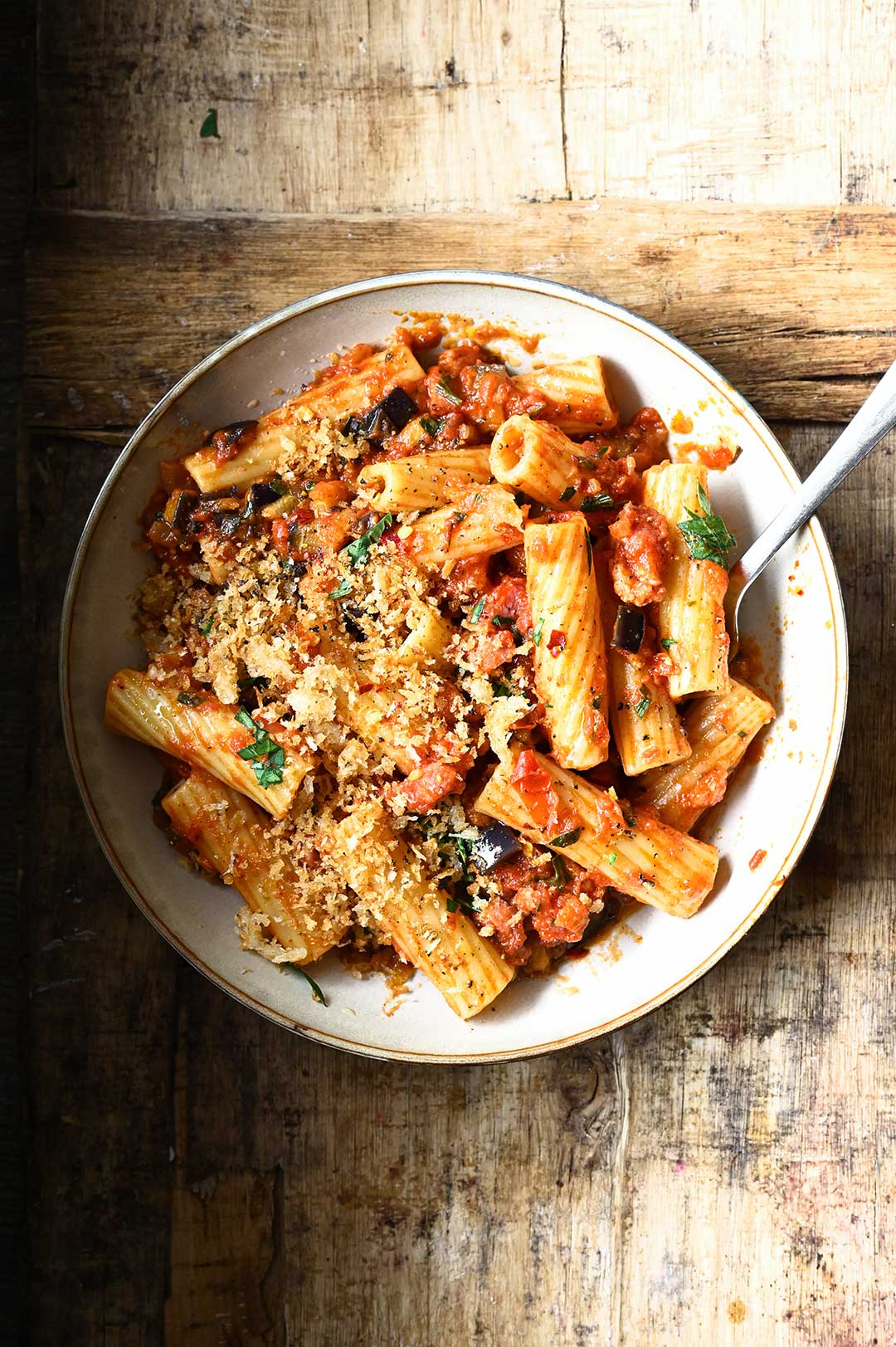 En dit is hoe we het maken. We beginnen met de halloumi-broodkruimels, dan bakken we het spek. We gebruiken het overgebleven vet om een rijke, gerookte smaak te creëren. Vervolgens bakken we de aubergine en maken de saus met tomaten, ui, knoflook en gerookt paprikapoeder. We laten alles niet langer dan 10 minuten sudderen, terwijl wij de pasta koken. Vlak voor het opdienen, mengen we de pasta en de Parmezaanse kaas onder de saus. Makkelijk, maar het resultaat is smaakvol, hartelijk en precies wat je wil koken mid-week.
Bekijk mijn VIDEO om te zien hoe makkelijk je dit gerecht kan maken.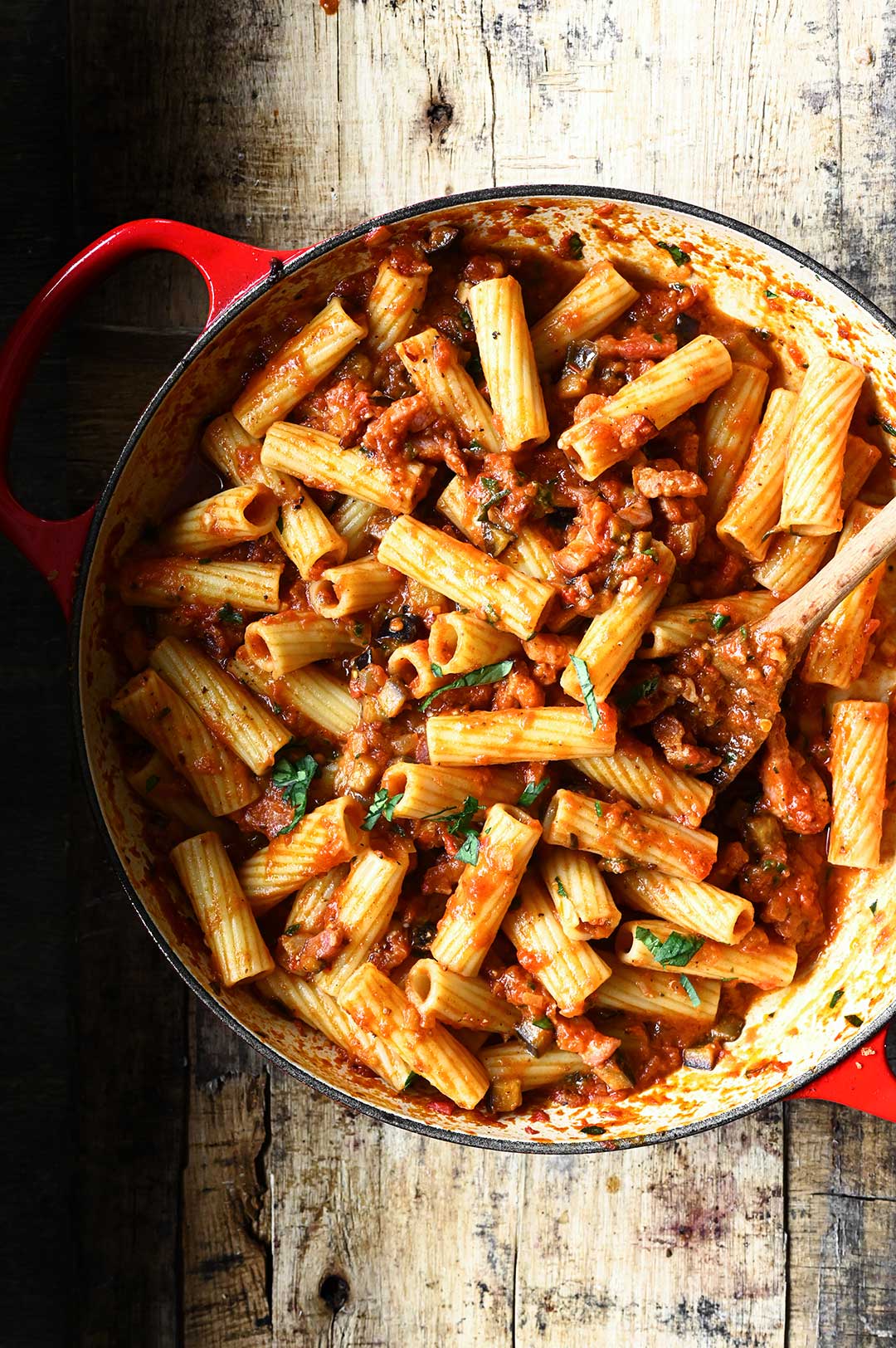 TIPS
-voor de pasta kan je tortiglioni, gemelli, penne, rigatoni of een andere vorm gebruiken die de saus kan vasthouden
– je kan de spekjes weglaten, voor een vegetarische versie
More pasta, please! 
Pasta met gerookt spek in tomatensaus
Pasta met pesto van zongedroogde tomaten en ricotta
Spaghetti bolognese met groene paprika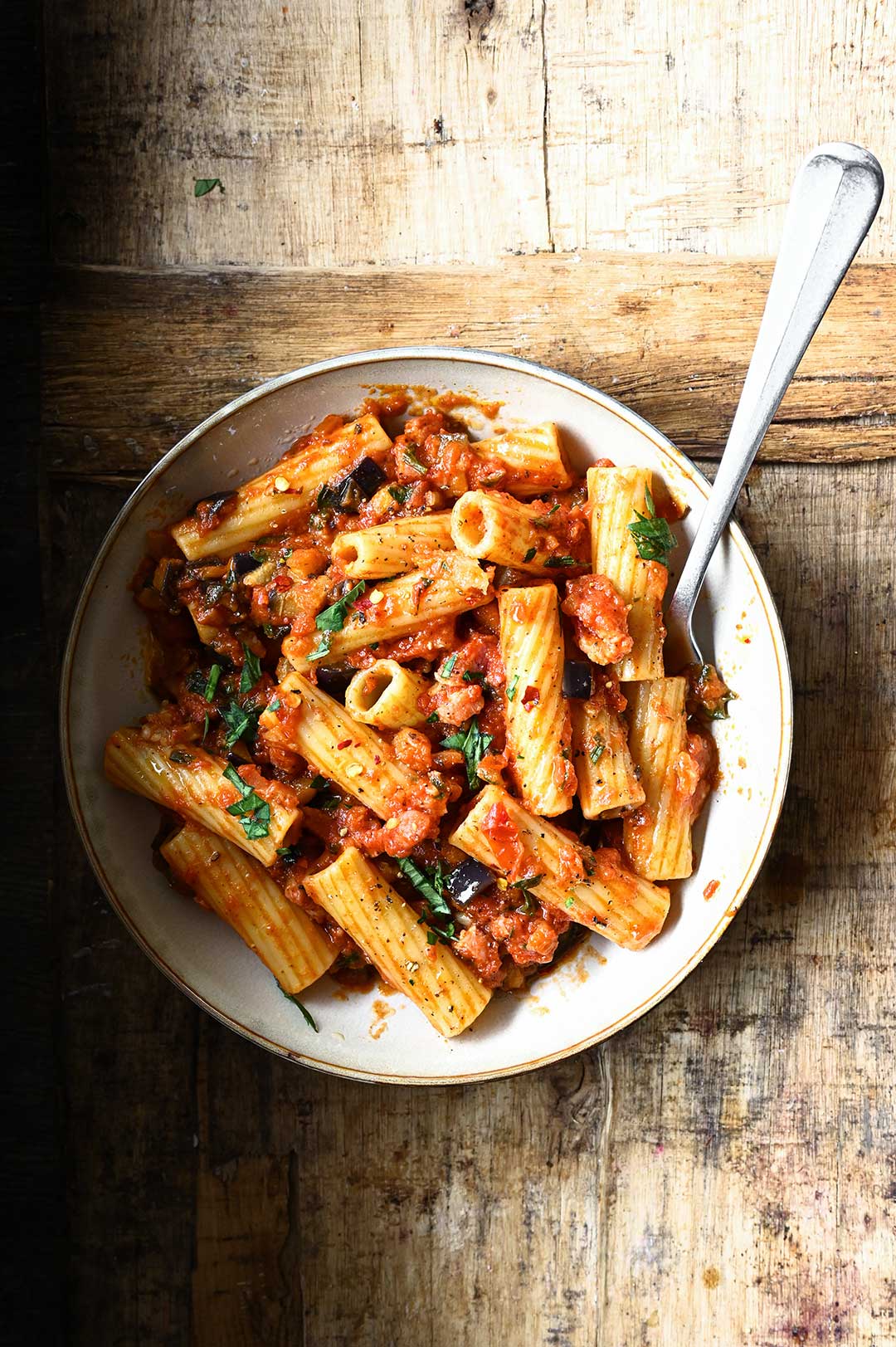 Dit heb je nodig
200 g tortiglioni of rigatoni
200 g gerookte spekblokjes
1 kleine aubergine, fijngesneden
olijfolie
1 kleine ui, fijngehakt
3 teentjes knoflook, geplet en fijngehakt
1 blikje (400 gram) tomatenblokjes
2 el tomatenconcentraat
2 el gehakte peterselie
30 g geraspte Parmezaanse kaas
1 tl elk: rode chilivlokken, gedroogde oregano, gerookt paprikapoeder
zout + zwarte peper
30 g geraspte halloumi
30 g panko paneermeel
Zo maak je het
Bekijk mijn VIDEO om te zien hoe makkelijk je dit gerecht kan maken.
Kook de pasta in een grote pot met ruim gezouten kokend water beetgaar. Giet af en bewaar 1/2 kopje kookwater.
Maak het broodkruim. Verhit een grote pan op middelhoog vuur, voeg olijfolie toe. Dan de panko. Bak, roer af en toe tot de broodkruimels geroosterd zijn, ongeveer 4 minuten. Roer de halloumi erdoor en bak nog 2 minuten. Breng op smaak met zout en peper. Schep het broodkruim op een bord.
Verhit in dezelfde pan de olijfolie samen met de boter. Voeg het spek toe en bak, ongeveer 5 minuten tot het goudbruin begint te worden.  Schep op een bord en laat zoveel mogelijk olie achter in de pan.
Voeg de aubergine toe en bak tot ze bijna gaar is, ongeveer 5 minuten. Zet het vuur lager als de aubergine donkerbruin begint te worden en voeg 2 el olie toe. Voeg knoflook en ui toe en fruit gedurende 3 minuten. Roer de tomatenconcentraat erdoor. Voeg dan de tomatenblokjes toe en roer de kruiden erdoor. Breng op smaak met zout en zwarte peper. Voeg peterselie toe en laat 10 minuten sudderen.
Als de saus klaar is, voeg dan spek en parmezaanse kaas toe. Schep de pasta erdoorheen en voeg 1/4 kopje kookwater toe. Proef en breng op smaak met peper en zout.
Serveer met halloumi-broodkuim en wat rode chilivlokken. Smakelijk!