Je pesto meer smaak geven, doe je door er simpelweg miso aan toe te voegen. Het geeft extra karakter en brengt het gerecht naar een geheel ander niveau.
In deze pasta gebruiken we aubergine, die in blokjes gesneden wordt en gebakken tot hij mals en gekarameliseerd is. Zoute miso-pasta voegen we toe om de smaak te versterken en basilicum voor extra frisheid. Dan nog geraspte parmezaan, olijfolie en zwarte peper om alles af te werken. 
Pesto en pasta vormen een perfect huwelijk. Maar wanneer we er miso aan toevoegen, heb je waarschijnlijk het meest umami-rijke pastagerecht dat je je kan voorstellen.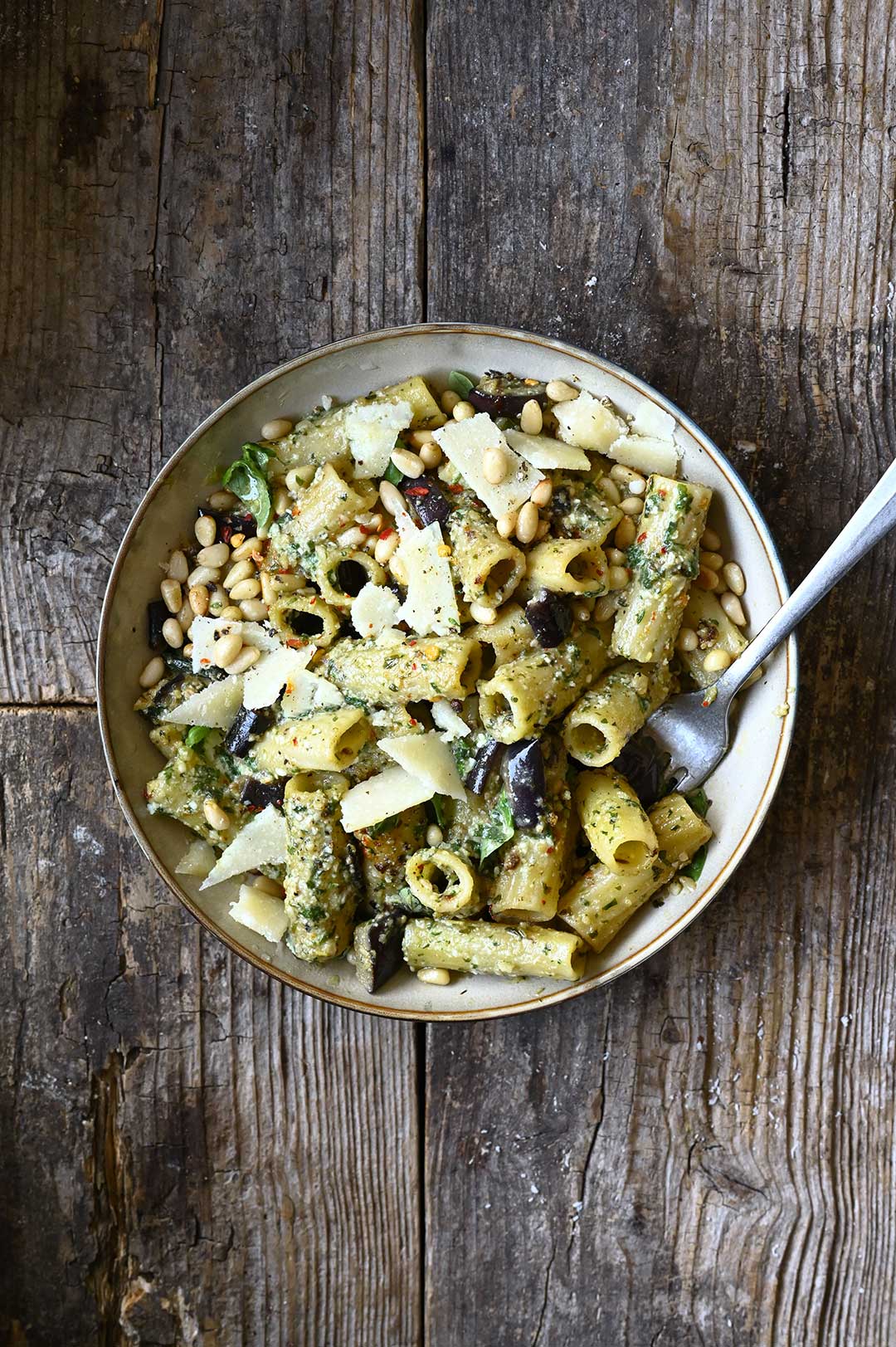 Een gerecht met gedurfde smaken, van citroensap, geroosterde pijnboompitten tot malse aubergine. Het is eenvoudig, gemakkelijk en absoluut overheerlijk!
Ga naar mijn Instagram Highlights om te zien hoe makkelijk je dit gerecht kan maken!
Meer recepten met miso:
Aziatische paddenstoelensoep met noedels
Geroosterde pompoensoep met wilde rijst, miso en paddenstoelen
Mosselen met miso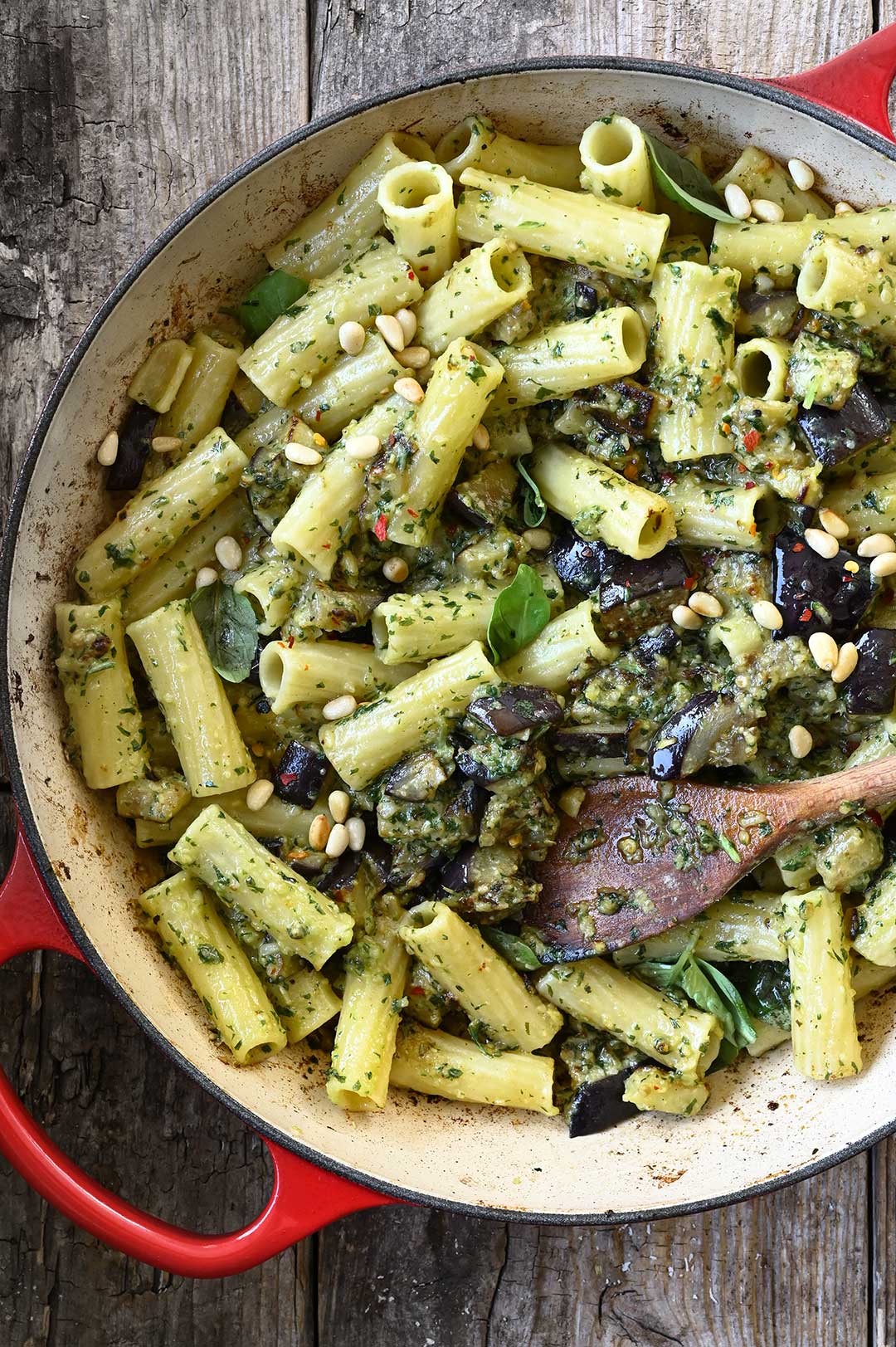 Wil je op de hoogte blijven van mijn nieuwe recepten? Abonneer je dan op mijn NIEUWSBRIEF.
Dit heb nodig
250 g pasta
1 aubergine, in blokjes gesneden
3 el olijfolie
3 tenen knoflook, fijngehakt
zout + zwarte peper
1 tl gemalen chilipeper
miso pesto
30 g basilicum (blaadjes)
40 g geroosterde pijnboompitten
2 el miso
2 el citroensap
80 ml olijfolie
50 g geraspte parmezaan
zwarte peper
voor de afwerking
4 el geroosterde pijnboompitten
basilicum
geraspte parmezaan
gemalen chilipeper
Zo maak je het
Kook de pasta beetgaar in gezouten water. Giet af en behoud 1/4 kopje van het kookwater.
Maak de pesto. Doe de basilicum, pijnboompitten, miso, citroensap en parmezaan in een hakmolen. Mix. Giet, terwijl je mixt, langzaam de olijfolie door de opening van de molen. Breng op smaak met peper. Zet opzij.
Verhit de olijfolie in een grote koekenpan op middelmatig vuur. Voeg blokjes aubergine toe en bak in ongeveer 5-8 minuten of tot ze gaar en licht gebruind zijn. Voeg knoflook toe, fruit ongeveer 3 minuten. Breng op smaak met zout, peper en gedroogde chilipeper.
Roer de miso pesto erdoor, voeg de pasta en een scheutje van het kookwater toe. Serveer dadelijk met geraspte Parmezaanse kaas, basilicum, pijnboompitten en gemalen chilipeper. Smakelijk!
Ga naar mijn Instagram Highlights om te zien hoe makkelijk je dit gerecht kan maken!
Als je dit recept uitprobeert, laat dan hieronder een reactie achter of deel je foto's op Instagram en vergeet niet om mij te taggen @anna_s_table. Ik kijk ernaar uit!
AND… IF YOU LOVE THESE RECIPES … please consider supporting my work for just the cost of a cup of coffee.