In deze pasta steelt een bloemkool de show, en hij is overheerlijk!
Een op de klassieke bolognese geïnspireerde saus met bloemkool, pancetta en pittige parmezaan-broodkruimels. Om de saus af te werken  voegen we wat geraspte Parmezaan en pancetta toe. En de broodkruimels? Dat is de kers op de taart! Super knapperig en mega lekker.
Bekijk mijn VIDEO om te zien hoe makkelijk je dit gerecht kan maken!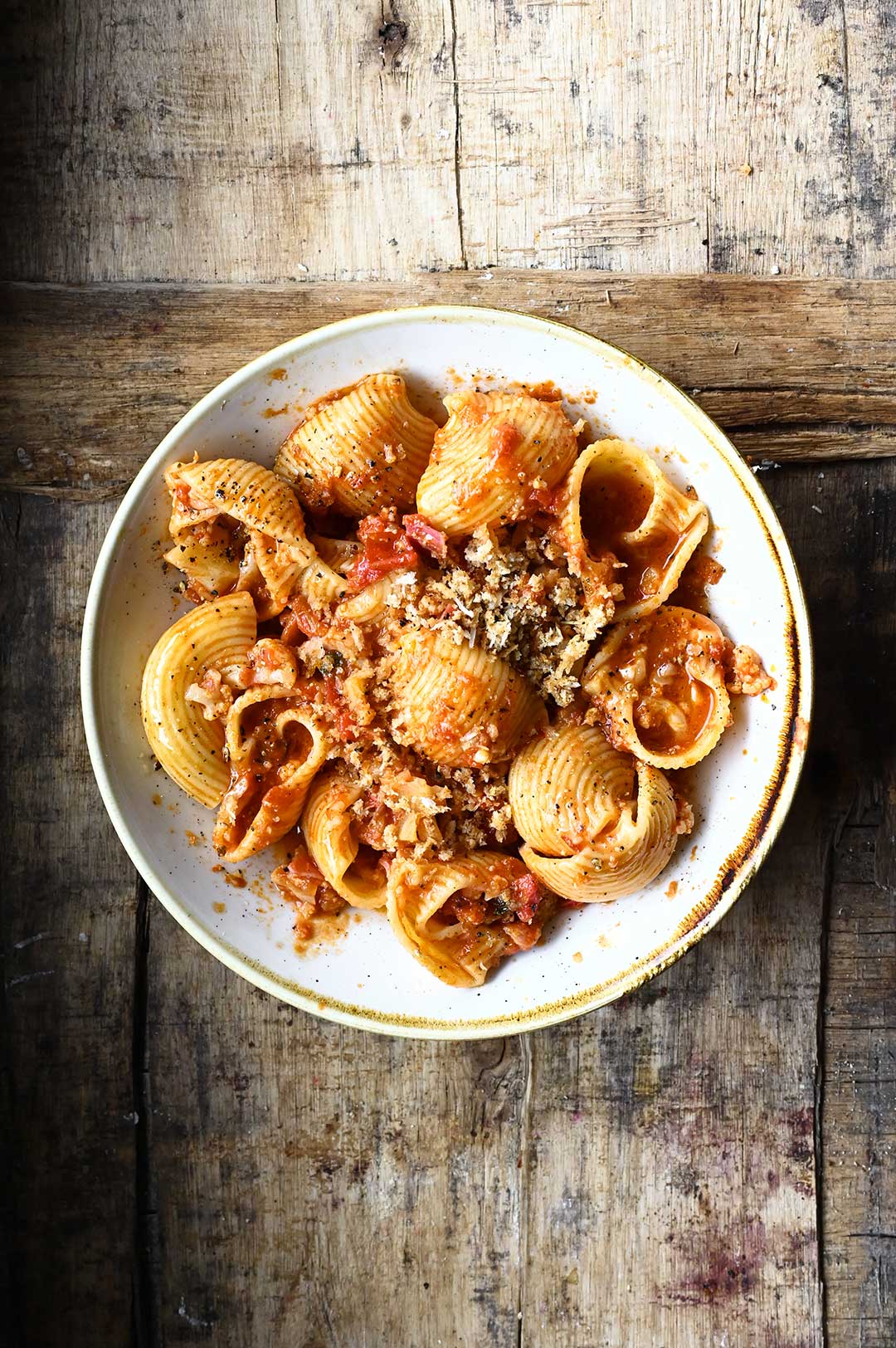 NOTITIES
– je kan de pancetta vervangen door gezouten spek of gehakt
– als je een vegetarische versie wil maken, vervang dan de pancetta door champignons
– je kan ook zoodles gebruiken in plaats van pasta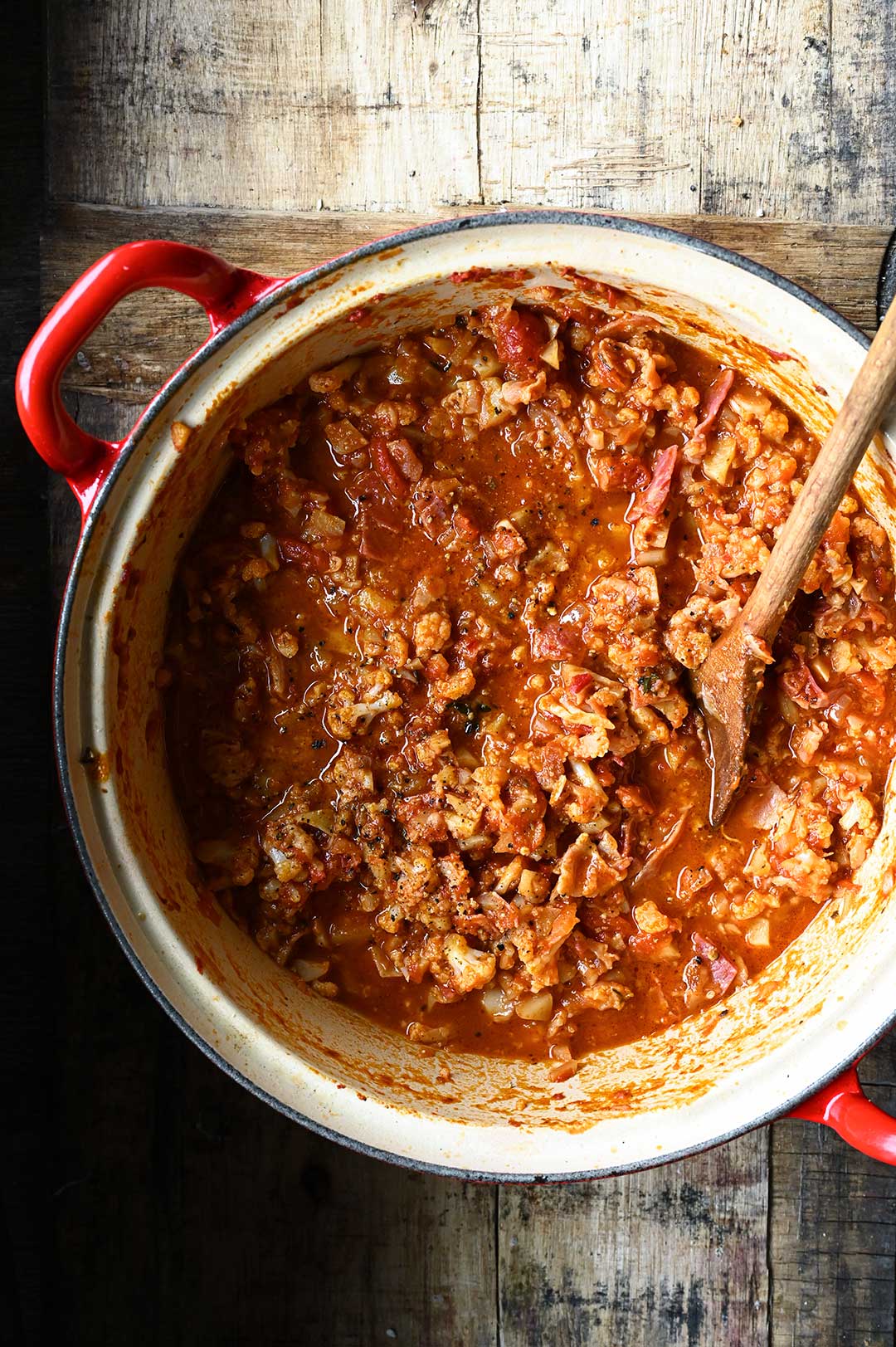 Meer makkelijke gerechten:
Pasta met romige bolognese en geroosterde paprika
Bloemkool Kung Pao
Pasta met pesto van zongedroogde tomaten en ricotta
Wil je op de hoogte blijven van mijn nieuwe recepten? Abonneer je dan op mijn NIEUWSBRIEF.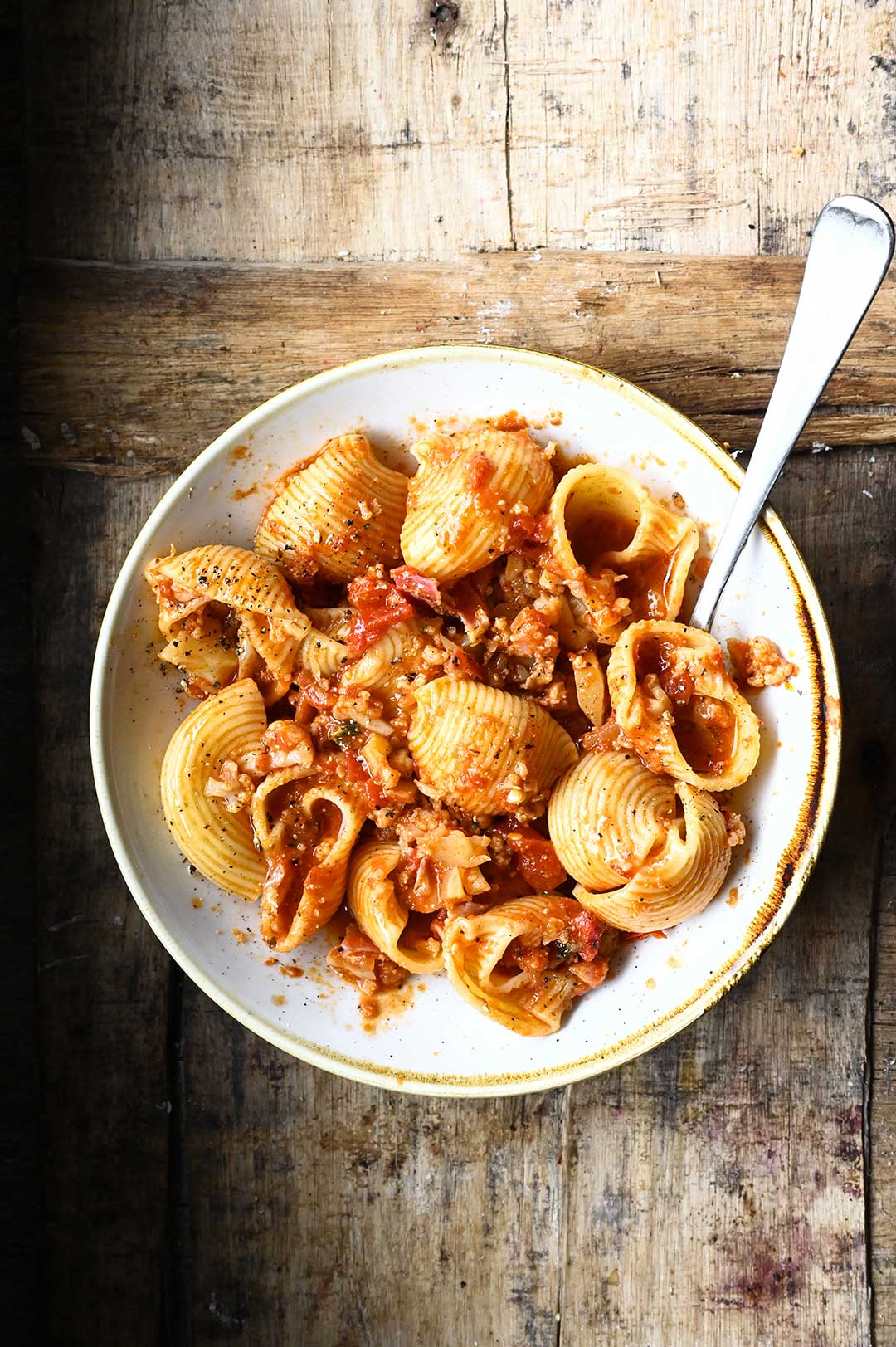 Dit heb je nodig
300 g pasta
1 kleine bloemkool
200 g pancetta
250 ml kippenbouillon
1 blikje (400 ml) tomatenblokjes
2 el tomatenpuree
olijfolie
30 g boter
4 teentjes knoflook, fijngehakt
1 kleine ui, fijngehakt
kruiden: 1 tl elk: geplette rode pepervlokken, gedroogde tijm, gedroogde salie, gerookt paprikapoeder, zwarte peper, zout
80 g geraspte parmezaanse kaas
pittig broodkruim met parmezaan
1/2 kopje panko
2 el olijfolie
1 tl elk: gedroogde salie, geplette rode pepervlokken
30 g geraspte parmezaan
zout
Zo maak je het
Snij de bloemkool in dunne plakjes en hak ze vervolgens in kleine gelijke stukjes. Je kan hiervoor ook een keukenmachine of een rasp gebruiken.
Maak het broodkruim. Verhit een grote pan op middelhoog vuur, voeg 2 el olijfolie toe. Dan de panko. Bak, roer af en toe tot de broodkruimels geroosterd zijn, ongeveer 3 minuten. Voeg salie en rode pepervlokken toe. Bak gedurende 1 minuut. Roer de parmezaanse kaas erdoor, zet het vuur lager en bak nog 1 minuut verder. Breng op smaak met zout. Schep het broodkruim op een bord.
Verhit in dezelfde pan 2 el olijfolie op middelhoog vuur. Voeg de pancetta toe en bak al roerend tot het knapperig en mooi bruin is, ongeveer 5 minuten. Haal uit de pan.
Verhit nu de boter. Voeg de helft van de bloemkool toe en bak gedurende 3 minuten op hoog vuur. Voeg de rest van de bloemkool toe en bak tot het licht bruin en zachter geworden is, 5 minuten. Roer de knoflook en ui erdoor en bak nog 5 minuten verder. Roer de kruiden erdoor. Voeg kippenbouillon, tomatenblokjes en tomatenpuree toe. Breng aan de kook, zet het vuur lager en laat ongeveer 15 minuten sudderen.
Kook intussen de pasta in een grote pot kokend, royaal gezouten water beetgaar. Giet af en bewaar 1/2 kopje kookwater.
Als de saus klaar is, roer dan de geraspte Parmezaanse kaas erdoor, voeg de pancetta en 1/4 kopje kookwater toe. Breng op smaak met extra zwarte peper, proef en voeg wat zout toe. Meng met de pasta.
Verdeel over kommen en bestrooi met broodkruimels. Smakelijk!
Bekijk mijn VIDEO om te zien hoe makkelijk je dit gerecht kan maken!
And …IF YOU LOVE THESE RECIPES … please consider supporting my work for just the cost of a cup of coffee.

Als je dit recept uitprobeert, laat dan hieronder een reactie achter of deel je foto's op Instagram en vergeet niet om mij te taggen @anna_s_table. Ik kijk ernaar uit!