Orecchiette, krokante plakjes pancetta, doperwtjes en een botersausje met Parmezaanse kaas. Makkelijk te maken, overheerlijk en klaar in 15 minuten. Dit gerecht is een absolute aanrader op een drukke doordeweekse avond of tijdens je volgende date night. We gebruiken enkel eenvoudige ingrediënten, maar transformeren ze in een regelrechte smaakbom. De knapperige broodkruimels stelen de show en geven deze alledaagse pasta net dat tikkeltje extra.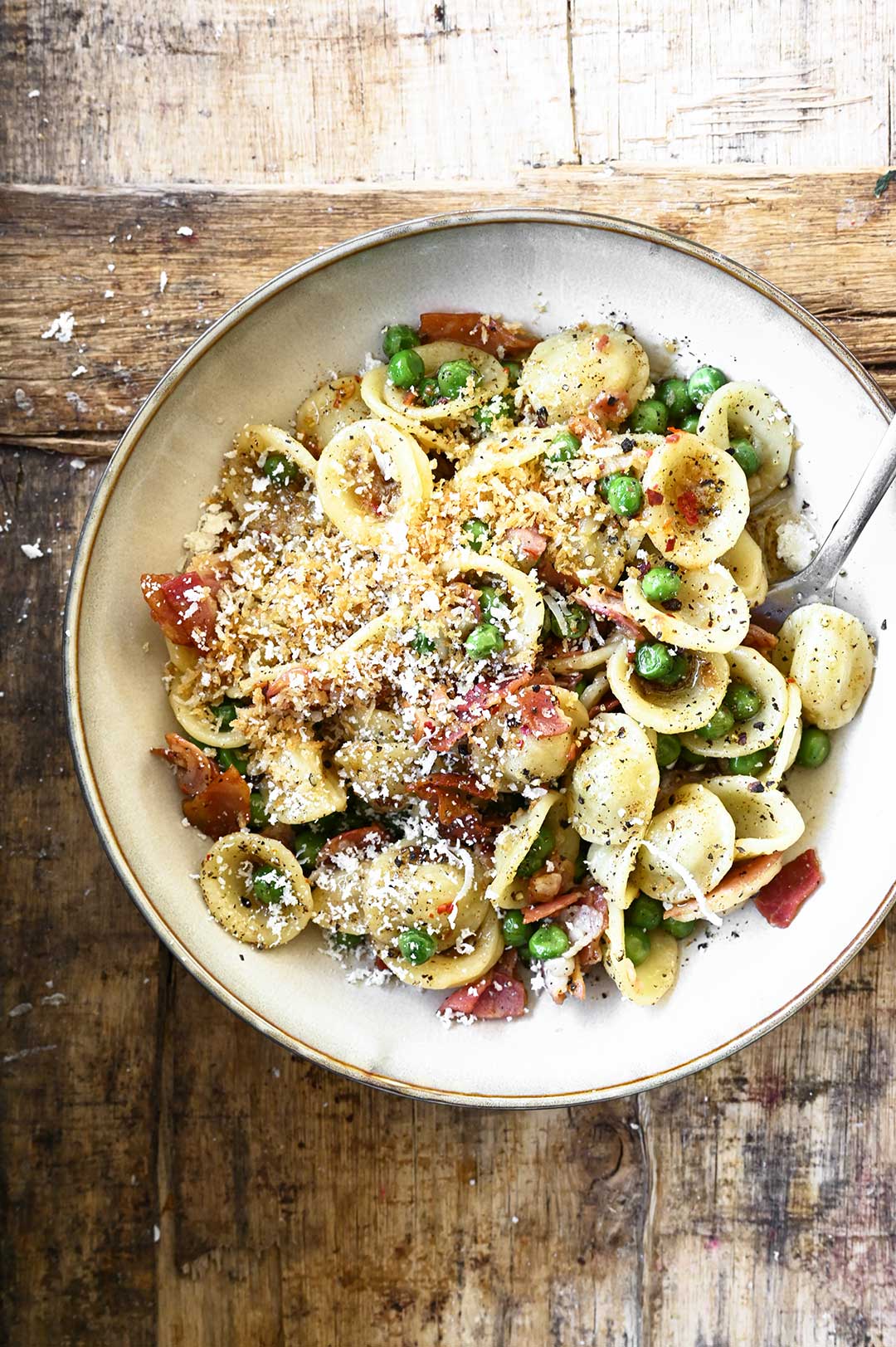 Dit recept verandert wat makkelijk een standaard pasta had kunnen zijn in iets waar je week in week uit naar zal verlangen. Het zit boordevol verborgen smaken en het is snel en makkelijk genoeg om elke doordeweekse dag op te fleuren.
Bekijk mijn VIDEO om te zien hoe makkelijk je dit gerecht kan maken.
TIPS
– vervang de doperwten door spinazie of geblancheerde broccoli
– gebruik je favoriete pastavorm
– in plaats van pancetta kan je ook gezouten spek gebruiken
More pasta, please!
Pasta met gerookt spek in tomatensaus
Pasta met beurre noisette, broccoli en walnoten
Pasta met pesto van zongedroogde tomaten en ricotta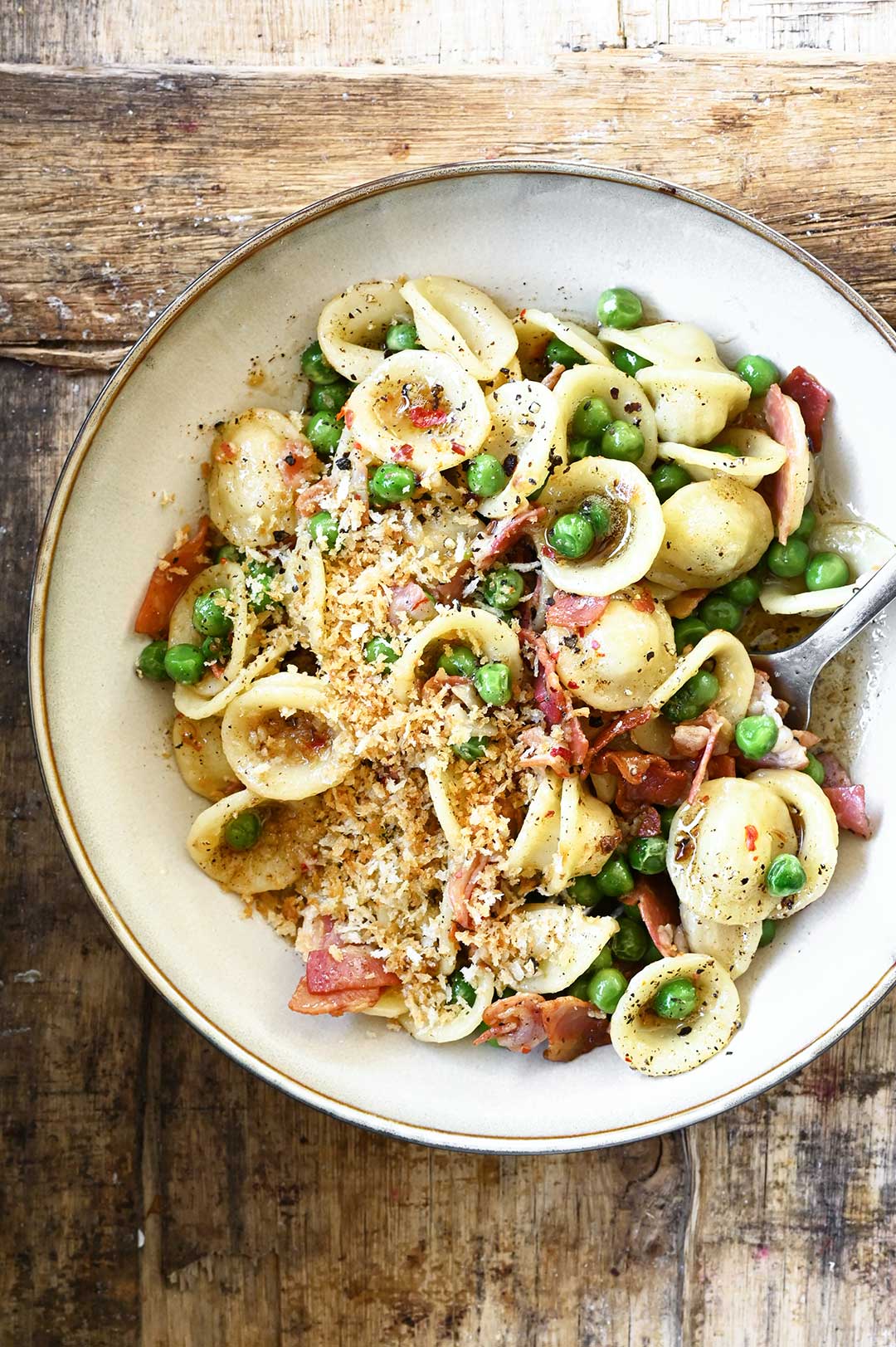 Dit heb je nodig
200 g orecchiette
150 g bevroren groene erwten
150 g pancetta, in kleine stukjes
2 teentjes knoflook, geplet en fijngehakt
2 el boter
2 el olijfolie
1/2 tl zout
1 tl zwarte peper
1 tl rode chilivlokken
20 g geraspte Parmezaanse kaas
broodkruim
30 g panko broodkruimels
3 el olijfolie
zout + zwarte peper
Zo maak je het
Bekijk mijn VIDEO om te zien hoe makkelijk je dit gerecht kan maken.
Kook de pasta in een grote pot met kokend gezouten water. Giet af en bewaar 1/2 kopje van het kookwater.
Maak het broodkruim. Verhit een grote pan op middelhoog vuur, voeg olijfolie toe. Dan de panko. Bak, roer af en toe tot de broodkruimels geroosterd zijn, ongeveer 4 minuten. Breng op smaak met zout en peper. Schep het broodkruim op een bord.
Verhit in dezelfde pan de olijfolie en boter. Voeg pancetta toe en bak, ongeveer 5 minuten tot het goudbruin begint te worden. Voeg knoflook toe en bak nog 2 minuten. Roer de erwten erdoor en breng op smaak met zout, zwarte peper en rode pepervlokken. Sauteer 3 minuten, roer af en toe.
Voeg gekookte pasta en parmezaanse kaas toe, meng en voeg een scheutje kookwater toe. Roer tot de pasta bedekt is met de botersaus.
Verdeel over kommen, serveer met krokant broodkruim. Eet smakelijk!