Gnocchi met champignonroomsaus en gebakken breadcrumbs. Slechts 1 pan en klaar in ongeveer 15 minuten? En super eenvoudig te maken? Ok, er is geen twijfel mogelijk, dit gerecht heeft echt alles in huis om een top doordeweekse maaltijd te zijn. Maar ook een perfecte keuze voor je volgende date night. Superlekker, simpel en weinig afwas. What's not to like?!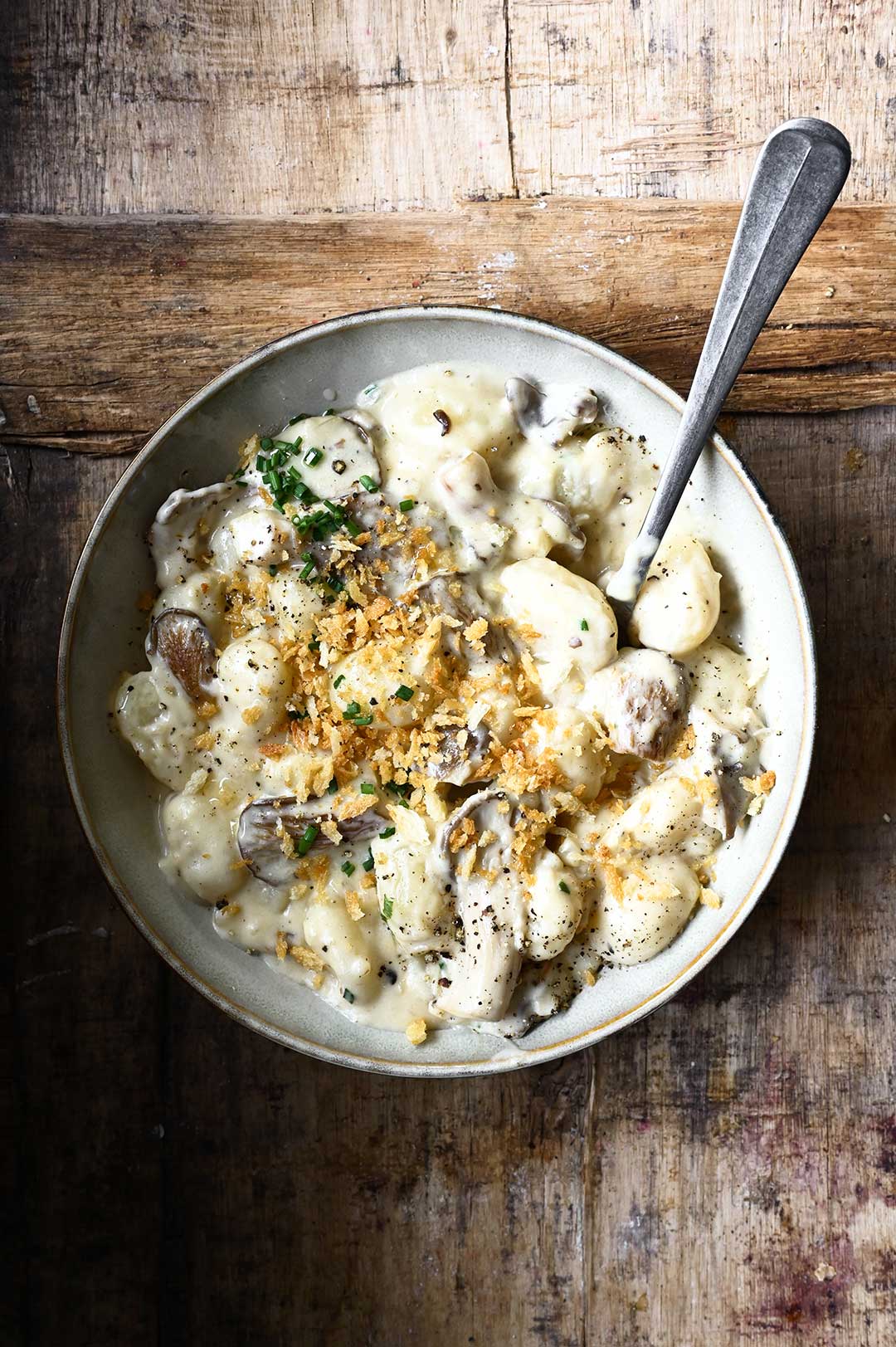 Gnocchi gecombineerd met champignons, Parmezaan en room is werkelijk overheerlijk. Maar om net dat tikkeltje extra smaak toe te voegen gebruiken we hier een mix van miso-pasta en knoflook, en koken we de gnocchi in bouillon in plaats van water. Serveer met bieslook en geroosterde broodkruimels. Forks ready? Prepare for blast off!
Bekijk mijn VIDEO om te zien hoe makkelijk je dit gerecht kan maken.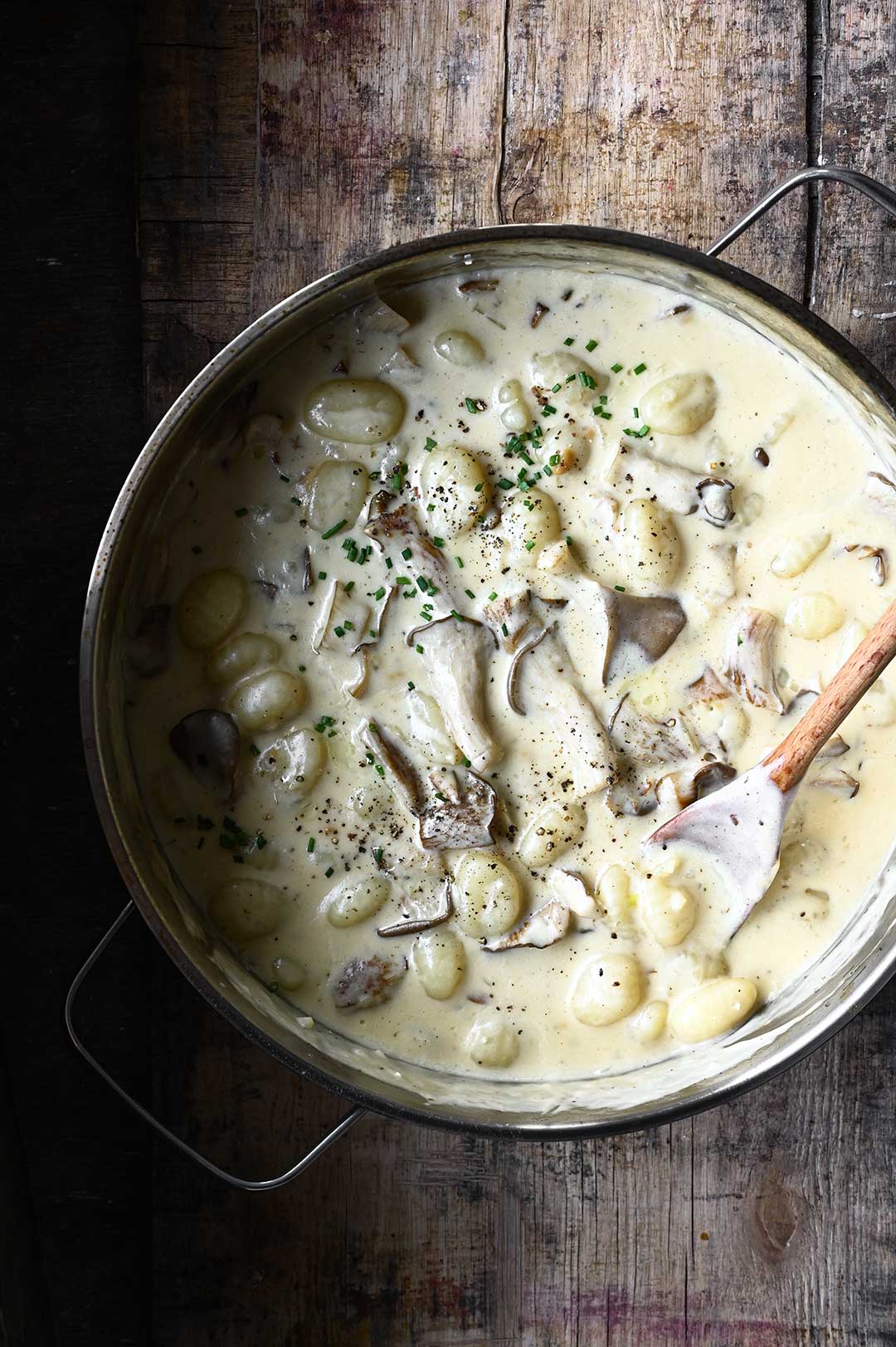 NOTITIES:
Restjes kunnen in een vershouddoosje in de koelkast tot 3 dagen worden bewaard. Voeg bij het opwarmen enkele eetlepels water of melk toe om het een beetje te verdunnen.
Enkele tips: je kan ook bruine of gewone champignons gebruiken. Voeg spek of restjes kip toe en serveer met een salade met balsamico-dressing.
Meer makkelijke gerechten:
Pasta met kip in romige zwarte pepersaus
Pasta met aubergine, zongedroogde tomaten en ricotta
Pasta met rode pesto, champignons en zongedroogde tomaten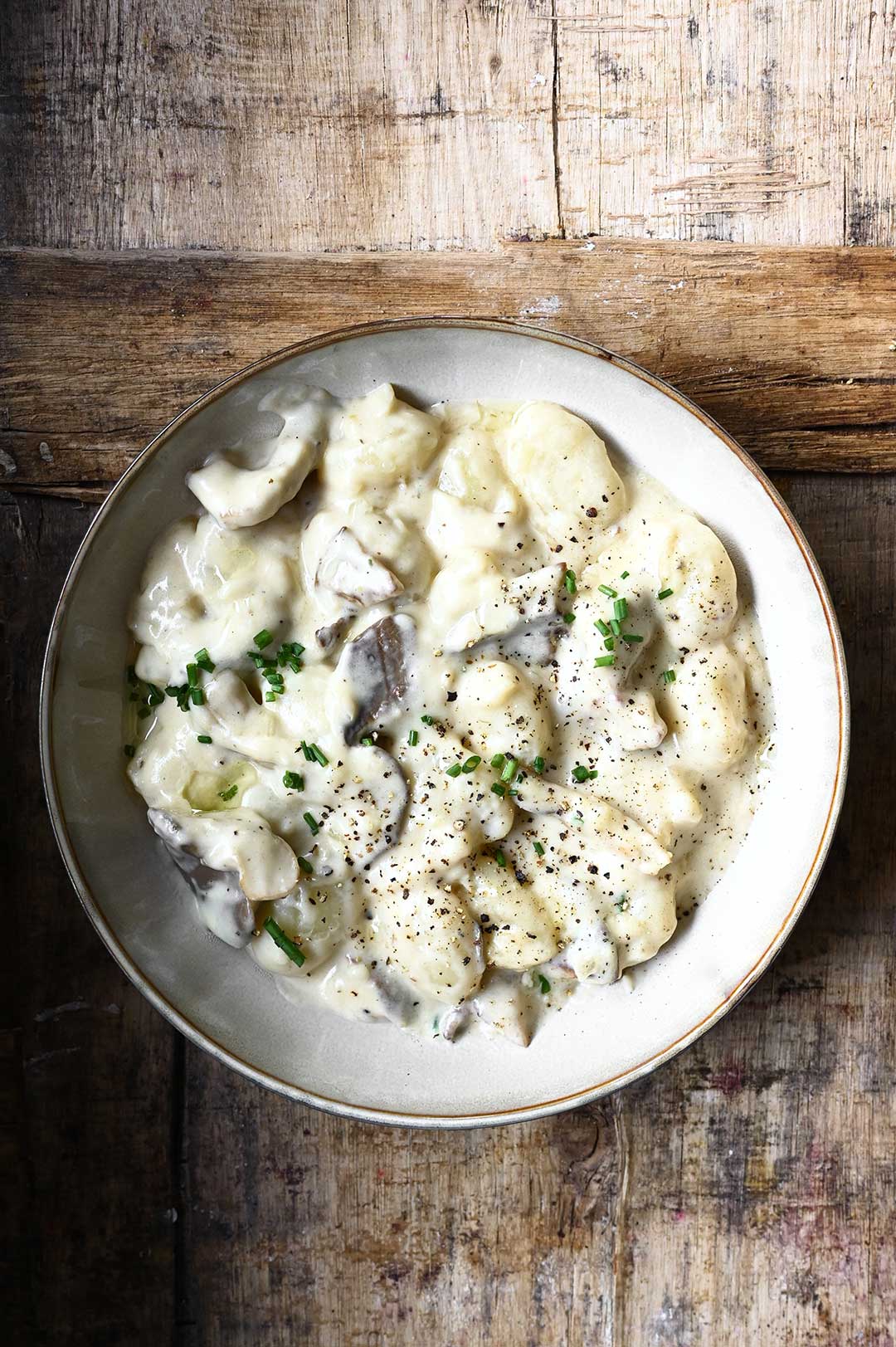 Dit heb je nodig
500 g kant-en-klare aardappelgnocchi
200 g oesterzwammen of champignons, in hapklare stukken gesneden
200 ml halfvolle room
90 g geraspte parmezaan
2 tenen knoflook, fijngehakt
1 kleine ui, fijngesneden
30 g roomboter
2 el olijfolie
1 el citroensap
2 tl witte miso-pasta
300 ml groentebouillon
zout + zwarte peper
voor de afwerking
gehakte bieslook
zwarte peper
paneermeel geroosterd in olijfolie met zout en zwarte peper
Zo maak je het
Bekijk mijn VIDEO om te zien hoe makkelijk je dit gerecht kan maken.
Maak eerst de crunchy breadcrumbs door 1/2 glas broodkruimels in 2 el olijfolie te roosteren tot ze goudbruin zijn, breng op smaak met zout en peper. Leg op een bord.
Verhit de olijfolie in dezelfde koekenpan op middelhoog vuur. Voeg de champignons toe en bak gedurende 5 minuten. Ze zullen vocht gaan afgeven, voeg dan de boter toe, roer tot het gesmolten is en zet het vuur wat lager. Voeg knoflook en ui toe, fruit ongeveer 2 minuten.
Voeg gnocchi toe en giet de bouillon erover, roer en breng het geheel aan de kook. Laat op een middelhoog vuurtje sudderen, gedurende 2 minuten.
Voeg nu de room toe. Kruid met zwarte peper en roer de miso-pasta erdoor. Zet het vuur uit. Voeg geraspte parmezaanse kaas en citroensap toe. Roer tot alles goed gemengd is. Laat 2 minuten rusten.
Proef en breng op smaak met zout en zwarte peper. Bestrooi met gehakte bieslook en crunchy breadcrumbs. Serveer met een bijpassende salade besprenkeld met olijfolie en balsamico azijn. Smakelijk!