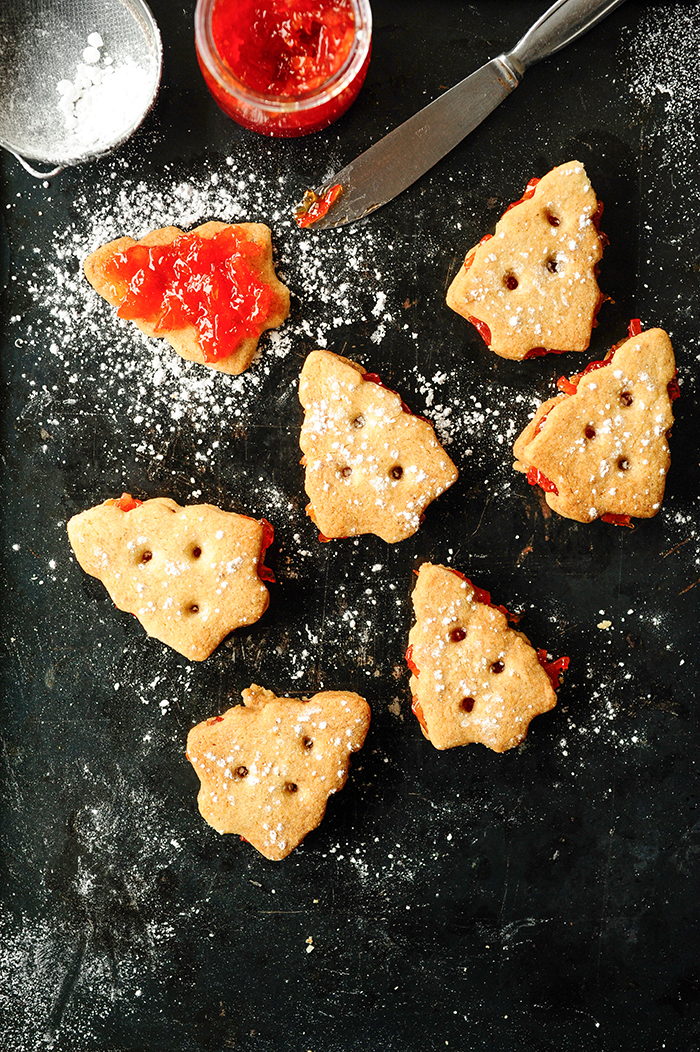 Kerstkoekjes met een verrassende vulling van Campari en sinaasappelen. Je kan deze vulling gebruiken voor al jouw kersttaarten of gebruik het als jam voor het Kerstontbijt. De koekjes zelf zijn perfect krokant en boterachtig, je kan ze elke vorm geven die je wil. Een aanrader voor de Kerstdagen!
 
de notenkoekjes
320 g bloem
140 g suiker
280 g koude boter, in blokjes
80 g gemalen walnoten
1 tl kaneel
snuifje zout
Doe de boter in een kom. Voeg de suiker, kaneel, zout en noten toe en zeef de bloem. Kneed het deeg snel tot een bal, wikkel in folie en leg hem gedurende 30 minuten in de koelkast.
Verdeel het deeg in 4 stukken en leg elk stuk tussen een vel bakpapier bestrooid met bloem. Rol uit tot cirkels van ongeveer 1/2 cm dik. Druk met een steekvormpje figuren uit het deeg en leg ze op een bakplaat bekleed met bakpapier. Bak gedurende 12-15 minuten op 180°C  goudbruin.
Eenmaal afgekoeld, versier de koekjes met een theelepel Campari-sinaasappelvulling  en bestuif met poedersuiker.
de Campari-sinaasappelvulling
10 sinaasappels
120 ml Campari
130 g suiker + 5 el suiker
het sap van 1/2 citroen
1 vanillestokje
1 kaneelstokje
snufje zout
Schil 1 sinaasappel met een scherp mes zo dun mogelijk en snijd de schil in dunne reepjes. Doe ze in een pannetje en kook een paar minuten in gezouten water. Giet af en doe ze terug in de pan, giet 60 ml water en 60 ml Campari erbij, voeg 5 eetlepels suiker, het kaneelstokje en het  vanillestokje toe. Kook op een middelhoog vuur tot het indikt en er zich een siroop vormt.
Schil de sinaasappels en snijd de partjes tussen de vliezen uit. Doe in een pan, voeg suiker en citroensap toe en giet er 60 ml Campari bij. Breng aan de kook, zet het vuur lager en laat 20 minuten sudderen, roer voortdurend. Voeg de gekonfijte sinaasappelschil toe, roer en laat nog gedurende 2-3 minuten sudderen.
Laat afkoelen, versier de koekjes of gebruik het als vulling voor taarten. Je kan het ook als confituur gebruiken.