Ben je ook zo een grote fan van mosselen?  Hier koken we ze in een bouillon met miso. Makkelijk, lekker en klaar in no-time.
Sorry mosselen met witte wijn, maar je hebt er een serieuze concurrent bij gekregen.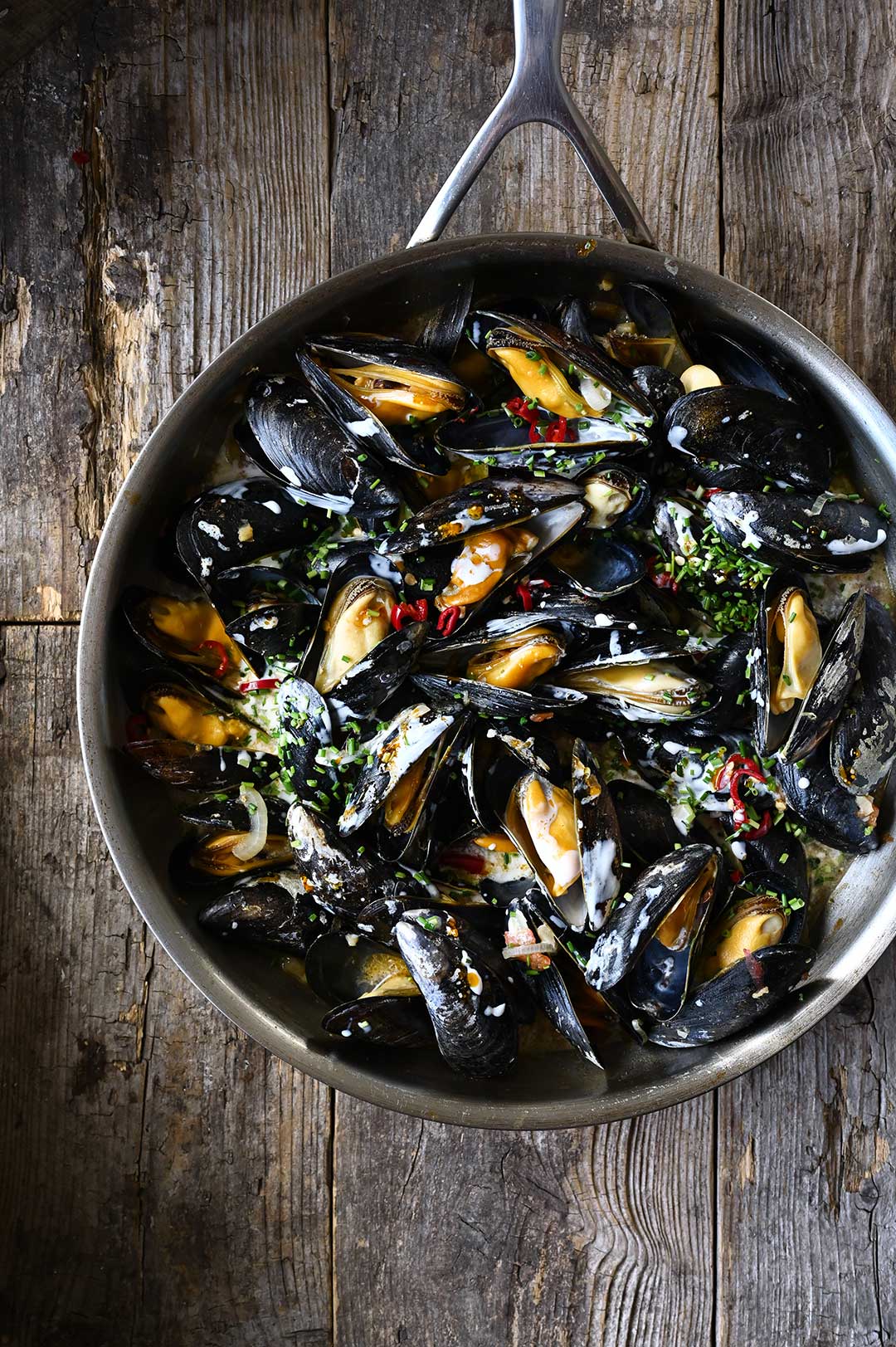 Mosselen met een Oost-Aziatische twist. Miso heeft een diepe ultra-rijke smaak en vormt een perfect match bij zeevruchten. In combinatie met look is dit echt overheerlijk.

Ik heb er ook wat verse chili pepers bij gedaan en het gerecht afgewerkt met wat chiliolie. Toch is dit geen pittig gerecht. De chilipeper voegt wat extra punch toe, maar meer niet. Je kan het natuurlijk zo pikant maken als je zelf wil. En vergeet niet wat brood te roosteren om in de romige saus te dippen.
Dit recept is voor 4 of 2 personen, bij ons is het maar voor 2. En hoe je de mosselen kuist, zie je hier in mijn VIDEO. 
3 andere recepten met mosselen:
Pasta met schelpjes en zeekraal in een botersausje
Mosselen met kokosmelk 
Ravioli met zeevruchten in een botersausje
Wil je op de hoogte blijven van mijn nieuwe recepten? Abonneer je dan op mijn NIEUWSBRIEF.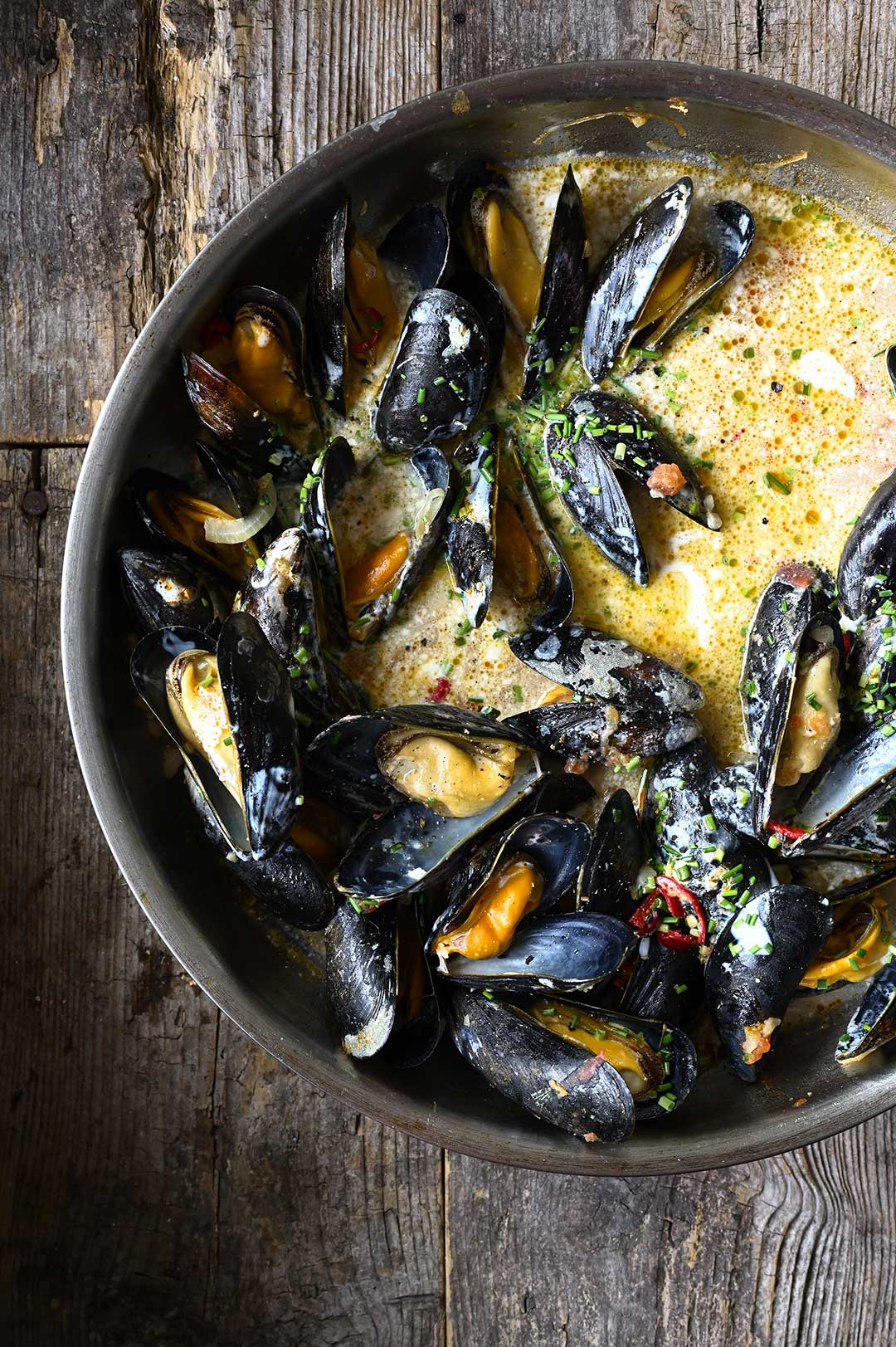 Dit heb je nodig
2 kg mosselen
3 el  plantaardig olie
2 el sesamolie
1 ui, fijngesneden
4 tenen knoflook, fijngehakt
1 tomaat
120 ml groente- of kippenbouillon
50 ml volle room of  sojaroom
1 el witte miso
1 tl geraspte gember
1 el vissaus
1 el mirin
1 el ongezouten roomboter
+
2 el fijngesneden bieslook
chiliolie
chilipeper
brood
Zo maak je het
Zet 2 grote kommen met koud water klaar. Doe de mosselen in 1 van de kommen, verwijder de baarden door er stevig aan te trekken in de richting waar de schelp scharniert. Je kan hiervoor ook een mes gebruiken. Doe de schoongemaakte mosselen in de andere kom met zuiver water, om het resterende vuil te verwijderen. Controleer ook elke mossel die open is, door er op te knijpen, als hij zich niet vanzelf terug sluit, gooi je hem best weg. Verwijder eventuele onzuiverheden van de schelpen.
Giet af en leg de mosselen in een zuivere kom. Zet in de koelkast. Hoe je de mosselen kuist, zie je hier op mijn VIDEO.
Snijd ondertussen de knoflookteentjes en de ui fijn. Pel de tomaat, haal de pitjes eruit en snij in blokjes. Rasp de gember.
Verhit de sesamolie en de plantaardige olie in een grote diepe pan op een middelmatig vuur. Voeg knoflook, ui en gember toe. Fruit gedurende 3 minuten. Voeg de miso en de tomaat toe en laat deze nog 2 minuten meebakken. Blus met bouillon, voeg de vissaus en mirin toe. Breng aan de kook en doe de mosselen erbij. Leg het deksel erop en laat 8 minuten zachtjes koken op een matig vuurtje. Roer om, dek af en laat nog 2 minuten verder sudderen.
Zet het vuur uit, voeg de room en de boter toe, dek af en laat 1 minuut staan tot de boter gesmolten is. Roer, proef en breng eventueel op smaak met zout en peper. Bestrooi met bieslook en verse chili, besprenkel met wat chiliolie. Dien onmiddellijk op met geroosterd brood. Smakelijk!
Ga naar mijn VIDEO om te zien hoe makkelijk je deze kan maken!
Als je dit recept uitprobeert, laat dan hieronder een reactie achter of deel je foto's op Instagram en vergeet niet om mij te taggen @anna_s_table. Ik kijk ernaar uit!
AND… IF YOU LOVE THESE RECIPES … please consider supporting my work for just the cost of a cup of coffee.