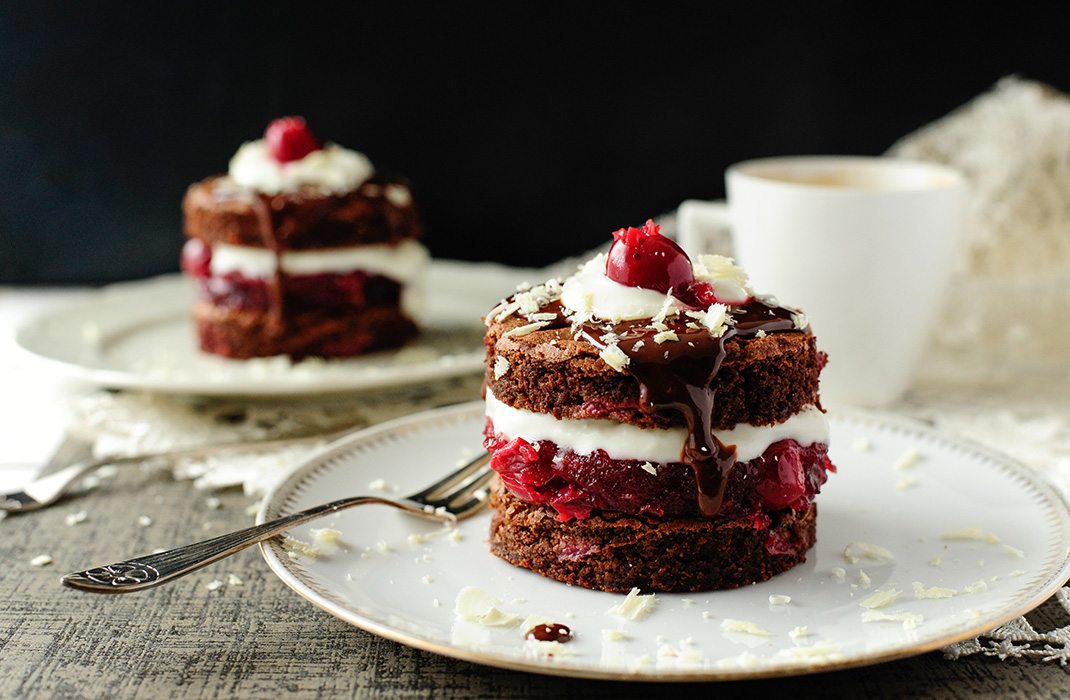 Mini glutenvrije chocolade taartjes met krieken, Griekse yoghurt en een warme chocoladesaus. Deze super lekkere taartjes zijn zeer makkelijk te bereiden en zijn een perfecte afsluiter van een heerlijk diner.
Ik hou van deze combinatie van chocolade en fruit samen met de frisheid van yoghurt, het is een echte aanrader!
Dit heb je nodig
glutenvrije biscuit
100 g amandelmeel
3 eieren
70 g suiker
70 g boter
70 g pure chocolade
10 g cacaopoeder
4 el krieken op siroop of alcohol, uitgelekt
confituur
1/2 klein potje kriekenconfituur
4 el krieken op siroop of alcohol, uitgelekt
1 gelatineblaadje
chocoladesaus
125 ml sojaroom
100 g pure chocolade
1 klontje boter
alsook
Griekse yoghurt
uiglelekte krieken om te versieren
2 el geraspte witte chocolade
Zo maak je het
Verwarm de oven voor op 180°C.
Doe de boter en de chocolade in een pannetje en laat smelten op een laag vuur. Breek de eieren en scheid het eiwit van het eigeel. Klop de eiwitten stijf. Klop de eierdooiers met de suiker tot je een lichte kleur bekomt. Voeg dan de gesmolten chocolade toe en roer het amandelmeel en cacao eronder. Meng voorzichtig met de opgeklopte eiwitten en uitgelekte krieken.
Giet het beslag in een vierkante vorm van 21 x 21 cm, ingevet en bekleed met bakpapier. Bak in de oven gedurende 20 minuten, laat afkoelen.
Week de gelatine in water. Verwarm de kriekenconfituur, voeg gelatine en krieken op siroop toe en meng. Giet het mengsel in een ondiepe schaal en laat afkoelen.
Laat de chocolade met sojaroom smelten in een pannetje. Draai het vuur uit en voeg de boter toe.
Druk met een glas 4 cirkels uit de chocoladetaart en 2 cirkels uit de opgesteven confituur.
Schik twee chocolade cirkels op borden, leg er de confituur cirkels op en bestrijk met 2 el Griekse yoghurt. Dek af met de resterende chocoladecirkels en giet de chocoladesaus erover. Versier met krieken en Griekse yoghurt, bestrooi met geraspte witte chocolade.
Smakelijk! ♥